---
Crew
Director – Scott Stewart, Screenplay – Cory Goodman, Based on the Graphic Novel by Min-Woo Hyung, Producers – Michael De Luca, Joshua Donen & Mitchell Peck, Photography – Don Burgess, Music – Christopher Young, Visual Effects Supervisor – Jonathan Rothbart, Visual Effects – The Creative Cartel, Gradient Effects (Supervisor – Jim Hillin), Iloura (Supervisor – Glenn Melenhorst), The Senate (Supervisor – Richard Higham), Spy (Supervisor – Michael Janov), Svengali (Supervisor – Robert Nederhorst), Tippett Studios (Supervisor – Blair Clark) & Zoic (Supervisor – Rocco Passionino), Special Effects Supervisor – John Frazier, Makeup Effects – KNB EFX Group, Inc (Supervisors – Howard Berger & Greg Nicotero), Production Design – Richard Bridgland. Production Company – Michael De Luca Productions/Stars Road Entertainment/Tokyopop.
Cast
Paul Bettany (Priest), Cam Gigandet (Sheriff Hicks), Karl Urban (Black Hat), Maggie Q (Priestess), Lily Collins (Lucy Pace), Brad Dourif (Salesman), Christopher Plummer (Monsignor Orelas), Alan Dale (Monsignor Chamberlain), Stephen Moyer (Owen Pace), Mädchen Amick (Shannon Pace)
---
Plot
It is in the future after vampires have emerged in a war against humanity. The Catholic Church responded to this by creating the Priests, a special cadre of trained fighters to combat the vampires. Now, the vampires have been banished to reservations and the Priests retired to civilian life. One of the retired priests receives a visit from the sheriff Hicks who reports that vampires have killed the priest's brother Owen Pace and abducted Owen's teenage daughter Lucy. When the church superiors, who refuse to believe the vampire menace is active again, deny restoration of the priest's status, he defies orders and sets out into the desert wilderness to rescue Lucy himself. The church despatches several priests to stop him. Meanwhile, Lucy finds that her captor is a former priest colleague of her uncle who has been turned into a vampire. He has abducted her in order to lure his old friend to a showdown.
---
I was vastly impressed with the trailer for Priest – it suggested a totalitarian dark future world where an elite corps of priests were fighting a vampire menace. It seemed an immensely original idea for a film. Visually, the trailer buzzed with a variety of darkly Gothic designs, slick action poses and creature effects that promised a work that had the potential to do something epic with its premise. It felt like maybe the closest anybody had come yet to producing a live-action equivalent of the anime Vampire Hunter D (1985).
Priest – not to be confused with Antonia Bird's gay priest film Priest (1994) – was kicking around Hollywood as a project for a number of years. It was originally announced under Andrew Douglas, director of the remake of The Amityville Horror (2005), to star Gerard Butler and produced by Sam Raimi's Ghost House Pictures. Alas, there were increasingly ominous signs as one looked closer at the credits. First there was the selection of Scott Stewart as director. Stewart had previously worked at the visual effects house The Orphanage before taking the director's chair with Legion (2010), a film about angels that collapsed into the frequently laughable due to Stewart's absurd action movie poses. There is also the news that Priest was converted to 3D in post-production, even though it had been shot flat, in order to take advantage of the current 3D box-office fad, which is something that automatically gets one star rating deducted from it at the outset on this site.
Priest is based on a Korean manga that ran between 1998 and 2007, published in sixteen volumes. In searching out details about the manga, some things become evident, most notably an almost complete lack of resemblance between the two works beyond the title. For one, the manga does not even contain any vampires, nor is it set in the future. In fact, there are not even any characters that share the same names between the manga and the film. The print version certainly features an elite order of the Catholic Church – but they are engaged in battling fallen angels as opposed to vampires, while the story takes place in a Wild West setting for the most part. There is a priest hero (who has a much more complex backstory than the standard grim loner here) and he is fighting to save the soul of a woman (the one person he loved as opposed to his daughter).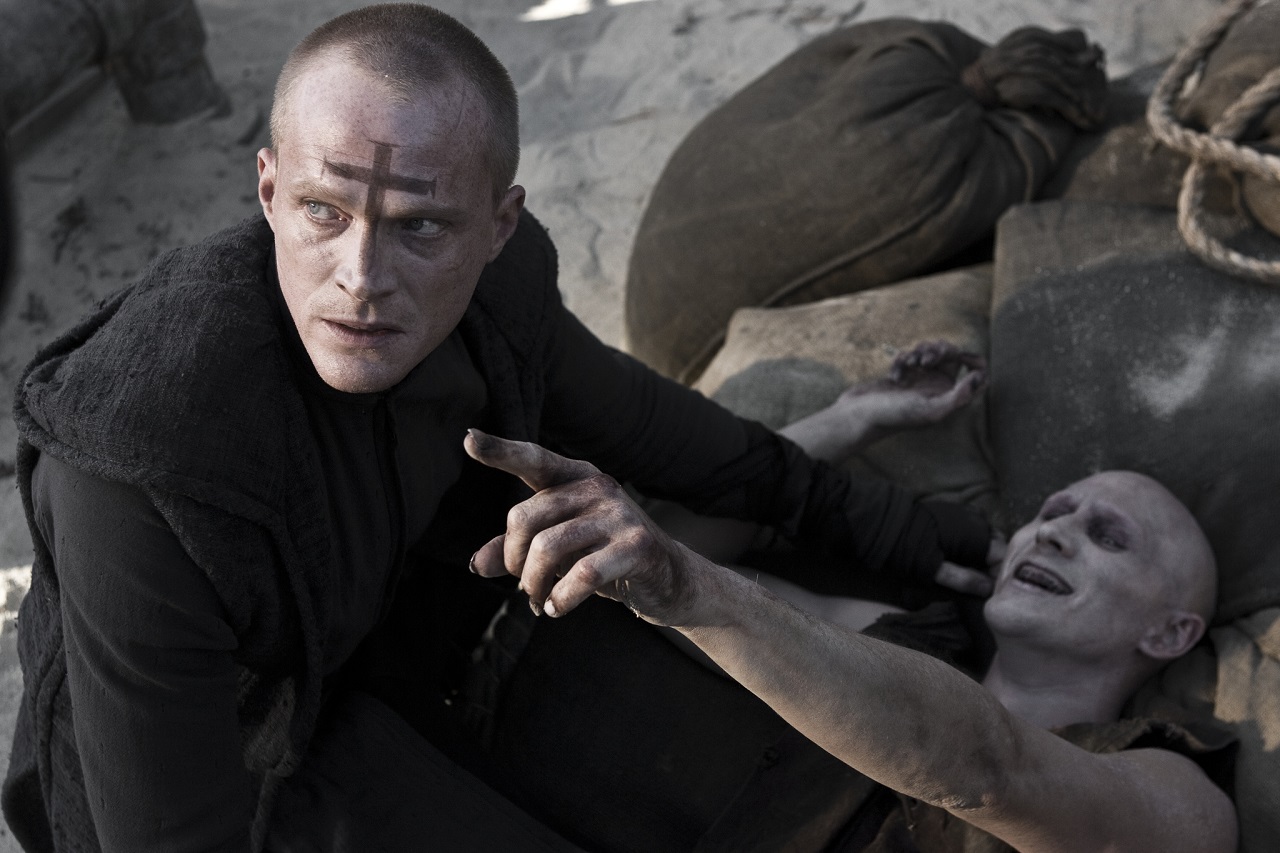 However, resemblances between the two works end about there. It is not clear why the producers brought up the rights to richly detailed comic-book story and threw most of it out – maybe Scott Stewart did not want to do another film about malevolent angels straight after Legion? Maybe the Western setting was quickly reconceptualised as a future milieu after the disastrous flop of the other recent supernatural Western Jonah Hex (2010)? Maybe the producers were simply desperate to jump on board the current box-office fad for vampire movies?
I was initially captivated by the set-up of Priest. The filmmakers lavish a great deal of budget and visual effects talent on creating a detailed future world. It buzzes with possibilities – the suggestion that the populace exist in a massive totalitarian state created by the Catholic Church, while the vampires have been banished to reservations beyond the walls and are itching to break out. All of this seems a highly promising set-up. Visually, Scott Stewart conceives the film frequently in terms of graphic novel poses – Paul Bettany striding about filled with grim intent as his long dark coat flaps up behind him; he like a skeletal figure rocketing across the desert atop his futuristic motorcycle; much made of the image of Karl Urban's villain posing in black cowboy hat and, in the film's campiest image, conducting music while mayhem erupts behind him as his army of vampires slay the populace of a township.
On the other side of the coin, it feels as though every worthwhile scene in Priest has been condensed into the trailer but that there is little to the film beyond that. The totalitarian future world is imaginative at first glance but as soon as Paul Betanny departs the city, the film loses all interest in exploring it and it becomes no more than background. Similarly, the script sets up an interesting hierarchy of vampires, creates a backstory to their war and the suggestion that having been imprisoned on their reservations they are now massing to break out again – but this only telescopes down to a cliche confrontation between Paul Bettany and Karl Urban aboard an about-to-explode train. Even Paul Bettany's character never emerges beyond a stock figure of the grim loner perfected by Clint Eastwood, albeit added to the church-sanctioned vampire slayer that we have seen in Ultraviolet (1998), Vampires (1998), Van Helsing (2004) and others. The look of the vampires is borrowed from I Am Legend (2007).
More disappointingly, after setting the world up, Scott Stewart and screenwriter Cory Goodman seem to have done little more than ransack the Western for the film's latter half, most notably the plot of The Searchers (1956), which featured John Wayne as a Civil War veteran who sets out on the trail of Comanches after they kill his brother and abduct his niece. There are even near-identical scenes in both films where the hero announces his intent to kill the niece if he finds that she has become infected by vampirism/life among the Indians.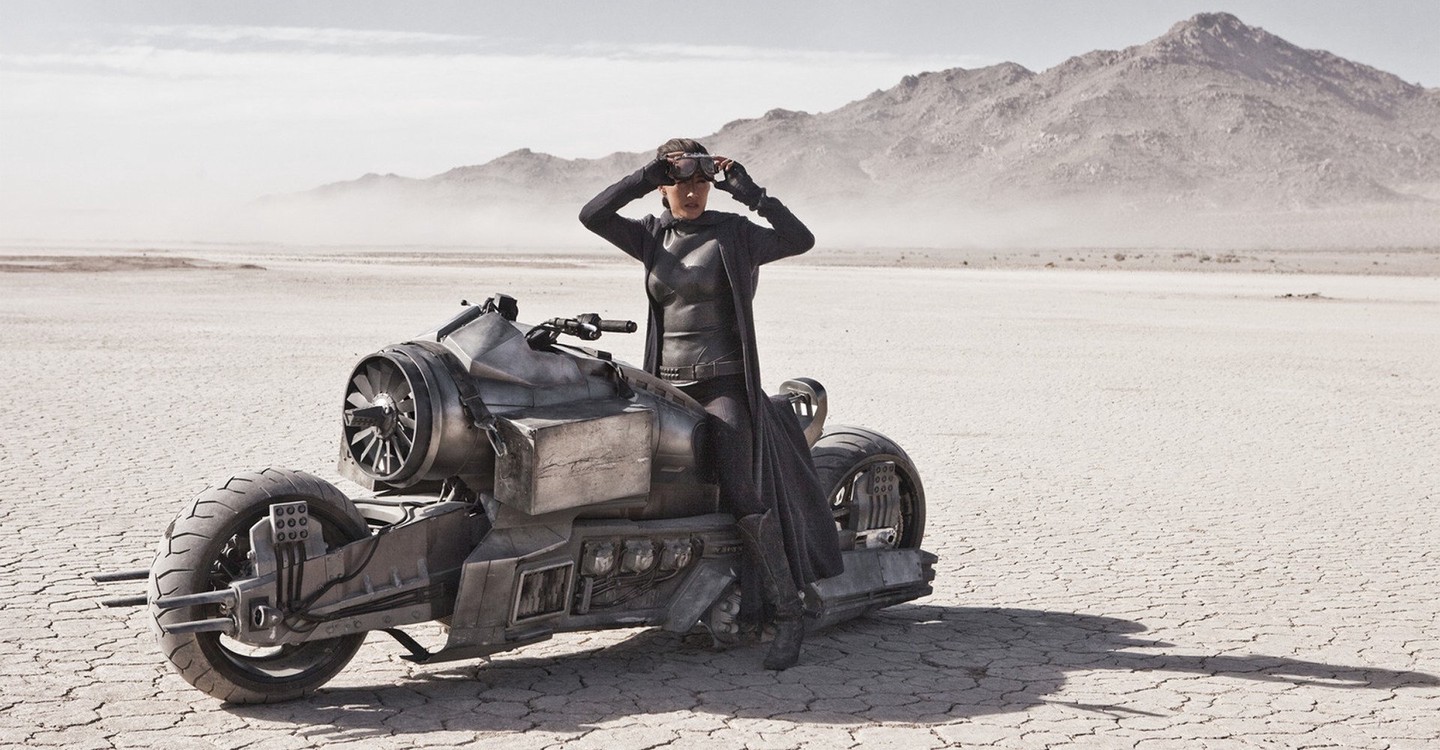 Elsewhere, there is a disappointing transliteration of Western elements – Cam Gigandet play the sheriff and even has a star-shaped badge; Stephen Moyer is the honest rancher struggling to make ends meet; Brad Dourif is the travelling snake oil salesman; Karl Urban even wears a black flat brimmed Stetson hat as the bad guy outlaw and commands operations from aboard a train; in lieu of horses, the heroes race into action aboard futuristic motorcycles; while the vampires seem more as though they are Indians banished to reservations, muttering rebellion and conducting sorties against white people than anything that holds allegiance to Bram Stoker and his heirs.
Paul Bettany is shaping up to be a promising name as an actor but on screen seems too mellow to do the grim avenging loner thing. The great disappointment of Priest is that after setting up such a character and giving him a strong motivating drive, the film fails to seethe with the burning vengeance it should, it only descends to posed action shots. Twilight (2008) actor Cam Gigandet struggles manfully to come across as serious and may yet one day convince people in all his effort that he is capable of giving a performance.
Scott Stewart directs some generally slick action sequences, although there is nothing here that seems standout or anything other than the standard material we have seen a dozen times before. Priest is certainly an improvement over the frequently absurd Legion but Scott Stewart has yet to learn the art of investing his films with anything other than poses he has borrowed from other action and horror films. At the moment, all he is seeming to be is shaping up as a Michael Bay/Stephen Sommers wannabe.
Scott Stewart subsequently went onto make the reasonable alien visitors film Dark Skies (2013), as well as produced the tv series Dominion (2014-5) and directed a segment of the horror anthology Holidays (2016).
(Nominee for Best Production Design at this site's Best of 2011 Awards).
---
---