---
USA. 1994.
Crew
Director – James Yukich, Screenplay – Michael Davis & Peter Gould, Story – Paul Dini & Neal Shusterman, Based on the Videogame created by Technos Japan Corporation, Producers – Jane Hansher, Don Murphy, Alan Schechter & Ash R. & Sunil R. Shah, Photography – Gary Kibbe, Music – Jay Ferguson, Music Supervisor – Jellybean Benitez, Visual Effects – Illusion Arts Inc (Supervisors – Syd Dutton, Robert Stromberg & Bill Taylor) & Pacific Data Images (Supervisor – Andrew Adamson), Special Effects Supervisor – Paul Lombardi, Makeup Effects – Chiodo Bros Production Inc, Production Design – Mayne Berke. Production Company – Imperial Entertainment/Scanbox.
Cast
Scott Wolf (Billy Lee), Mark Dacascos (Jimmy Lee), Robert Patrick (Koga Shuko), Alyssa Milano (Marian Delario), Julia Nickson (Satori Imada), Leon Russom (Chief Delario), Kristina Malandro Wagner (Linda Lash), Henry Kingi (Bo Abobo #2), Nils Allen Stewart (Bo Abobo #1)
---
Plot
Centuries ago when the ancient city of Cheng Tsu was under attack by Shadow Warriors, the king sacrificed himself to create the medallion of the Double Dragon, which was then split up and entrusted to two brothers. New Angeles, 2007. The Double Dragon amulet is sought by the Shadow Warrior Koga Shuko who has managed to obtain one of the halves. The brothers Billy and Jimmy Lee, who form the martial arts competition duo Team L, are given the remaining half by their mentor. Koga Shuko and his thugs then come seeking this half. The brothers are forced to flee through the anarchic gangland territory of New Angeles as Koga Shuko marshals his forces to find them.
---
A creation of the Japanese design company Technos, Double Dragon became one of the most popular arcade games after it first appeared in 1987. While it offered up a nominal post-holocaust setting, Double Dragon's principal appeal was player combat. Players could compete either singly or in doubles and would take on the roles of the brothers Billy and Jimmy Lee as they fought dozens of street brawlers in an effort to rescue Billy's girlfriend Marian who had been abducted. The game took players through various levels – street scenes, a factory, mountains and finally a castle – where moves would allow them to kick and punch opponents, as well as use martial arts and a variety of weapons ranging from knives and baseball bats to whips and sticks of dynamite. The basic appeal of the game was its mindless violence – indeed, when one reached the end of the game, the two players would then have to take one another on to see who would get the girl.
The game went through six different versions and was sold in home computer format, before Technos declared bankruptcy in 1996. Prior to this, the game had been spun off as an animated series Double Dragon (1993-4) from DIC Entertainment, which lasted for two seasons and 26 episodes, although the dictates of children's television managed to remove all the violence that had been the basis of the game.
Double Dragon was one of several films adapted from videogames that appeared around the same time, along with Super Mario Bros. (1993), Street Fighter (1994) and Mortal Kombat (1995). This is something that has grown into its own subgenre since with increasingly popular subsequent entries such as Wing Commander (1999), Final Fantasy: The Spirits Within (2001), Lara Croft, Tomb Raider (2001), Resident Evil (2002), House of the Dead (2003), Alone in the Dark (2005), BloodRayne (2005), Doom (2005), DOA: Dead or Alive (2006), Silent Hill (2006), Hitman (2007), In the Name of the King: A Dungeon Siege Tale (2007), Postal (2007), Far Cry (2008), Max Payne (2008), Prince of Persia: The Sands of Time (2010), Tekken (2010), Dead Rising: Watchtower (2015), Angry Birds (2016), Assassin's Creed (2016), Warcraft (2016), Rampage (2018), Pokemon Detective Pikachu (2019), Monster Hunter (2020), Sonic the Hedgehog (2020), Werewolves Within (2021), the tv series Halo (2022- ) and Uncharted (2022). Most of these were relatively successful. Not however Double Dragon, which languished on the shelves for two years before being dumped to video, which is never a good sign for a film.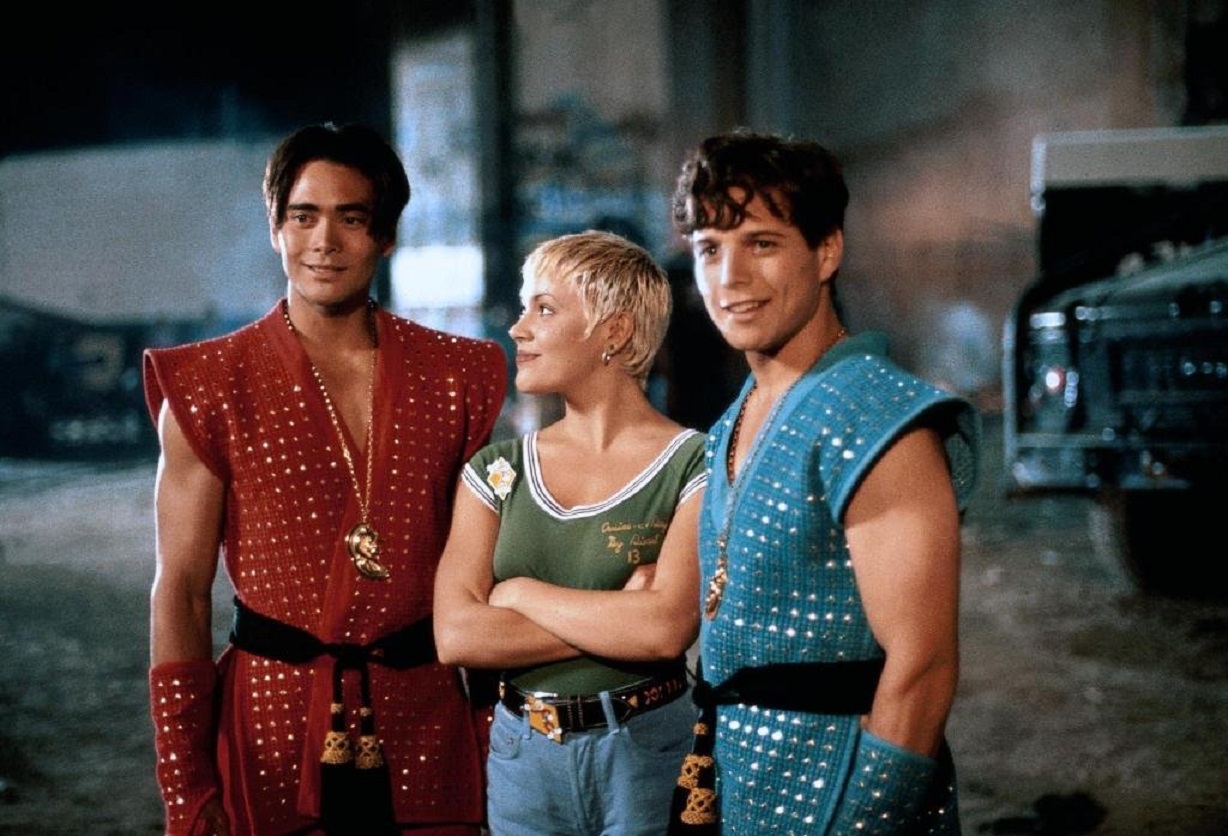 Double Dragon emerges as highly disappointing. What makes it doubly so is that there has clearly been care put into some parts of it. The film has a reasonable budget, while effort has clearly been put into the visual effects and sets to create some elaborate visions of a semi-destroyed future LA. There are also some impressive effects with Robert Patrick turning into a two-dimensional shadow being.
It is just that the rest of Double Dragon never seems sure of its intended audience. On one level, the production values and story are aimed at the hybrid science-fiction/action movie set. On the other hand, the film seems to assume that pre-teens are the sole consumers of videogames and the action is constantly pitched down at their level.
Certainly, there are times that former music video director James Yukich makes the action engagingly energetic – the fight at the boat-house – but at other times it proves amazingly silly and juvenile – one such moment being an attack on the lead villain's quarters by a gang of skateboarding pre-teens. The film ends up as an uncertain hybrid that falls uneasily between two camps. Many direct-to-video action directors would weep to be able to work with the production values that the film has on hand but surely none of the action audience would waste their time with the film's juvenile antics.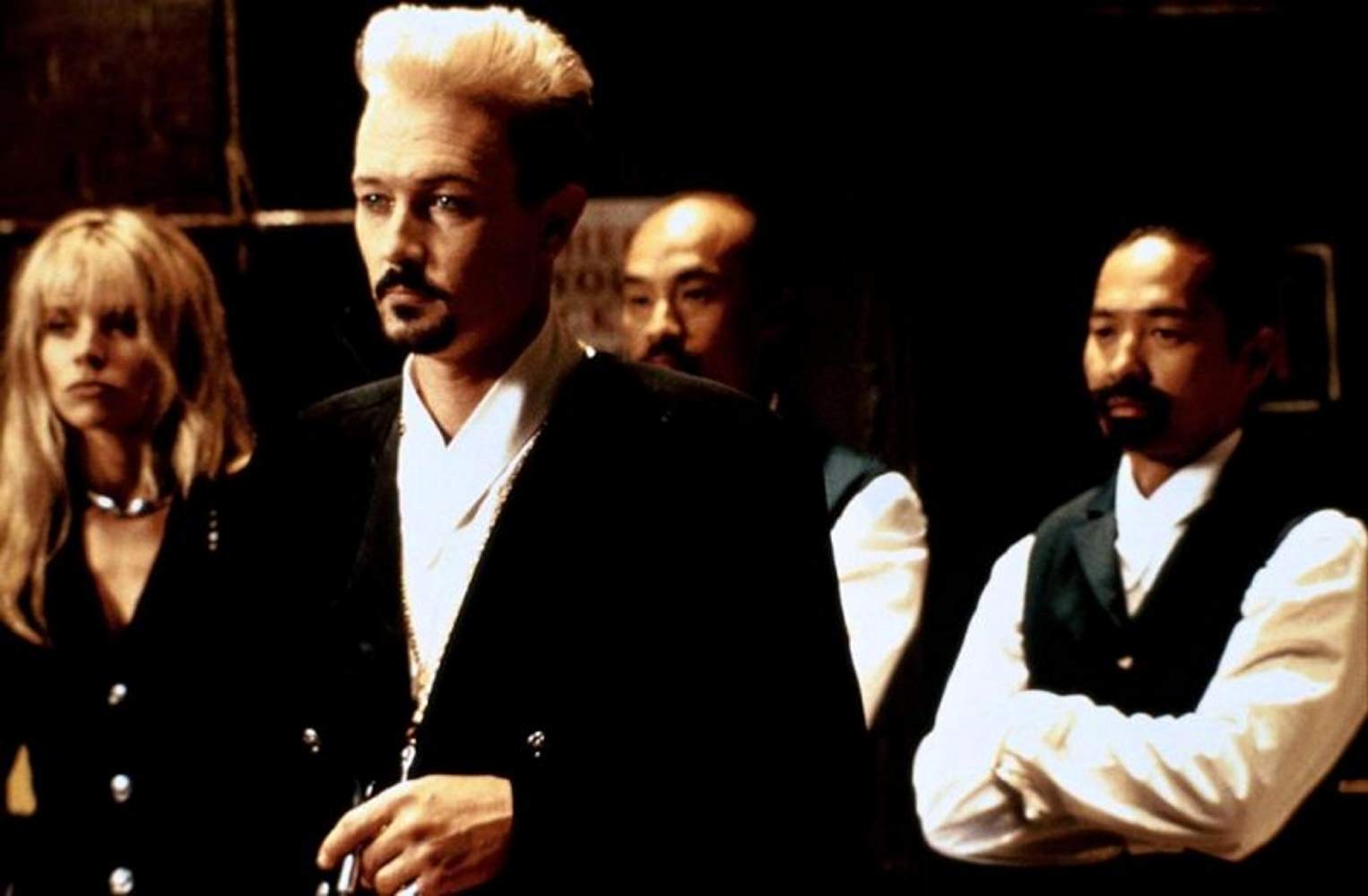 The film's other unfortunate mistake is in its handling of the videogame's basic premise. The two brothers are played as a couple of dorks that barely have enough between them to nail two short planks together. One of these is Scott Wolf who subsequently became a teen sex symbol on tv's Party of Five (1994-2000), although Double Dragon came along a little too soon to capitalise on that.
Aside from the annoyance of the characters, the film's mistake here is the set-up. The game's audience want to see the two brothers kick ass the way they do in the game. However, for the entire film, right up until the climactic battle, the two brothers are impotent, a couple of losers who can never work out how to get their artifact of power working. One understands the need of a film that has clear hopes of making it to a series to set up its mythology but it seems ridiculous having to wait until any theoretical second film before getting to the real action.
---
Trailer here
---