(Zhong Hua Ying Xiong)
---
Hong Kong. 1999.
Crew
Director – Andrew Lau, Screenplay – Manfred Wong, Story – Ma Wing Shing, Producer – Barbie Tung, Music – Kwong Wing Chan, Visual Effects – Centro Digital Pictures Ltd. Production Company – Golden Harvest/Centro/BoB & Partners.
Cast
Ekin Cheng (Hero Hua), Nicholas Tse (Sword Hua), Ken Lo (Monk Luohan), Kirsty Yang (Jade), Yuen Biao (Boss), Qi Shu (Mu), Grace Yip (Kate), Elvis Tsui (Bigot), Francis Ng (Invincible), Anthony Wong (Master Pride)
---
Plot
After the murder of his parents by opium lords, martial arts pupil Hero Hua travels to America. Sixteen years later, Hero's son Sword comes searching for him. Sword then becomes caught up in a gang war as Caucasians marshal the KKK to raze Chinatown. Sword learns how, after working a cruel existence on a labour gang, his father became a vigilante and wanted murderer and of the story of his own birth.
---
Director Andrew Lau emerged as a strong player in Hong Kong cinema, particularly with the international success of Infernal Affairs (2002) and sequels, which was later remade as The Departed (2007). Since the early 1990s, Andrew Lau has worked in variety of Hong Kong genres. He previously ventured into the Wu Xia cycle with The Storm Riders (1998). This was a film that showed Andrew Lau as bringing a stronger ability with story than any other director in the usually kinetically (as opposed to narratively) driven genre of Hong Kong fantasy. Andrew Lau was also the first director to import Western CGI effects to Wu Xia. A Man Called Hero was Lau's highly ambitious follow-up to The Storm Riders.
A Man Called Hero is probably more ambitious than it is entirely successful. You have to admire Andrew Lau for that. Lau chooses a very complex story, one that cuts back and forth between two eras following father and son in their mutual quests, which is not always easy to follow in subtitles. Uniquely, A Man Called Hero also becomes the first Wu Xia film to explore the substantial and cinematically unexplored territory of US Chinese immigrancy – an area that may well become a new crossover territory following the explosion of Hong Kong fantasy in the West with Crouching Tiger, Hidden Dragon (2000). The film here is particularly good at integrating stock footage and some beautifully authentic seeming and elaborate outdoor sets to recreate a period Chinatown.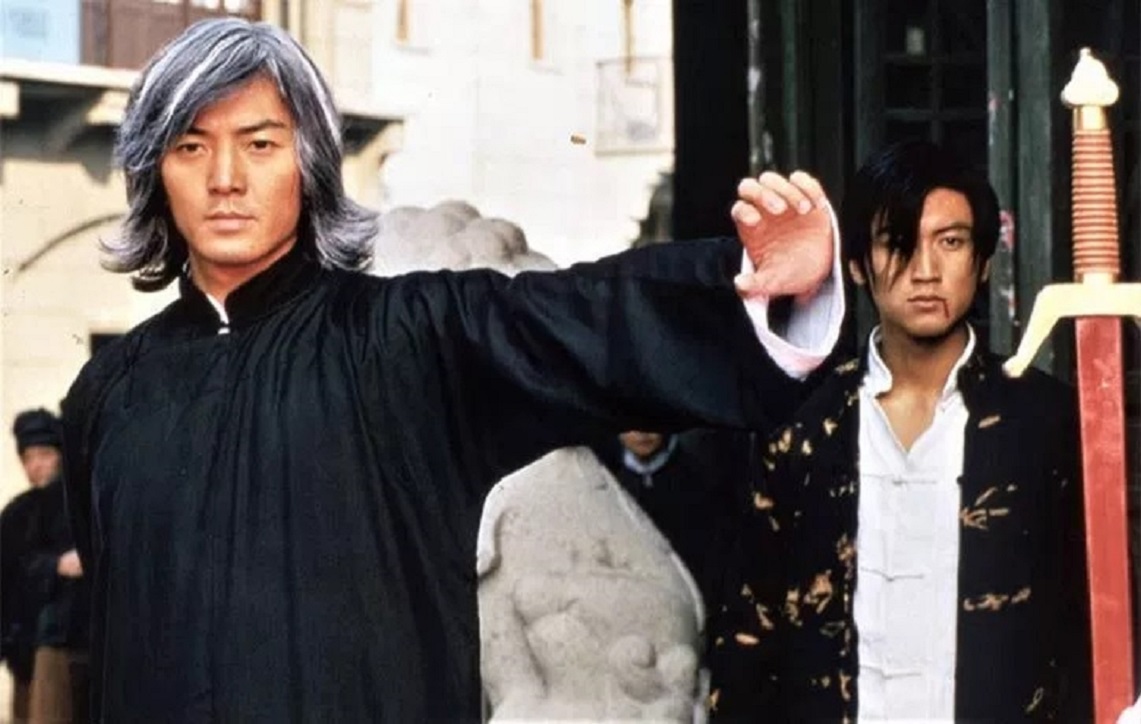 Moreover, it is 50 minutes in before Andrew Lau comes to any fantasy elements at all – you might not be mistaken in thinking that A Man Called Hero is a Wu Xia with pretensions toward being an historical drama. Certainly when the fantasy elements do eventually enter, Lau creates some wild and unique visions – combatants whipping up whirlwinds of rainwater and walls of paving stones from the street; a superpowered battle atop the Statue of Liberty that prefigures X-Men (2000); and in particular, the unique character of Shadow who blurs in and out and moves by bouncing between walls like a grasshopper. Andrew Lau is one of the few Hong Kong directors to have confidently blended CGI effects with the Wu Xia cycle. Although for all its successes, A Man Called Hero is also seems confusedly caught between trying to be an historical romance and taking full flight as a Wu Xia.
Andrew Lau's other genre films include Ultimate Vampire (1991), the reincarnation romance Ghost Lantern (1993), the Wu Xia The Duel (2000), the superhero film The Avenging Fist/Legend of Tekken (2001), the alien invasion film Wesley's Mysterious File (2002), the supernatural comedy Women from Mars (2002), the horror film The Park (2003), the martial arts superhero film Legend of the Fist (2010) and the Wu Xia The Guillotines (2012) and Kung Fu Monster (2018).
---
---