---
Crew
Director – Julie Taymor, Based on the Play by William Shakespeare, Producers – Lynn Hendee & Ben Latham-Jones, Photography – Rodrigo Prieto, Music – Elliot Goldenthal. Production Company – Ealing Studios/Londinium Films/Theatre for a New Audience.
Cast
David Harewood (Oberon), Kathryn Hunter (Puck), Lily Englert (Hermia), Jake Horowitz (Lysander), Max Casella (Nick Bottom), Mandi Masden (Helena), Zach Appelman (Demetrius), Tina Benko (Titania), Joe Grifasi (Peter Quince), Jacob Ming-Trent (Tom Stout), Zachary Infante (Francis Flute), Roger Clark (Duke Theseus), Robert Langdon Lloyd (Lord Egeus), Okwui Okpowasili (Queen Hippolyta), William Youmans (Robin Starveling)
---
Plot
In Athens, Lysander and his love Hermia flee into the woods, planning to elope after her father decrees that she must marry another. As they sleep, the fairy king Oberon gets his knave Puck to place a drop from a magic flower in Lysander's eye so that he will love her when he wakes. However, the first girl that Lysander sees is Helena and his sudden affection for her causes much confusion. Piqued with his wife Titania, Oberon also has Puck place a drop in her eye and makes sure she falls for the ugliest thing he can find – the actor Nick Bottom who has been magically transformed with the head of an ass.
---
Julie Taymor is best known for her work as a theatrical director, gaining acclaim (and a number of awards) for the great deal of visual flair with which she has adapted various classic operas and plays. Her greatest success has been the huge hit of the Broadway production of Disney's The Lion King (1997), which won several awards, although more recently she befell the fiasco of Spiderman: Turn Off the Dark (2011). Taymor has a secondary career as a film director, beginning with the Edgar Allan Poe tv adaptation Fool's Fire (1992) and winning an Emmy for her tv production of Oedipus Rex (1993). Taymor branched out onto theatrical releases with Titus (1999), an adaptation of Shakespeare's Titus Andronicus (1588-93), wherein she reinterpreted the text into a visually fascinating alternate world that was a blend of Ancient Roman and the modern world.
Taymor subsequently went onto make other films, including the excellent Frida Kahlo biopic Frida (2002) and Across the Universe (2007), which adapted Beatles music into a surreal fantasia of the 1960s Love Generation, while also acted as an executive producer on the live-action version of The Lion King (2019). She returned to Shakespeare with The Tempest (2010), which cast Prospero with Helen Mirren and gave the play an incandescent visual life. She returns to Shakespeare again here with an adaptation of A Midsummer Night's Dream (1595), which alongside The Tempest (c1611) and Hamlet (1602), is one of the handful of Shakespeare plays that overtly broaches fantasy.
The point that should be made about A Midsummer Night's Dream is that it is not, as Julie Taymor's previous Shakespeare adaptations were, a film adapted from a play. Rather it is a theatrical production – which Taymor directed for the Theatre for a New Audience at the Polonsky Shakespeare Center in Brooklyn and played from December 2013 to January 2014 – where video cameras have simply filmed a live performance. In the last few years, it has become a frequent occurrence where multiplexes screen performances that are beamed live all around the world from the London stage. Although the difference here is that this is a performance that has been recorded on film and given a regular theatrical release.. The film version had its premiere at the Toronto Film Festival.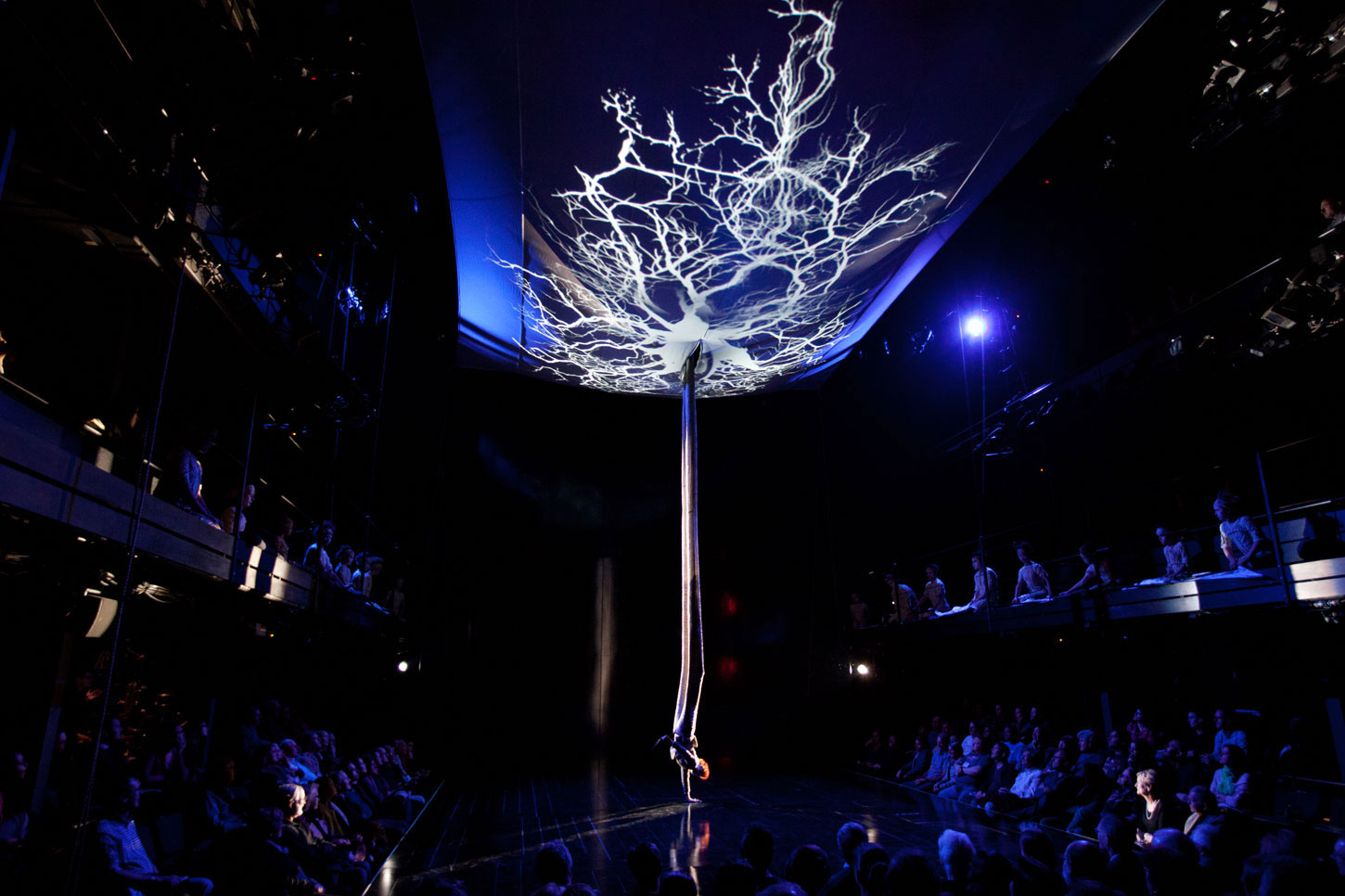 The fact it is a stage performance gives A Midsummer Night's Dream something much more extraordinary than you would have gotten if it were a film that had been shot on a soundstage and/or locations. The stage that is used for the performance is not that larger than the average living room. The audience are seated on both sides – it is in effect more like a catwalk than it is a standard proscenium with curtains, wings etc.
What is striking here is that Julie Taymor keeps the sets to a minimum – some of the time there is the frontispiece of a mansion that acts as a double doorway for the cast to come and go and the rest is made up of large foldings of sheets. The enchanted woods are merely represented by stagehands in darkened hoods holding what look like bamboo poles at random angles in front of the cast who must weave through them. There is something extraordinarily inventive to the minimalism at work here. The costumes are largely atemporal – though the play is supposedly set in Ancient Athens, the characters seems to have stepped out of a stylised Edwardian era and even use electric lamps at one point.
The visuals that Taymor conjures forth are amazing, even given the minimalism of the production. We are awed from the opening moments where the first scene gives way to the utterly unearthly image of Kathryn Hunter descending from the ceiling, suspended upside down in giant thirty-foot leggings, before the stage erupts with what look like zombified children, a blur of butterfly projections and dancers with long flagpoles extending from their backs. The world of the faerie is opened up with hi-def projections across the stage and screens that seem to dwarf and swallow the actors inside them, while the fairies are played by children carried about the stage by extras. And then there is just the downright eccentric – such as furniture made out of grass or scenes where the hounds released are played by actors wearing dog masks walking on mini-stilts. When it comes to the fights between the thwarted lovers, Taymor appealingly strips all of them to their underwear and stages everything as a pillow fight – why, well just because.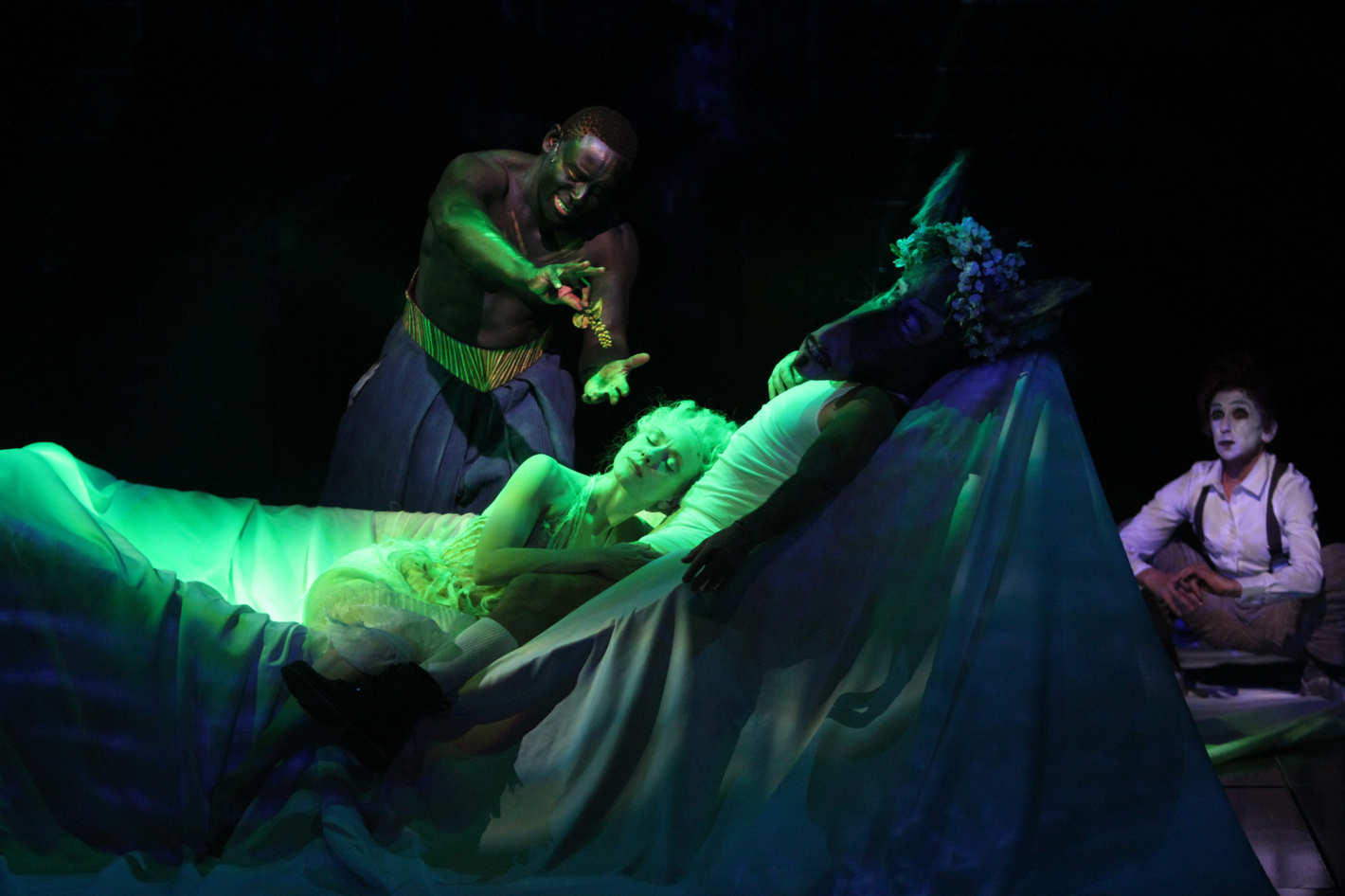 What I like about Julie Taymor's Shakespeare is that she opens it up, finds a visual interpretation for the stories and characters. In her hands, it is not just characters pompously pontificating Shakespearean verse as almost always comes to mind when you think of Shakespeare. She is alert and alive to the minute tone of scenes. She brings out aspects of the characters. All of the Mechanicals, which have almost always been minimised in any other film version of the play, are given distinct characters and play off each other with great comic brio (even if the determination to render all of their scenes drags the end of the show out some twenty minutes longer than it probably needed to be).
The best performance in the show comes from British actor David Harewood, a seasoned face on UK television and later famous as J'onn J'onnz in tv's Supergirl (2015-21), who gives Oberon a magnificently authoritative presence, delivered largely by the power of his basso voice alone, as he parades about bare-chested and in coloured stage makeup for the entire show. The other exceptional performance is from Kathryn Hunter who plays with awkward-limbed acrobaticism, her face made up in clown makeup, allowing her to become a character of both extraordinary expressiveness and knavish mischief.
We have seen numerous versions of the story on film before, ranging from William Dieterle/Max Reinhardt version A Midsummer Night's Dream (1935), the all-star A Midsummer Night's Dream (1999) and Russell T. Davies's strange modernised A Midsummer Night's Dream (2016) to list the most notable.
(Winner in this site's Top 10 Films of 2014 list. Nominee for Best Director (Julie Taymor) at this site's Best of 2014 Awards).
---
---