---
USA. 1999.
Crew
Director/Screenplay – Michael Hoffman, Based on the Play by William Shakespeare, Producers – Michael Hoffman & Leslie Urdang, Photography – Oliver Stapleton, Music – Simon Boswell, Visual Effects Supervisor – Rich Thorne, Visual Effects – Digital Filmworks (Supervisor – Peter W. Moyer), Special Effects Supervisor – Antonio Corridori, Makeup Design – Paul Engelen, Production Design – Luciana Arrighi. Production Company – Fox Searchlight Pictures/Regency.
Cast
Kevin Kline (Nick Bottom), Rupert Everett (Oberon), Stanley Tucci (Puck), Michelle Pfeiffer (Titania), Calista Flockhart (Helena), Anna Friel (Hermia), Christian Bale (Demetrius), Dominic West (Lysander), David Strathairn (Duke Theseus), Roger Rees (Peter Quince), Bernard Hill (Egeus), Sophia Marceau (Hippolyta)
---
Plot
Monte Athena, Italy, in the early 19th Century. Two couples, Lysander and Hermia and Demetrius and Helena, mismatched by unrequited desire, stumble into an enchanted wood. There the fairy king Oberon is engaged in a battle of wits against the queen Titania. Oberon has the knavish Puck bring him a flower that causes the one whose eyes its drop is placed onto whilst they sleep to fall immediately in love with the first person they gaze upon when they wake. Thus, he and Puck cause both sets of lovers to each fall in love with the other. At the same time, Titania is made to fall in love with the mortal actor Nick Bottom who has been transformed into an ass.
---
Filmic Shakespeare adaptations – such as the classic Laurence Olivier versions of Henry V (1944), Hamlet (1948), Richard III (1953) and Othello (1956) and the Cinerama versions of the 1950s such as Julius Caesar (1953) and Romeo and Juliet (1954) – have always been dogged by a failure to transcend the stagebound nature of the original plays and to work cinematically. Even when given the cardboard backdrops of Cinerama spectacle, they still seemed filmed plays rather than films in their own right. There were minor exceptions, notably Franco Zefferelli's adaptation of Romeo and Juliet (1968) and Roman Polanski's MacBeth (1971). It became Kenneth Branagh who opened Shakespeare up with his adaptation of Henry V (1989). Branagh directed with a bravura dynamism that gave the play a cinematic life the likes of which Shakespeare had not received before. Branagh placed his directorial imprimatur on several other excellent Shakespearean adaptations – Much Ado About Nothing (1993), Hamlet (1996), Love's Labor Lost (2000) and As You Like It (2006).
The success of Branagh's films created a new box-office vogue for Shakespearean adaptations with a number of other Shakespeare plays being filmed – Zefferelli's Hamlet (1990), Peter Greenaway's eccentric Tempest adaptation Prospero's Books (1991), Othello (1995), Richard III (1995), the trendy teen update Romeo +& Juliet (1996), Twelfth Night (1996), The Tempest (tv movie, 1998), Titus (1999) and The Tempest (2010). Not to mention a host of Shakespearean offshoots – Rosencrantz and Guildenstern are Dead (1990), Branagh's In the Bleak Midwinter (1995) about the staging of Hamlet in a remote village, Al Pacino's documentary Looking for Richard (1996), the bad taste parody Tromeo and Juliet (1996), 10 Things I Hate About You (1999), a teen update of The Taming of the Shrew, O (2001), a modernised version of Othello, the BBC tv series ShakespeaRe-Told (2005), which redid a number of Shakespeare plays in modern setting and dialogue, the animated Gnomeo & Juliet (2011), which conducted Romeo and Juliet with talking garden gnomes, and of course the overrated and irritatingly twee Shakespeare in Love (1998). Most of these tried to emulate Branagh's formula of cinematically opening the plays up while appealing to mainstream crossover appeal by casting well-known box-office stars such as Keanu Reeves in Much Ado About Nothing, Mel Gibson as Zefferelli's Hamlet, Robin Williams in Branagh's Hamlet, Leonardo Di Caprio in Romeo +& Juliet and Kevin Kline, Michelle Pfeiffer and Calista Flockhart here.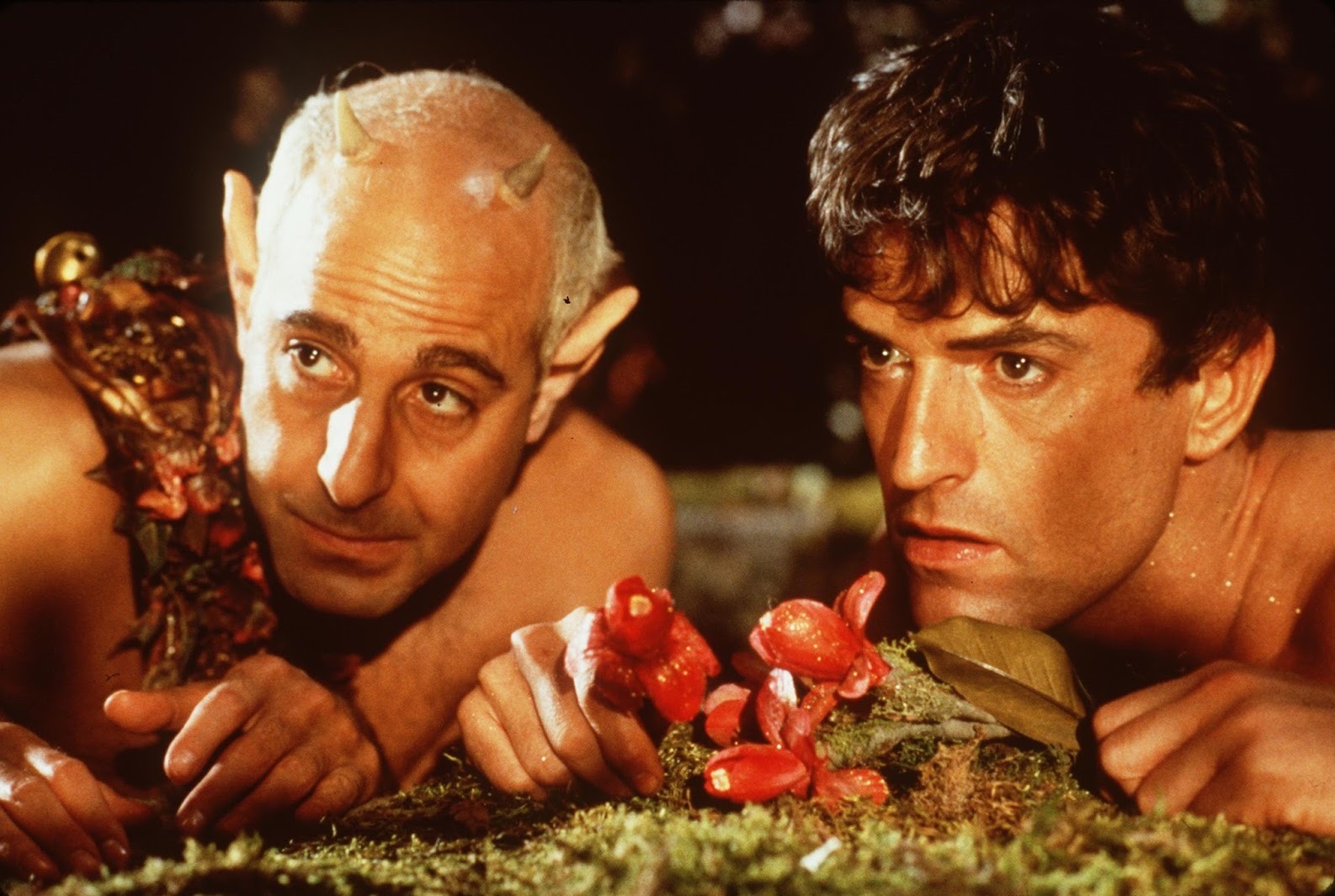 Alongside The Tempest (c1611), A Midsummer Night's Dream (1595) is the most fantastical of all Shakespeare's plays. The film has updated the play's setting from Ancient Greece to early 19th Century Tuscany – which does produce the quaintly incongruous image of fairies and mortals quoting Shakespearean dialogue while riding about on bicycles. The combination proves surprisingly congenial and the evocation of period Italy swims with a joyously earthy beauty.
It is just that when the film gets to the enchanted forest, it becomes less interesting. The forest sets are obviously stagebound and the sight of well-known actors prancing about in horns and garlands of flowers does get a little precious. Michael Hoffman fails to open these scenes up in the extraordinarily visuals ways that respectively the William Dieterle/Max Reinhardt version of 1935 and Julie Taylor's 2014 staging (see below) do.
Nor does the romantic angle quite work – the two mortal romantic couples are a singularly stolid and uninteresting lot and director Michael Hoffman never animates the romantic twists and reversals of fate with the same exhilaration that Kenneth Branagh did in the similar Much Ado About Nothing.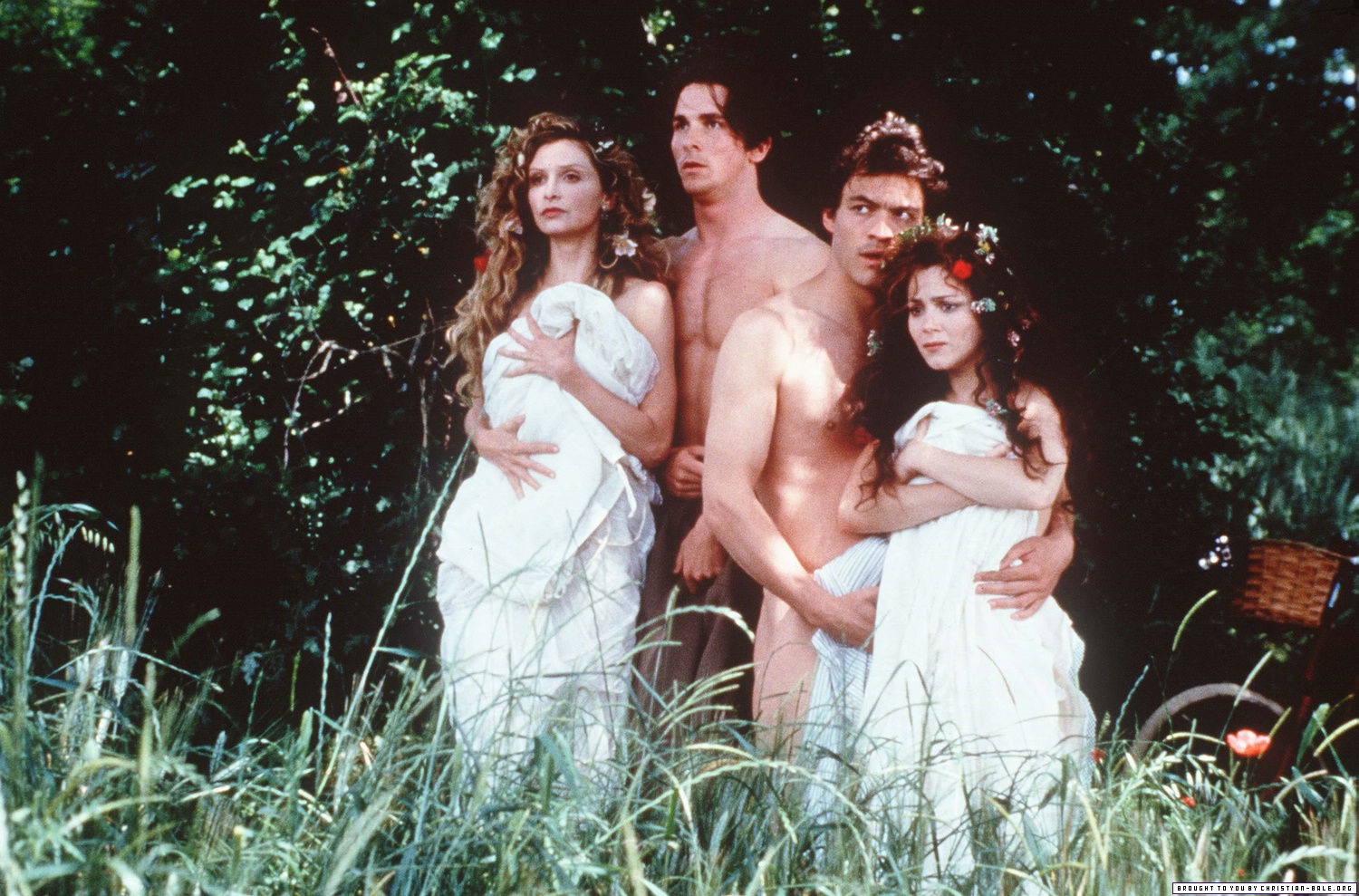 Certainly, Kevin Kline as the man transformed into an ass being seduced by  Michelle Pfeiffer as Titania has far more life to it, as do the scenes with Rupert Everett's Oberon and Stanley Tucci's impish Puck. The film ends on a superb staging of Shakespeare's deliberately bad play-within-a-play about Pyramus and Thisbe, which gives the film a charming uplift and salvages it from the uninvolving forest scenes.
That in the end the film remains an enjoyable rather than a great Shakespearean adaptation is less its fault than that A Midsummer Night's Dream is one of Shakespeare's more whimsical and lighter plays. That A Midsummer Night's Dream is not a great Shakespearean adaptation is not from the film's want of trying either. The definitive version of the Shakespeare play however is still the William Dieterle/Max Reinhardt version A Midsummer Night's Dream (1935). Julie Taymor offered an excellent adaptation with A Midsummer Night's Dream (2014) and Russell T. Davies a strange modernised version with A Midsummer Night's Dream (2016).
---
---