---
Crew
Director – Kelly Asbury, Screenplay – Kelly Asbury, Mark Burton, Kevin Cecil, Kathy Greenberg, Andy Riley & Steve Hamilton Shaw, Based on a Screenplay by John R. Smith & Ron Sprackling, Producers – Baker Bloodworth, David Furnish & Steve Hamilton Shaw, Music – James Newton Howard, Songs – Chris Bacon & Elton John, Animation – Starz Animation, Animation Director – Henry F. Anderson, Visual Effects Supervisor – Corey D. Smith, Production Design – Karen deJong. Production Company – Rocket Pictures
Voices
James McAvoy (Gnomeo), Emily Blunt (Juliet), Jim Cummings (Featherstone), Ashley Jensen (Nanette), Matt Lucas (Benny), Jason Statham (Tybalt), Michael Caine (Lord Redbrick), Maggie Smith (Lady Blubery), Stephen Merchant (Paris), Patrick Stewart (Bill Shakespeare), Julie Walters (Miss Montague), Richard Wilson (Mr Capulet), Ozzy Osbourne (Fawn), Dolly Parton (Dolly), Hulk Hogan (Terrafirmenator)
---
Plot
Miss Montague and Mr Capulet are unhappy neighbours in suburban Stratford-on-Avon. Their respective collection of garden gnomes, the Reds and the Blues, view each other with hostility. After his lawnmower is wrecked in a race up against the Reds, the Blue gnome Gnomeo conducts a raid through the fence into Red territory. In the midst of his mission, Gnomeo meets the Red gnome Juliet who has snuck out to get an orchid. The two fall for one another. However, pursuing their romance means having to defy the rivalries on their respective sides of the fence. In the course of this, events serve to bring the two gardens to war with one another.
---
The premise for Gnomeo & Juliet is surely one of the most outlandish concepts for a film to come out this year (and we are not even out of January yet). Here William Shakespeare's Romeo and Juliet (1595), which was about two young teenagers finding love despite their warring families, has been updated and is now conducted between rival backyards of talking garden gnomes. That said, it oddly fails to surprise one. Having seen Romeo and Juliet translated into everything from a musical between rival New York street gangs in West Side Story (1961), between lovers on either side of the East-West conflict of the Cold War in Romanoff and Juliet (1961), conducted as a bad taste Troma parody with Tromeo & Juliet (1996), made into an anime tv series Romeo x Juliet (2007), even as a piece of performance art improvised via Twitter with Such Tweet Sorrow (2010), you become surprisingly blasé about such things.
Gnomeo & Juliet comes from Rocket Pictures, a British production company formed by singer Elton John and his husband David Furnish. Rocket Pictures has produced three live-action films previously, including the bodyswap comedy It's a Boy Girl Thing (2006), but Gnomeo & Juliet was their most high-profile release to this point. Gnomeo & Juliet was originally a project that was started at Disney but ended up being dumped during the 2006 studio reshuffle. The director is Kelly Asbury who had previously co-directed DreamWorks' Spirit: Stallion of the Cimarron (2002) and Shrek 2 (2004) and subsequently went on to make Smurfs: The Lost Village (2017) and UglyDolls (2019).
Once you get past the outlandish premise, Gnomeo & Juliet conducts an amiable run through of the modern animated film formula. The emphasis is placed on humour and comedic slapstick capers running around the garden. These eventually come to dominate many of the basics of the play. Every other version of Romeo and Juliet, for instance, places the emphasis on the romance between the star-crossed lovers, whereas here the romantic element is rather perfunctory, which may well be more due to the film's pitching Shakespeare down to a young demographic.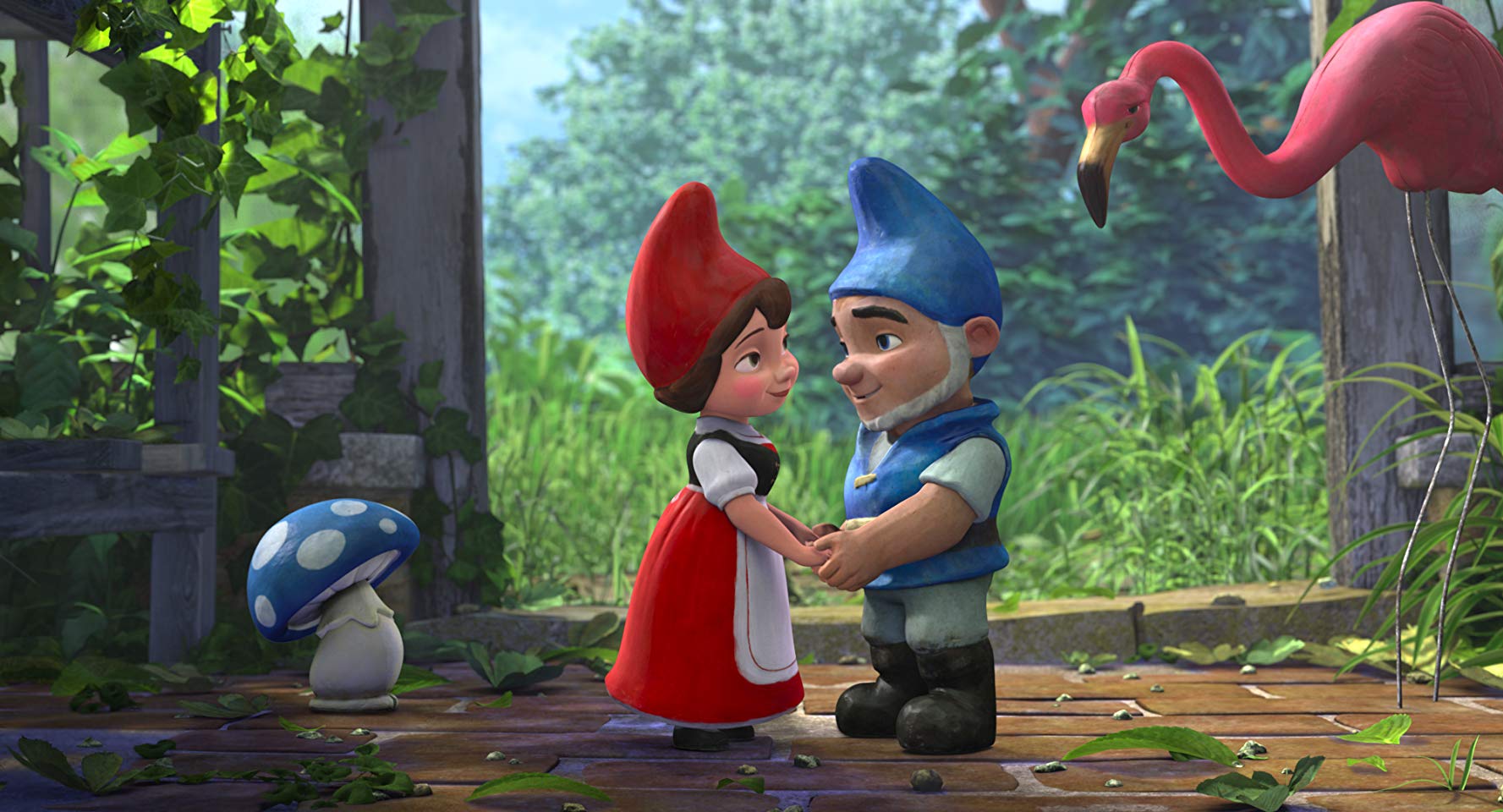 Mindedly, Shakespeare might well have some difficulty recognising his play, which has now been retooled to include the rival families engaged in races on lawnmowers; the Nanny recast as a ceramic frog ornament that squirts a stream of water from her mouth; the friar being played by a talking pink lawn flamingo with a funny accent; and a climax wherein both gardens are razed by an evil artificially intelligent lawnmower known as the Terraferminator (voiced by no less than former wrestling superstar Hulk Hogan).
The film also comes packed with numerous Shakespearean in-jokes. It takes place in contemporary Stratford-on-Avon, Shakespeare's birthplace; a shattered gnome is put together with a brand of glue known as The Taming of the Glue; there is a Rosencrantz and Guildenstern moving firm; Gnomeo is carried away by a van for Tempest Teapots (ie. a storm in a teacup pun) and so on. Various lines of classic Shakespearean dialogue (not just from Romeo and Juliet) make sporadic appearances throughout.
There does seem a certain incongruity in adapting Romeo and Juliet as an animated film for children as the original is a tragedy that ends with the two lovers dying by their own hand due to melodramatic miscommunication. Realising that such a downer of an ending would never do in a children's film, Gnomeo & Juliet is sufficiently postmodern to have Gnomeo sitting atop a talking bronze statue of Shakespeare and arguing with The Bard in favour of rewriting the traditional tragic outcome for a happy ending.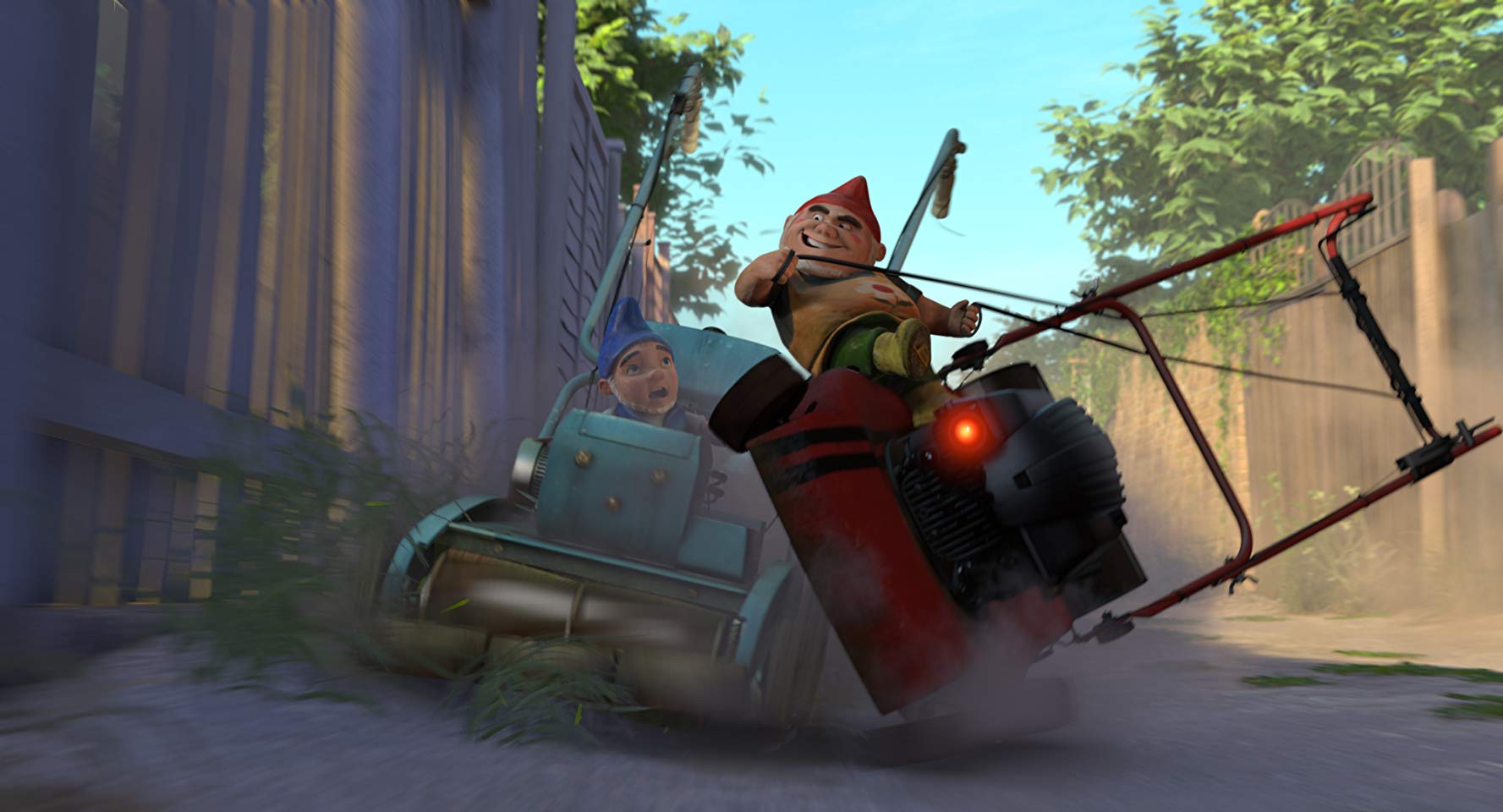 Various of Elton John's classic songs have been used to punctuate sections of the film, although sometimes in ways that completely distort the original song – for example, Saturday Night's Alright for Fighting (1973), a song originally about drunken barroom brawling, now becomes a theme for the lawnmower races.
Gnomeo & Juliet emerges with sufficiently good humour, a likeable range of characters and tongue sufficiently placed in cheek so that everything does not topple over into the irritatingly self-conscious cutsieness of other recent animated films. It proves amiably lightweight and one could certainly think of far worse time wasters.
Sherlock Gnomes (2018) was a sequel. featuring return appearances from many of the voice actors here, plus the addition of Johnny Depp as a gnome equivalent of Sherlock Holmes.
---
---