---
Crew
Director – Brian Robbins, Screenplay – Jack Amiel, Michael Begler, Geoff Rodkey & The Wibberlys, Based on the 1959 Film The Shaggy Dog Written by Lillie Hayward & Bill Walsh and the 1976 Film The Shaggy D.A. Written by Don Tait, Suggested by the Novel The Hound of Florence by Felix Salten, Producers – Tim Allen & David Hoberman, Photography – Gabriel Beristain, Music – Alan Menken, Visual Effects Supervisor – Stephen Rosenbaum, Visual Effects – CIS Hollywood (Supervisor – Thomas I. Smith) & Tippett Studio (Supervisor – Thomas H. Schlesky), Special Effects Supervisor – John S. Baker, Animatronic Effects – Stan Winston Studio (Supervisors – Paul Mejias & J. Allan Scott), Production Design – Leslie McDonald. Production Company – Mandeville Films/Boxing Cat Films.
Cast
Tim Allen (Dave Douglas), Kristin Davis (Rebecca Douglas), Robert Downey Jr (Dr Kozak), Spencer Breslin (Josh Douglas), Zena Grey (Carly Douglas), Danny Glover (Ken Hollister), Bess Wohl (Dr Gwen Lichtman), Jarrad Paul (Larry), Shawn Pyfrom (Trey), Jane Curtin (Judge Claire Whittaker), Philip Baker Hall (Lance Strictland), Joshua Leonard (Justin Forrester), Craig Kilborn (Baxter), Rhea Seehorn (Lori)
---
Plot
Assistant District Attorney Dave Douglas is always busy and frequently neglectful of his wife Rebecca and two children. He is currently prosecuting his daughter Carly's teacher Justin Forrester on charges of setting a fire at the Grant & Strictland pharmaceutical laboratories where Forrester claims that he was protesting against the treatment of lab animals. Carly is protesting outside Grant & Strictland when she finds a dog that has escaped from the laboratory and brings it home. Unknown to them, this is a 300 year old sheepdog that scientist Dr Kozak has abducted from Tibet and believes may be able to provide the secret of immortality if its blood can be synthesized. The children name the dog Shaggy. Dave insists on taking it to the pound, not before it bites his hand. The next day, Dave starts uncontrollably exhibiting canine behaviours and then transforms into a sheepdog. In dog form, he tries to get his family to understand who he is. This also becomes an opportunity for him to see how he has been neglecting his family, as well as to discover the unscrupulous experiments that Kozak is up to.
---
The Shaggy Dog is one of a host of modern remakes and sequels by Disney of their earlier animated and live-action films that have emerged in the 1990s and beyond. Others among this fad include The Jungle Book (1994), 101 Dalmatians (1996), That Darn Cat (1997), Flubber (1997), Freaky Friday (2003), Herbie: Fully Loaded (2005), Race to Witch Mountain (2009), Tron Legacy (2010), Maleficent (2014), Cinderella (2015), The Jungle Book (2016), Pete's Dragon (2016), Beauty and the Beast (2017), Mary Poppins Returns (2018), Aladdin (2019), Dumbo (2019), Lady and the Tramp (2019), The Lion King (2019), Mulan (2020), Cruella (2021), Pinocchio (2022), The Little Mermaid (2023) and Peter Pan and Wendy (2023).
The original in question was The Shaggy Dog (1959), one of Disney's first live-action comedies, featuring Tommy Kirk as a teenager who put on a Borgia Ring that inadvertently caused him to turn into a sheepdog. This also gave birth to a sequel The Shaggy D.A. (1976) wherein Dean Jones played the now adult Tommy Kirk who was a District Attorney who kept turning into a dog at inopportune moments. There was a further tv movie sequel with The Return of the Shaggy Dog (1987) featuring Gary Kroeger as the title character, and a tv movie remake of the original with The Shaggy Dog (1994) starring Scott Weinger.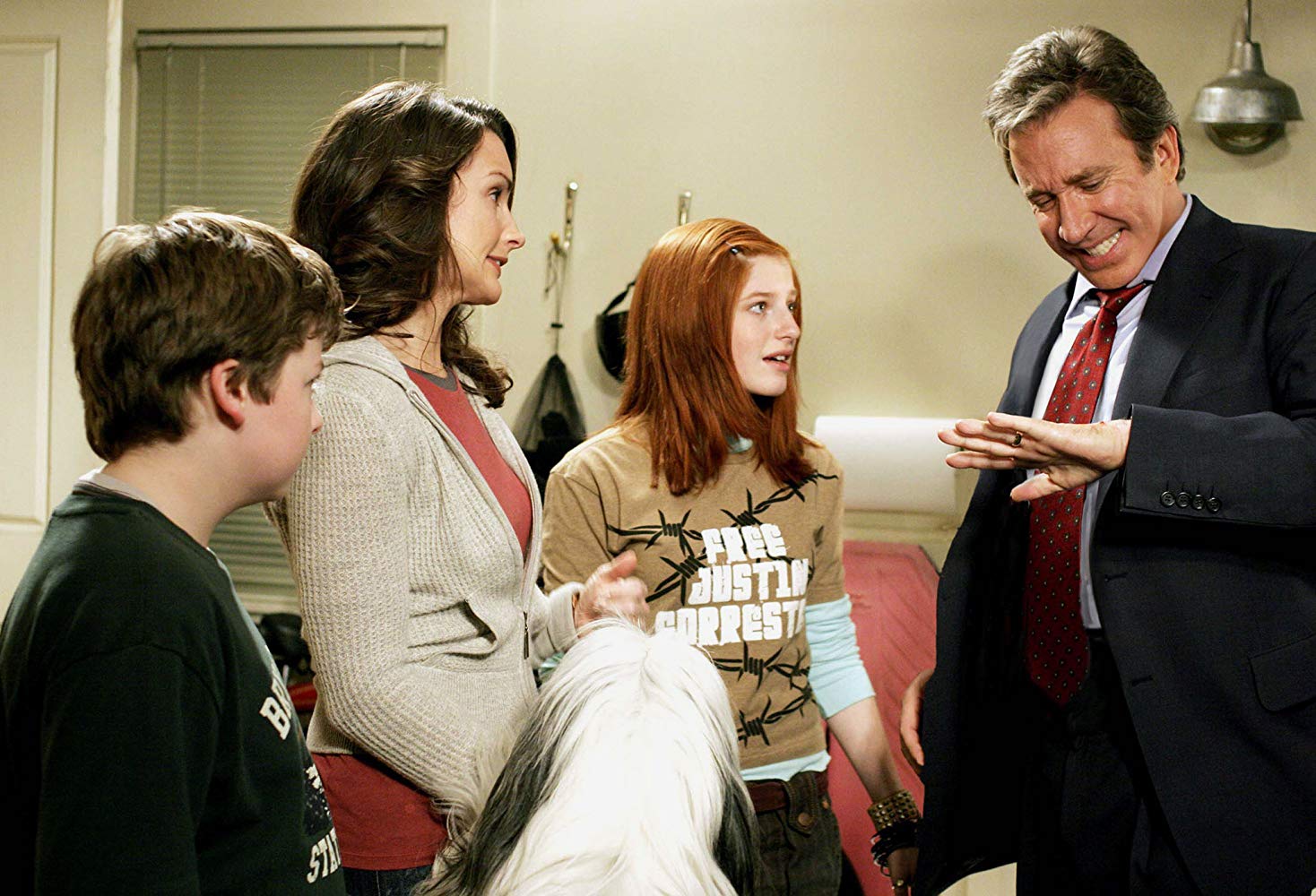 One thing that is noticeable about The Shaggy Dog 2006 is that most of The Shaggy Dog 1959 has been tossed out and this version bears far more in common with The Shaggy D.A.. For one, the original role was played by a teenage Tommy Kirk, while here the title role is inherited by a 53-year-old Tim Allen who is cast as a classic Disney family man. There are no Borgia Rings; rather this version invents a backstory about an immortal dog that is captured from a Tibetan monastery for experimental research and Tim Allen being transformed after it bites him on the hand.
The Shaggy Dog 2006 has been mounted as a vehicle for Tim Allen, who in recent years has started to carve out a niche as a children's movie actor – most notably with the Santa Clause films also for Disney. (Allen and his production company Boxing Cat Films also take a co-producing role on the film). The film has been essentially premised around the idea of having Tim Allen enact various dog-like behaviours – getting out of the shower and shaking himself dry, lapping up his breakfast as he sits at the table, handing documents to Robert Downey Jr in his teeth, lifting his leg to use a urinal, sleeping on the end of the bed at his wife's feet, running through the streets on all fours in pursuit of a cat, chasing after a stick and catching a frisbee between his teeth.
By contrast, none of these gags feature in the original, which basically derived its humour from Tommy Kirk transforming into a dog and trying to get back to human form. If nothing else, you have to commend Tim Allen for leaping into the role boots and all. There seems no lengths of silliness the film is not prepared to put him through in furtherance of a gag.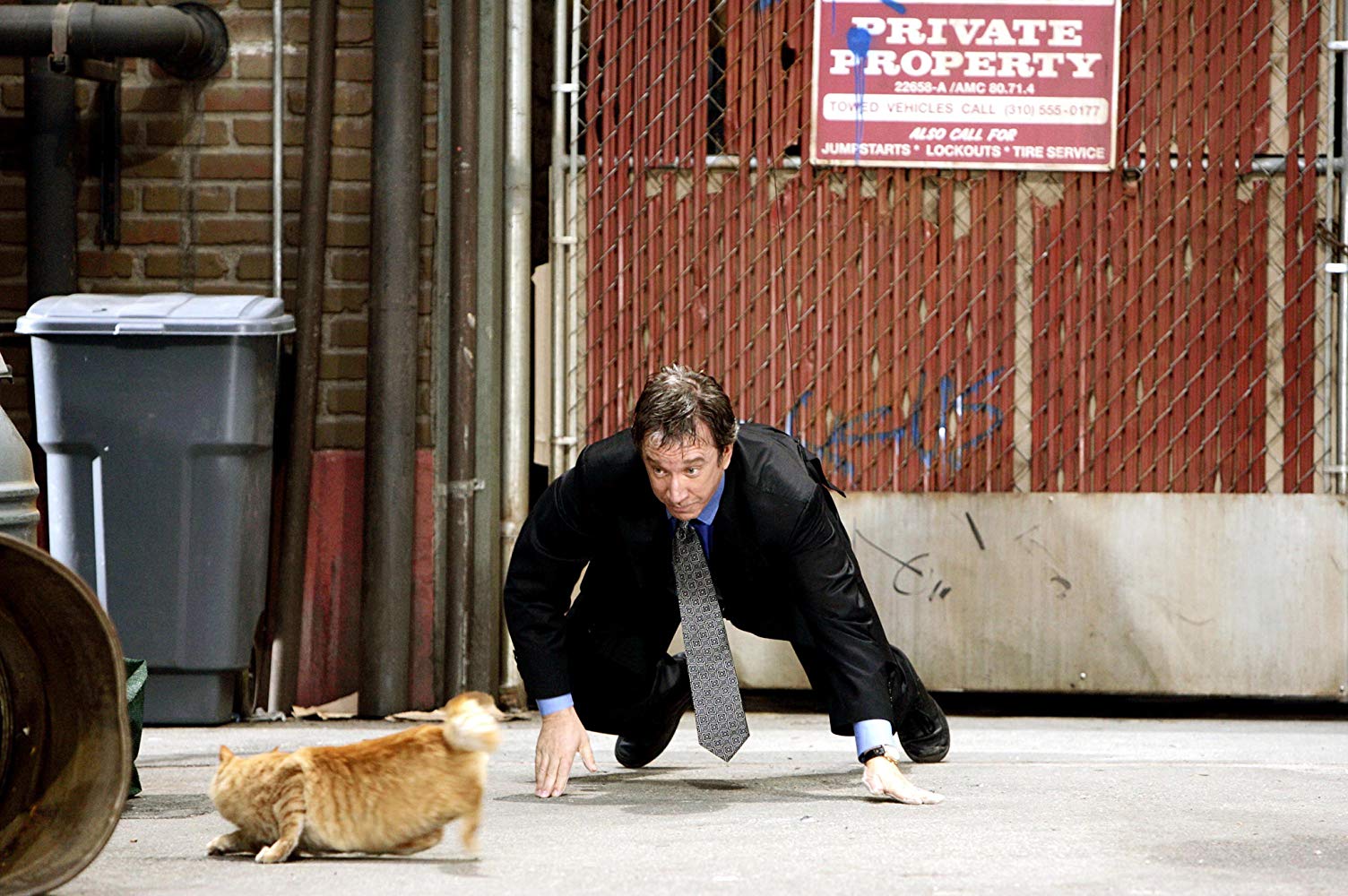 The Shaggy Dog 2006 received some fairly bad reviews, notably being nominated at the Golden Raspberry Awards for Worst Actor (Tim Allen), Worst Excuse for Family Entertainment and Worst Remake or Ripoff. In truth, it is not that bad – the manic silliness eventually wears on you in a likeable way. There are some appealing gags like the image of all the animals in the laboratory – hamsters, dogs, monkeys, even a bizarre frog/dog hybrid – sitting in lotus positions meditating.
Although one of the things you keep wondering is what on Earth Robert Downey Jr – who has been afforded variously labels like Best Actor of His Generation – is doing in the film, playing the villainous head of the research company. He even has a scene where he bounds across a courtroom to catch a thrown police baton in his teeth.
The Shaggy Dog was directed by former actor Brian Robbins – he was previously a regular on tv's Head of the Class (1986-90) and appeared in genre efforts like Cellar Dweller (1988) and C.H.U.D. II: Bud the Chud (1989). Robbins began directing with Varsity Blues (1999) and has made various other films, mostly comedies, that include Ready to Rumble (2000), Hardball (2001), The Perfect Score (2004), Norbit (2007), Meet Dave (2008) and A Thousand Words (2012). Robbins has also produced several genre tv series such as The Nightmare Room (2001), Smallville (2001-11) and the Batman spinoff Birds of Prey (2002-3).
---
---