---
Crew
Director – Gabor Csupo, Screenplay – David Paterson & Jeff Stockwell, Based on the Novel by Katherine Paterson, Producers – Lauren Levine, Hal Lieberman & David Paterson, Photography – Michael Chapman, Music – Aaron Zigman, Visual Effects Supervisor – Bill Kent, Visual Effects – PPVFX (Supervisor – George Port) & Weta Digital (Supervisor – Matt Aitken), Special Effects Supervisor – Jason Durey, Production Design – Robert Gillies. Production Company – Disney/Walden Media/Hal Lieberman Company/Lauren Levine.
Cast
Josh Hutcherson (Jesse Aarons), AnnaSophia Robb (Leslie Burke), Zooey Deschanel (Ms Edmonds), Robert Patrick (Jesse Aarons Sr), Bailee Madison (May Belle Aarons), Lauren Clinton (Janice Avery), Cameron Wakefield (Scott Hoager), Elliot Lawless (Gary Fulcher), Kate Butler (Nancy Aarons), Latham Gaines (Bill Burke), Jen Wolfe (Ms Myers), Judy McIntosh (Judy Burke)
---
Plot
In rural Lark Creek, Jesse Aarons comes from a poor family where his parents are struggling to pay the bills. At school, Jesse is regarded as a weird kid and his one joy in life is drawing. He then he meets Leslie Burke, a new girl at school, and discovers that she has moved into the house next door to him. They become friends. Leslie takes Jesse on an adventure across a river and into the nearby woods. There they find a treehut and rebuild it. In Leslie's imagination, she transforms the woods into the world of Terabithia, a magical kingdom inhabited by trolls, living trees and a sinister Dark Lord. The world of the imagination that this opens up helps the two of them in dealing with the struggles of everyday life back in the real world.
---
Ever since the twin success of the Harry Potter and The Lord of the Rings franchises in 2001, fantasy has become big box-office business and everyone has been trying to create the new epic fantasy. Indeed, Walden Media, who are the principal producers of Bridge to Terabithia, seem to be trying to corner the market in fantasy. Walden Media have also produced The Chronicles of Narnia: The Lion, The Witch and the Wardrobe (2005), the remake of Charlotte's Web (2006), Mr Magorium's Wonder Emporium (2007), The Seeker: The Dark is Rising (2007), The Water Horse (2007), City of Ember (2008), Journey to the Center of the Earth 3D (2008), Nim's Island (2008), Tooth Fairy (2010), The Giver (2014), A Dog's Purpose (2017), The Star (2017), Dora and the Lost City of Gold (2019) and A Babysitter's Guide to Monster Hunting (2020).
Bridge to Terabithia was pitched as though it was the new fantasy of the 2007 season. There is something strongly reminiscent of The Lion, The Witch and the Wardrobe in the story (at least the one presented by the trailer) of children venturing into a woods (as opposed to a wardrobe) where they find their way into a kingdom filled with all manner of fantastical and threatening creatures. (And to show that it was serious fantasy, Bridge to Terabithia did what almost every fantasy filmmaker with serious aspiration to a cut of the pie has done since Lord of the Rings – it went to New Zealand to shoot, as well as obtained the services of Peter Jackson's Weta Workshop to create its visual effects).
The great surprise that one discovers after sitting down to watch Bridge to Terabthia is that it is not the film about magical kingdoms, trolls and dark lords that the advertising holds it out to be. Rather it is merely a film about the childhood imagination. Not to deny that various trolls, talking trees etc are seen throughout but these are only elements of make-believe that are imagined to be in the woods by kids at play. If there is a model to compare Bridge to Terabithia to it is not The Lion, The Witch and the Wardrobe but the arthouse hit of Guillermo Del Toro's Pan's Labyrinth (2006), which was an anti-fantasy film of sorts that made contrast between two levels – an ambiguous, possibly imagined fantasy world of a child and the harshness of the everyday world. Another film that was far more successful in its blend of the real world and childhood imagination was Terry Gilliam's Tideland (2005).
The complaint here is that Bridge to Terabithia does not need such literalisation of its fantasy – seeing the children fighting off mutant hedgehogs, being befriended by giant Ent-like trees, being carried away by fearsome birds etc etc. The fantasy should have remained much more ambiguous – as it is seen to be at many points – but having hired the services of Weta, it seems as though the filmmakers could not resist the effort and got carried away. What is unconscionable though is the way that Disney took these scenes, edited them together and tried to sell Bridge to Terabithia as an epic fantasy. It might be akin to taking the few moments of fantasy – the unicorns, clay creatures, the sinister Orson Welles – from Peter Jackson's Heavenly Creatures (1994), a similar film about childhood imagination, and editing them together to present the film as another Lord of the Rings.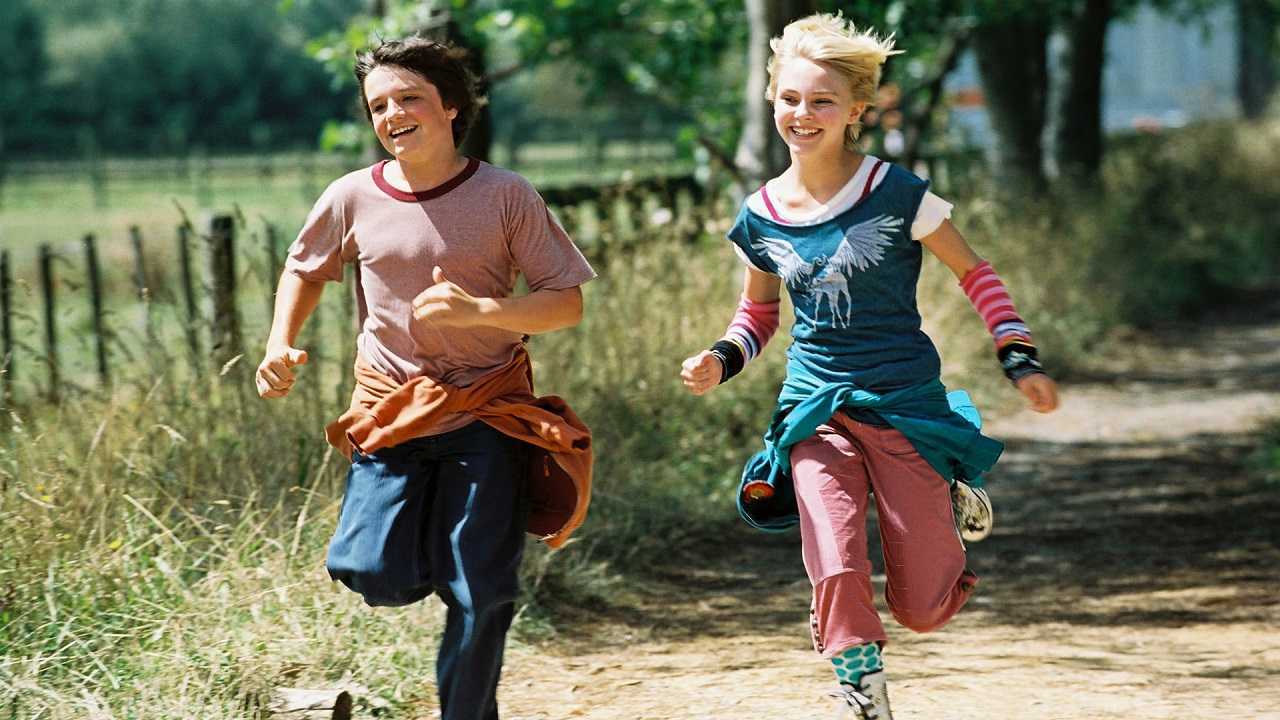 That said, there are some excellent things about Bridge to Terabithia. One of the positive aspects is that the filmmakers have determined to make an unsentimentalised children's film. Unlike most other fantasy films, Josh Hutcherson does not come from an idyllically happy middle-class family where even solo parents can manage to afford lavish homes of their own a la E.T. – The Extra-Terrestrial (1982). Instead, we see his parents fretting over how to pay the bills and a family of seven living in overcrowded conditions. (The opening scene perfectly encapsulates this as we see Josh Hutcherson forced to wear a pair of pink hand-me-down girl's sneakers because his parents cannot afford anything else and trying to disguise the colour with a black marker pen before he goes to school). Nor is Robert Patrick's father exactly a positive and encouraging parental figure.
The film also a fine job of depicting a cross-section of life in a school – the petty bullying and humiliations, of the struggle to be different. This is presented without any of the usual sentimentality. Moreover, none of the characters are caricatured, all come with shadings of grey. The scene where Jesse and Leslie contrive to humiliate Janice Avery is played as it would be in any other film – as a triumph of the underdog – but the film then turns around to show that such actions have consequences and ends up redeeming the character of Janice in touching ways.
[PLOT SPOILERS] Of course, the biggest and most jolting part about the film is its preparedness to kill off a main character – AnnaSophia Robb's Leslie – partway through. (And not resurrect them at the end as many other children's films might do). The effect is genuinely tragic. Even more so for a children's film where the issue of death is rarely ever touched upon as though such is too frightening to let children be aware of. One gives full marks to Bridge to Terabithia for its willingness to tread into such an emotionally complex issue and not soft-pedal or sentimentalise it in any way.
One of the great pluses of the film is some excellent casting. Zooey Deschanel, previously merely a pretty supporting face on various tv shows and films, proves to be a considerable delight and provides an animated sparkle in her early classroom scenes. Josh Hutcherson gets a sullen brooding expression down pat but the real find amid the cast is thirteen year-old AnnaSophia Robb, a relative newcomer who previously played Violet Beauregard in Charlie and the Chocolate Factory (2005). Robb has a wonderful presence that lights the film up and carries everything along in her wake. One expects to hear amazing things from Robb soon.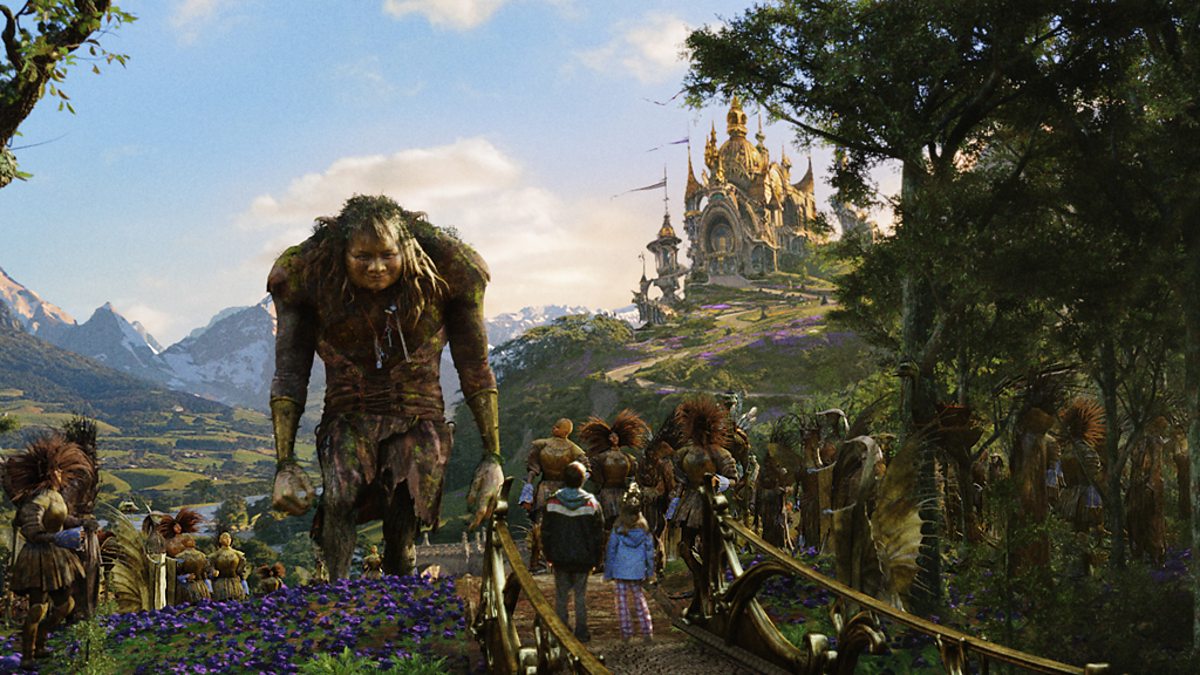 The one thing that tends to put me off all of Walden Media's films is the fact that they come with an openly Christian agenda – the company was formed by a Christian billionaire with the express purpose of making films that promote the Christian message to family audiences. The Lion, The Witch and The Wardrobe was adapted from an overtly Christian allegory by C.S. Lewis, while the story of Charlotte's Web was altered on screen to make a number of messages about the need for faith in invisible things. Bridge to Terabithia is based on a book, originally published in 1977 by Katherine Paterson who professes to be a Christian and is married to a minister. Paterson has acknowledged the Christian influence on the story – the titular realm is even named after a land called Terabinthia in the Narnia series. Although, for all Bridge to Terbithia's status as a Christian work, it is a book of some controversy that US parental groups have tried to ban, for reasons that have been cited as the death of a main character, promoting Satanic values and having a character who denounces Christianity. The book was previously filmed as a tv movie Bridge to Terabithia (1985) for the US PBS tv network, although this to all accounts was a disappointment. This film version is written and co-produced by Katherine Paterson's son David.
In keeping with the book, Bridge to Terabithia emerges to openly talk about matters Christian at several points. Josh Hutcherson and Bailee Madison tell the non-believing AnnaSophia Robb that they are off to church, whereupon she says "Can I come to church? … It'd be cool" and has several lines about how believing in Jesus would be a neat idea. (This was further delineated in the book, which contrasted Jesse's church-going traditional beliefs with Leslie who believed that The Bible was merely an interesting story). One winces when the film then has seven-year-old Bailee Madison tell AnnaSophia Robb that "God'll damn you to Hell if you don't believe in The Bible."
However, the film reaches an odd point at the end where Robert Patrick tells Josh Hutcherson "I'm sure God's not going to let that girl go to Hell." This is a point where the film seems to opt for a repudiation of the traditional Christian message (which is that one needs to believe in Jesus Christ in order to be saved and is damned if they do not). At the very least, the film settles for a New Age Christianity where people should be saved because they are 'nice' people. (Or maybe the film is being sophisticated enough to entertain liberal theology that regards Heaven, Hell and issues of damnation as allegorical rather than literal?). One wonders if this ending has not been added out of the need for a children's film to go out on an upbeat reassurance rather than what would otherwise be an unbelievably grim note – that a character the audience has grown to like is said to be damned just because they don't believe – which would have been the logical extension. It is an odd ending – one where you are watching a film made by a Christian production company to promote matters of faith but where you emerge not sure if the film has come out in favour of Christianity or an agnostic repudiation of it.
Director Gabor Csupo mades his live-action debut with Bridge to Terabithia. Csupo is the head and founder of the animation company Csupo-Klasky Productions, which previously produced the animation for early seasons of The Simpsons (1989– ). At the point he made Bridge to Terabithia, Csupo was best known as the creator and producer of tv's Rugrats (1991-2004) and The Wild Thornberrys (1998-2001). Csupo subsequently went onto direct a further children's film with the excellent The Secret of Moonacre (2008), the animated Immigrants (L.A. Dolce Vita) (2008) and the live-action Hungarian comedy Pappa Pia (2017).
(Nominee for Best Actress (AnnaSophia Robb) and Best Supporting Actress (Zooey Deschanel) at this site's Best of 2007 Awards).
---
---