(Una Pura Formalite/Une Pure Formalite)
---
Crew
Director/Screenplay – Giuseppe Tornatore, Dialogue – Pascal Quignard, Producers – Mario & Vittorio Cecchi Gori, Photography – Blasco Giurato, Music – Ennio Morricone, Special Effects – Antonio & Giovanni Corridori, Production Design – Andrea Crisanti. Production Company – C.C. Tiger Cinematografica/Film Par Film.
Cast
Gerard Depardieu (Onoff/Blaise February), Roman Polanski (Inspector), Sergio Rubini (Andre)
---
Plot
The police find a man running in the rain and take him to the station because he has no ID. There he is interrogated by a police inspector. The inspector initially ridicules the man's claim that he is the celebrated novelist Onoff but later comes to believe him. Under patient cross-examination by the inspector, holes and contradictions in the things that Onoff claims start to become apparent and it appears that Onoff might have conducted a murder that night.
---
A Pure Formality comes from Italian director Giuseppe Tornatore whose previous film was the internationally acclaimed Cinema Paradisio (1989) and subsequently went onto make The Legend of 1900 (1998) and several other films, although has yet to return to genre material.
For the most part, A Pure Formality appears to be a standard police drama. Giuseppe Tornatore does a good job of maintaining tension, using the steady atmosphere of the rain in the background, the leaks coming through the ceiling. Fine suspense is maintained in the composed camera set-ups framing Gerard Depardieu and Roman Polanski and in the acting of both – Depardieu plays an ordinary man, caught up in an increasing maze of guilt, while Polanski remains insistent and enigmatically aloof (it is a part that Polanski does characteristically well, perhaps the reason he was cast).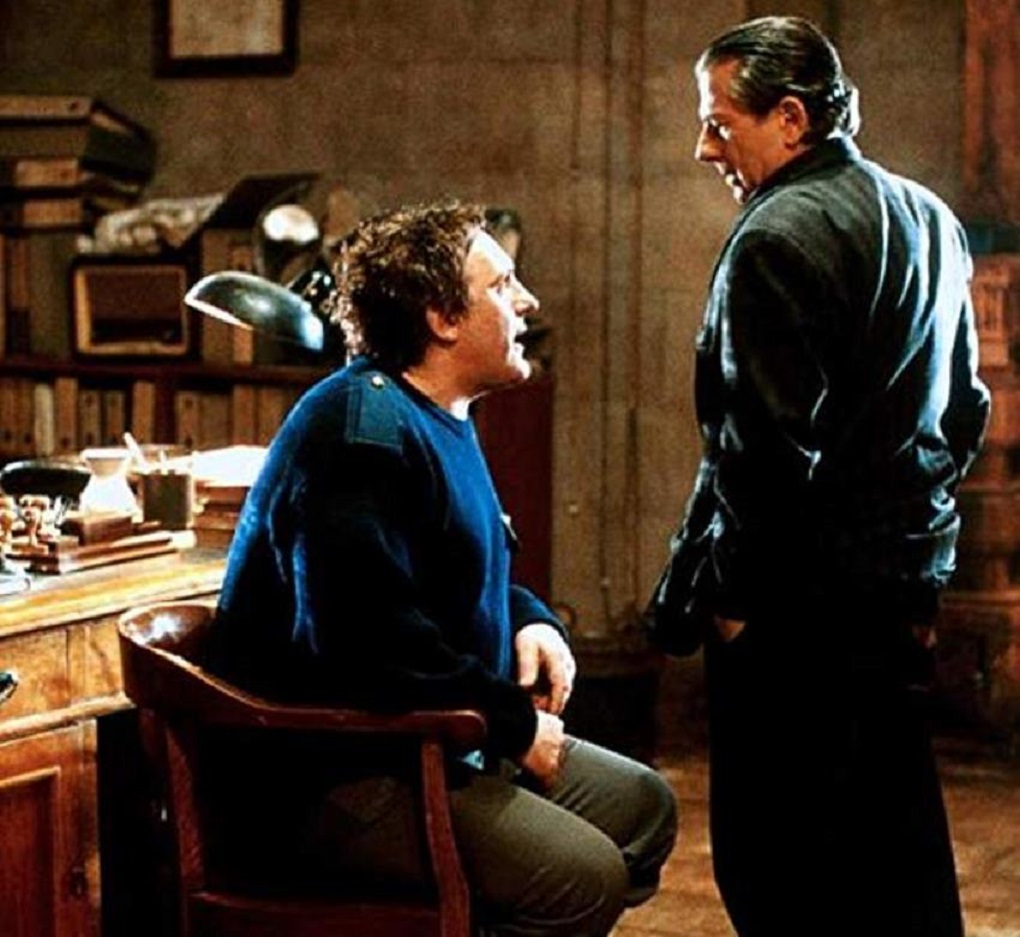 At the same time, the story appears vague. Gerard Depardieu claims memory loss, repeats himself, changes his story, seems to wilfully be trying to incriminate himself. We see flashbacks that do not match the events that Depardieu is describing. It becomes frustrating – the story refuses to pin itself down, will not allow one to get standard thriller handles on it.
But then comes the ending. It is a pure fantastique surprise that comes completely out of left field. It succeeds in placing the vagueness of the preceding events into perspective with stunning clarity. [PLOT SPOILER]. Of course, the ending is a complete steal from Ambrose Bierce's oft cinematically borrowed An Occurrence at Owl Creek Bridge (1891), filmed as the acclaimed short film An Occurrence at Owl Creek Bridge (1961) and stolen to universal acclaim a few years later as the twist ending of the runaway success The Sixth Sense (1999). Before a mountain of Sixth Sense imitators made it into a cliche, it is a surprise that works well here.
---
---