---
Crew
Director – Jorge R. Gutierrez, Screenplay – Jorge R. Gutierrez & Douglas Langdale, Producers – Aaron Berger, Brad Booker, Guillermo Del Toro & Canna Schulze, Music – Gustavo Santolialo, Animation Directors – Bill Haller & Louis Jones, Visual Effects Supervisor – Augusto Schillaci, Production Design – Paul Sullivan & Simon Vladimir Varela. Production Company – Reel FX Animation Studio/20th Century Fox.
Voices
Diego Luna (Manolo Sanchez), Zoe Saldana (Maria Posada), Channing Tatum (Joaquin Mondragon), Kate del Castillo (La Muerte), Ron Perlman (Xibalba), Christina Applegate (Mary Beth), Ice Cube (The Candle Maker), Carlos Alazraqui (General Posada), Danny Trejo (Skeleton Luis), Dan Navarro (Chakal), Ana de la Reguera (Carmen Sanchez), Placido Domingo (Skeleton Jorge), Grey DeLisle (Grandma Sanchez)
---
Plot
A group of kids are sent to the museum on detention. The tour guide Mary Beth takes them through a secret entrance and shows them an exhibit dedicated to the Mexican Day of the Dead. She tells them the story of La Muerte, the queen of the Land of the Remembered where the dead live in constant joy as long as they are remembered, and her love Xibalba, the lord of the Land of the Forgotten, the realm of those who are not remembered. The two bet dominion of both realms on the fate of two young children in the town of San Angel – Manolo Sanchez and Joaquin Mondragon who both competed for the hand of Maria, the daughter of General Posada. After many years, Maria returned from Europe to San Angel. Joaquin had become a great soldier due to Xibalba having given him a medal that protects him from any harm. Manolo meanwhile was having a crisis of conscience about not wanting to follow in the family tradition of being a bullfighter but become a mariachi instead. Just as Maria returned, Manolo was ridiculed throughout the town for not killing the bull in the arena. Xibalba then sent his snake to bite Maria. Thinking she was dying, Manolo conducted a deal to enter into the Land of the Remembered in search of her spirit, only to realise that he has been tricked by Xibalba and entered a realm from which nobody has ever returned.
---
In recent years, Guillermo Del Toro has become one of the most prominent directorial names in fantastic cinema with films such as Blade II (2002), Hellboy (2004), Pan's Labyrinth (2006), Pacific Rim (2013) and The Shape of Water (2017), among others. Outside of his directorial efforts, Del Toro has become almost a workaholic with more projects on the go at once that any filmmaker could reasonably hope to compete in a lifetime. Surprisingly, one of the areas that Del Toro has started to branch out into is mainstream animation, having signed on as variously a creative consultant or producer on DreamWorks efforts such as Megamind (2010), Kung Fu Panda 2 (2011), Puss in Boots (2011) and Rise of the Guardians (2012).
The Book of Life – not to be confused with Hal Hartley's sardonic Biblical End of the World film The Book of Life (1998) – is one effort where Del Toro draws on his Mexican heritage. The film itself is centred around the Day of the Dead celebrations and characters that have a mythology in this, most notably La Muerte and Xibalba (even if the film rewrites the more complex relationship they have towards something of animation standard). The film has been placed in the directorial hands of Jorge R. Gutierrez, who was previously the principal creative influence behind El Tigre: The Adventures of Manny Rivera (2007), an animated Nickelodeon series made in the US concerning a teenage Mexican superhero, and subsequently went on to the animated tv mini-series Maya and the Three (2021).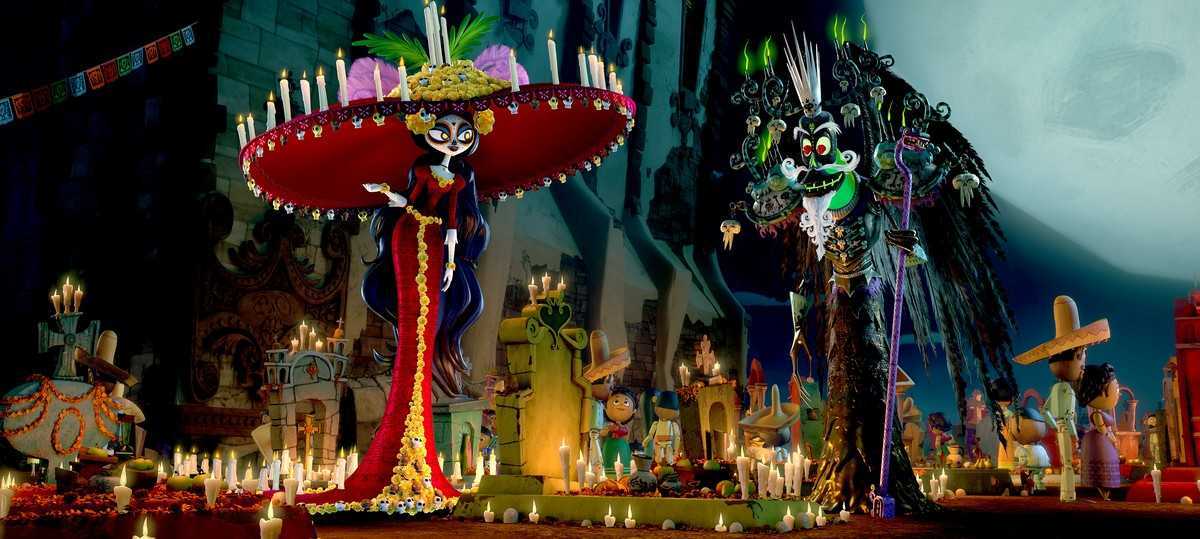 What strikes you first about The Book of Life is its extraordinarily vibrant colour palette. It reminds very much of a Henry Selick film – The Nightmare Before Christmas (1993), James and the Giant Peach (1996) and Coraline (2009) – with its rich visuals and also Selick's lack of being afraid to venture into dark areas. Even more astonishing is the conception of the characters. These are designed in ways that no other animated characters have been before – everyone comes with massive bulky torsos and arms that look as though they are made of ornamented Lego blocks that are supported on tiny matchstick thin legs. The characters are even made to resemble classic puppets – you are frequently reminded of a film like Strings (2004) – and have hands and limbs that are jointed, while their faces often have a texture as though they have been carved from wood.
The Book of Life is an amazingly colourful film. A few years ago, Disney made films such as Pocahontas (1995), Mulan (1998), Lilo & Stitch (2002), Brother Bear (2003) and The Princess and the Frog (2009) that made an effort to embrace different cultures around the world. In its ready embrace of Mexican traditions and mythology, The Book of Life feels like the best cultural film that Disney never made.
Nothing in it feels like formula, everything bursts with wit and creativity. The story works strong and clear – it is a very happy film where the hero's journey to arrive at the end feels indeed triumphal. The heroine is also an inspired choice – one who stands up to and frequently runs rings around the two men competing for her attentions, even if we know well in advance who will win her hand.
The Book of Life has a number of similarities to the subsequent Pixar film Coco (2017), which likewise ventured into the afterlife on the Day of the Dead.
---
---