---
USA. 1985.
Crew
Director – Walter Murch, Screenplay – Walter Murch & Gill Dennis, Based on the Novels The Marvellous Land of Oz and Ozma of Oz by L. Frank Baum, Producer – Paul Maslansky, Photography – David Watkin, Music – David Shire, Visual Effects – Industrial Light and Magic & Zoran Perisic, Claymation – Will Vinton, Mechanical Effects – Ian Wingrove, Prosthetic Effects/Creature Design – Lyle Conway, Makeup – Robin Grantham, Production Design – Norman Reynolds. Production Company – Disney.
Cast
Fairuza Balk (Dorothy), Nicol Williamson (Nome King/Dr Worley), Jean Marsh (Mombi/Nurse Wilson), Piper Laurie (Auntie Em), Matt Clark (Uncle Henry), Emma Ridley (Ozma), Peter Elliott & Michael Sundin (Tik Tok), Brian Henson & Stuart Larage (Jack Pumpkinhead), Deep Roy (Tin Woodsman), Justin Case (Scarecrow), Joan Alexander (Cowardly Lion)
---
Plot
It is six months after Dorothy was blown away to Oz. Disturbed by Dorothy's continuing preoccupations with Oz, her aunt and uncle commit her to the asylum of Dr Worley for treatment. Scared of the sinister Worley, Dorothy makes an escape but is caught up in a storm and washed away to sea where she ends up back in Oz. There she finds the Emerald City in ruins and that the Nome King has captured all her old companions. Pursued by the witch Mombi who wants Dorothy's head for her collection and joined by Billina the talking chicken; the robot soldier Tik Tok; Jack Pumpkinhead, a scarecrow with a pumpkin for a head animated by Mombi's magical powder of life; and The Gump, a flying settee with a moose's head that Dorothy animates, she ventures into the Nome King's mountain stronghold to rescue her friends.
---
The gap of 46 years between this and The Wizard of Oz (1939) is a world record for the time elapsed between an original and before a sequel was made. It is something that only signifies the lasting power of the original film, which has become a genuine holiday season American classic. Upon this occasion, it was Disney, who have surprisingly held the rights to all the L. Frank Baum Oz books since 1955, who were behind the sequel. Disney were also behind the subsequent Sam Raimi directed prequel Oz: The Great and Powerful (2013).
Return to Oz is certainly a very different film to The Wizard of Oz (although is actually much closer in tone to the original L. Frank Baum books than The Wizard of Oz was). It abandons the stage musical tradition that Wizard was steeped in – nobody sings or dances; the world of Oz is more three-dimensional and less stagebound; and the non-humanoid characters are no longer actors in burlesque makeup but full-fledged mechanical and animatronic creations. Indeed, it is a surprisingly darker film in tone and content. This is something that outraged the Moral Minorities when the film came out who did their thing about unsuitability for children etc etc. As a result, Return to Oz was not a great success, although there have been a modest number of voices in subsequent years calling for its reevaluation.
Return to Oz was directed by Walter Murch, previously an Academy Award winning editor and sound effects editor on Francis Ford Coppola's Godfather sequels and Apocalypse Now (1979) and who has also worked on other high profile films including American Graffiti (1973), The Unbearable Lightness of Being (1987), Ghost (1990) and The English Patient (1996), as well co-writing George Lucas's first film THX 1138 (1971). Murch made his directorial debut with the film. (When the studio slashed the budget and Murch became snowed under and was at one point fired by Disney, his esteem was such that both Lucas and Coppola interceded with the studio to have Murch reinstated with Lucas offering to fly to England stand in if need be.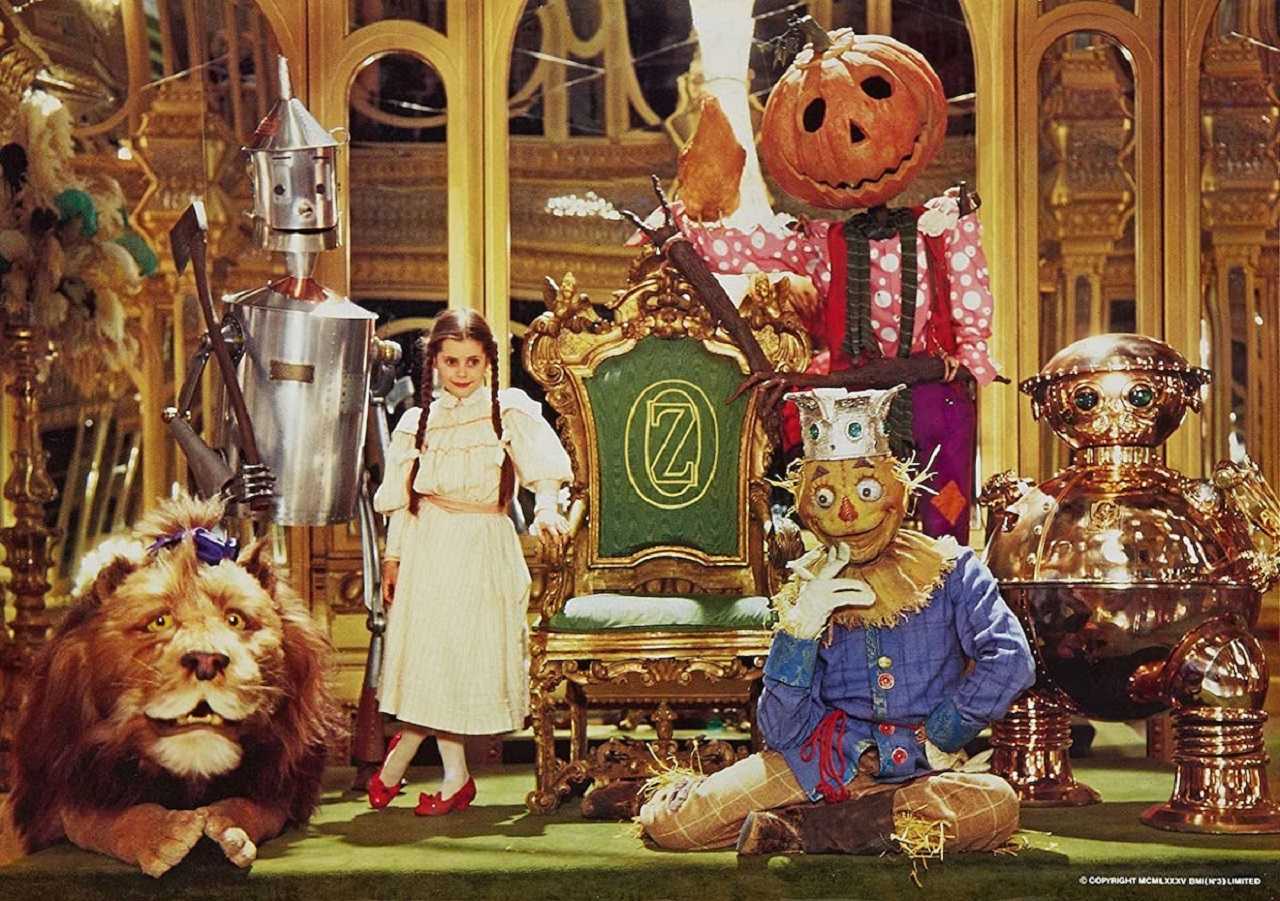 Aided by a score that thunders in the basement like all the demons of Hell unleashed, Walter Murch keeps the film's pace out on a wild histrionic edge for the greater part. The effects teams do a fine job, with some especially good mechanical creations, while the Nome King has been brought to life by stop-motion animator Will Vinton using the Claymation process later popularised by Aardman Animation. Oz itself has been beautifully redesigned in gilt mirrors and elaborate wrought iron like something out of a Victorian World Expo.
For all that, Return to Oz disappoints somewhat. There is a sparseness to the film (possibly due to sections of script being dumped as a result of budget cuts). Not a huge amount happens and it is virtually over by the time it has begun. The mechanical companions lack the vibrant personalities that the costumed creations had in the original. Such fine performers as Nicol Williamson and Piper Laurie are cast with an almost criminal underuse of their talents.
There is too much of an intent seriousness to Fairuza Balk's Dorothy to ever convince – there is nothing of the wide-eyed innocence that Judy Garland had in the original that so charmed an entire generation, although Balk did subsequently go on to carve out a modest niche as a teen and twentysomething actress in a number of indie films. Despite showing a good deal of promise, the film's failure was such that Walter Murch has yet to reoccupy the director's chair.
---
Trailer here
---