---
Crew
Director – Stuart Hazeldine, Screenplay – Destin Cretton, John Fusco & Andrew Lanham, Based on the Novel by William Paul Young in collaboration with Brad Cummings & Wayne Jacobsen, Producers – Brad Cummings & Gil Netter, Photography – Declan Quinn, Music – Aaron Zigman, Visual Effects Supervisor – Ray McIntyre Jr., Visual Effects – CVD VFX (Supervisor – Chris Van Dyck), Pixel Magic, Raynault VFX (Supervisor – Mathieu Raynault), Rodeo FX (Supervisors – Martin Larrivee & Majorlaine Tremblay), Special Effects Supervisor – Tony Lazarowich, Production Design – Joseph Nemec. Production Company – Summit Entertainment/TIK Films (Hong Kong) Limited/Windblown Media.
Cast
Sam Worthington (Mack Phillips), Octavia Spencer (Papa), Tim McGraw (Willie), Radha Mitchell (Nan Phillips), Avraham Aviv Alush (Jesus), Sumire (Sarayu), Alica Braga (Sophia), Graham Greene (Male Papa), Megan Charpentier (Kate Phillips), Gage Munroe (Josh Phillips), Amelie Eve (Missy Phillips), Carson Reaume (Young Mack), Derek Hamilton (Mack's Dad), Ryan Robbins (Emil Ducette)
---
Plot
Mack Phillips is grieving over the snatching and probable killing of his youngest daughter Misty by a child molester four years earlier, although her body has never been found. One day, Mack finds an envelope in his mailbox inviting him up to the shack where Misty's bloodied dress was found. The note is signed by Papa, his wife Nan's nickname for God. Despite misgivings, Mack decides to head up to the shack. There he is welcomed by the female Papa, along with her son Jesus and Sarayu, the spirit of creativity. As he spends his time in the transformed splendour of the shack and surrounding lake, Papa helps Mack see that he has forgotten about her, blaming her for the death of Misty. Together, they show Mack how to find forgiveness in his heart.
---
The Shack (2007) was a best-selling book from Canadian author William Paul Young. The son of missionary parents, Young originally wrote the story as a Christmas gift for his children. After this was read by friends, Brad Cummings and Wayne Jacobsen came on board to shape the book into a more acceptable format for publication, creating their own publishing company Windblown Media in order to do so. All three then began a church-based word of mouth campaign that had the surprising effect of propelling the book to No 1 on the New York Times bestseller list where it sold some 22 million copies (only for all three to subsequently end up fighting a host of lawsuits among one another over royalties). This is the film adaptation of the book.
Stuart Hazeldine is always a name that has hovered on my radar, even though he has not actually had that large a number of screen credits to his name. Prior to this, Hazeldine's sole on-screen credits were the teleplay for the tv mini-series version of Riverworld (2003) and as director/writer of the smart and intelligent Exam (2009), which had sufficiently impressed me to want to keep an eye on Hazeldine's career thereafter. At first glance, Hazeldine is not an automatic fit for the faith-based film, although a closer look at his credits reveals this is not the case. He had made his directorial debut with the short film Christian (2004) in which Jesus signs into a British boarding school. He has also delivered unproduced screenplays for Paradise Lost and Moses, and did uncredited work on Alex Proyas's Knowing (2009) with its loopy employment of Biblical millenarist themes and Intelligent Design nonsense.
Faith-based cinema has become a boom industry in the 2010s with a number of Christian films now regularly receiving theatrical multiplex releases in an arena where they had previously been relegated to dvd or church-released status. See the likes of Fireproof (2008), God's Not Dead (2014), Heaven is For Real (2014), Left Behind (2014), 90 Minutes in Heaven (2015), War Room (2015) and Miracles from Heaven (2016). The Shack is what amounts to a high-concept film for faith-based cinema – whatever your beliefs, the basic premise "Man is invited to a meeting with God at a hut in the woods" has an undeniable intrigue value. I sat down to watch with the hope that Stuart Hazeldine would do something captivating with the material. Alas, exactly the opposite turns out to be the case.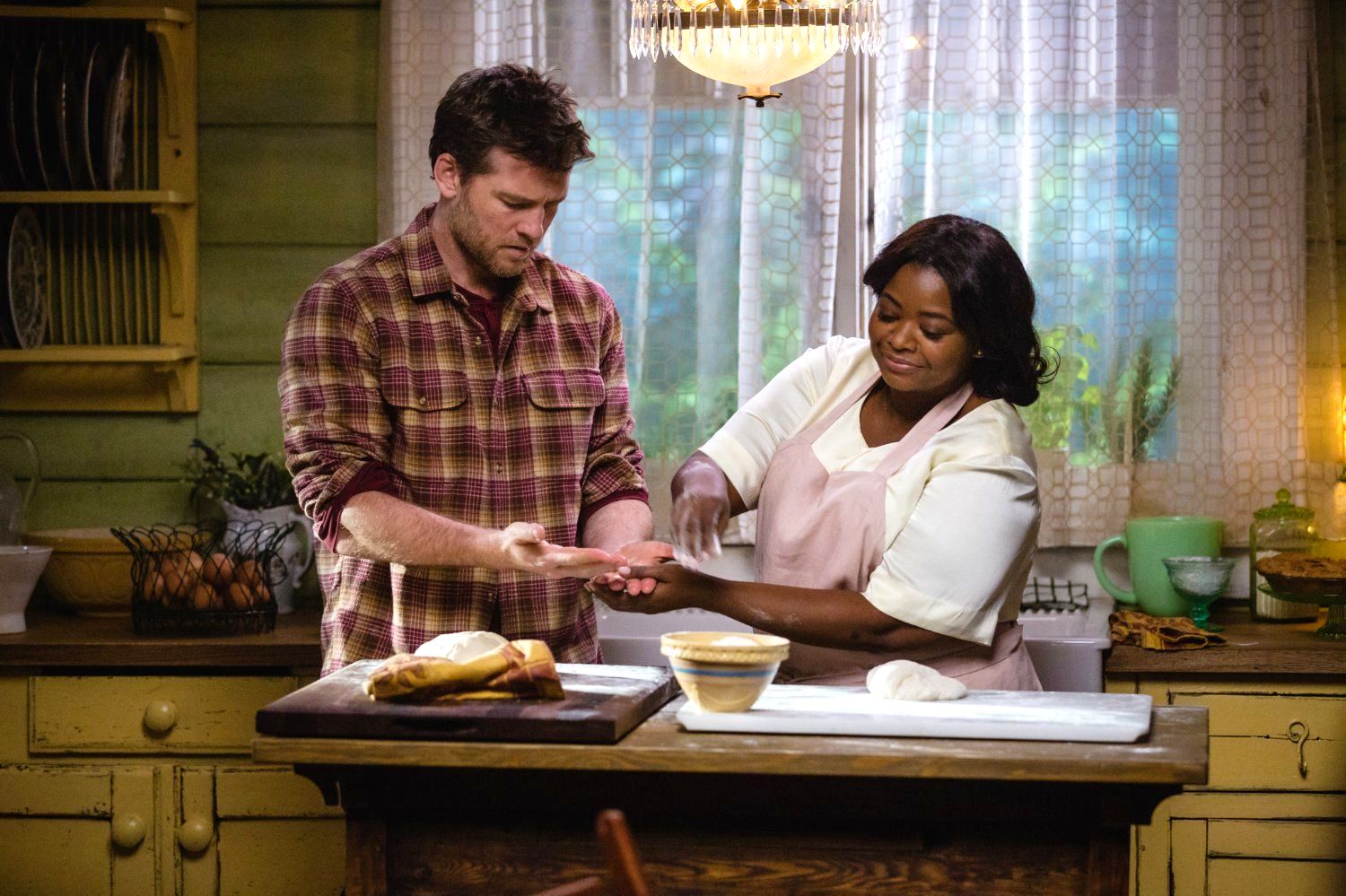 The Shack is a film that quickly drowns in the banality of its approach. The film suffers from a score that is constantly, insistently nudging you to feel emotion and awe. The visual effects department have been employed to make the surroundings of the shack and garden into something of hyper-real beauty, although it is never less than obvious it is the visual effects people creating pretty eye candy.
You also quickly become switched off by the appeal to the earnest wholesomeness of Middle America. Sam Worthington is a decent everyman – he even wears a plaid shirt through most of the film to demonstrate such, while Hazeldine includes scenes showing Sam and his family happily singing hymns in church. His next-door neighbour is played by quintessential Midwestern Man of the People Country-and-Western singer Tim McGraw, while the soundtrack is filled with songs from either Christian or Country-and-Western singers/bands.
The other weirdness of the film is that despite the earnestness of its appeal to a brand of Midwestern evangelical Christianity, the film also has a bend over backwards fear of toeing a Politically Correct line that almost gives you the impression that it is ashamed of its appeal to Middle American roots (which are notedly white and conservative for the larger part). This is particularly the case when it comes to the depiction of The Trinity, which it has determined to make as ethnically diverse as possible – God is played by an African-American woman, Jesus by an Arab-Israeli actor, the Holy Spirit by a Japanese actress, while Alice Braga who plays the spirit of wisdom is an actress of Brazilian origin. (Although to be fair, this is being faithful to the way the characters were depicted in the book).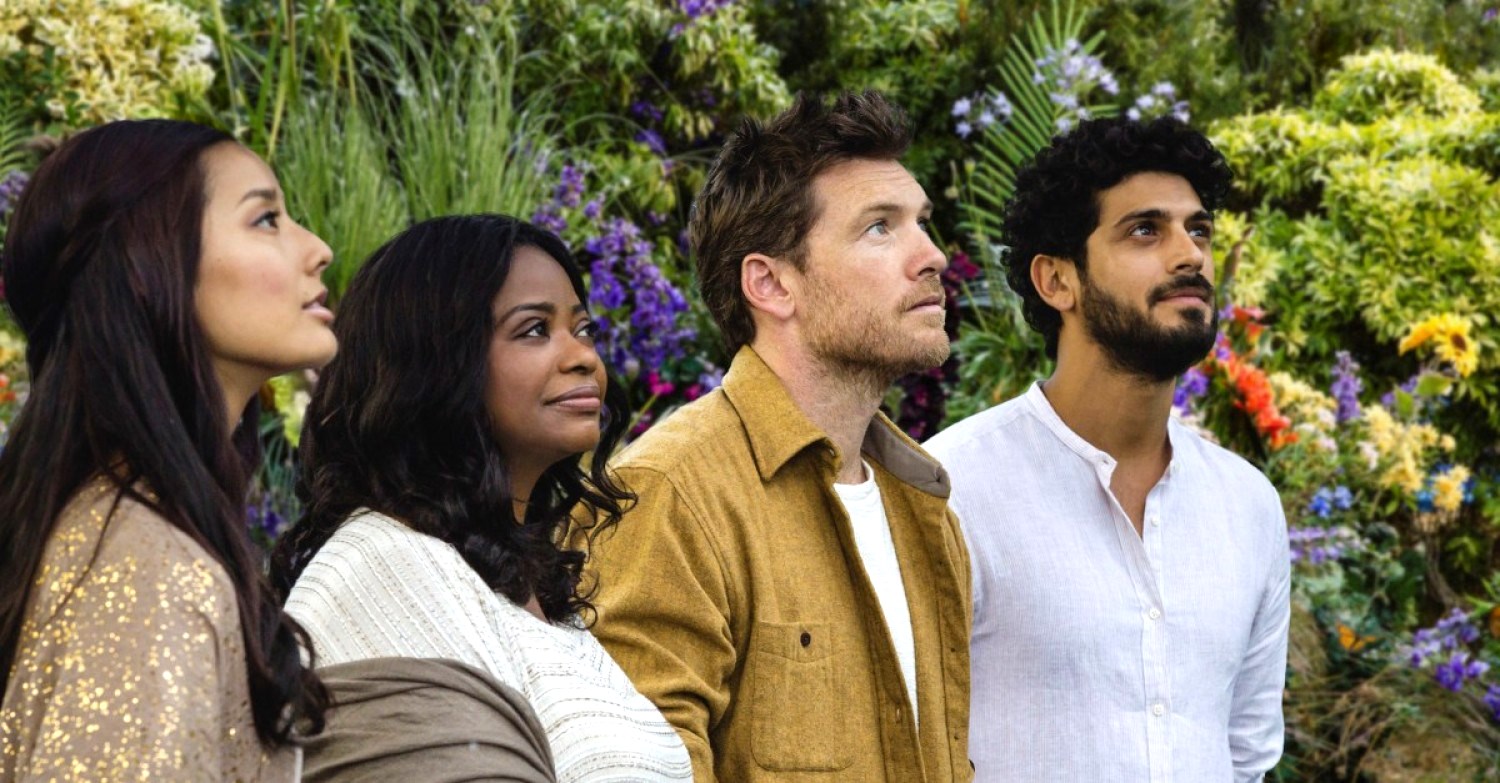 The Shack is kind of Christianity Lite with an emphasis on the feelgood. Octavia Spencer has a speech where she says that God is not wrath. One only need read the Old Testament and the stories of the Flood or multiple occasions during The Exodus to realise this is simply not true at all. (A number of other Christian critics have decried aspects of the film's theology, although I must admit to switching off bothering to read some of these as soon as they started taking the film to task for the idea of God being depicted as African-American). Even Jesus has a speech where he earnestly says he just wants to be your friend rather than it all being about following rules – indeed, the bulk of his scenes with Sam Worthington seem to all be about Sam learning how to walk and later run on water rather than any moral lessons.
From the atheist viewpoint I come from, I suppose I don't have any real issues with the idea of Christianity being more about people not judging each other and focusing more on loving and forgiveness – there is even a rather well written passage where Alice Braga demonstrates the nature of judgement to Sam Worthington by showing him the people he condemns, his father, the man who killed his daughter, as children and asking if he would judge them; it is just that I didn't feel like I needed two hours and twelve minutes of cloying banal feelgood emotions to come to that realisation.
---
---