---
Crew
Director/Screenplay – Nacho Vigalondo, Producers – Nicholas Chartier, Zev Foreman, Nahikari Ipiña, Russell Levine & Dominic Rustam, Photography – Eric Kress, Music – Bear McCreary, Visual Effects – Intelligent Creatures (Supervisor – Phil Jones), Animation Director – Warren J.W. Leathem, Special Effects Supervisor – Jak Osmond, Production Design – Susan Chan. Production Company – Route One Entertainment/Voltage Pictures/Sayaka Producciones/Brightlight Pictures.
Cast
Anne Hathaway (Gloria), Jason Sudeikis (Oscar), Dan Stevens (Tim), Austin Stowell (Joel), Tim Blake Nelson (Garth)
---
Plot
Gloria's boyfriend Tim splits up with her because in the year since she has been out of a job she is constantly out partying and coming home drunk. With no money, Gloria returns to her late parents' home in New Hampshire. She meets Oscar, a childhood friend she went to school with, and he introduces her to the bar he owns, later offering her a job as a barmaid. At the same time, Gloria learns that a giant monster has appeared in Seoul and the whole world is abuzz over its appearance. Gloria makes the startling discovery that whenever she returns to the neighbourhood playground, the monster reappears and mimics her movements. In amazement, she shows this to Oscar and two guys from the bar, only to fall over drunk and cause mass destruction and loss of life in Seoul. She is equally astonished to find that when Oscar stepped in to stop her falling, a giant robot also appeared in Seoul. Gloria is deeply regretful over the destruction she caused and returns with a message written in Korean that she spells out on the ground. She also decides to stop drinking. Oscar then becomes upset to discover that Gloria slept with Joel, a guy from the bar, and returns to the playground and starts stomping. The two fight and this is seen by the crowds in Seoul and Gloria's monster cheered on. Thereafter, Oscar starts emotionally blackmailing Gloria into staying with the threat of returning to the playground and running rampant.
---
Spanish director Nacho Vigalondo made an international splash with his feature-length directorial debut, the time paradox twisting Timecrimes (2007). Vigalondo followed this up with Extraterrestrial (2011), a head-scratchingly odd comedy set in the aftermath of the arrival of flying saucers, and the English-language Open Windows (2014), a thriller that takes place from the point-of-view of a computer screen as Elijah Wood stalks actress Sasha Grey. In between these, Vigalondo has become a regular dabbler in the modern multi-director anthology films, delivering episodes for The ABCs of Death (2012), The Profane Exhibit (2013) and especially the madcap Parallel Monsters episode for V/H/S Viral (2014). Vigalondo subsequently wrote Paradise Hills (2019) about a strange re-education centre.
Nacho Vigalondo makes fairly off the wall films – Timecrimes and Open Windows were played seriously but both Extraterrestrial and Parallel Monsters went off into pleasingly wacky directions. Colossal is a film that has a premise – a woman finds that a giant monster mimics her every moments – that leaves you scratching your head before you watch. No explanation is ever offered for the phenomenon other than lightning bolts striking the two characters heads when they were children, which more correctly makes Colossal a work of fantasy as opposed to science-fiction.
You get the impression that Nacho Vigalondo received the inspiration for Colossal from one of the Godzilla vs ____ movies of the 1970s and watching the absurd wrestling matches between Godzilla and various other monsters and then having an epiphany where he compared them to a drunken couple having a tiff. The Gamera films and some of the Godzilla films of the late 1960s also had the monsters gaining an affinity (a psychic link in some films) with children.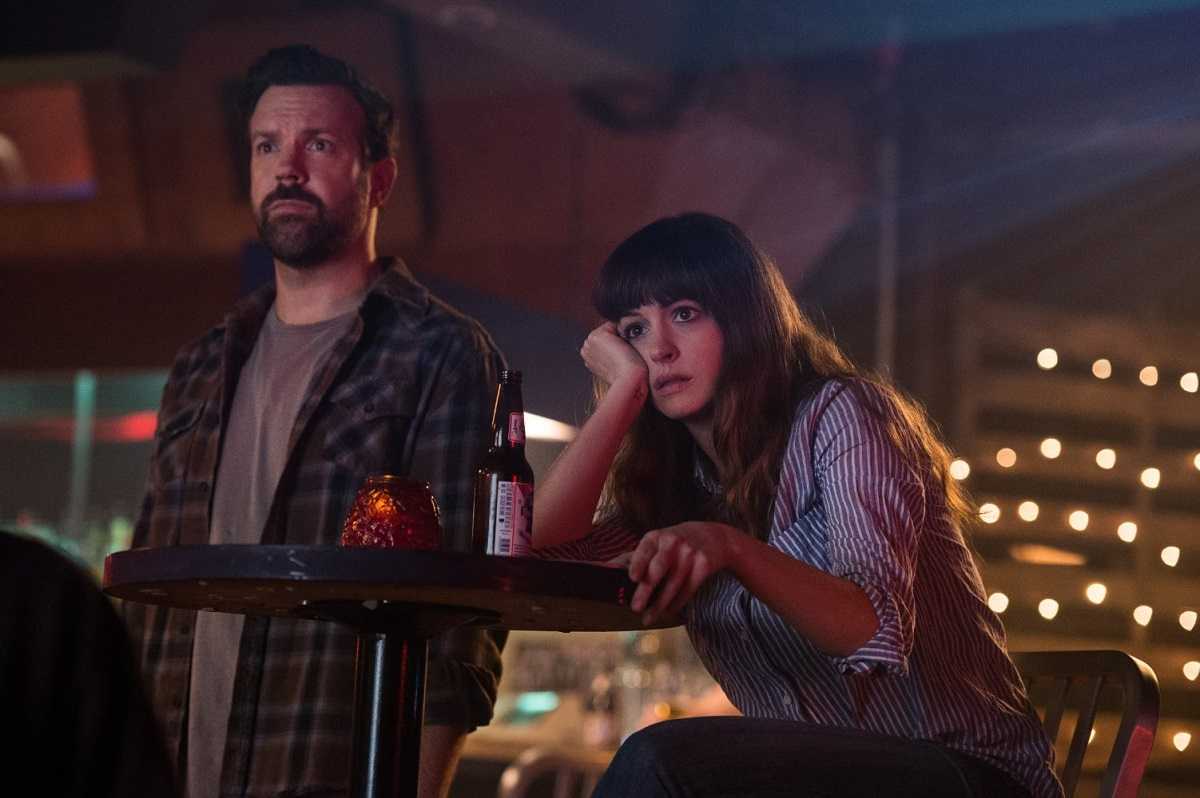 The surprise in seeing the film is that Vigalondo and all of the cast actually play the premise completely seriously. Vigalondo also roots everything that happens in ordinary, everyday Americana – although maybe one of the credibility gaps of the film is how Anne Hathaway manages to be unemployed for over a year and still have the money to afford to go out drinking on a daily basis.
At the outset, you expect the film to go in the direction of some kind of cute/awkward romance and Anne Hathaway and Jason Sudiekis to eventually realise a growing attraction to one another through the absurd situation they end up in. However, Nacho Vigalondo has completely different ideas. Instead, he turns it into an escalating conflict between the two of them with Jason Sudiekis, who has initially come across as a likeable guy and even a potential romantic contender for Anne Hathaway, turning from a jerk into a possessive emotional blackmailer. The conflict between the two twists and corkscrews through some fascinating turns.
When it comes to the giant monsters, the effects are not in the same league as the recent likes of Shin Godzilla (2016) or Kong: Skull Island (2017) but are serviceable enough for what are required of them (plus Colossal's strengths are far more as a film about the conflict between a couple than in being a giant monster movie).
---
---