aka Fire City: The Interpreter of Signs
---
Crew
Director – Tom Woodruff, Jr., Screenplay/Producers – Michael Hayes & Brian Lubocki, Photography – Danny Grunes, Music – Ryan Leach, Visual Effects Supervisor – Grover Richardson III, Special Effects Supervisor – Frank Willis Balzer, Special Effects – Generation Effects, Inc., Makeup Effects – ADI, Makeup Effects Supervisor – David T. Woodruff, Production Design – Dayne Oshiro. Production Company – Okay By Me Productions.
Cast
Tobias Jelinek (Atum Vine), Danielle Chuchran (Demon Cornelia), Keely Aloña (Sara), Kimberly Leemans (Amber), Derrick L. McMillon (Andre), Eric Edwards (Ford), Simon Sotrells (Mace), Pelé Kizy (Helo), Brionne Davis (Tripp), Kristin Minter (Jane), Jen Oda (Lisa), Harry Shum, Jr. (Frank), Connor Woodruff (Tarqus), Bob Burns (Archie), Kathy Burns (Ruth)
---
Plot
Atum Vine is a demon who oversees the other demons that inhabit an apartment building where they feed on the miseries of the various human tenants. Vine intervenes to prevent young Sara from being raped and probably killed by her stepfather Andre. Cornelia, the building's Interpreter of Signs, is shocked during a tarot reading for a human when one of her cards turns to black glass, a heretofore unknown sign that denotes great peril. The next day Vine finds that all of the residents of the apartment are now at peace, untroubled and no longer miserable. With no misery to feed on, the demons face imminent starvation. Fearful of them turning on and devouring the humans, Vine tries to find the nature of the new threat that is changing the humans.
---
Fire City: End of Days was the directorial debut of Tom Woodruff, Jr. Woodruff is better known as a makeup and creature effects artist. He began working under Stan Winston and has credits on classic works such as The Terminator (1984), Aliens (1986) and Predator (1987), before branching out to form his own studio Amalgamated Dynamics with partner Alec Gillis. Under such banner, the two have performed work on films such as Tremors (1990), Death Becomes Her (1992), Mortal Kombat (1995), Skyline (2010), The Thing (2011), Ender's Game (2013) and various of the Alien and X-Men sequels, among others. The same year as Woodruff released Fire City, his Amalgamated Dynamics partner Alec Gillis released his own directorial debut with Harbinger Down (2015).
Fire City was first imagined by writers Michael Hayes and Brian Lubocki. Their original intent was to create Fire City as a web series but they were persuaded to spin the idea out as a film and End of Days/The Interpreter of Signs is the first in what is planned as a series of four films. (The initial web series format seems to have been retained right down to the extent of having the film broken into chapters). Tom Woodruff, Jr. filmed a teaser version of the film as the nine-minute short Fire City: King of Miseries (2013). The budget for the feature film was raised via a Kickstarter campaign.
Fire City has a fascination on screen. Though the film almost never leaves the central locale of the apartment building, it is immediately a different and original world that we are in. One where demons live among humans in a parasitic symbiosis and things are related through a series of arcane rules. It is something that falls somewhere between the demon karaoke bar in tv's Angel (1999-2004) and the morally blurred neo-noir world of Sin City (2005). Or perhaps the Rat City scenes in Spawn (1997) and in particular the animated tv series version Spawn (1997-9) having been expanded out into their own film.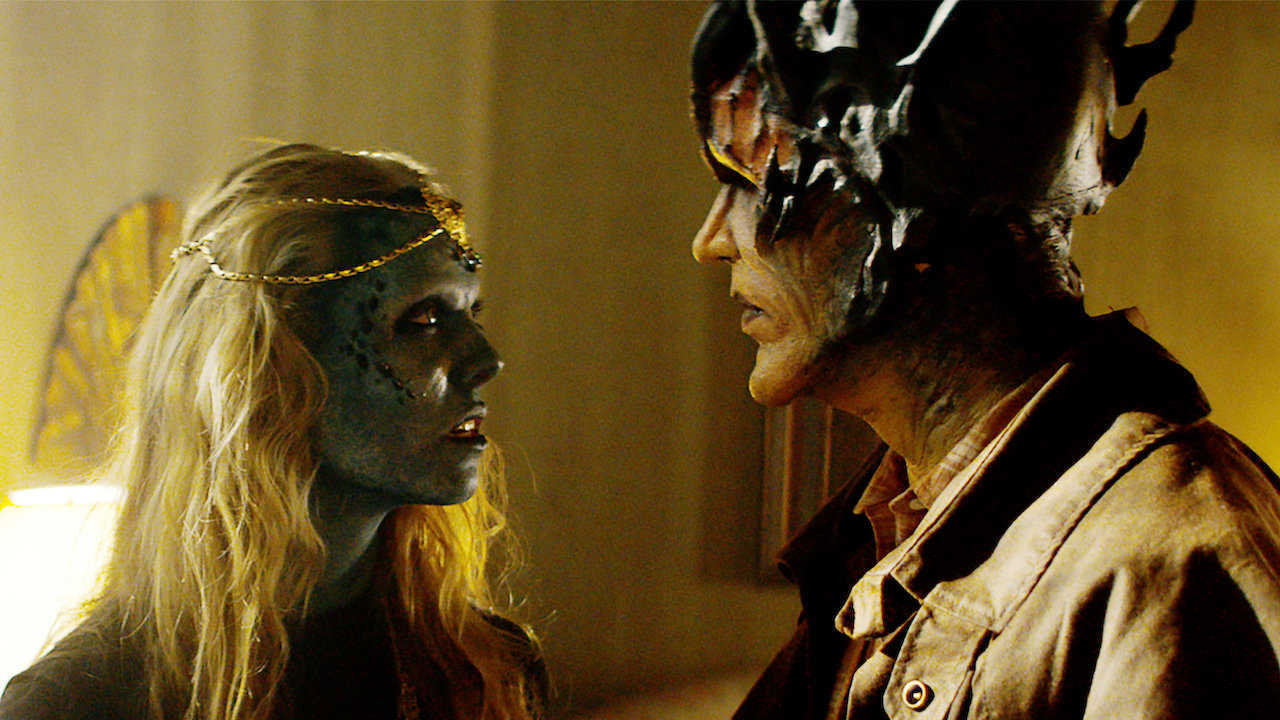 Fire City suffers from being made on a B-budget. The apartments and halls look a little too obviously like constructed sets as opposed to places that people are dwelling. It is a film that would have been boosted immeasurably by more professional photography and lighting and some tighter editing. The pace of the film is slow – it seems to take an awfully long time for things to start going anywhere.
All of that said, you are captivated by both the originality of the milieu and especially when Tom Woodruff gets loose on what is his forte – the delivery of makeup effects. The creature effects for the demons and assorted creatures throughout are astonishingly good and stand out with an imagination that far exceeds their surroundings. It is this and the unusualness of the story that adds up to make Fire City eventually something quite captivating by the time it reaches its end.
(Winner for Best Makeup Effects at this site's Best of 2015 Awards).
---
---