aka Atlantis; Atlantis the Lost Continent
---
Crew
Director – Gregg G. Tallas, Screenplay – Robert Lax & Rowland Leigh, Additional Dialogue – Thomas Job, Based on the Novel L'Atlantide by Pierre Benoit, Producer – Seymour Nebenzal, Photography (b&w) – Karl Struss, Music – Michel Michelet, Special Effects – Rocky Cline, Makeup – Lee Greenway, Production Design – Lionel Banks. Production Company – Atlantic Productions, Inc.
Cast
Maria Montez (Queen Antinea), Jean-Pierre Aumont (Lieutenant Andre Saint-Avit), Dennis O'Keefe (Captain Jean Morhange), Henry Daniell (Blades), Morris Carnovsky (Le Mesge), Alan Nixon (Lindstrom), Alexis Minotis (Cortot), Pierre Watkin (Colonel)
---
Plot
Lieutenant Andre Saint-Avit comes around at a French Foreign Legion outpost in the Sahara Desert. Questioned by his superiors about what happened to his commanding officer Captain Jean Morange, Saint-Avit incoherently talks about how they discovered Atlantis in the desert. He is pressed to tell the full story and recounts how they set out to find the missing expedition of Francois Marchand but became lost in a sandstorm near the Hoggar Mountains. They came around in an ancient city where they were placed together with several other Westerners also there. All were loves of the Queen Antinea but some had lapsed into depression and alcoholism when they no longer had her favour. Saint-Avit was taken to an audience with Antinea and quickly becomes her new favourite. However, when she chose Morhange over him, this pitted the two men against each other.
---
L'Atlantide (1919), published in the English language variously as Atlantida and The Queen of Atlantis, was a popular novel from Pierre Benoit (1886-1962), a French soldier who had served in North Africa. After being opted out of the army for medical reasons, Benoit became a civil servant and then found success as a writer. He published a number of books and several of these have been filmed over the years (although L'Atlantide is the only one that is remembered today). During the Second World War, Benoit acted as a collaborator with the Nazi occupation of France and fell considerably out of favour in later years as a result.
L'Atlantide tells the story of the discovery of Atlantis, located in the Sahara Desert, by two French soldiers and their being seduced by the queen Antinea who keeps the preserved bodies of her exhausted lovers. Benoit appears to have been inspired by H. Rider Haggard's She (1886) – both are works set in the era of 19th Century imperialism and feature explorers coming across a femme fatale of impossible but deadly desirability. Benoit's book has been popular on film. The first was a three-hour French silent version L'Atlantide (1921) from Jacques Feyder. This underwent a sound remake with L'Atlantide (1932), which was simultaneously shot in French, German and English, each version starring Brigitte Helm as Antinea. There was then this Hollywood version. It was followed by The Lost Kingdom/Journey Beneath the Desert (1961) from Edgar G. Ulmer starring Jean-Louis Trintignant; L'Atlantide (1972), a French tv movie version starring Ludmilla Tscherina as Antinea, about which not much is known; and L'Atlantide (1992) starring Tcheky Karyo.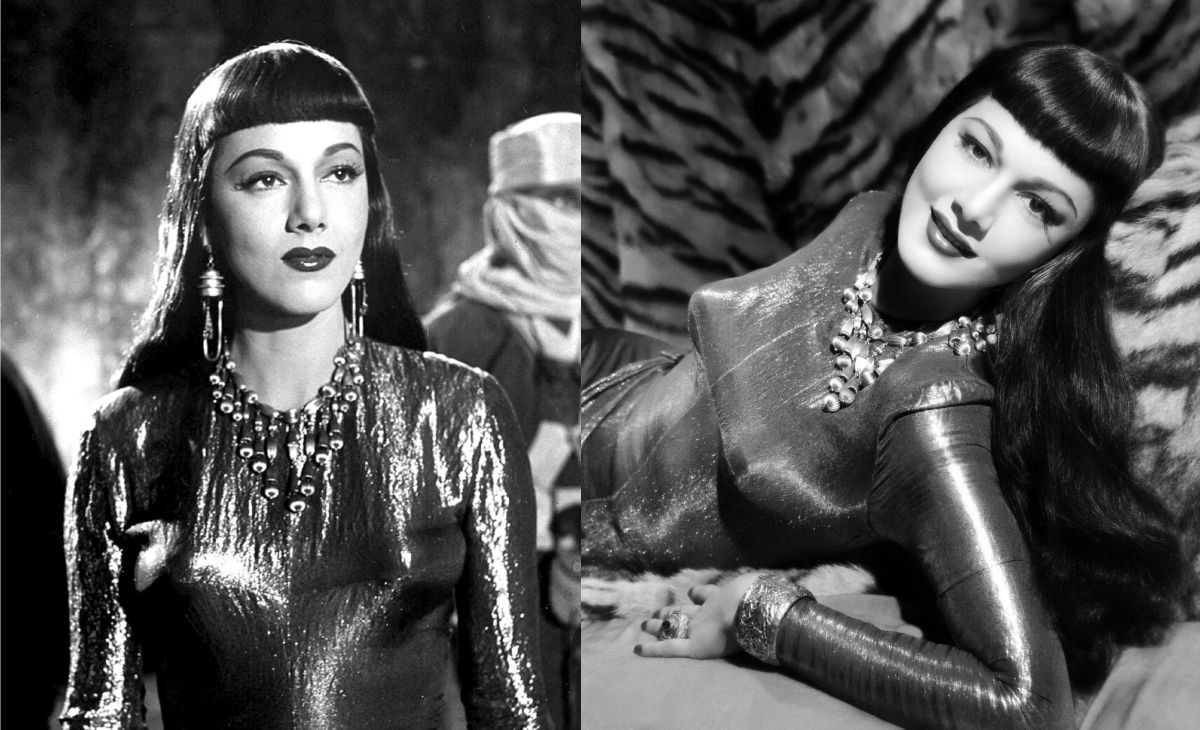 Siren of Atlantis – also known as Atlantis the Lost Continent, which is not to be confused with the George Pal film Atlantis, The Lost Continent (1961) – was the third film version of L'Atlantide. It was mounted as a vehicle for Maria Montez, a former model born in the Dominican Republic of Spanish parents. Montez hit the screens in the early forties in a series of Technicolor adventures and fantasy spectacles, beginning with her part as Scheherazade in Arabian Nights (1942) and passing through Ali Baba and the Forty Thieves (1944), the infamous camp classic Cobra Woman (1944), Gypsy Wildcat (1944), Pirates of Monterey (1947), Sudan (1947) and a handful of other roles. She was widely seen as not having much talent, nevertheless her brand of sultry sex appeal and the cardboard Technicolor spectacular of the films proved popular. She was married to co-star Jean-Pierre Aumont at the time of Siren of Atlantis and died only three years later after having a heart-attack in the bath and drowning.
Siren of Atlantis was a problem production to all accounts. It was produced by Seymour Nebenzal, an American who had worked at the German studios in the 1920s and 30s (where he in fact was a producer on the 1932 L'Atlantide) but was forced as a Jew to relocate to Hollywood after the rise of the Nazis. Nebenzal sought to produce Siren of Atlantis on a medium budget. The film underwent a number of directors, including silent comedy director Arthur Ripley; John Brahm, the director of 1940s psycho-thrillers like The Lodger (1944) and Hangover Square (1945); and reportedly Douglas Sirk, the director of lush melodramas such as Magnificent Obsession (1954), All That Heaven Allows (1956) and Imitation of Life (1959). Apparently a number of sections ended up being rewritten and new characters added due to poor initial test screenings. The credited director is Gregg G. Tallas, who was actually the film's editor. Tallas later went on to make the ultra-cheap caveman film Prehistoric Women (1950) and a segment of the horror film Cataclysm (1980).
Siren of Atlantis emerges as a mix of the spectacular and the cheap. The interior sets are very impressive – dances held around indoor pools; natives fighting for sport in villages; multi-storied hallways; Antinea's throne room with circular trellises overhead; giant amphorae as props in the background; Maria Montez with a bed shaped like a giant conch shell. What should also be mentioned is that much of this buys into very jingoistic cliches of the Middle East as a mysterious exotic culture that was popular in Hollywood of the era. On the cheap side, it looks as though the production never strayed out of California state to shoot. The desert scenes are few and lack any sense of panorama or scope. While the sets are impressive, it is also more than evident that many of them come with obvious painted backdrops.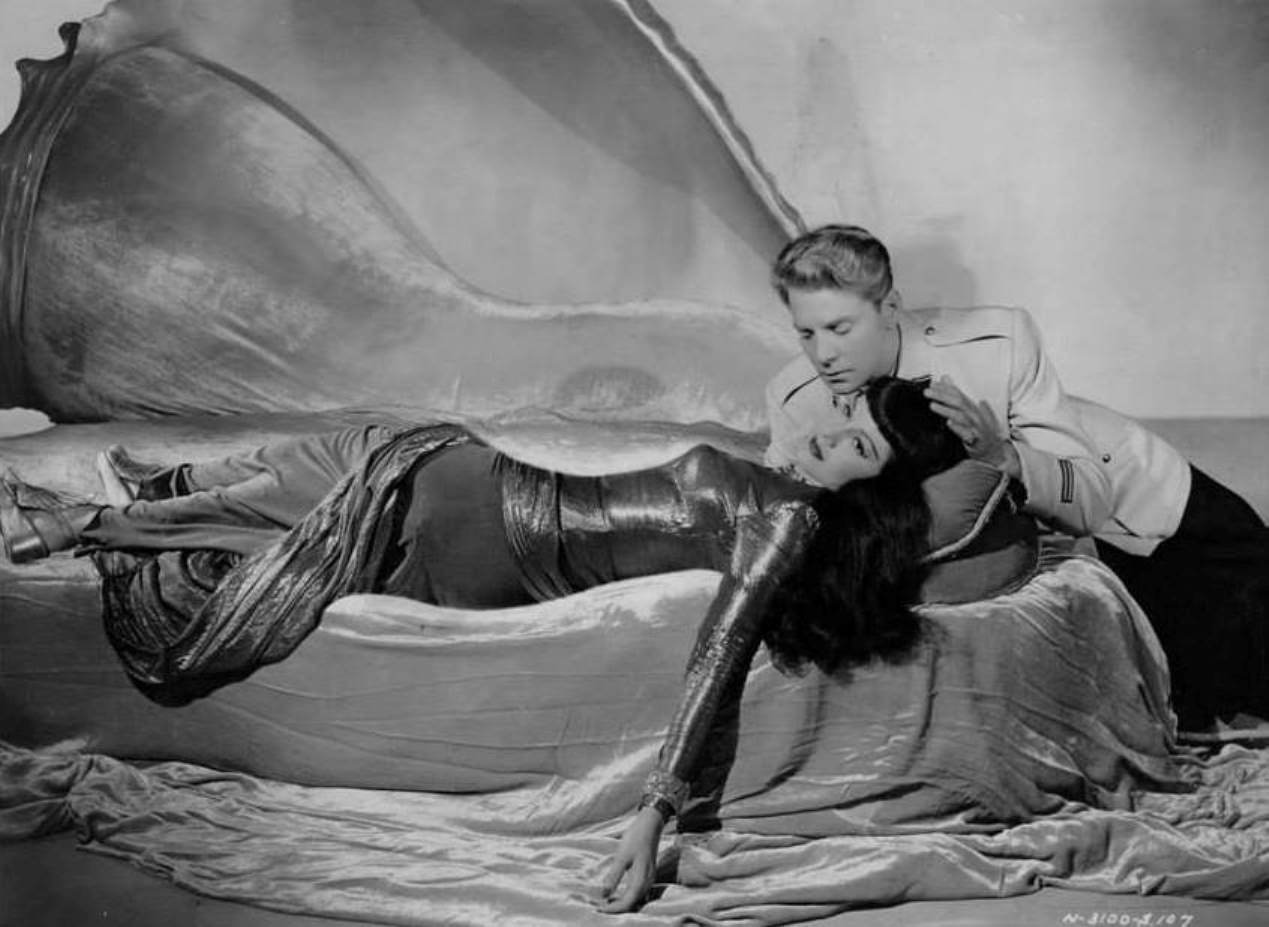 Maria Montez is not that much of an actress. Not terrible but at least adequate for the part. However, what she does bring is an enormous degree of sultry presence. The film caters to this, outfitting her in a series of dazzling costumes while the cinematographer conducts a love affair with her, outlining her face in an ethereal gauzy glow that became a cliche in romantic films of the era.
What you cannot help but think in all of this is how much Antinea (and Haggard's Ayesha) represent a vision of pathological sexuality. This version plays down the image from the book and the earlier film versions of Antinea keeping a hallway of the preserved bodies of the lovers that she had drained (all we get here is a single vision of the hall of bodies, which comes without any explanation). The concept of an impossibly desirable woman who remains aloof and/or pitting men against each other and they being reduced to withered husks and alcoholics when she tires of them suggests a vision of women written by someone who had just a few problems with not getting enough of his own in life.
The film works as an uneven mix of the typical Hollywood melodrama along the lines of the aforementioned Maria Montez films and a certain moodiness that makes it more than that. Where most other adventure films of this era open up and swashbuckle, this arrives at the lost city early in the story and then spends the rest of the show sitting around brooding. This gives it a certain melancholy atmosphere. There is something to the tragic last scene of the lost world classic Lost Horizon (1937) to the fine ending where Jean-Pierre Aumont escapes back to the fort but is haunted by his experience before one of the Tuaregs turns up, gives him a medallion as sign and he sets forth into the desert again to find her, ending in the beautifully tragic end image of him lying in the sand in the middle of the storm, dead and still clutching the medallion.
---
---