---
Crew
Director/Screenplay – Chris Butler, Producers – Travis Knight & Arianne Sutner, Photography – Chris Peterson, Music – Carter Burwell, Visual Effects Supervisor – Steve Emerson, Animation Supervisor – Brad Schiff, Production Design – Nelson Lowry. Production Company – Annapurna Pictures/Laika.
Voices
Hugh Jackman (Sir Lionel Frost), Zach Galifianakis (Mr Link/Susan), Zoe Saldana (Adelina Fortnight), Timothy Olyphant (Willard Stenk), Stephen Fry (Lord Piggot-Dunceby), Emma Thompson (The Elder), David Walliams (Lemuel Lint), Amrita Acharia (Ama Lhamu), Ching Valdes-Aran (Gamu), Matt Lucas (Mr Collick)
---
Plot
The late 19th Century. In England, Sir Lionel Frost is determined to becomes a member of The Optimates Club for explorers but is constantly ridiculed because of his obsession with cryptozoology. He then receives a letter from Old Kemp Creek in Washington State asking him to come find the Sasquatch. Sir Lionel makes a bet with his most vociferous critic Lord Piggot-Dunceby that if he can return with proof of a Sasquatch then he must be accepted into the club. Sir Lionel departs, however Lord Piggot-Dunceby hires the hunter Willard Stenk to ensure that he fails. In the woods at Old Kemp Creek, Sir Lionel encounters the Sasquatch and is surprised to find that it talks – in fact, it was the one who sent him the letter. It explains that it is lonely and wants to find others of its kind. Sir Lionel agrees to take it on an expedition to find the Yeti in return for the Sasquatch providing his proof. He alters the passport of his former companion Lemuel Lint to allow the Sasquatch to become Mr Link, outfits him with clothes and they set out. To get to the hidden valley of Shangri-La where the Yeti live, Sir Lionel needs the map of Aldous Fortnight and determines to steal it from Fortnight's widow Adelina, who is also Sir Lionel's ex. However, Mr Link's bumbling gives them away and Adelina determines to come with them. They travel to Shangri-La in the Himalayas, the secret home of the Yeti, pursued all the while by Stenk and Lord Piggot-Dunceby.
---
Laika Entertainment is a US-based company that specialises in stop-motion animation. The company started out co-producing Tim Burton's Corpse Bride (2005) and Henry Selick's Coraline (2009). They embarked on their own with ParaNorman (2012) and followed this with The BoxTrolls (2014) and the critically praised Kubo and the Two Strings (2016). The film is directed by Chris Butler who joined Laika as a storyboard artist and wrote and co-directed ParaNorman and wrote the screenplay for Kubo.
In sitting down to watch, you soon realise that the Missing Link title is somewhat of a misnomer. You go in expecting a prehistoric set or prehistoric revival film maybe akin to Aardman's recent Early Man (2018), whereas in fact what we have is a Bigfoot film that has more in common with a film like Harry and the Hendersons (1987). The term 'missing link' grew out of 19th Century anthropology and is usually used to refer to a theoretical common ancestor bridging between mankind and apekind – although with the increased discovery of the remains of prehistoric pre-human ancestry, the term has fallen very much out of favour these days.
Why Laika went with the title of Missing Link, which suggests a prehistoric film of some type, is a good question – maybe a Bigfoot title didn't do as well with marketing groups. That said, Missing Link didn't do much as a title either as the film opened in a miserable ninth place at the US box-office, earning only $5 million on its opening weekend, $16 million in total domestically, the worst ever for a Laika film.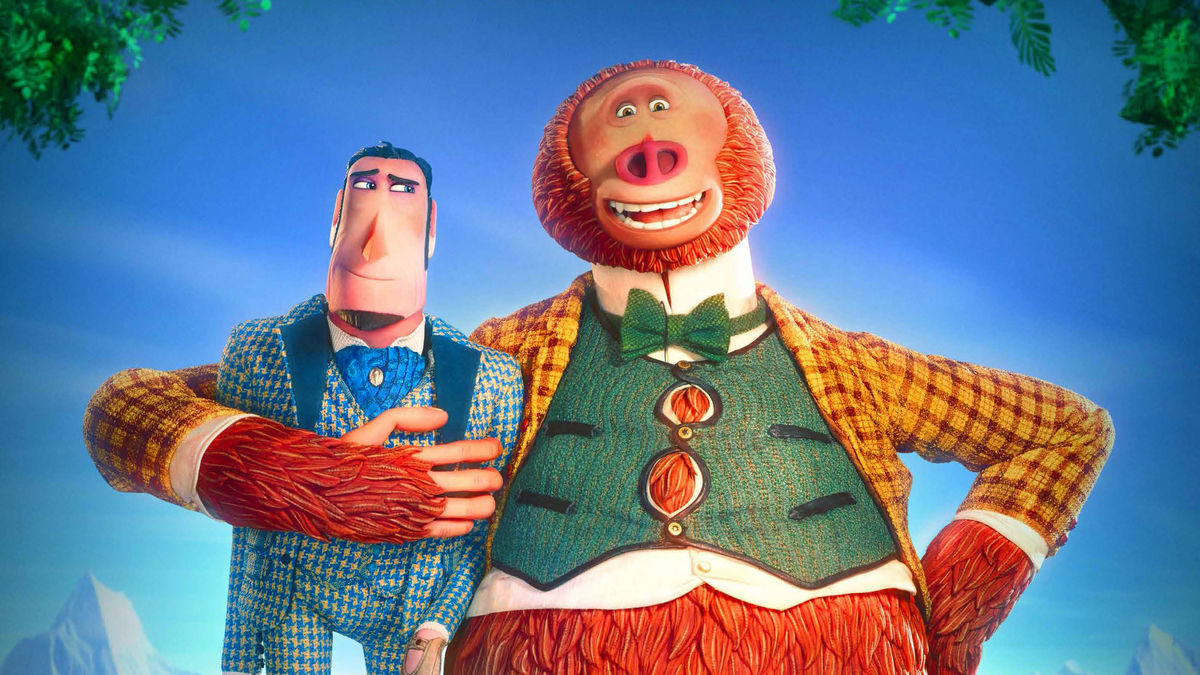 Laika's previous films, particularly Kubo, have been obsessed with pushing artistic envelopes. Missing Link does too but in an unobtrusive way that disappears into the scenery. As I have said before, all of the painstaking stop-motion animation work that Laika puts in becomes invisible and is assumed by most audiences to be regular CGI animation – I, for instance, had to stop and explain to my viewing companion that what we were seeing was actually miniatures moved one frame at a time rather than regular animation. (Laika do include a brief behind-the-scenes clip over the end credits showing them animating the elephant scene to show the difference).
Missing Link is the most lightweight of Laika's films to date. Although the other films have engaged in this to varying degrees, it is much more slapstick and knockabout in nature. A lot of fun in the film comes from the Zach Galifianakis voiced Mr Link who is constantly interpreting things – instructions like "open the window a crack" or "throw the rope over the wall" – in the most literalistic way. There is a much slapstick running around the Fortnight mansion, barrooms fights and shipboard fights with Willard Stenk and especially the extended climax, which seems to have all of the participants hanging from an ice bridge by their fingertips and an ice axe in shifting combinations. A likeable fun but never too much more than that.
One of the odder aspects of the film is the appropriation of the name Shangri-La for the lost valley of the Yeti. Shangri-La was a fictional lost valley paradise created in James Hilton's novel Lost Horizon (1933) and popularised in the film adaptations Lost Horizon (1937) and Lost Horizon (1973). In other films such as The Librarian: Quest for the Spear (2004), Sky Captain and the World of Tomorrow (2004), The Mummy: Tomb of the Dragon Emperor (2008) and Killer Mountain (2011), Shangri-La has become stand in for a generic lost world.
---
---