---
Crew
Photoplay Director – Harve Foster, Cartoon Directors – Wilfred Jackson, Screenplay – Morton Grant, Maurice Rapf & Dalton Raymond, Cartoon Story – William Peed, George Stallings & Ralph Wright, Story – Dalton Raymond, Based on the Short Story Collection Tales of Uncle Remus by Joel Chandler Harris, Photography – Gregg Toland, Music Supervisor – Charles Wolcott, Photoplay Score – Daniel Amfitheatrof, Cartoon Score – Paul J. Smith, Songs – Foster Carling, Sam Coslow, Eliot Daniel, Ray Gilbert, Hy Heath, Arthur Johnston, Johnnie Lange, Robert MacGimsey & Allie Wrubel, Animation Supervisors – Les Clark, Marc Davis, Ollie Johnston, Milt Kahl, Eric Larson & John Lounsbery, Art Direction – Perry Ferguson, Cartoon Art Direction – Kenneth Anderson, Philip Barber, Harold Doughty, Hugh Hennesy & Charles Philippi. Production Company – Disney.
Cast
James Baskett (Uncle Remus/Voice of Brer Fox), Bobby Driscoll (Johnny), Ruth Warrick (Sally), Luana Patten (Ginny Favors), Lucille Watson (Miss Dulcie), Glenn Leedy (Toby), Georgie Nokes & Gene Holland (The Favors Boys), Hattie McDaniel (Tempe)
---
Plot
Young Johnny goes to stay with his grandmother on her Southern estate. There he befriends the old Negro handyman Uncle Remus who amuses Johnny by telling him stories of how the wily Brer Rabbit outwitted his nemeses Brer Bear and Brer Fox using cunning. Johnny is able to apply the same cunning in his dealings with two bullying boys who live on the estate.
---
Song of the South is one of the lesser-known Disney films. This is in large part due to its having been discreetly withdrawn from circulation due to charges of racism levelled against it. Unlike most other Disney films that are re-released about every five years, Song of the South is not even available on video/dvd in the US.
The film was based on a series of stories from Georgia newspaperman Joel Chandler Harris who published them in seven volumes between 1881 and 1905. The stories were praised at the time for their presentation of a vision of racial unity and Harris's ability to accurately tell them in the Black vernacular of the time. The stories are less well regarded now, one of the controversies being the defence of slavery that Harris argues in the introduction to the first volume.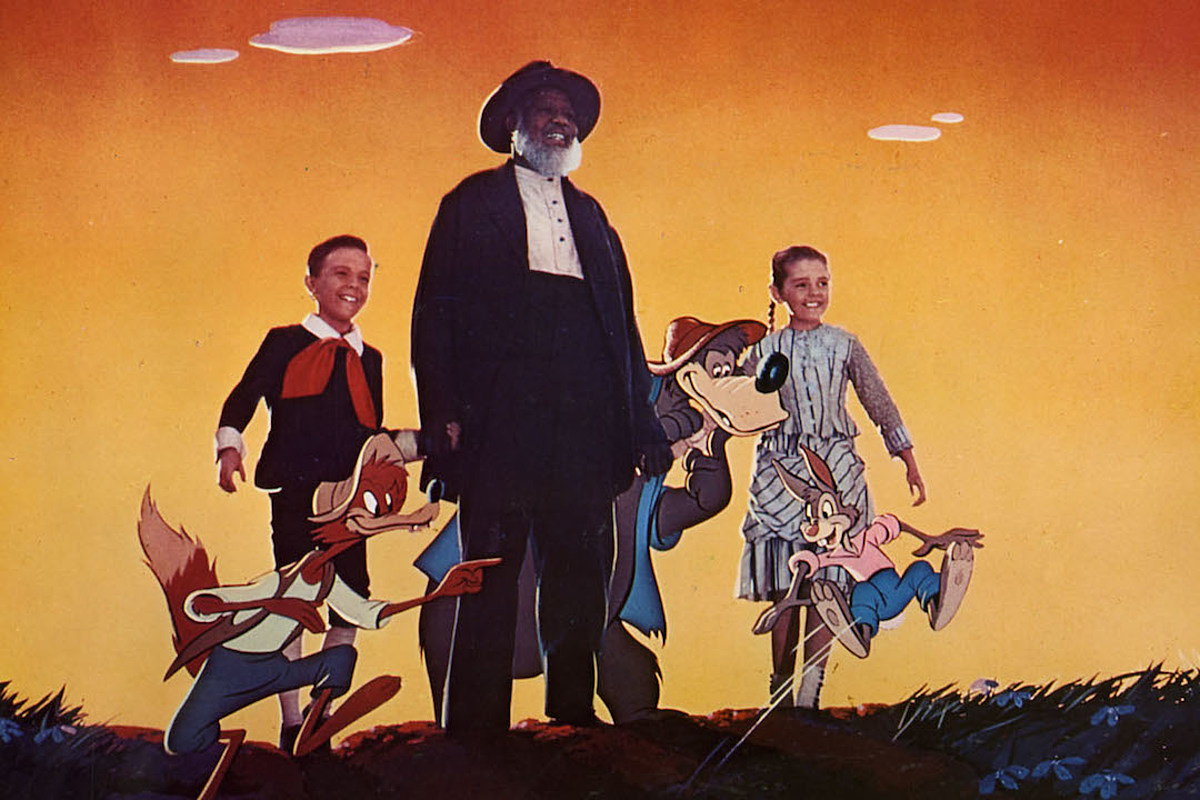 Setting aside its controversies, Song of the South is an undeniably likeable film. The animated scenes in particular work well – far more so than the insipid live-action scenes. The Uncle Remus stories are appealingly cast as a series of self-conscious tall tales, full of wild exploits and neatly delivering parables dependent on the winning out of native cunning. What makes the stories work so well here is the film's ability to tap into the rhythm of the argot they come from. It is this winning sense of rolling dialogue and James Baskett's central performance (for which he won a special Academy Award) that propels the stories into the quite joyous. The live-action scenes are far more maudlin – particularly the end with Johnny's would-be death and resurrection (in a film like this, is there ever any doubt that he would die??).
For all the quaint racism that Song of the South is accused of embodying, it isn't as bad as it might be – that is if one is prepared to accept the images of Blacks happily working in the plantation fields and spending all their spare time singing Gospel songs. The film does at least promote a vision of racial harmony some two decades before it was acceptable to do so. (In the real world, for instance, James Baskett was unable to attend the film's premiere in Atlanta because no hotel would rent him a room). And there is a certain subversiveness to the film – quite radically the balance of sympathy in the film lies with the folk wisdom of Uncle Remus rather than the stuffy authority of Johnny's priggish mother. Also, Johnny interestingly prefers to play with the poor Ginny and and the African-American Toby rather than the children of his own social background.
Also of interest is Ralph Bakshi's Coonskin (1975), which Bakshi has equivalents of Brer Rabbit, Brer Bear and Brer Fox travel to 1970s Harlem.
---
---