---
Crew
Director – Wolfgang Reitherman, Screenplay – Ken Anderson, Larry Clemmons, Eric Cleworth, Vance Gerry, Julius Svendsen, Frank Thomas & Ralph Wright, Story – Tom McGowan & Tom Rowe, Producers – Wolfgang Reitherman & Winston Hibler, Music – George Bruns, Songs – Terry Gilkyson, Floyd Huddleston, Al Rinker & Richard M. & Robert B. Sherman, Animation Supervisors – Frank Thomas, Olie Johnston, Milt Kahl & John Lounsbery, Production Design – Ken Anderson. Production Company – Disney.
Voices
Phil Harris (Abraham Giuseppe DeLacey Thomas O'Malley), Eva Gabor (Duchess), Dean Clark (Berlioz), Liz English (Marie), Gary Dubin (Toulouse), Roddy Maude-Roxby (Edgar), Sterling Holloway (Roquefort), Hermione Baddeley (Madame), Monica Evans (Abigail Gabble), Carole Shelley (Amelia Gabble), Charles Lane (Georges), Scatman Crothers (Scat Cat)
---
Plot
Paris, 1910. The wealthy widower Madame calls her lawyer to her saying that she wants to change her will to leave her fortune to her beloved cat Duchess and Duchess's three kittens Toulouse, Berlioz and Marie. Madame's butler Edgar is to inherit the fortune after the cats die. Edgar is eavesdropping and decides that he cannot wait that long. He places a sleeping potion in the cats' soup, places them in a bag and drives off to abandon them in the countryside. However, on the way, two dogs attack his motorcycle and he drops the bag containing the cats. The cats are then found by the streetwise O'Malley. O'Malley offers to help them find their way back home and so he, Duchess and the kittens set out on a journey together. Outside of her live of domestic privilege, Duchess learns much about the colourful life on the street and duly becomes attracted to O'Malley.
---
Disney Studios have always been a pinnacle when it comes to animation. Disney's creative peak was between 1937 and 1942. However, the mid-1960s through until the late 1980s were a period when animation went into a severe decline at Disney, so much so that their production of live-action family films during this time almost entirely eclipsed their output of animation. Part of this can be put down to the loss of creative direction after the death of Walt Disney in 1966.
One also suspects a part of it was in the rise of Wolfgang Reitherman to become the studio's premiere animation director during much of this period. Wolfgang Reitherman made some okay films – One Hundred and One Dalmatians (1961) and The Jungle Book (1967) – but far more typical was such banal fare as The Sword in the Stone (1963), Robin Hood (1973) and The Rescuers (1977), which are among some of Disney's weakest animated films. The Aristo Cats was one of the few worthwhile films that Wolfgang Reitherman made during his tenure.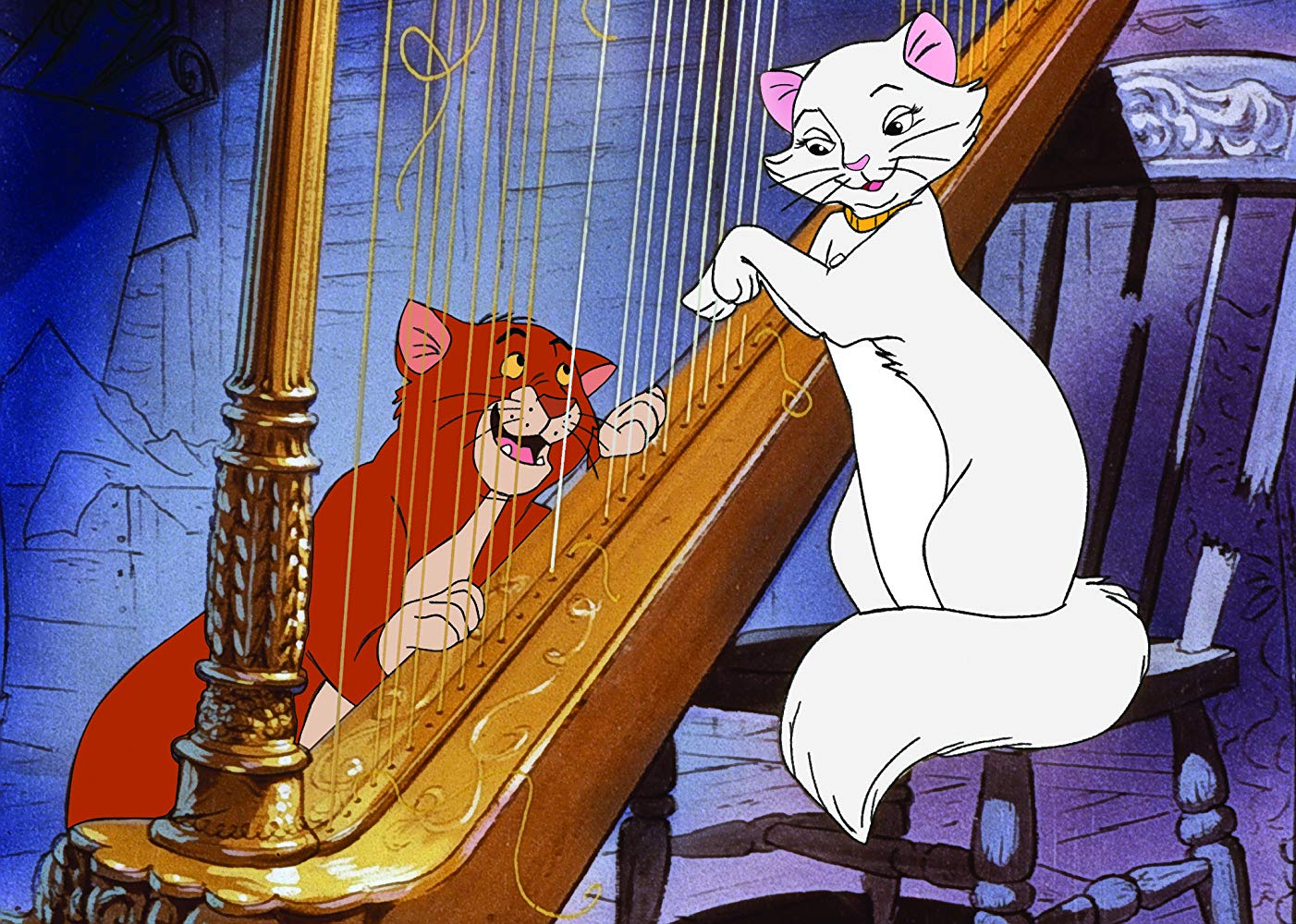 The Aristo Cats is not one of the great Disney animated films, especially when compared to many of their classics. It draws far too much on another Disney classic Lady and the Tramp (1955). However, it is likeable and conducts many aspects of the classic Disney animated film well. There are typical Wolfgang Reitherman touches – the careeningly silly slapstick sequences – a somewhat over-the-top motorcycle chase with the butler and two dogs involving split sidecars, a set of braces and the motorcycle spinning around a windmill, and a later sequence where Edgar tries to hook his umbrella and bowler hat back from the two sleeping dogs.
The film does get its characterizations down nicely, unlike the saccharine banality that infects most other Wolfgang Reitherman films. The kittens – the incredibly cute Marie and Berlioz, the wannabe tough guy Toulouse – are absolutely adorable. Phil Harris's O'Malley comes across with considerable roguish charm and the romance between he and Duchess is quite sweet. Also appealing are the two geese who are played with a very proper schoolma'am Englishness as they try to teach a drowning O'Malley to swim and register polite disapproval to learn that the two are travelling together but are not married.
---
---