---
New Zealand/France/Japan/Belgium/Sweden. 2009.
Crew
Director – Niki Caro, Screenplay – Niki Caro & Joan Scheckel, Based on the Novel by Elizabeth Knox, Producers – Ludi Boeken, Niki Caro, Pascal Judelewicz, Robin Laing & Laurie Parker, Photography – Denis Lenoir, Music – Antonio Pinto, Visual Effects Creative Supervisor – George Ritchie, Visual Effects – PRPVFX Ltd (Supervisor – George Port), Special Effects Supervisor – Jason Durey, Mechanical Effects Supervisor – Harry Harrison, Production Design – Grant Major. Production Company – New Zealand Film Commission/New Zealand Film Production Trust/Ascension Film/Kortex/Acajou Films/Motion Investment Group/OLC-Rights Entertainment (Japan) Inc./Birka Holding AB/Burgundy Film Commission/Les Films 2 Cinema/NZ On Air.
Cast
Jeremie Renier (Sobran Jordeau), Gaspard Ulliel (The Angel Xas), Vera Farmiga (Baroness Aurora de Valday), Keisha Castle-Hughes (Celeste Jordeau), Patrice Valota (Comte de Vully)
---
Plot
The 1810s in a small French winemaking village. Sobran Jordeau is a peasant who works in the Comte de Vully's vineyards. Sobran has an intuitive knowledge of the wine, enough to stand up and tell the Comte that he is picking the vines too early. Sobran receives a visit from the angel Xas who inspires him to explore his talent and grow vines on the infertile area of the ridge where he lives, using stems provided from the angel's own garden. Sobran marries Celeste and soon produces wine from the vine, which impresses the Comte. The angel continues to return on the same day each year to check Sobran's progress, promising to do so until his death. The Comte dies, titling his lands over to his niece Baroness Aurora de Valday. She makes Sobran the chief winemaker. However, as she asks Sobran to teach her about winemaking, an attraction grows between the two of them, which comes at the cost of Celeste's bitterness. As his success as a winemaker grows, Sobran makes the shock discovery that his angel companion comes not from Heaven, as he assumed, but from Hell.
---
The Vintner's Luck was the fourth film from New Zealand director Niki Caro. Caro first appeared with the love story Memory and Desire (1997) and then had a worldwide hit with the massively acclaimed Whale Rider (2002), a Magical Realist depiction of modern Maori culture. Caro subsequently ventured to the US with the well-received Charlize Theron vehicle North Country (2005) about a true-life workplace sexual harassment lawsuit, the true life sports film McFarland, USA (2015), the true-life WWII drama The Zookeeper's Wife (2017) and the live-action remake of Disney's Mulan (2020).
Caro ventured off the beaten track with The Vintner's Luck, based on the acclaimed novel The Vintner's Luck (1998) by New Zealand fantasy author Elizabeth Knox. The film version received a surprisingly negative response after its premiere at the Toronto International Film Festival.
Certainly, a period film about how an angel inspires a man to grow wine is one of the most non-commercial choices of concept for a film that one has seen in some time – it is a stretch to imagine that The Vintner's Luck would have anything that would touch base with the contemporary Twilight (2008) or Marvel Comics adaptations crowd, for instance.
Niki Caro's direction swings between moments of great beauty and a failure to fully draw one into the narrative. The film does a superb job of establishing the detail and richness of the life of the period. Denis Lenoir's photography drinks in the French countryside with a rapturous lushness. Niki Caro plants the camera down to Earth level, focusing on the abundance of life – worms crawling through the soil, plants sprouting, bugs emerging. Later during Jeremie Rennier's betrayal, these images become replaced by ones of corruption, with the fruit rotting, the vines dying, and birds and bugs seen devouring them.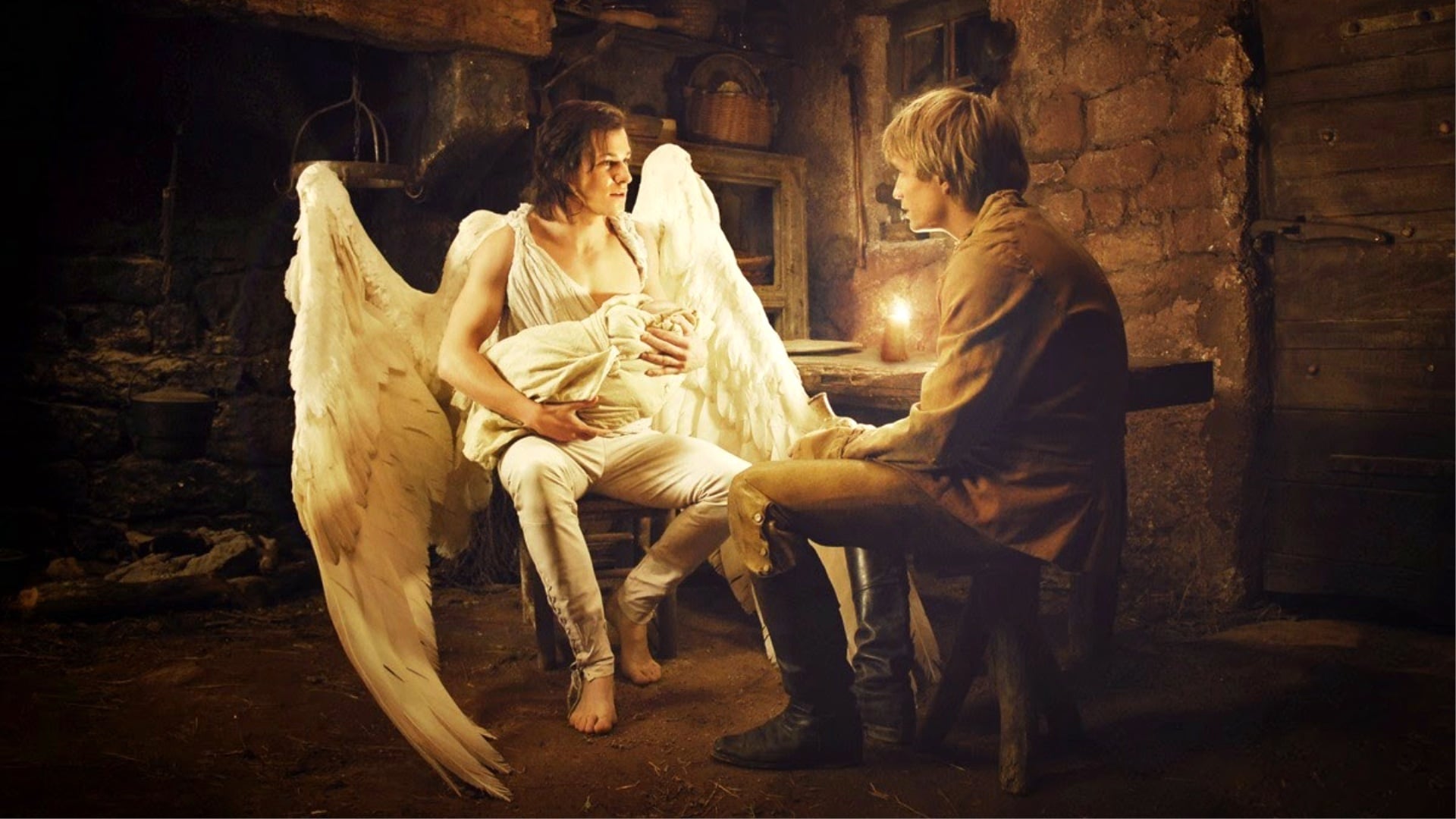 The Vintner's Luck falls into the fad for Magical Realist films such as Like Water for Chocolate (1992), Simply Irresistible (1999), Chocolat (2000), Woman on Top (2000) and The Mistress of Spices (2005), which were all centred around magical cooking, where the cook had the ability to imbue food with their own emotions or allow it to express the eater's feelings. The Vintner's Luck uses wine instead of food but is similar to these in a great many ways.
Unlike Like Water for Chocolate and most of these others, Niki Caro fails to fully find the film's romantic/fantastical sweep and only sporadically allows The Vintner's Luck to take off in its flight of Magical Realist imagination. The most magical scene is the one where Jeremie Rennier educates Vera Farmiga about wine-tasting and blindfolds her, getting her to feel the ingredients and emotions that went into the wine and then to touch his hand, which she unexpectedly takes and caresses against her cheek. Here we see the Magical Realist element, not to mention the attraction that has been lurking between the two, gaining poetic life.
Caro also brings out an intriguing gay subtext – at one point, Jeremy Rennier tries to kiss Gaspard Ulliel's angel and many aspects of the film can be seen in a homoerotic light. There is a strangely beautiful almost love scene between the two with the angel carrying Jeremy Rennier through the air in a barn in a dance that has him twirling in mid-air, dropping Rennier and then catching him again just before he hits the ground.
The Vintner's Luck is slow moving and at two hours in length probably overlong. Not too much happens dramatically; nevertheless, the film eventually works on you in a cumulative way and has a modest effect. One of the strongest scenes is when Gaspard Ulliel shoots down Jeremie Rennier's belief that he comes from Heaven then tosses in a wonderfully subtle bolt – "Not all angels come from Heaven. Some come from Hell. I have a small garden there." This abruptly throws everything that has transpired on its head, although the great disappointment is that the film does nothing subsequently with this revelation. With the idea of a fallen angel, you would surely expect Jeremie Rennier to come to the realisation that everything he has been told could be a lie or designed to corrupt him – he spurns winemaking for a time but Gaspard Ulliel's angel continues to be the beatific loving figure he has been throughout.
On the other hand, the characters fail to always connect. The character of Sobran is well written but Jeremie Rennier has a certain blankness in the part. The worst piece of casting is Whale Rider heroine Keisha Castle-Hughes as Jeremie Rennier's wife where Castle-Hughes seems out of her depth playing a French peasant woman – she comes across more as a pouty teenager. At least, Jeremie Rennier makes a convincing move from his teens into middle age throughout the story, whereas Keisha Castle-Hughes fails entirely to stretch beyond her current age. Gaspard Ulliel radiates smilingly beatific grace but little more than that. American import Vera Farmiga gives an intelligent and accomplished performance.
---
---