aka In the Attic Who Has a Birthday Today?; Toys in the Attic 2012
(Na Pude Aneb Kdo ma Dneska Narozeniny?)
---
Czech Republic/France/Slovakia. 2009.
Crew
Director/Art Direction – Jiri Barta, English Language Version Directed/Written/Produced by Vivian Schilling, Screenplay – Jiri Barta & Edgar Dutka, Producers – Milos Smidmajer, Photography – Zdenek Pospisil & Ivan Vit, Music – Michael Pavlicek, Visual Effects (English Language Version) – Digital Dimension. Production Company – Eurocine/Ceska Televize/Kratky Film Praha/Bio Illusion.
---
Plot
A group of toys live in the attic where they tended by the kind-hearted Buttercup. Each day she holds a party amongst the other toys and a dice is rolled to decide whose birthday it is. The evil Head decides that he wants Buttercup and sends his minions out to abduct her. The rest of the toys, the teddy bear train conductor Teddy, the knight Sir Handsome and Schubert, a lump of plasticine and pencil, set out on a mission to save her.
---
Jiri Barta is a Czech stop-motion animator. Between 1978 and 1989, Barta gained a good deal of international acclaim for about a dozen stop-motion animated shorts he had made, as well as one feature film The Pied Piper (1986). During the 1990s, Barta's planned stop-motion adaptation of The Golem became legendary but he was never able to find the funding to complete more than a seven-minute demo reel, which can be seen on YouTube, as can many of his other short films.
Toys in the Attic was originally made in 2009. It has been purchased for English-language release and a soundtrack dubbed with name actors – Forest Whitaker, Joan Cusack, Cary Elwes – under the direction of actress Vivian Schilling, a novelist and writer who made appearances in a number of low-budget genre films, most notably both writing and acting in Soultaker (1990) and a segment of Future Shock (1993). This version is billed on the credits as Toys in the Attic 2012.
You are not quite sure what to make of Toys in the Attic before going to see it. I expected something similar to the similar Czech puppet film Kooky (2010), which is certainly not an inapt comparison in terms of the film's visual tone and the use of toy characters make up of scavenged junk. The name Toys in the Attic is misleading as you go in expecting a film along the lines of Toy Story (1995). What emerges, while it may resemble one of the Toy Story films on a nominal plot level, is very different in tone. Imagine perhaps a Toy Story rewritten in terms of the darker tones of a Maurice Sendak. Or perhaps a Toy Story taken over by Jiri Barta's countryman Jan Svankmajer, the director of such bizarre and surrealist stop-motion animation fantasies as Faust (1994), Conspirators of Pleasure (1996), Otesanek (2000), Surviving Life (2010) and in particular Svankmajer's one children's adaptation Alice (1988).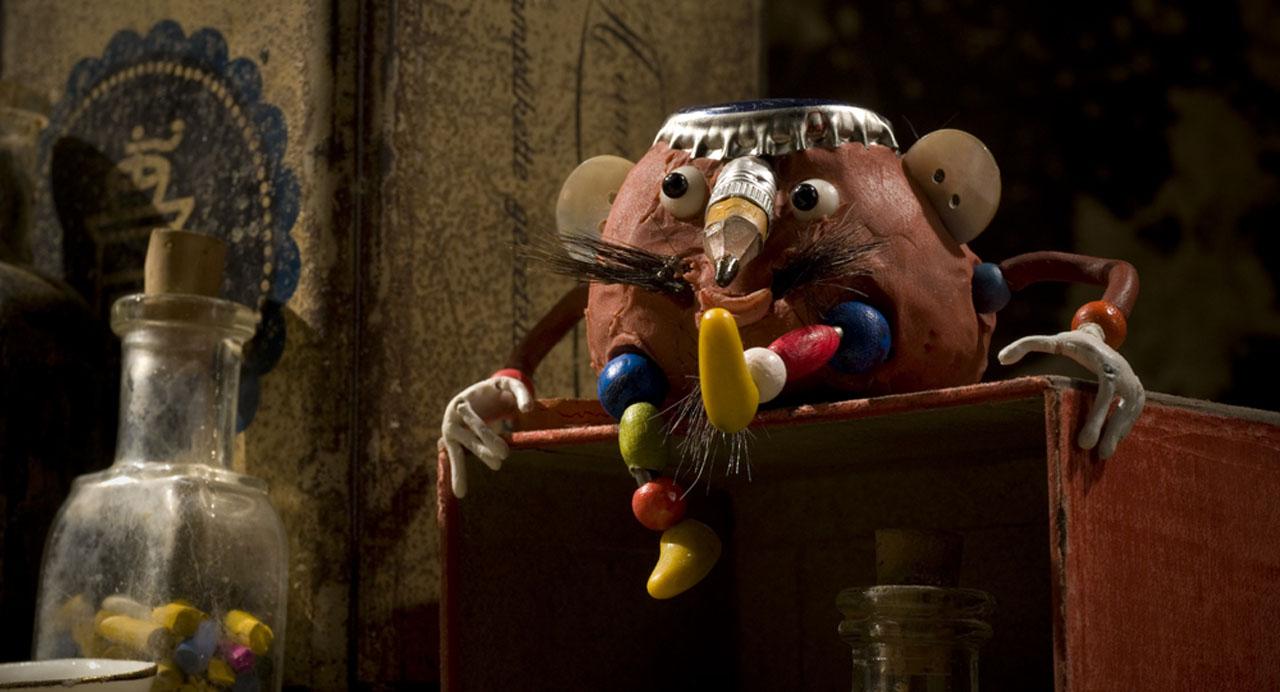 What makes the film is the way that Jiri Barter and his creative team have decided to stop-motion animate toys but in a way that the world they inhabit is composed of scavenged junk – the worn teddy bear hero uses an old slipper as a bed; the character of Laurent is a lump of plasticine mounted around a pencil and with a bottlecap for a hat who resembles Mr Potatohead (the point where Toys in the Attic comes the closest to the Toy Story films); a train made up of old train tickets that rides on a chalked track; the flying machine made up out of a converted vacuum cleaner; quilts and sheets that act as a flood of water and so on. There is an enormous creativity that has gone into the characters and design of the world.
Toys in the Attic is a marvel of hand-crafted design. On the other hand, it works lesser in terms of its story. The characters, by dint of the fact that they are blankly designed with facial features that do not vary in any way, lack much in the way of nuance – they are essentially cardboard cut-outs. The story constructed around them is assembled from various fairytale tropes – the innocent princess needing rescuing (her being named Buttercup seems an obvious reference to The Princess Bride (1987) and the pure-hearted heroine played by Robin Wright); the sinister villain and his minions who want her for unspecified nefarious purposes; the group of ragtag heroes who set out to find her, including a Don Quixote-esque pompous knight.
Crucially, in comparison to the Toy Story films, what we end up with is characters that have a quirky individuality but never a film that does much to emotively enervate its characters. In this way at least, Toys in the Attic seems to be wanting to be a children's film that operates on fairly simple black-and-white storylines and character arcs. It is the creativity of the way the characters are designed that becomes the whole of the film.
---
Trailer here
---