---
Crew
Director – Niki Caro, Screenplay – Lauren Hynek, Rick Jaffa, Elizabeth Martin & Amanda Silver, Producers – Chris Bender, Jake T. Reed & Jake Weiner, Photography – Mandy Walker, Music – Harry Gregson-Williams, Visual Effects Supervisor – Sean Faden, Visual Effects/Animation – Framestore (Supervisor – Hubert Maston), Image Engine Design Inc. (Supervisor – Christian Irles), Sony Pictures Imageworks (Supervisor – Seth Maury) & Weta Digital Ltd. (Supervisor – Anders Langland, Animation Supervisor – Mark Smith), Special Effects Supervisor – Steve Ingram, Makeup & Prosthetics Design – Denise Kum, Production Design – Grant Major. Production Company – Disney/Jason T. Reed/Good Fear Productions.
Cast
Yifei Liu (Hua Mulan), Donnie Yen (Commander Tung), Gong Li (Xiannlang), Jason Scott Lee (Bori Khan), Jet Li (Emperor), Yoson An (Chen Honghui), Tzi Ma (Hua Zhou), Rosalind Chao (Hua Li), Xana Tang (Hua Xiu), Cheng Pei-pei (Matchmaker), Ron Yuan (Sergeant Qiang), Jun Yu (Cricket), Chen Tang (Yao), Doua Moua (Po), Jimmy Wong (Ling), Crystal Rao (Young Mulan)
---
Plot
Growing up in her village, Hua Mulan is an atypical girl who prefers to be racing around and engaged in physical activity. She is sent to The Matchmaker to be paired with a suitable husband but fails her audition. The empire is invaded by Rouran warriors led by Bori Khan who is aided by the shape-changing sorceress Xiannlang. To defend China, the emperor decrees that every household in the nation send one man to form an army. When the recruitment notice comes to their household, Mulan's father, the only man in the house, steps up despite being infirm and having a weak leg. To spare her father, Mulan takes his horse and sword, disguises herself as a boy and rides off to join the army. Through training, she makes every effort to maintain her disguise to the extent to not showering lest her body be seen. However, as the Rouran near and she faces Xiannlang, Mulan must reveal her true identity to save the army and the life of the emperor.
---
This is a live-action remake of the Disney animated film Mulan (1998). Both works are based on Hua Mulan, a figure of quasi-historical basis who emerged out of folk songs of the 4th Century A.D. Although, rather than any historical character, Mulan should be regarded more akin to King Arthur, Robin Hood or Sweeney Todd, a figure rooted in an historical period and surrounded by a library of folklore but about whom there is no direct historical evidence. There have been assorted Chinese-made adaptations of the Mulan story, while Disney later sequelised the animated film with the video-released Mulan II (2004).
In the 2010s, Disney has embarked on a determined campaign of recycling their animated films in a series of live-action remakes. The trend was started with the huge success of the Tim Burton Alice in Wonderland (2010). This was followed by a series of other remakes and revivals including Maleficent (2014), Cinderella (2015), The Jungle Book (2016), Pete's Dragon (2016), Beauty and the Beast (2017), Mary Poppins Returns (2018), Aladdin (2019), Dumbo (2019), Lady and the Tramp (2019), The Lion King (2019), Cruella (2021), Pinocchio (2022), The Little Mermaid (2023) and Peter Pan and Wendy (2023).
Although in truth, Disney had been remaking their films since the 1990s with live-action remakes of classic animated works such as The Jungle Book (1994) and 101 Dalmatians (1996), plus various remakes of their live-action films with Flubber (1997), The Parent Trap (1998), Freaky Friday (2003), Herbie: Fully Loaded (2005), The Shaggy Dog (2006), Race to Witch Mountain (2009) and Tron Legacy (2010).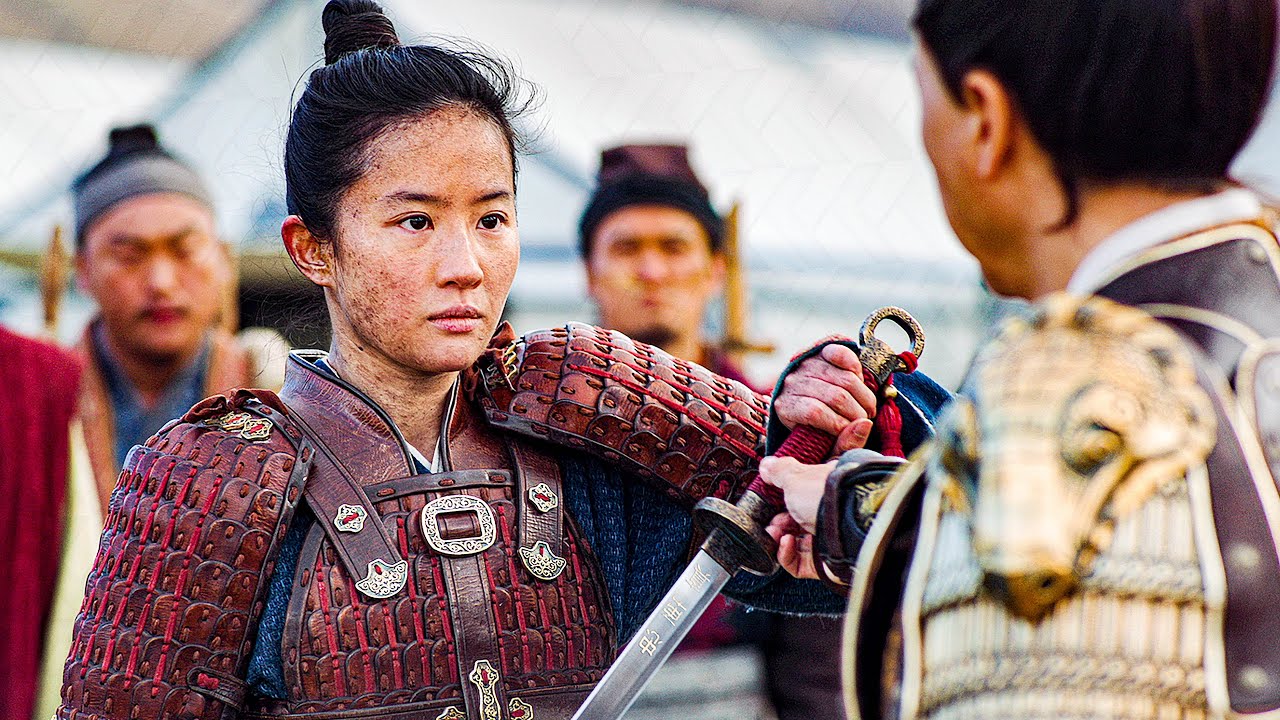 The Mulan remake arrives at the worst of possible times. Its release was constantly delayed due to the Corona Virus outbreak of 2020 before the film finally premiered as a for-pay release on the Disney+ streaming service, a move that nobody seemed happy with. I will make the open confession that like most people I ended up downloading the film instead of paying the $35 premium fee just to watch it.
The film also ended up mired in controversy. This began with star Yifei Liu tweeting support for the 2019 Hong Kong crackdown on democracy protestors, which led to the hashtag #boycottmulan. There were calls for the film's banning and even for a US Senate enquiry after the news that the film was shot in the Xinjiang province, an area where the Chinese government operates concentration camps that have interned local Turkic and Uyghur Muslim peoples where they are used as forced labour. This seems a point where Hollywood's courting of the Chinese box-office dollar in films like Transformers: Age of Extinction (2014), Now You See Me 2 (2016) and Independence Day: Resurgence (2016) while turning a blind eye to its politics comes crashing on the shores of realpolitik. And for all the chasing of the Chinese box-office dollar, the film met with a negative reaction when it was released in China with many stating that they preferred the animated version for reasons ranging from a lack of the Eddie Murphy-voiced dragon (which is replaced by a non-speaking phoenix) to the fact that Mulan already comes with rather than earns her abilities.
I am largely not concerned about the controversies. Well I do side with Hong Kong democracy protestors and against Chinese authoritarianism but I don't believe that they are viewpoints that the film advocates and explicitly shows support for. I am also strongly opposed to Cancel Culture and the prevalent belief that works should be erased from public consideration because of the personal lives or views of their makers or stars. It seems an erroneous mindset born of the inability of people to hold nuanced or two contradictory viewpoints. If you don't agree with the views of someone involved with a work then don't watch it but it seems arrogant that your views should become a default view that everybody else should adhere to.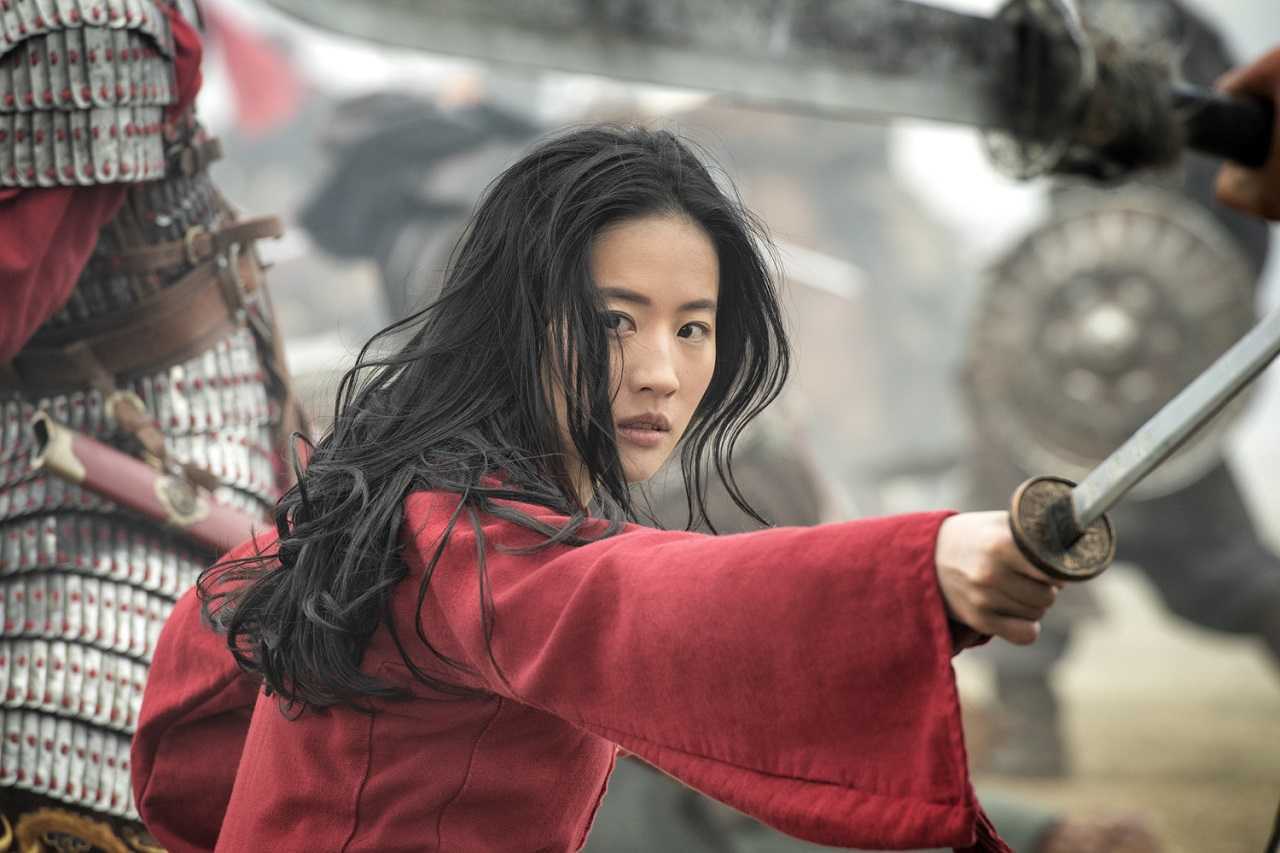 The artistic merits of a work are nothing to do with the people that made them. Whatever one thinks about Roman Polanski does not stop Repulsion (1965), Rosemary's Baby (1968) and Chinatown (1974) from being brilliant works. The discovery of Harvey Weinstein's trail of crimes doesn't suddenly render the many award-winning works he produced any the less. Equally, a film employs hundreds and thousands of people – should the efforts of everybody involved be tainted by just one individual's views?
All of this differs from the recent Abominable (2019) of which I was extremely critical. Whereas Mulan is a film being criticised simply for the views of its star and of shooting some scenes in an area where troubling matters occurred (and which the production crew appear not to have known about), this is very different from the way that Abominable became a work of Chinese propaganda and incorporated Chinese lebensraum policies into its actual storyline.
I sat down to watch Mulan with critical hackles raised. I was less concerned with abovementioned political issues than with the fact that most of the live-action remakes of Disney animated films have been poor shadows of their originals. Moreover, Disney has a bad habit of paying lipservice to diversity while in fact practicing cultural appropriation – see examples like Pocahontas (1995) and Moana (2016). It is worth noting that while the film pays scrupulous lip service to casting Chinese actors, the crew assembled behind the camera in the key creative roles (in the director's chair, on script and producing) are all white westerners.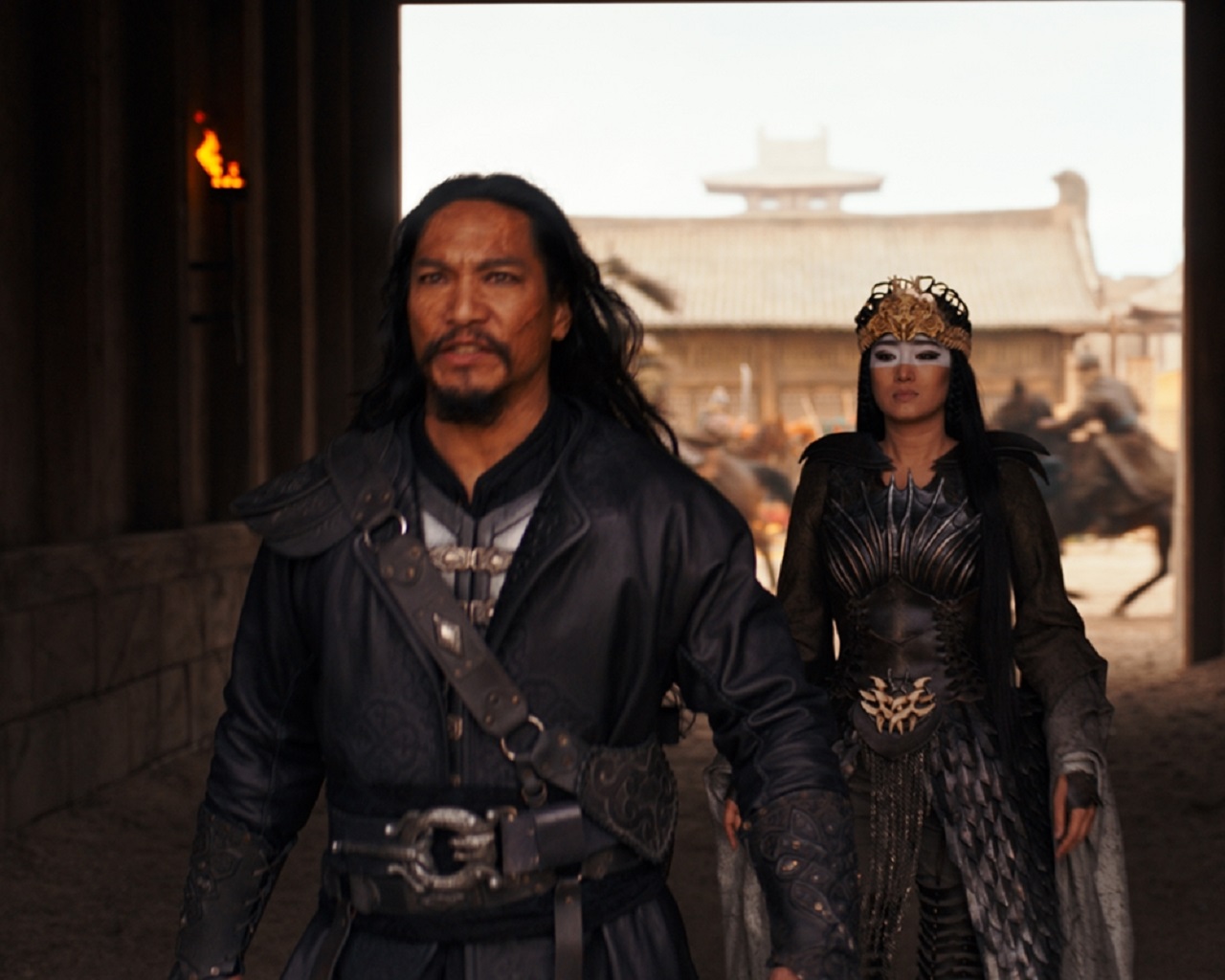 The film emphasises all the things that modern Disney stands for – strong and self-assured female leads, a commitment to diversity, taking a stand for duty and honour (where apparently this equals standing up in favour of service in an army that executes its soldiery for minor infractions). Chinese culture is celebrated up to a certain point – the film is in favour of military service and the rightness of the emperor but also stands up for women's rights in a period of Chinese history when women had few of them. Notedly, when we see the montage of Mulan preparing for the audition with The Matchmaker and she is dressed in formal gear, doing so comes without any traditional foot binding, which would have been fairly much mandatory if the film were being historically accurate.
Part of me can't help but wonder what would have happened if the film had employed somebody like Zhang Yimou, Tsui Hark or any of the directors from the modern Chinese Wu Xia Cinema cycle in the director's chair. They create stunning works of art in their blend of lush cinematography, period costuming, set design and aerial acrobatics. At best, Mulan feels like an entry level Wu Xia film. It produces a handful of scenes with combatants engaged in acrobatic maneuvers, grabbing arrows in mid-air or whipping trails of cloth around opponents. On the other hand, I can't help but think how much of the film would have been improved if it were mounted as a full flight of Wu Xia fantasy – at most we get a brief scene with Mulan and a couple of others running along the side of an alley wall during melee combat.
Yifei Liu is 33 years old in reality but seems about sixteen on screen. While she stands 5'7", in the film she comes out much shorter than the other boys in the training camp, looking as though she is around 5"3". The upshot of this is an actress cast in the role that seems to physically disappear into it in the early scenes. Yifei Liu's performance comes across as serious and rather cross, lacking the charisma the character should have. However, when Mulan finally lets her hair loose, the film puts her through some great heroic poses and allows the character to come to life. Although you cannot help but feel this is more due to directorial stylism (and what is quite noticeably the skill of the stunt people) rather than any acting displayed,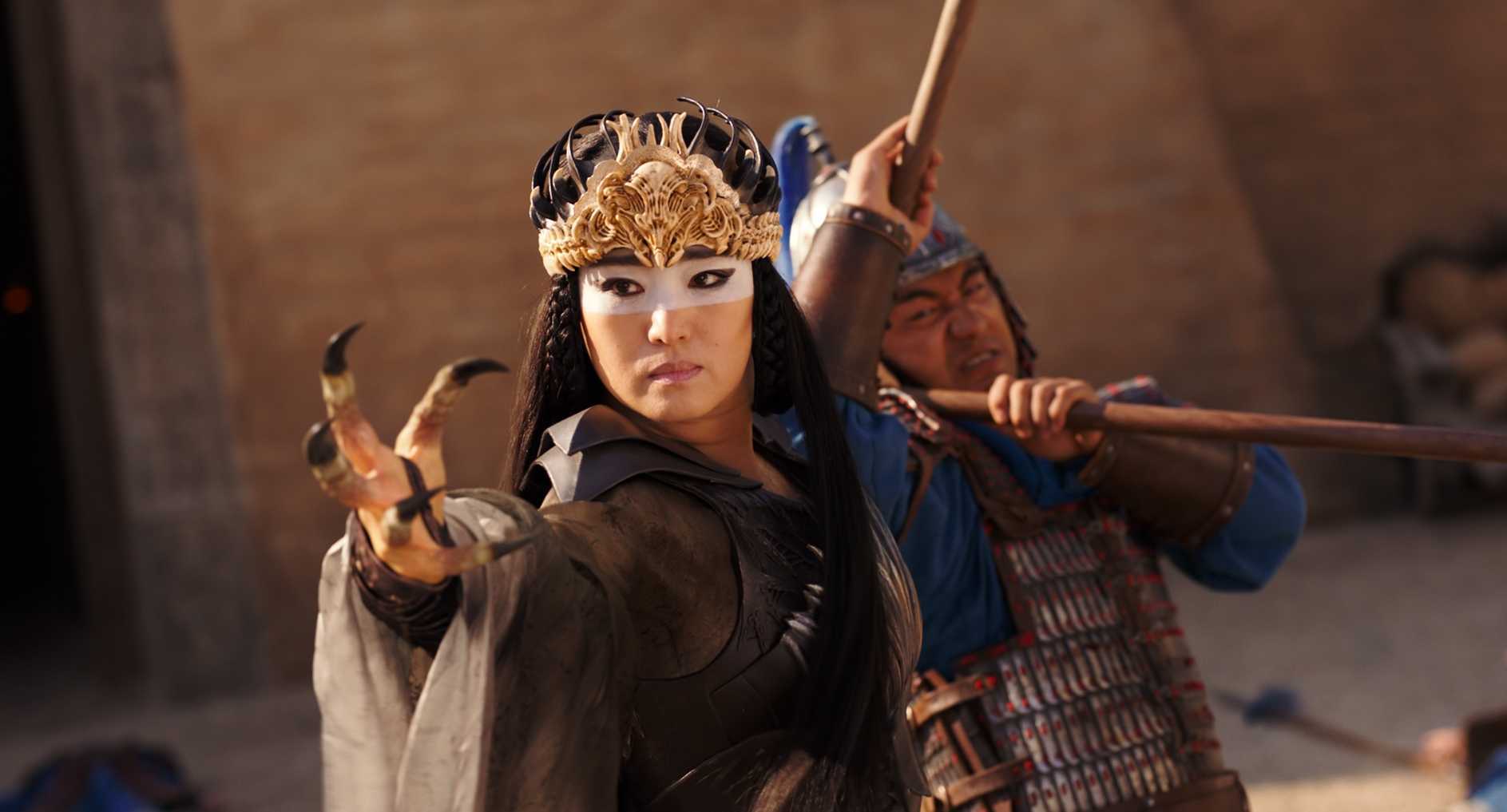 On the other hand, once we get to around the point where Mulan emerges as herself, the film starts to gain its feet. Niki Caro directs some epical shots during Mulan's bringing down of the avalanche. And the sequences fighting with the invading troops in the imperial city and Yifei Liu's confrontation with Jason Scott Lee around the scaffolding to save the emperor all have a degree of exhilaration and excitement. It's not an earth-shattering classic; on the other hand it is not the The Lion King remake either.
The film is directed by New Zealand director Niki Caro who had a worldwide hit with her second film Whale Rider (2002), a Magical Realist depiction of modern Maori culture. Caro subsequently ventured to the US with the Charlize Theron vehicle North Country (2005) about a true-life workplace sexual harassment lawsuit, The Vinter's Luck (2009) about a winemaker who makes a deal with an angel, the true life sports film McFarland, USA (2015) and the true-life WWII drama The Zookeeper's Wife (2017).
The script is co-written by the writing duo of husband and wife Rick Jaffa and Amanda Silver who have also delivered the scripts for the Planet of the Apes reboot trilogy Rise of the Planet of the Apes (2011), Dawn of the Planet of the Apes (2014) and War of the Planet of the Apes (2017), plus Eye for an Eye (1996), the monster movie The Relic (1997), Jurassic World (2015), In the Heart of the Sea (2015) and Avatar: The Way of Water (2022). Silver on her own wrote The Hand That Rocks the Cradle (1992).
(Nominee for Best Production Design at this site's Best of 2020 Awards).
---
Trailer here
---