aka Mulholland Drive
---
Crew
Director/Screenplay – David Lynch, Producers – Neal Edelstein, Tony Krantz, Michael Poliare, Alain Sarde & Mary Sweeney, Photography – Peter Deming, Music – Angelo Badalamenti, Additional Music – David Lynch & John Neff, Visual Effects – Electric Sandbox (Supervisor – Scott Billups), Special Effects Supervisor – Gary D'Amico, Makeup Effects – Kurtzman Nicotero Berger EFX Group Inc (Supervisors – Howard Berger & Greg Nicotero), Production Design – Jack Fisk. Production Company – Le Studio Canal +/Les Films Alain Sarde/Asymmetrical Productions.
Cast
Naomi Watts (Betty Elms/Diane Selwyn), Laura Elena Harring (Rita/Camilla Rhodes), Justin Theroux (Adam Kesher), Ann Miller (Coco Lenoix), Mark Pellegrino (Joe), Chad Everett (Jimmy Katz), Monty Montgomery (The Cowboy), Lori Heuring (Lorraine Kesher), Billy Ray Cyrus (Gene), Dan Hedaya (Vincenzo Castigliane), Michael J. Anderson (Mr Rogue), Angelo Badalamenti (Luigi Castigliani), Melissa [Missy] Crider (Diane), Lee Grant (Louise Bonner), James Karen (Wally Brown), Melissa George (Camilla Rhodes)
---
Plot
A woman makes a fortuitous escape from an attempt on her life by hired killers when the car they are in is hit by speeding vehicles at the top of Hollywood's Mulholland Drive. Aspiring actress Betty Elms arrives in Hollywood from Deep River, Ontario, taking over the apartment of her aunt, an actress who is away on location. Betty finds the woman from the accident there. She gives her name as Rita, quickly taking it from a poster of Rita Hayworth, but in actuality has no memory of who she is. Betty attempts to help Rita locate her identity but the only clues they have are a handbag full of hundred dollar bills and a mysterious blue key. Meanwhile, director Adam Kesher is being pressured by mobsters into casting Camilla Rhodes as the lead actress in his new film. When Adam refuses to cast Camilla and then walks out of his home after finding his wife with the pool man, he finds himself being trailed by mob killers.
---
David Lynch needs no introduction as probably the cultiest director in America. Lynch has been surrounded by a cult ever since he premiered with the midnight favourite Eraserhead (1977). Lynch has since delivered such perverse cult favourites as Blue Velvet (1986), Wild at Heart (1990), Lost Highway (1997), Inland Empire (2006) and the tv series Twin Peaks (1990-91) and its cinematically released pilot Twin Peaks (1990).
Of late, Lynch has become an uneven talent. Lynch's cult was at an all-time popularity at the start of the 1990s with the twin successes of Wild at Heart and Twin Peaks, but his output floundered throughout the rest of the decade. For every Twin Peaks, Lynch has also made tv flops such as On the Air (1992), which lasted seven episodes, and Hotel Room (1993), which lasted only three episodes – and one must also remember that Twin Peaks, for all its cult, was cut off in the midst of its second season soon after the revelation of Laura Palmer's killer.
Lynch only made three other films throughout the rest of the 1990s – Lost Highway, Twin Peaks: Fire Walk With Me (1992), which was regarded as a disaster by most – and only a single film in the 2000s. Indeed, Lynch's greatest success during this period was the least Lynch-like film of all The Straight Story (1999), a surprisingly pure-hearted and irony free tale from the American heartland made for Disney, which won great acclaim from conventional audiences. For all that David Lynch has a cult audience within the US, most of the financing for his films since Wild at Heart, excepting The Straight Story, has come from French rather than American production companies. Mulholland Dr. comes from a tv pilot that Lynch originally made for ABC. ABC were unhappy with the results, Lynch purchased the material back and expanded it into a film.
In the years since Mulholland Dr., Lynch only made one feature Inland Empire (2006) and his return to Twin Peaks and elsewhere has made a string of short films, released several albums as a musician and directed commercials and music video for bands like Duran Duran, Interpol, Moby and Nine Inch Nails.
Mulholland Dr. seems like a renaissance of Lynchian themes. There's the mystery thriller format in which protagonists are drawn down into a dark obsessive world – a la Kyle MacLachlan in Blue Velvet or the gradual uncovery of Laura Palmer's murderer in Twin Peaks; the menacing gangland thugs (Blue Velvet, Lost Highway, Wild at Heart); a sinister and disturbing figure at the heart of the story, a la Dennis Hopper in Blue Velvet, Willem Dafoe and J.E. Freeman in Wild at Heart, and Robert Blake in Lost Highway; identity exchanges and blurring (Lost Highway, the two Agent Coopers in the Twin Peaks revival); characters vanishing into a different world or alternative universe (The Black Lodge of Twin Peaks, Lost Highway, Inland Empire and Radiator dreamland at the end of Eraserhead).
Most prominent is the characterisations of the women. David Lynch invariably paints his women through a duality where they must either be Girls Next Door or tragic Femme Fatales – Kyle MacLachlan's choice between Laura Dern and Isabella Rossellini in Blue Velvet; the dual Patricia Arquettes in Lost Highway; with this being best embodied in the character of Laura Palmer in Twin Peaks, who is both prom queen and a coke addicted whore who had fallen beyond redemption.
Here Lynch is aided by two mesmerising actresses. First of these is Naomi Watts, who came to A-list stardom as a result of her role in Mulholland Dr.. Watts gives a performance of winsome innocence that goes through some surprising and remarkable chameleon shifts throughout the course of the film, and other being Mexican-born Laura Elena Harring who draws the centre of the film toward her enigmatic mystery like a whirlpool of aloof beauty.
David Lynch's films from Twin Peaks onwards have also come to be dominated by an increasing eschewal of any clearcut narrative. Lynch's final episode of Twin Peaks was a dive into unfathomable nightmare surrealism and is surely one of the most artistically daring works ever foisted on a tv audience – it was the last episode of the series where it seemed like Lynch was determined to let all stops go. Twin Peaks: Fire Walk With Me, Lost Highway and Inland Empire come filled with a series of loose, unconnected and downright incomprehensible plot ends that are left frustratingly untied. Lynch's argument is that he makes films by an unconscious process akin to dreaming and that he himself is often unclear what it is his films mean. (Apparently, Lynch even refused to let the cast in on the meaning of Mulholland Dr. during shooting).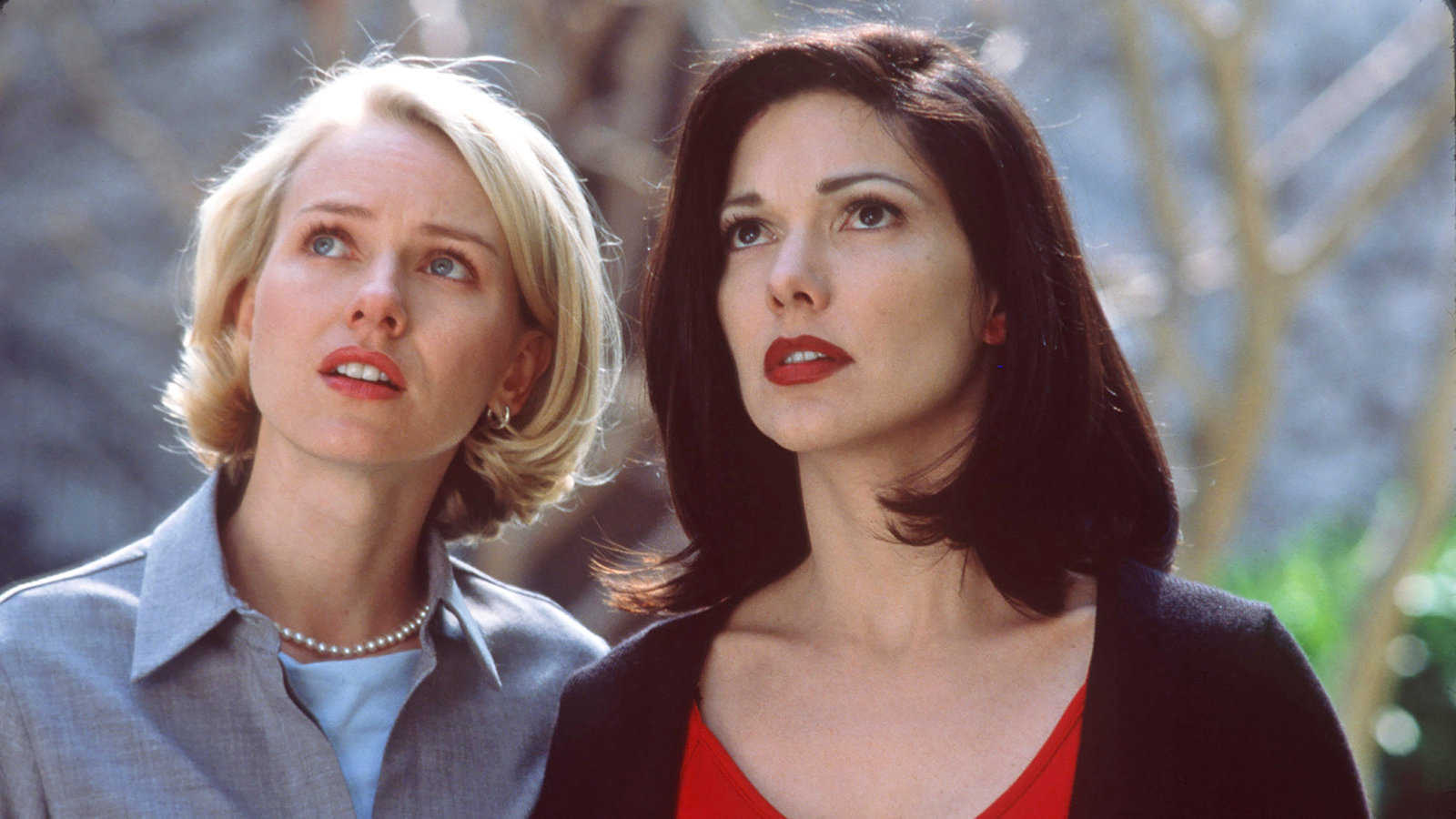 Mulholland Dr. is a thriller. At least, it has the appearance of a thriller – but attempting to make sense of it as a thriller results in a major headache. David Lynch sets up a mystery for us – about the amnesiac girl's identity, about who the killers at the start of the film are and the purseful of hundred dollars bills that Laura Elena Harring is left with. Frustratingly, while Lynch mimics thriller structure, there are no answers provided for any of the above-raised mysteries. Which is, one guesses by now, something that one either takes or leaves when it comes to a David Lynch film. At least, earlier Lynch works that used the thriller model – Blue Velvet and Twin Peaks – obeyed traditional narrative demand in terms of providing solutions to mysteries.
Of further frustration is the fact that Lynch sets up several running subplots throughout – principally that of Justin Theroux and his dealings with mobsters interfering with the casting of his film and finding his wife in bed with the pool cleaner (an amusingly cast Billy Ray Cyrus). On the sideline are also the dealings of a hitman who, in one of the film's funniest scenes, conducts a hit in an office only to find everything going wrong; and a man who goes to a diner because he has had a dream of having seen something sinister happening there. The only ties between these and the main story is that the two girls visit the diner and that Naomi Watts turns up briefly during the casting of the film, although never meets Justin Theroux.
And then there is the completely baffling last fifteen minutes of the film. Laura Elena Harring opens a mysterious blue box that promptly seems to suck her (and us) through into a bizarre alternate universe where various aspects of the film – the money, the assassins, the actress that is being cast, the lesbian love story, the dead woman in the apartment, the dream about the diner – all seem to map over onto other points of the story. The identities of the two lead women shift around and blur into the dead woman in the apartment and the mob actress being cast in the film, while characters from other parts of the film also turn up in different roles.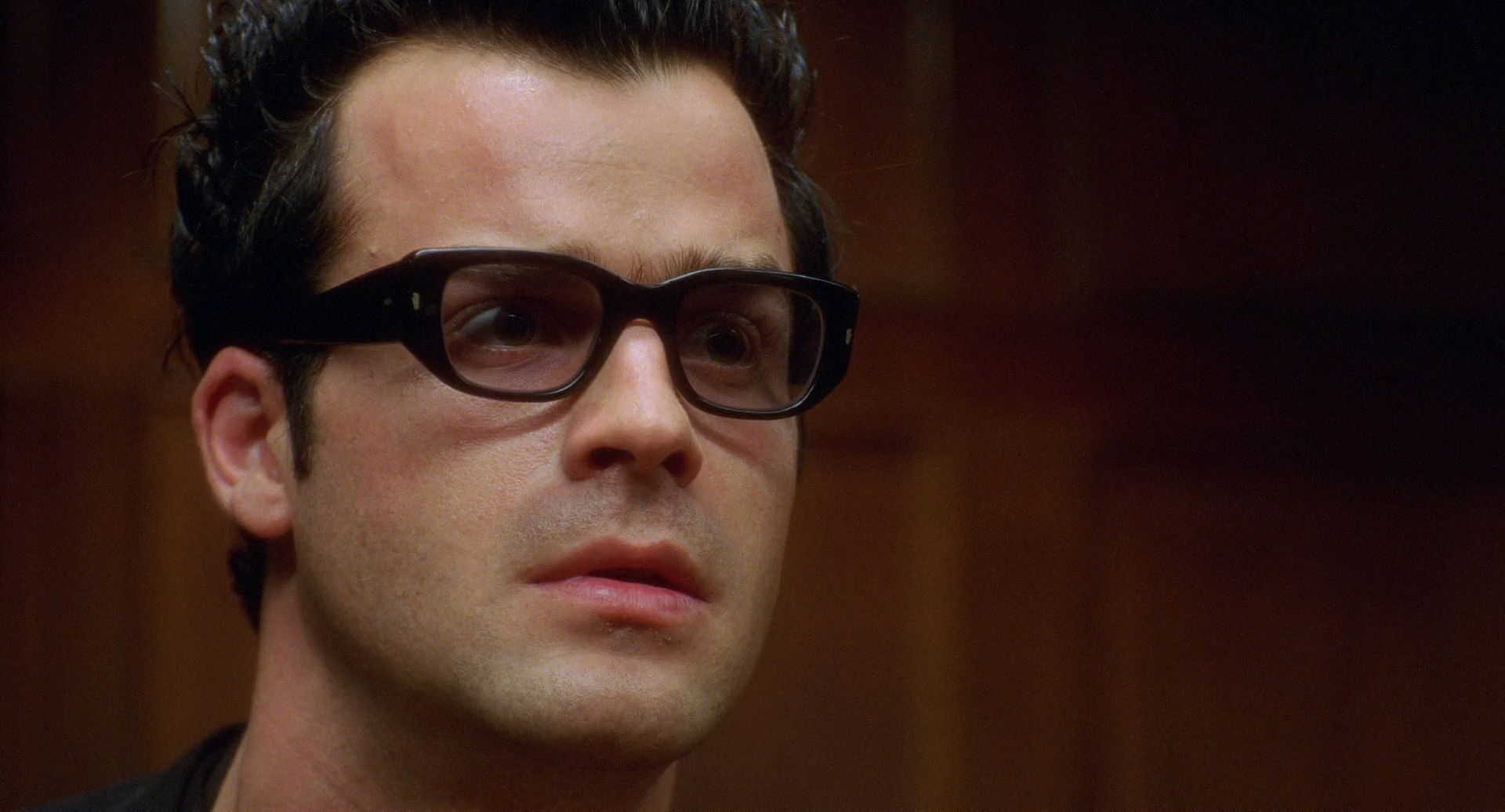 It is possible if you ignore the fact that people from one part of the film are playing other characters to sort of see this as a dream or flashback through a glass darkly and draw explanations for the preceding mystery from here, although that also requires characters that are not introduced until later in the piece to somehow have moved back in time. And there are pieces that are frankly baffling – like the appearance of two people about an inch tall from out of the box. At another point, the alternate interpretation seems to be that it is part of the dead girl's masturbatory fantasy!
For all its baffling enigma, Mulholland Dr. delivers the good old David Lynch goods. Mulholland Dr. is not quite up there with the heated energy of Wild at Heart, or the whacked-out bizarreness of Eraserhead. It must be the quietest film that David Lynch has made – it lacks many of the trademark grotesqueries and offbeat characterisations in the background that one associates with Lynch's work. Nevertheless, there are moments that haunt – the bizarrely funny scene with a waiter interrupting a tension-filled conference room to bring in an espresso; the audition scene where Naomi Watts plays out a confrontation that turns into a sizzling seduction; Justin Theroux's encounter with the unnerving killer known only as The Cowboy; and especially the scene where the two girls visit the Club Silencio where all the acts being performed, including a Spanish-language version of Lynch favourite Roy Orbison's Crying (1962), prove to be lip-synched with haunting effect.
David Lynch also created and directed many episodes of the cult tv series Twin Peaks (1990-1, 2017). Lynch has also produced other genre films such as The Cabinet of Dr Ramirez (1991), Nadja (1994), Surveillance (2008), My Son, My Son, What Have Ye Done (2009) and Black and White in Colors (2010), as well as two short-lived surrealist tv series with On the Air (1992) and Hotel Room (1993). Lynch (2007) and David Lynch: The Art Life (2016) are documentaries about Lynch.
(Nominee for Best Actress (Naomi Watts), Best Supporting Actress (Laura Elena Harring) and Best Musical Score at this site's Best of 2001 Awards).
---
---