---
USA. 2014.
Crew
Director – Michael Tiddes, Screenplay/Producers – Rick Alvarez & Marlon Wayans, Photography – David Ortkiese, Music – Jesse Voccia, Visual Effects Supervisor – Christian Cardona, Visual Effects – Ghost Town Media (Supervisor – Matthew Primm), Special Effects Supervisor – Bart A. Dion, Makeup Effects – American Makeup and FX, Abigail Design – Gradient Effects (Olcun Tan & Thomas Tannenberger), Production Design – Ermanno di Febo-Orsini. Production Company – Baby Way Productions.
Cast
Marlon Wayans (Malcolm Johnson), Jaime Pressly (Megan), Essence Atkins (Kisha), Gabriel Iglesias (Miguel), Missi Pyle (Noreen Swanson), Hayes McArthur (Ned Swanson), Ashley Rickards (Becky), Cedric the Entertainer (Father Doug Williams), Affion Crockett (Ray-Ray), Steele Stebbins (Wyatt), Rick Overton (Professor Honus J. Wilde)
---
Plot
Malcolm and his best friend Ray-Ray are driving when Malcolm's wife Kisha becomes possessed again in the backseat, causing them to crash. Believing her dead, the two of them flee the scene. One year later, Malcolm has remarried to white girl Megan. They move into a new house along with her two children. Malcolm finds Abigail, a sinister porcelain doll, and is driven to have sex with it. Afterwards, the doll keeps returning no matter how he tries to dispose of it. Megan's young son Wyatt develops an invisible companion that starts teaching him bad ways, while her teenage daughter Becky becomes obsessed with an old wooden box she finds in the house. Malcolm realises that an evil spirit has entered the house and employs the exorcists Ned and Noreen Swanson to drive it out.
---
Marlon Wayans is the younger brother of Keenen Ivory Wayans. Marlon appeared in various of Keenen Ivory's films, most notably Scary Movie (2000) and Scary Movie 2 (2001), and beyond that has maintained a reasonable career in a mix of comedy roles and dramatic acting parts. With A Haunted House (2013), where he starred, co-wrote and co-produced, Marlon seemed to be following in his brother's footsteps with the Scary Movies by creating a rude and crude comedy riffing off various recent horror hits. The formula was almost exactly the same as in the Scary Movie series.
A Haunted House proved a moderate success and within a quick space of time (less than a year) Marlon and director Michael Tiddes turned around and delivered A Haunted House 2 here. They subsequently went onto a further parody film with Fifty Shades of Black (2016); Naked (2017) in which Marlon Wayans is trapped in a timeloop forced to relive his wedding day; and Sextuplets (2019).
As the Scary Movie franchise went on – Marlon even has a line here digging about how it went downhill after the Wayans Brothers departed – it turned with a desperation to deliver a parody of whatever film had come out in the last twelve months, often oblivious to whether it fell anywhere within the realm of a scary movie or not. There is the same sense here – of taking recent horror hits and delivering comic takes on them.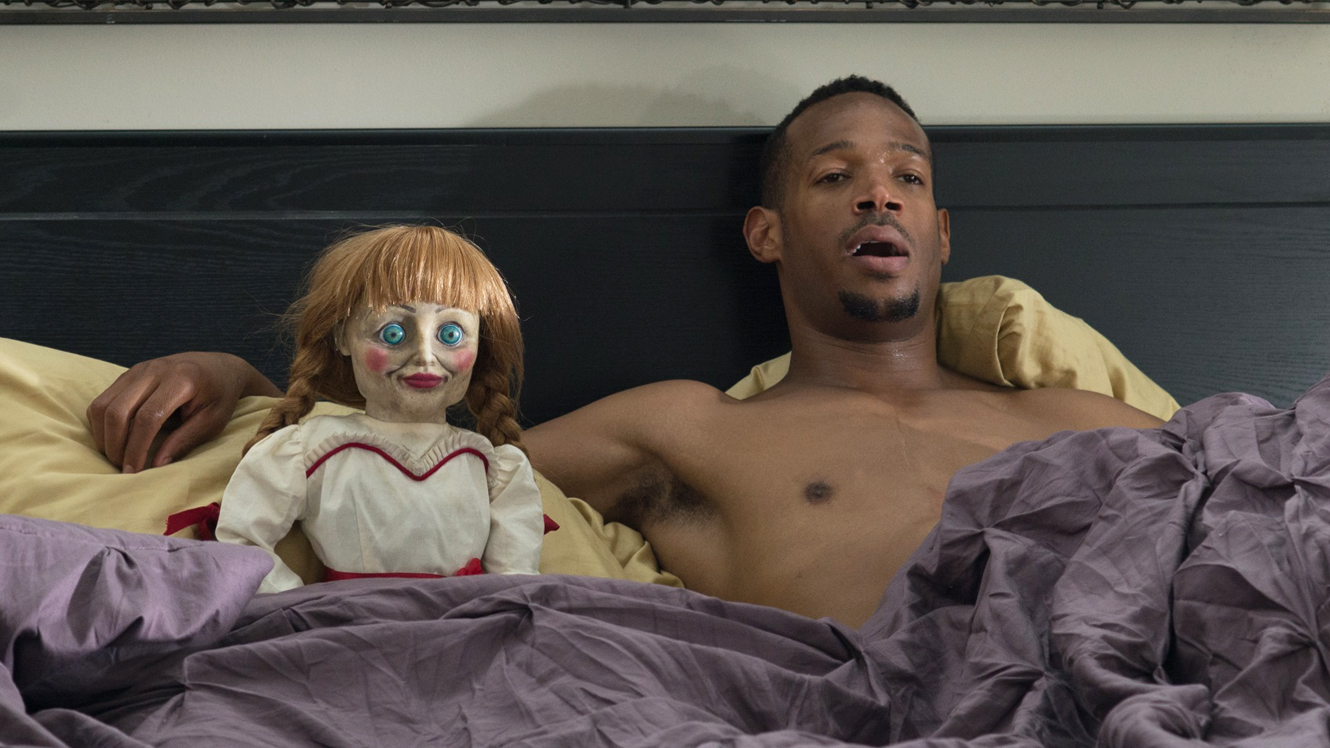 There is much parody of Sinister (2012) – where the masked figure's attempts to kill people on film keeps going awry; Insidious (2010) – where the gas mask seance turns out to be people imbibing from a hookah; The Conjuring (2013) – with Hayes McArthur rendering a none-too-intelligent variant on Patrick Wilson's Ed Warren and where he and Missi Pyle are constantly dragging their marital woes into the exorcism; and The Possession (2012) where teenager Ashley Rickards becomes unnaturally attached to a wooden box.
Some of the film's biggest barbs are reserved for Annabelle (2014), which seems an odd choice given that it was such a lame effort and audiences held it in no high regard. Nevertheless, the film gets some of its most amusing scenes out of Marlon Wayans with the doll and a rather funny montage of he and it engaged in a series of sex acts.
I enjoyed A Haunted House marginally more than I did the Scary Movies. A Haunted House 2 seems to be marginally improving even that little bit more. At least, you have to commend Marlon Wayans on getting into the show sometimes way above and beyond the call of duty. The amount of sheer effort that he seems to be putting into playing out every single comic possibility of his tumble with the Abigail doll is amazing. The same goes for the scenes where he is trying to revive the family dog or chases a sacrificial chicken around the kitchen. Some of it you have to admit is rather funny. It all gets a bit rambling when it comes to the climactic exorcism, especially the reintroduction of Cedric the Entertainer who gives the impression he has ad libbed all of his lines.
---
---