---
Crew
Director – Jim Wynorski, Screenplay – Grant Morris & Derek Spencer, Based on the Comic Book Created by Len Wein & Berni Wrightson, Producers – Benjamin Melniker & Michael E. Uslan, Photography – Zoran Hochstatter, Music – Chuck Cirino, Special Effects – Bob Shelley's Special Effects International, Makeup Effects – Steve Neill, Creature Effects – Carl Fullerton & Neal Martz, Production Design – Robb Wilson King. Production Company – Lightyear Entertainment.
Cast
Dick Durock (Swamp Thing), Heather Locklear (Abigail Arcane), Louis Jourdan (Arcane), Sarah Douglas (Dr Lara Zourell), Joey Sagal (Gunn), Ace Mask (Dr Rochelle), Monique Gabrielle (Poinsetter), Ronreaco Lee (Omar), Daniel Taylor (Darryl)
---
Plot
Arcane's stepdaughter Abigail travels to visit her father at his swamp estate for the first time in several years. Arcane sees this as an opportunity, needing her DNA and that of Swamp Thing to reverse the accelerated aging effects he is experiencing as a result of his experiments gone wrong. When Abigail finds the ruthless things her stepfather is up to, she flees. She is aided in her flight by Swamp Thing. In the swamps, the two of them fall in love.
---
The Return of Swamp Thing is a sequel to Wes Craven's Swamp Thing (1982). Swamp Thing was not much of a hit and was lambasted by both Wes Craven fans and fans of the DC comic-book for its lack of fidelity to the original's dark Gothic mood. Nevertheless, producers Benjamin Melniker and Michael E. Uslan, who also held the rights to the Batman film series around the same time, persisted and went onto make this sequel.
However, rather than take the opportunity to try and improve on the first film and take it closer to the source, Melniker and Uslan contrarily pushed The Return of Swamp Thing further in the directions that every person hated about the original. The sequel is made even campier to emerge as something akin to the Batman (1966-8) tv series – the film was even billed as "a monster of a comedy." It is this misunderstanding of the material that makes one glad that Melniker and Uslan were not any more closely creatively involved (excepting as Executive Producers) in the making of the finished Batman (1989) film.
As director, Melniker and Uslan employ Jim Wynorksi, a prolific B-budget genre hack responsible for numerous films, most of which betray a campy and unserious attitude toward the material. (See bottom of page for Jim Wynorski's other films). Wes Craven's Swamp Thing, even if it failed to treat the source material with the greatest respect, at least took it reasonably seriously. Jim Wynorski, by comparison, does not. Heather Locklear gets an opening line: "Good morning, sorry I'm late. I just got back from my transcendental therapy group in Malibu. I can't believe they wouldn't validate." Upon departing for the swamplands, she leaves her assistant instructions: "Read to them [the plants], especially the sports section. They've got a thing for The Lakers." The romance between her and Swamp Thing is the film's height of silliness: "I'm a plant," he says. "That's okay," she responds, "I'm a vegetarian."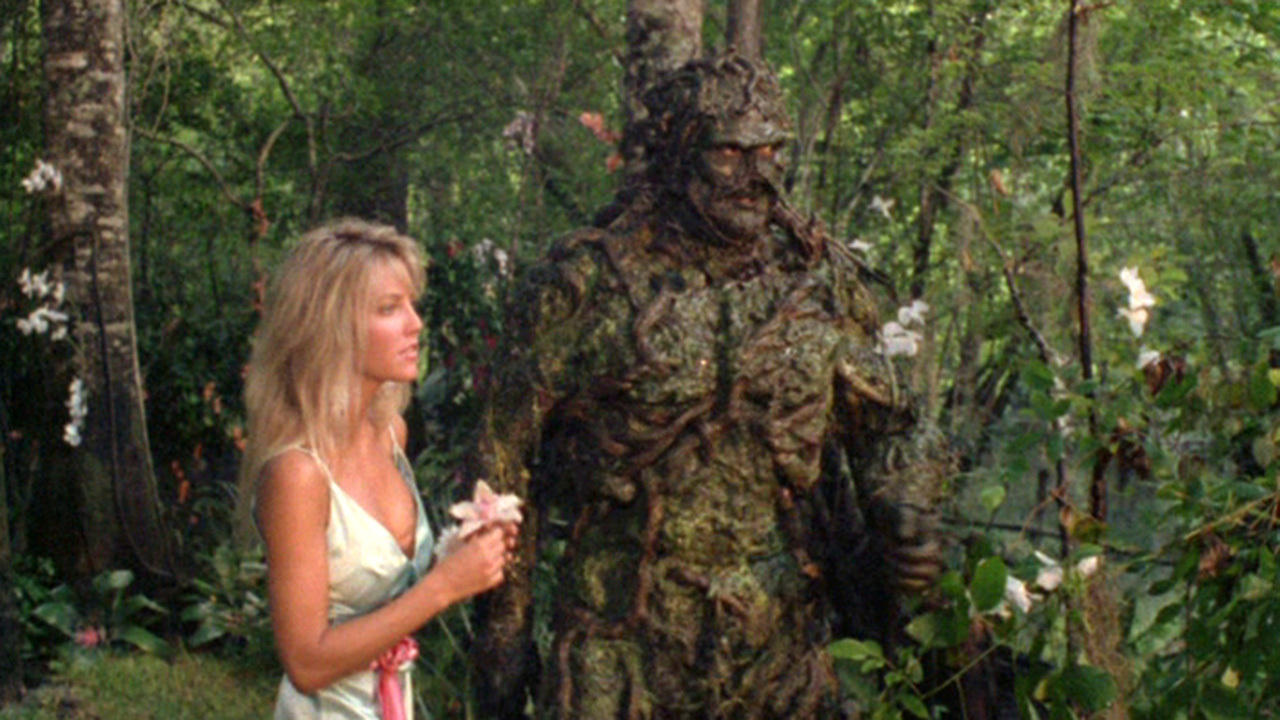 The film is cheaply and cartoonishly made. Jim Wynorski had a witless sense of humour – a scar-comparing romance between two guards played by Ace Mask and Wynorski's girlfriend Monique Gabrielle is asinine. Further the film tends to show up the limitations of Louis Jourdan as an actor. Louis Jourdan is wrong for the part of Arcane – he plays it too soft, he seems more of a French seducer than a comic-book villain. The part should have been played akin to something like Paul Freeman's Belloq in Raiders of the Lost Ark (1981).
Dick Durock in the Swamp Thing suit is the other returnee from the original. The Swamp Thing suit is a lot more leafy and slimy than the original, and the one good part about the film is some of the imaginative makeup effects, including mutants in Arcane's lab that have the likes of half-alligator and half-elephant faces.
The Swamp Thing franchise continued with two tv series:– the abysmal Swamp Thing (1990) and the animated Swamp Thing (1991). The character was subsequently revived in the tv series Swamp Thing (2019), which works the best of all the incarnations in adhering to the mood and canon of the comic-book, although this was cancelled after ten episodes. Swamp Thing also makes an appearance in the animated Justice League Dark (2017).
Jim Wynorski's other genre films are:- The Lost Empire (1983), Chopping Mall (1986), Deathstalker II (1987), Not Of This Earth (1988), Transylvania Twist (1989), The Haunting of Morella (1990), Sorority House Massacre II (1990), Sorority House Massacre 3/Hard to Die/Tower of Terror (1990), 976-Evil II (1991), Scream Queen Hot Tub Party (1991), Munchie (1992), Ghoulies IV (1993), Dinosaur Island (1994), Munchie Strikes Back (1994), Sorceress (1995), The Wasp Woman (1995), Vampirella (1996), The Pandora Project (1998), Storm Trooper (1998), The Bare Wench Project (1999), Desert Thunder (1999), Bare Wench Project 2: Scared Topless (2000), Crash Point Zero/Extreme Limits (2000), Raptor (2001), Thy Neighbor's Wife/Poison (2001), The Bare Wench Project 3: Nymphs of Mystery Mountain (2002), Gale Force (2002), Project Viper (2002), Bare Wench Project Uncensored (2003), Cheerleader Massacre (2003), More Mercy (2003), The Curse of the Komodo (2004), Gargoyle (2004), The Thing Below (2004), Alabama Jones and the Busty Crusade (2005), Bare Wench: The Final Chapter (2005), Komodo vs Cobra (2005), Sub Zero (2005), The Witches of Breastwick (2005), The Witches of Breastwick 2 (2005), A.I. Assault/Shockwave (2006), Cry of the Winged Serpent (2006), Bone Eater (2007), The Breastford Wives (2007), House on Hooter Hill (2007), Cleavegefield (2009), Fire From Below (2009), Vampire in Vegas (2009), Monster Cruise (2010), Dinocroc vs Supergator (2010), The Hills Have Thighs (2010), Camel Spiders (2011), Gila (2012), Piranhaconda (2012), Hypnotika (2013), Scared Topless (2013), Sexually Bugged (2014), Shark Babes (2014), Water Wars (2014), Scared Topless (2015), A Doggone Christmas (2016), Sharkansas Women's Prison Massacre (2016), Cobragator (2018), Attack of the 50 Foot CamGirl (2022), Bigfoot or Bust (2022), Giantess Battle Attack (2022) and Murderbot (2023).
---
---