---
Crew
Director – Jim Wynorski, Screenplay – Gary Gerani, Based on the Comic Book Created by Forrest J. Ackerman, Producers – Angela Baynes, Paul Hertzberg & Jim Wynorski, Photography – Andrea Rossotto, Music – Joel Goldsmith, Visual Effects – Stewart Motion Pictures Services (Supervisor – Jim Stewart), Special Effects Supervisor – Peter Cappadocia, Production Design – Alex Hajdu. Production Company – Concorde/Sunset Films International.
Cast
Talisa Soto (Vampirella/Ella), Roger Daltrey (Vlad), Richard Joseph Paul (Adam Van Helsing), Lee de Broux (Lieutenant Walsh), Brian Bloom (Demos), Corinna Harney (Sallah), Tom Deters (Traxx), Angus Scrimm (High Elder), David B. Katz (Forry Ackerman)
---
Plot
On the planet Drakulon, a world inhabited by vampires that feed from the natural rivers of blood, the evil Vlad kills the High Elders and escapes in a spaceship. When she finds her father dead, Ella swears vengeance and follows Vlad. Instead she crashes on Mars where she remains in suspended animation for thirty centuries until a space shuttle crew finds her in the present day. On Earth, she sets about hunting down Vlad, who has become a rock star in Las Vegas, and the army of followers that he has trained to prey on humans. Joining forces with Adam Van Helsing of the covert vampire-hunting group Operation Purge, she tries to stop Vlad before he launches his plan to make Earth eternally night.
---
The comic book Vampirella was created by Forrest J. Ackerman, the fan legend and memorabilia collector best known as the editor of the seminal prozine Famous Monsters of Filmland (1958-82). The comic book, featuring the adventures of a spectacularly voluptuous good vampire from the planet Drakulon where, with scientific improbability, the rivers run with plentiful blood, began in 1969 and still continues into the present-day despite some occasional production gaps and changes of publisher. There are even annual Vampirella model shoots with the costume being filled out by various Playboy models and the like.
Hammer Films obtained the rights to Vampirella and announced a film production in 1976 in association with American International Pictures, which would have starred Barbara Leigh. A script was written by Hammer regular Jimmy Sangster and there are photos in circulation of Leigh in Vampirella costume at a convention. This never emerged and Hammer financially folded shortly afterwards. Legendary B-budget producer Roger Corman then inherited the rights and executive produces this version along with Forrest J. Ackerman.
The Vampirella strip is often drawn with a considerable degree of moody atmosphere. The great disappointment is that Roger Corman has only chosen to lavish one of his customary B-budgets upon the film. The bat transformations and animation are particularly cheap looking. Although, what finally kills the film is Corman's selection of director in Jim Wynorski. Wynorski is one of the hacks of B-budget genre cinema, having made a prolific body of cheap genre films (see below). Wynorski's films are made with a cynicism that invites the audience to treat the exercise with as much contempt as he clearly does. The only virtue of most of these films is a lot of topless women. To Wynorski's credit, Vampirella is better made than the majority of his abovementioned films – the film is almost PG-rated, lacks any of Wynorski's usual gratuitous T&A and it is one where at least Wynorski treats the material relatively seriously. That unfortunately only leaves it a slightly better made cheap movie.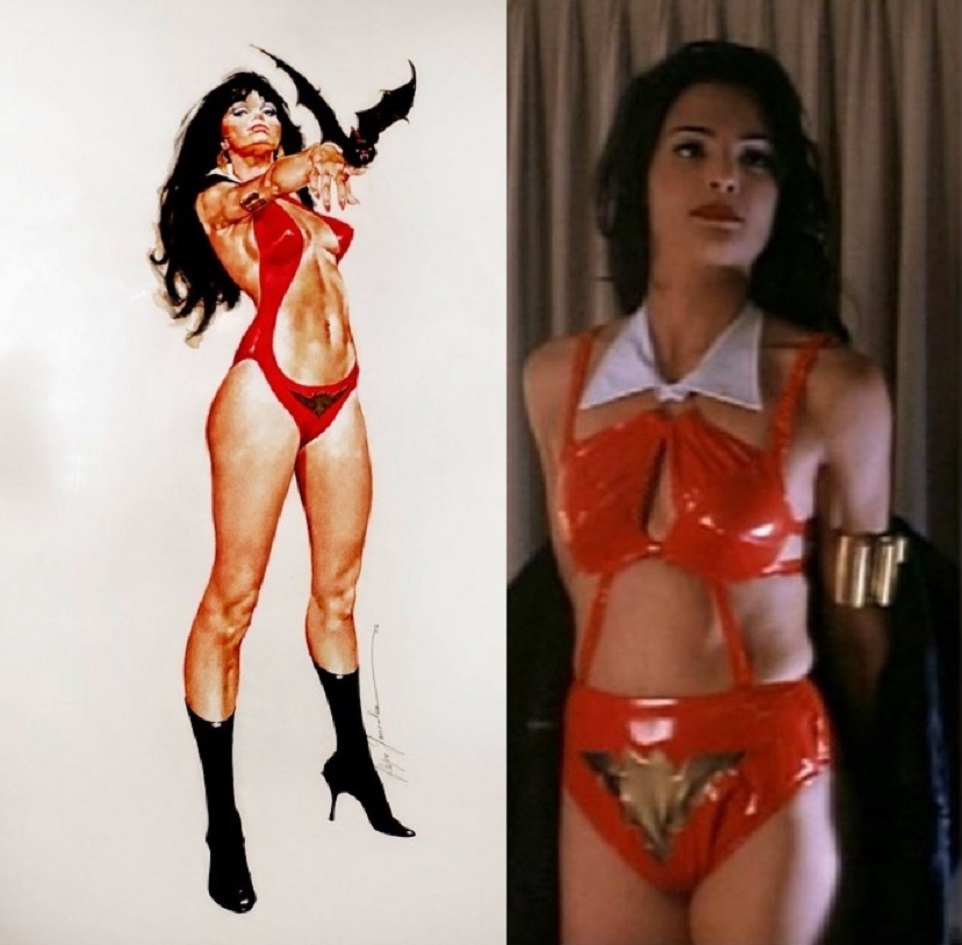 The script comes from Gary Gerani, the author of several books on science-fiction cinema, as well as the screenplay for Stan Winston's Pumpkinhead (1988). Gerani is semi-faithful to Vampirella's origin and the basic details of the comic. A certain sense of fanboy fawning overwhelms the exercise – Gerani writes in a character called Forry Ackerman and there are film posters and a model head of the robot from Metropolis (1927), Ackerman's favourite film. However, what does the film in as an adaptation of the Vampirella comic book is Jim Wynorski's indifferent attitude. In the comic book, Vampirella cut a provocative figure in her distinctive scarlet red inch-wide one-piece swimsuit. The film more modestly outfits Talisa Soto with a set of plastic red hot pants and a matching top with a ridiculous bat logo. Frankly, one has seen more authentic Vampirella's created by amateurs in cosplay.
Moreover, the casting of Talisa Soto from License to Kill (1989) and Mortal Kombat (1995) almost kills the character of Vampirella off. Soto is around 5'2″ and lacks anything approaching the spectacularly voluptuous figure that Vampirella is drawn with. While beautiful, Soto seems camera-shy and rarely projects any larger-than-life presence, threat or desirability. Up against her, a ridiculously overacting Roger Daltrey gives an incredibly bad performance.
What is sad about the film is that a Vampirella with a better budget and a better director could have had the potential to be something magnificently Gothic and moody, not unlike say the Tim Burton Batman (1989). The end credits promise that "Vampirella will return in Death's Dark Avenger". One cannot exactly say they are dying with anticipation.
Jim Wynorski's other genre films are:- The Lost Empire (1983), Chopping Mall (1986), Deathstalker II (1987), Not Of This Earth (1988), The Return of Swamp Thing (1989), Transylvania Twist (1989), The Haunting of Morella (1990), Sorority House Massacre II (1990), Sorority House Massacre 3/Hard to Die/Tower of Terror (1990), 976-Evil II (1991), Scream Queen Hot Tub Party (1991), Munchie (1992), Ghoulies IV (1993), Dinosaur Island (1994), Munchie Strikes Back (1994), Sorceress (1995), The Wasp Woman (1995), The Pandora Project (1998), Storm Trooper (1998), The Bare Wench Project (1999), Desert Thunder (1999), Bare Wench Project 2: Scared Topless (2000), Crash Point Zero/Extreme Limits (2000), Raptor (2001), Thy Neighbor's Wife/Poison (2001), The Bare Wench Project 3: Nymphs of Mystery Mountain (2002), Gale Force (2002), Project Viper (2002), Bare Wench Project Uncensored (2003), Cheerleader Massacre (2003), More Mercy (2003), The Curse of the Komodo (2004), Gargoyle (2004), The Thing Below (2004), Alabama Jones and the Busty Crusade (2005), Bare Wench: The Final Chapter (2005), Komodo vs Cobra (2005), Sub Zero (2005), The Witches of Breastwick (2005), The Witches of Breastwick 2 (2005), A.I. Assault/Shockwave (2006), Cry of the Winged Serpent (2006), Bone Eater (2007), The Breastford Wives (2007), House on Hooter Hill (2007), Cleavegefield (2009), Fire From Below (2009), Vampire in Vegas (2009), Monster Cruise (2010), Dinocroc vs Supergator (2010), The Hills Have Thighs (2010), Camel Spiders (2011), Gila (2012), Piranhaconda (2012), Hypnotika (2013), Scared Topless (2013), Sexually Bugged (2014), Shark Babes (2014), Water Wars (2014), Scared Topless (2015), A Doggone Christmas (2016), Sharkansas Women's Prison Massacre (2016), Cobragator (2018) and Attack of the 50 Foot CamGirl (2022).
---
---