---
Crew
Directors – Banjong Pisanthanakun & Parkpoom Wongpoom, Screenplay – Aummaraporn Phandintong, Banjong Pisanthanakun, Sophon Sakdaphisit & Parkpoom Wongpoom, Producers – M.L. Mingmongkoi Sonakul, Yodphet Sudsawad & Yongyooth Thongkongtoon, Photography – Niramon Ross, Music – Chatchai Pongprapaphan, Visual Effects – Oriental Post Co,. Ltd., Special Effects – Special Effects Thailand, Prosthetic Makeup – QFX Workshop, Production Design – Saksiri Chantarangsri. Production Company – Phenomena/Dedicate.
Cast
Marsha Wattanapanich (Pim/Ploy), Withaya Wasukraipaisan (Wee), Ruchanu Boonchooduang (Mother), Hatairat Egereff (Pim Age 16), Rutairat Egereff (Ploy Age 16), Namo Tonggamnerd (Wee Age 16)
---
Plot
Pim is the sole survivor of a pair of conjoined twins, with her sister Ploy having died after they were separated. With the news that her mother has fallen ill, Pim and her husband Wee now return to Thailand from South Korea. However, once back in her mother's house, Pim is haunted everywhere she turns and believes it is the ghost of Ploy seeking to be rejoined with her in the afterlife.
---
The Asian horror film has enjoyed a considerable renaissance since the late 1990s after it was kicked off by the huge success of Japan's Ring (1998), which produced a host of imitators all around the region. The most prolific copies have come from Japan and South Korea but there have also been a steady output from other countries such as Thailand and the Philippines. (For a more detailed overview see Asian Horror).
Alone is one such Thai entry from the directing duo of Banjong Pisanthanakun and Parkpoom Wongpoom who had previously made the hit Shutter (2004), which later underwent an English-language remake, and episodes of the anthologies Phobia (2008) and Phobia 2 (2009). Pisanthanakun later went on to solo direct the N is for Nuptials episode of The ABCs of Death (2012) and a further horror film with Pee Mak (2013), as well as the non-genre romances Hello Stranger (2010) and One Day (2016). Wongpoom later solo directed the fantasy film Homestay (2018).
Alone is a film that almost entirely exists as a series of moments intended to make an audience jump even if the scenes don't always make sense (least of all when the twist ending becomes known). That said, there are times when the two directors do so with undeniable effectiveness. There is a rather good scene where Marsha Wattanapanich turns over in bed and finds a dead body lying beside her. And another where she is lying in bed and sees a body hanging from the fan overhead as it slowly rotates.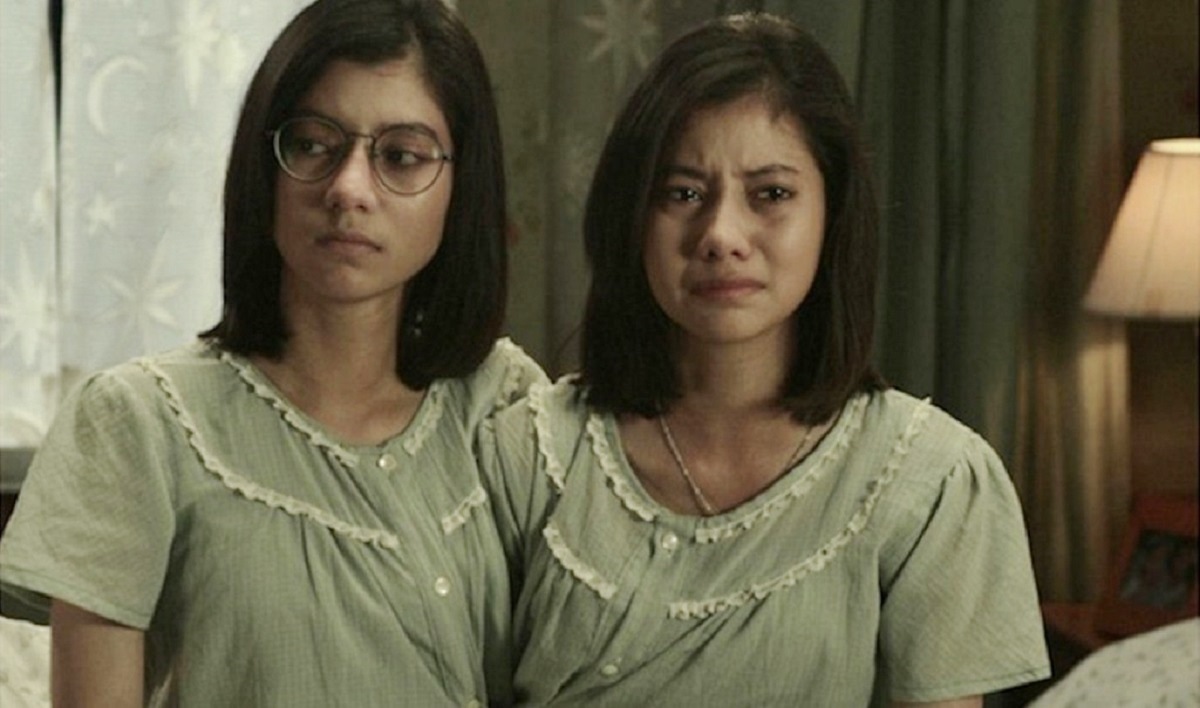 These scenes are okay, although many other jumps are routine – figures appearing in the dark, faces in the mirror, Marsha Wattanapanich being grabbed from below in the bath and most banally Martha hiding under the bed and the mattress above her depressing. There is the feel of directors trying to go "boo" at calculated intervals but also that there is little to the film beyond this. The pace is sedate and the happenings predictable.
The other thing that Alone attempts to do is jump aboard the fad that had infected the ghost story ever since The Sixth Sense (1999), which mandates that the spooky happenings also have to come with some last minute twist reversal about what is going on. Here there is a far-fetched twist where the dead twin sister that Martha Wattanapanich thinks is haunting her is not the case at all. [PLOT SPOILERS] Who we think is Pim is revealed to actually be the dead twin Ploy who killed Pim and impersonated her. This does strike you as somewhat incredulous but the biggest problem is the fact that it makes all of the build-up where we are led to believe that Ploy is haunting Pim into a lie.
---
---