---
Crew
Director – Marcel Sarmiento, Screenplay – Evan Dickson, Story – Evan Dickson & Marcel Sarmiento, Producers – William Day Frank, Greg Gilreath, Adam Hendricks & John Lang, Photography – Harry Lipnick, Music – Joseph Bauer, Visual Effects – Timecode Films (Ron Hurley & Greg Koronowicz), Special Effects Supervisor – Kyle Frawley, Makeup Effects – Jim Ojala, Production Design – John Richoux. Production Company – Divide-Conquer Productions.
Cast
Kerris Dorsey (Kellie Caldwell), Ahna O'Reilly (Robin), James Tupper (James Caldwell), Lia McHugh (Abby Caldwell), Braeden LeMasters (Todd), Lawrence Pressman (Bernard)
---
Plot
Five years ago, Kellie Caldwell's mother killed herself. Kellie is now seventeen and has stepped up to look after her father James and younger sister Abby. James now announces to them that Robin, the girl he has been seeing, is moving in with them. As Robin starts to do things around the house, Kellie feels unwanted. At the same time, Kellie believes that Abby has developed an imaginary companion. Abby insists this is her mother's spirit but Kellie comes to believe that the spirit is something with malevolent intent.
---
Totem comes from Marcel Sarmiento who first appeared with Heavy Petting (2007). I was very impressed with what Sarmiento did subsequently as the co-director of the necrophilia/zombie film Deadgirl (2008). Sarmiento went on to make the D is or Dogfight episode of The ABCs of Death (2012) and the Vicious Circles episode of V/H/S Viral (2014), before returning with the full-length Totem. He subsequently went on to direct Faceless (2021) where a man wakes in a hospital room to find his face has been removed, as well as produced Arbor Demon (2016). The film was released by Blumhouse but went directly to streaming instead of theatrical release.
I had high anticipations of Totem based on what Marcel Sarmiento did with Deadgirl. Unfortunately, I ended up disappointed with the film. Sarmiento makes a ghost story but there is little here that feels like it is not taken from a long established book of cliches in the Hauntings and Ghost Stories genre that has been ground down to tedious repetition by a massive output of low-budget entries throughout the 2000/10s.
Certainly, the film has reasonable quartet of actors in the main roles and Marcel Sarmiento allows them to craft reasonable characters. The early scenes feel like the film is shaping up to be an evil stepmother drama as Ahna O'Reilly moves into the house. Indeed, for at least the first half-hour, it is hard to pinpoint exactly what type of film Totem is going to be – a ghost story, one about an Imaginary Companion or about an evil stepmother who may have New Age magic on her side.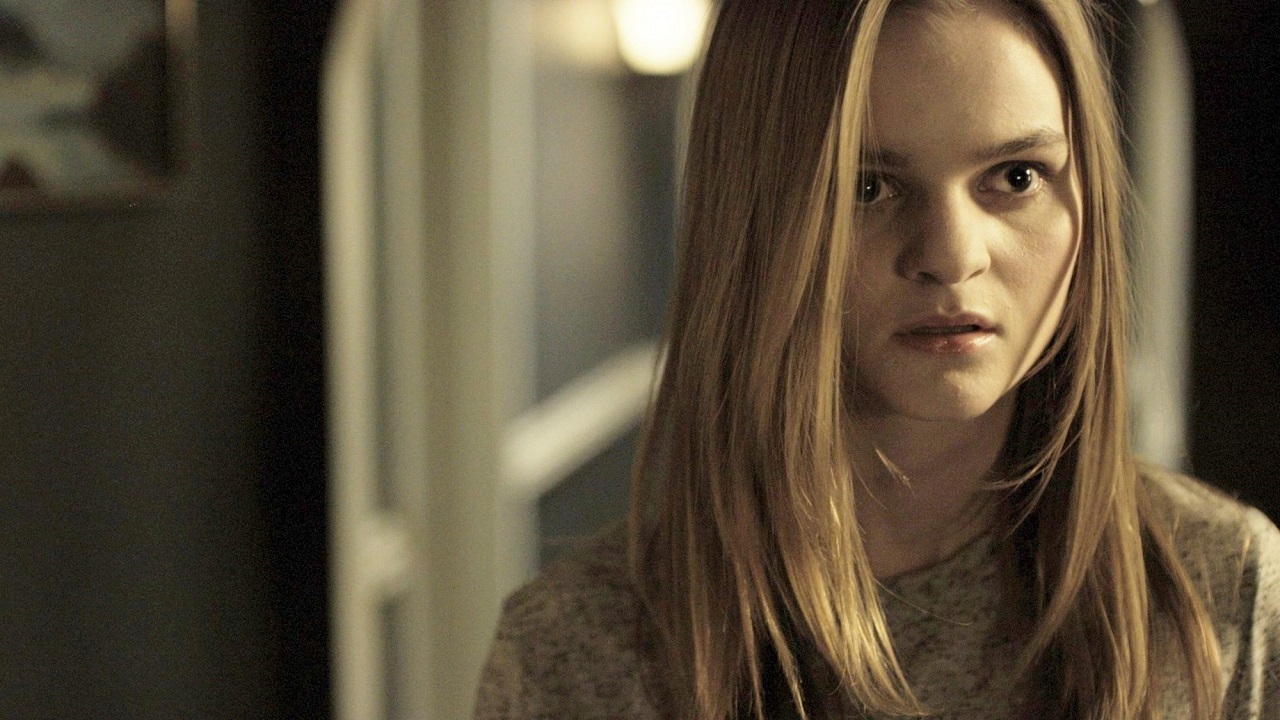 Sarmiento pulls jumps that display some subtlety – figures in the background, invisible fingers playing Itsy Bitsy Spider on Lai McHugh's back, trophies toppling from a wall. Although there are just as many that seem cliches or reused from elsewhere – a scene with Ahna O'Reilly pulling a hair out of her throat was done before in The Ring (2002); one where Ahna's face is reflected as an old lady was done in The Amityville Horror (1979) first and copied by others.
What kills the film is a Conceptual Reversal Twist that [PLOT SPOILERS] reveals that the real malevolent force in the house is actually point-of-view character Kerris Dorsey and that rather than being haunted it is actually the mother's spirit trying to warn the others before Kerris kills them too. Ever since The Sixth Sense (1999), the ghost story has been affected by this need to throw a last minute twist that jerks the carpet out from beneath an audience's feet. This feels like a twist for its own sake in an otherwise placid and uneventful story. It is also one that frustratingly renders one's engagement in the ghost story aspect of the film an irrelevancy for the sake of a twist. I get the purpose of twists but surely they should make all the sympathetic engagement one has in the story into a red herring?
---
Trailer here
---