---
Crew
Director – Scott Cooper, Screenplay – Nick Antosca, C. Henry Chaisson & Scott Cooper, Based on the Short Story The Quiet Boy by Nick Antosca, Producers – J. Miles Dale, Guillermo Del Toro & David S. Goyer, Photography – Florian Hoffmeister, Music – Javier Navarrete, Visual Effects Supervisor – Dennis Berardi, Visual Effects – Deluxe VFX (Supervisor – Matthew Whelan) & Mr. X Inc., Special Effects Supervisor – Joel Whist, Animatronic Creature and Effects – Legacy Effects, Production Design – Tim Grimes. Production Company – Phantom Four/Double Dare You.
Cast
Keri Russell (Julia Meadows), Jesse Plemons (Paul Meadows), Jeremy T. Thomas (Lucas Weaver), Scott Haze (Frank Weaver), Amy Madigan (Principal Ellen Booth), Graham Greene (Warren Stokes), Sawyer Jones (Aiden Weaver), Cody Davis (Clint Owens), Rory Cochrane (Daniel LeCroy)
---
Plot
In the small town of Cispus Falls, Oregon, schoolteacher Julia Meadows becomes concerned for pupil Lucas Weaver after finding he has made a series of violent drawings. Lucas's father Frank has become infected from something inside a local mine where he had set up a meth lab. He insists on being kept locked up in the house. Lucas brings things for Frank to devour but sometimes the thing inside him emerges to kill. Julia's brother, the town sheriff Paul, is dealing with a series of murders around the town and the incredible claim that what is responsible is a Native American wendigo.
---
Antlers comes with impressive prospect. It is produced by no less than Guillermo Del Toro, director of a long line of genre works including Pan's Labyrinth (2006) and The Shape of Water (2017), and David S. Goyer, best known as a screenwriter/producer, responsible for the Blade films, The Dark Knight (2008), most of the Snyderverse films and Dark City (1998), among others.
The director is Scott Cooper who has made Crazy Heart (2009), Out of the Furnace (2013), Black Mass (2015) and Hostiles (2017), all non-genre works. The film comes from a short story by Nick Antosca who also wrote the screenplay for the Goyer-produced The Forest (2016) and has worked as a producer on Channel Zero (2016-8), Brand New Cherry Flavour (2021- ) and Chucky (2021- ). Antlers was shot in 2018 but sat on the shelf and due to the closure of theatres due to the Covid-19 pandemic and did not receive release until October 2021 to a middling reception and business.
Antlers reminds exactly of a 1980s film. Think of the likes of The Boogens (1981), The Beast Within (1982) or Pumpkinhead (1988), films that were intended to highlight the fad for Makeup Effects Vehicles that had come into vogue in the era. In these there was the recurrent plot of people venturing into a small town and finding it houses a monstrous secret or inadvertently unleashing it.
When the monster here is unveiled, it is revealed to be a Wendigo. According to Native American mythology and folklore, this is an evil spirit that possesses an individual, driving them to become murderous and cannibalistic. The wendigo has appeared in a number of films most notedly Larry Fessenden's Wendigo (2001) and The X Files episode Sharpes (1994), along the occasional low-budget horror film like Windigo (1994), Frosbiter: Wrath of the Wendigo (1995) and Dark Was the Night (2014). As with many depictions of American Indian Mythology on screen, it is a case of the idea of the wendigo being stripped of cultural context. That said, Antlers makes more effort than all of these others in that it employs Native American actor Graham Green and recites a legend of the Wendigo in Ojibwe over the opening title card.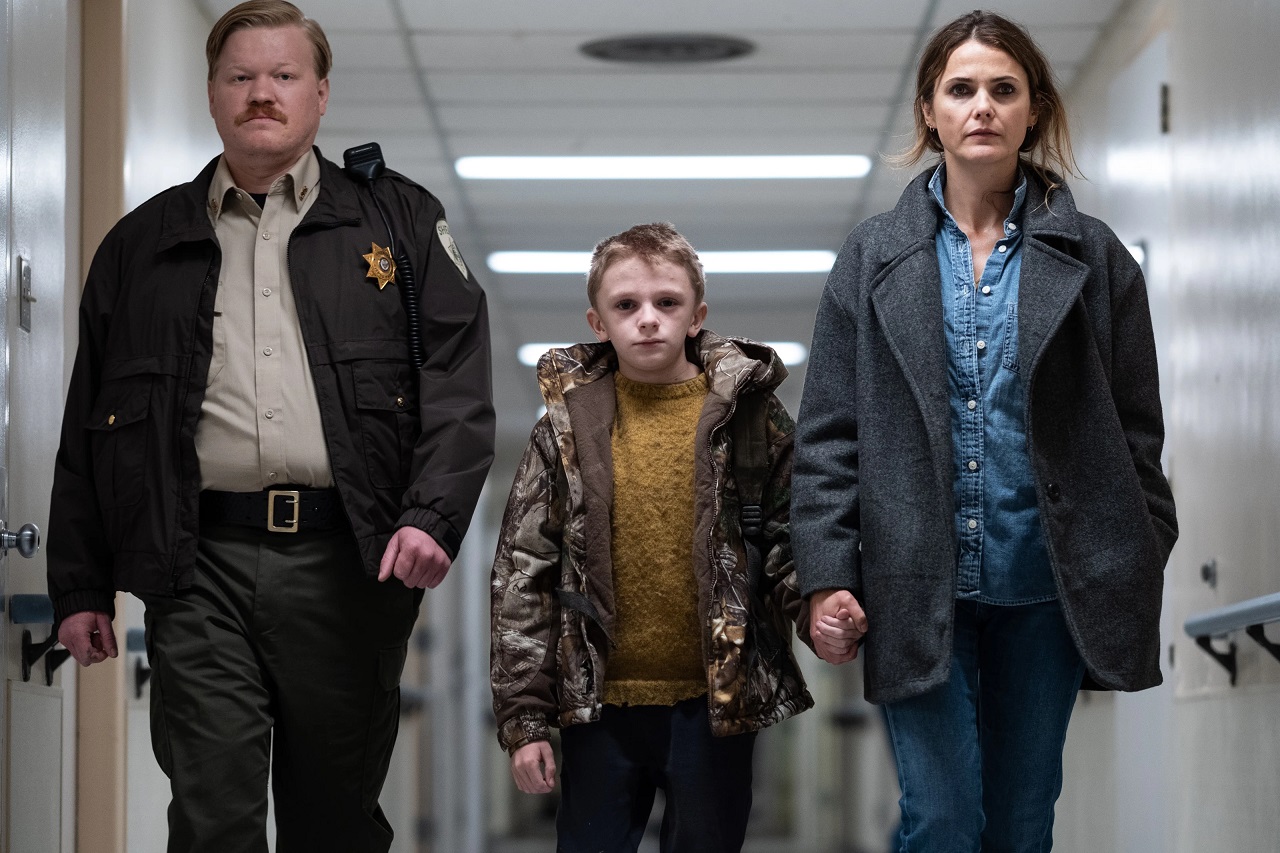 I had high hopes for Antlers. The names of Guillermo Del Toro and David S. Goyer attached seemed to herald great things, although it is also worth noting that both had lent their names to some real dogs – Del Toro produced Don't Be Afraid of the Dark (2011) and a bunch of formula animated films, while Goyer lent his to the laughable robot dog film A-X-L (2018) and the best forgotten tv series Krypton (2018-9).
Scott Cooper assembles many of the right elements. The location shooting (around small town British Columbia as opposed to Oregon) creates a landscape that broods with atmosphere. And Cooper creates some unearthly things happening with the briefly glimpsed wendigo creature unfolding its bulk and abruptly pouncing on people. Not to mention that Cooper relies on traditional physical makeup effects showing us closeups of impressively gored and gutted skeletons.
And yet for all that, Antlers fails to work. Everything feels like it is set up and waiting in a film that never ignites. There are assorted scenes where the wendigo appears and attacks and a fight to defeat it at the end. On the other hand, I reached the end of the film and felt like all of this passed me by without any impact. It is a film that produces some atmosphere and impressive creature effects but the pace is fatally slow and it fails in the crucial areas of generating any tension or any feeling that anything personal is at stake for the largely faceless characters.
---
Trailer here
---