---
Crew
Director/Story – Guillermo Del Toro, Screenplay – Guillermo Del Toro & Vanessa Taylor, Producers – J. Miles Dale & Guillermo Del Toro, Photography – Dan Lausten, Music – Alexandre Desplat, Visual Effects Supervisor – Dennis Berardi, Visual Effects – Mr. X, Special Effects Supervisor – Warren Appleby, Creature Suit/Makeup Effects – Legacy Effects (Supervisor – Shane Mahan), Production Design – Paul Denham Austerberry. Production Company – Double Dare You Productions.
Cast
Sally Hawkins (Elisa Esposito), Michael Shannon (Richard Strickland), Richard Jenkins (Giles), Octavia Spencer (Zelda Fuller), Michael Stuhlbarg (Dr Robert Hofstetler/Dimitri), Doug Jones (Amphibian Man), David Hewlett (Lionel Fleming), Nick Searcey (General Hoyt), Nigel Bennett (Mikhailov), Lauren Lee Smith (Elaine Strickland), Martin Roach (Brewster Fuller), Morgan Kelly (Pie Guy), John Kapelos (Mr Arzoumanian)
---
Plot
Baltimore, the early 1960s. Elisa Esposito is a mute woman who works as a cleaner at a secret government research laboratory. She is witness as an amphibian creature is brought in and chained up in a pool. Richard Strickland is placed in charge by the military who want the secrets of how the creature is able to breathe in both air and water for possible development in the Space Program. Strickland tortures the creature but it retaliates by tearing off two of his fingers. While nobody else is in the laboratory, Elisa befriends the creature, offering it the boiled eggs she brings for lunch. Soon a wordless communication grows between them. This is observed by project scientist Robert Hofstetler who is secretly a Soviet spy. Strickland's taskmasters order him to kill the creature as soon as possible so that it can be dissected. Overhearing this, Elisa hatches a plan, aided by her neighbour Giles, to rescue the creature. Joined in their scheme by Hofstetler and her co-worker Zelda, they get the creature away in a laundry hamper, despite being almost caught by Strickland. Keeping it in her apartment in the bath until the weather changes sufficiently to return it to the sea, Elisa and the creature become lovers. Meanwhile, Strickland, his job threatened, becomes ruthlessly determined to recapture the creature.
---
Guillermo Del Toro has become one of the most prominent genre directors in the world since the 2000s. Del Toro has an exemplary directing career with works such as the vampire film Cronos (1993), the intelligent bug film Mimic (1997), the Spanish Civil War ghost story The Devil's Backbone (2001), the Marvel Comics adaptation Blade II (2002), Hellboy (2004), the awards-winning Pan's Labyrinth (2006), Hellboy II: The Golden Army (2008), the giant robot film Pacific Rim (2013), the ghost story Crimson Peak (2015) the fake clairvoyant film Nightmare Alley (2021); and as co-director of the stop-motion animated Guillermo Del Toro's Pinocchio (2022). (See below for a full list of Guillermo Del Toro's other films).
Guillermo Del Toro likes to makes monster movies where one has sympathy for the monster. They are outsider films (I'll get more to The Shape of Water as Del Toro's ultimate outsider film below). In interviews he talked about how The Shape of Water emerged out of talks with Universal over conducting a remake of The Creature from the Black Lagoon (1954). Del Toro was always intrigued by the one scene where The Creature seems to flirt with and touch Julia Adams from beneath the water and wanted to create a version where that hint of romance was fulfilled. Universal rejected this take and so Del Toro went away and wrote his own version. (You get the impression that not too much has been changed with this version of the Gill Man even retaining its origins in the Amazon).
The Shape of Water is the first film in which Guillermo Del Toro can be seen to openly address sexuality. Aside from the romantic outpourings in Hellboy II, it is never an issue that has much featured in any of his films – there are not even the token romantic connections between the leads you usually get in a film. He certainly makes up for it here – you are quite taken aback by the opening scenes that show Sally Hawkins masturbating in the bath. In a typically Del Toro-esque way, the first actual expression of sexuality we get in his universe is a romance between a human and a sea monster (which sounds like more a description of a Japanese tentacle porn manga).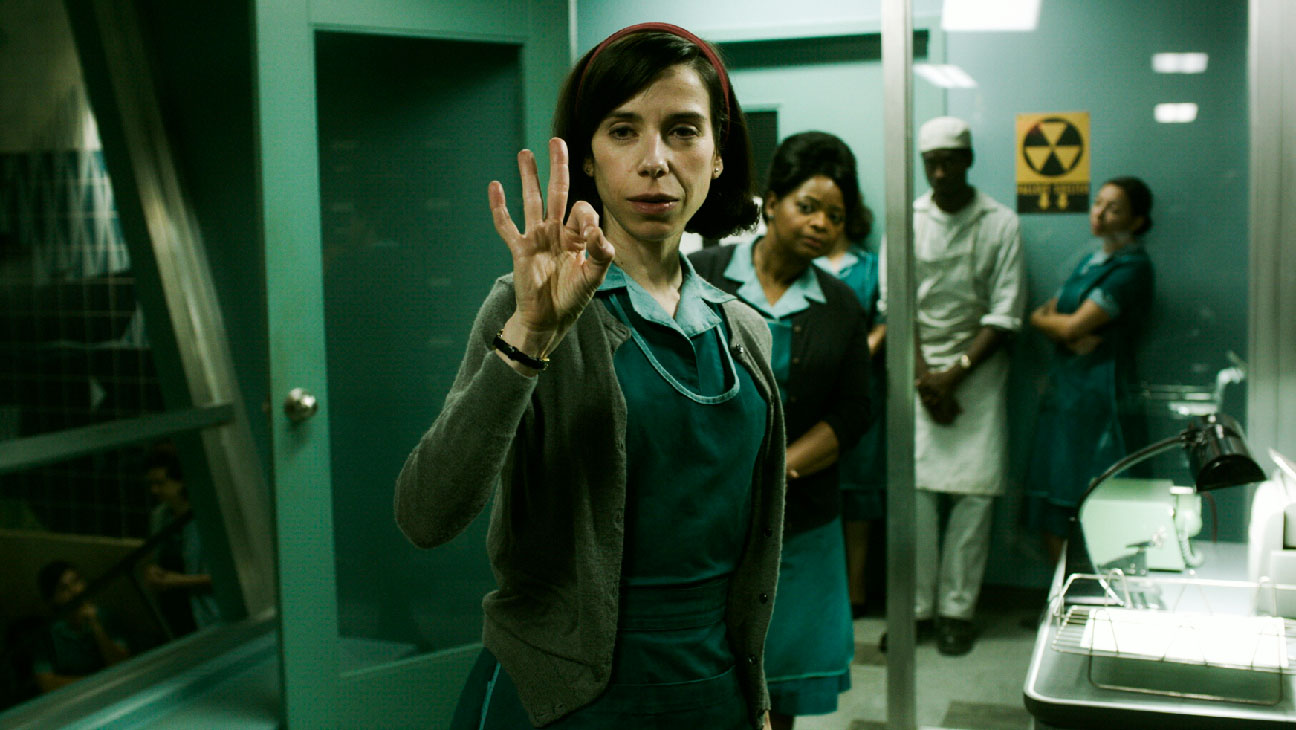 Loneliness and the need to reach out to another seems to be a connecting feature of all the characters in the film here – from Sally Hawkins' unloved mute to Richard Jenkins' closeted gay man cruelly rejected by the mores of the era to Octavia Spencer caught in a loveless marriage, while Michael Shannon (representative of all the film's bad aspects) is seen having sex with his wife ignoring her protests and to be (the Hollywood touch button issue of the moment) sexually harassing Sally Hawkins at one point.
What also strikes about The Shape of Water is that it is Guillermo Del Toro's most outrighly political work yet (something else we have never seen in his films before). He described it as a film about what is wrong in America at the moment. Michael Shannon's government agent is symbol of all said ills – he is introduced in his second scene wielding an implement of torture (and readily seen employing it throughout); makes casually racist comments in Octavia Spencer's direction, alongside classist comments that treat the working class cleaners as beneath him; can be seen sexually terrorising Sally Hawkins at one point; and acts an enforcer for a general who opines his God-given right to kill intelligent lifeforms. Oh and he is seen reading Norman Vincent Peale's The Power of Positive Thinking (1952), which became the best-selling handbook fairly much synonymous with aspirations to corporate achievement during the film's period, not to mention he also has a scene where he purchases the era's big status symbol of a Cadillac. He's also the only character in the film who has a family ie. is synonymous with Family Values, characterised by obedient children and a wife who is dutiful to the point of putting up with (what is implied) her husband's unreasonable sexual demands.
What is rather fascinating is the people that Del Toro assembles on the other side of the coin in direct opposition to all the aspects of toxic America/Family Values/patriarchal hierarchy that Michael Shannon embodies. Most of the group seems made of minorities – Sally Hawkins is handicapped and is given the surname Espositio, which would appear to make her a Latina (even though Hawkins is British in real-life); the African-American Octavia Spencer who becomes the butt of dismissive racial comments from Michael Shannon; the closetedly gay Richard Jenkins who is harshly driven out of a diner (and quite possibly his job) for openly expressing such; and, surprisingly enough, Michael Stuhlabarg, who is revealed to be a Communist spy, albeit one with humanist sympathies that puts him at odds with his taskmasters. (The inclusion of the latter among the cadre of good guys comes as a surprise given how Communism has been regarded as the antitheses of all that is American).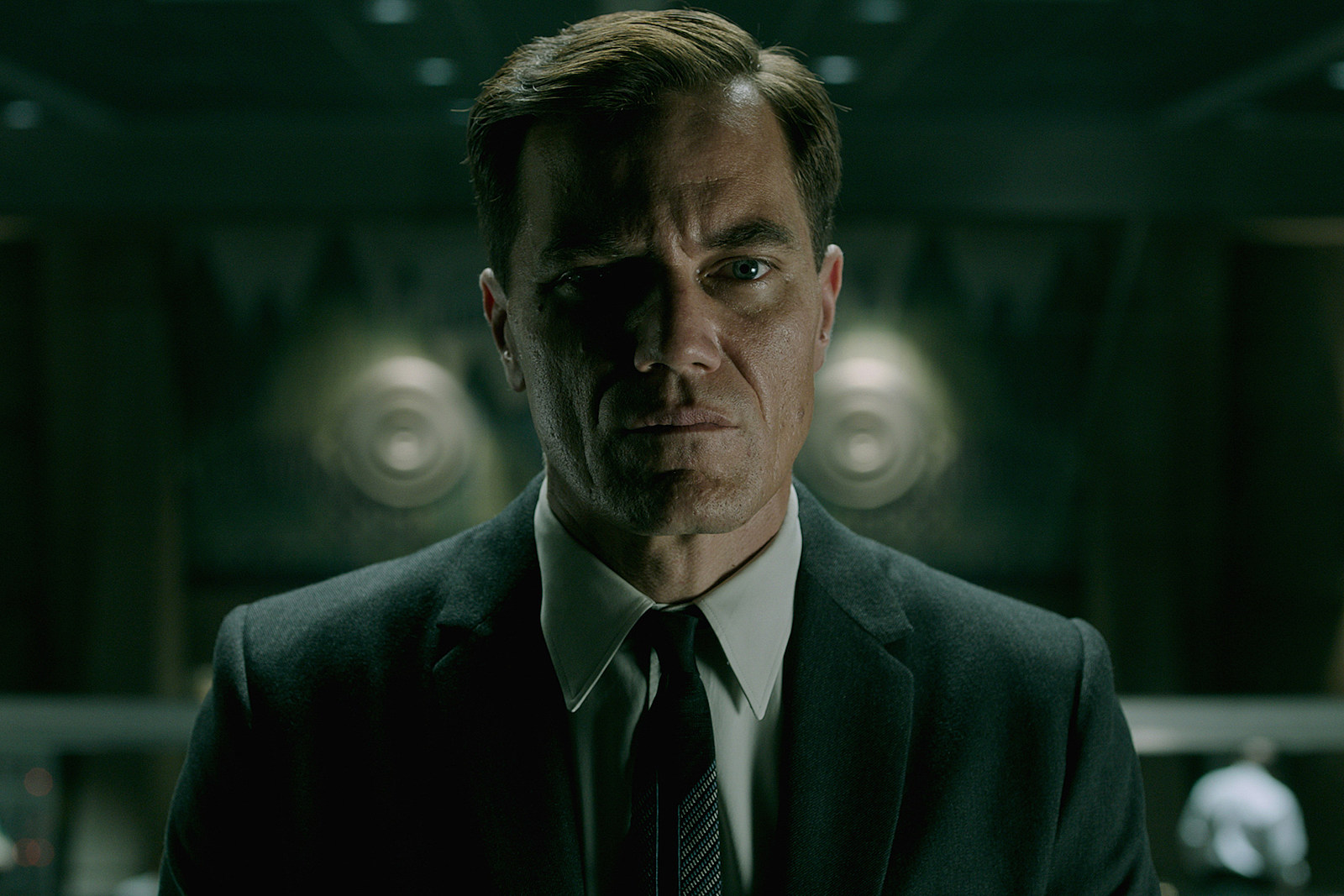 Boiled down to a level of pure plot and putting Guillermo Del Toro's individualistic touches aside, The Shape of Water is a surprisingly conventional film. The plot feels almost like a rehash of E.T. – The Extra-Terrestrial (1982) – lonely kid/woman befriends/finds love with a creature, she and those she calls family conspire to spring the creature from the custody of evil government agents who only want to dissect it and eventually help it return home.
You could just as easily regard The Shape of Water as a grown-up version of Splash! (1984), which had Tom Hanks engaged in a romance with mermaid Darryl Hannah. The story involving people (usually kids) who break into a well-guarded laboratory/government facility to rescue non-humans creatures became a well-worn trope in numerous copies of E.T. throughout the era – it is almost as though that entire plot element has been extended to become the whole of the film here. The Shape of Water also makes fascinating contrast to Xavier Gens's excellent Cold Skin (2017), the one other film of 2017 about sex between humans and amphibians, although that had a less rosy view of the results than Del Toro.
Guillermo Del Toro creates a beautiful film. His last handful of films as director have made lush and exquisite use of production design elements and period settings. Here he places a great deal of attention into getting the early 1960s period – from the cars, theatres and Richard Jenkins' treacly ads – to the worn everyday texture of the apartment and laboratory. Del Toro invests much in the scenes with Sally Hawkins communicating with the creature. There are lovely and magical scenes of them swimming in naked embrace together in a flooded bathroom while the water overruns into the theatre beneath them (although the realist in me finds it hard to wonder if she is not slightly daft in being unable to calculate that flooding a bathroom in water would mean that all the water would all have to go somewhere). In his most eccentric touch, Del Toro gives Hawkins a daydream scene where she imagines herself and the creature in an old-fashioned 1930s style black-and-white dance number.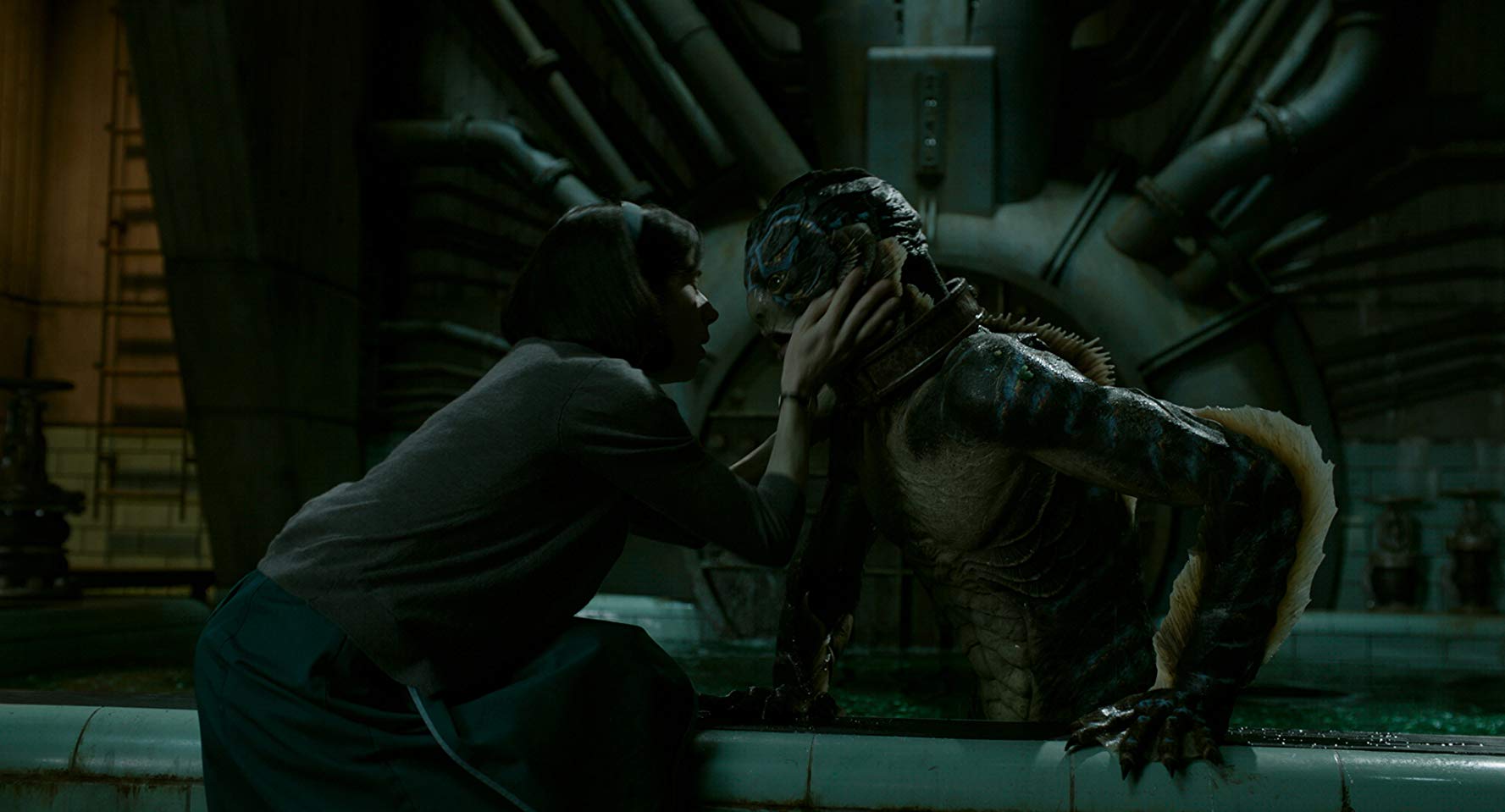 Sally Hawkins gives an amazing performance that runs between fragile vulnerability and rising to emotionally plaintive strength in particular in the scene where she silently pleads with Richard Jenkins to help her rescue the creature. And all given without the use of any dialogue throughout.
Del Toro also wrote/produced wrote/produced Don't Be Afraid of the Dark (2011), Scary Stories to Tell in the Dark (2019), The Witches (2020) and the tv series Guillermo Del Toro's Cabinet of Curiosities (2022- ) and co-wrote The Hobbit: An Unexpected Journey (2012), The Hobbit: The Desolation of Smaug (2013) and The Hobbit: The Battle of the Five Armies (2014). Del Toro has also produced other genre works like Chronicles (2002), Hellboy Animated: Sword of Storms (2006), Hellboy Animated: Blood and Iron (2007), The Orphanage (2007), While She Was Out (2008), Julia's Eyes (2010), Splice (2010), Kung Fu Panda 2 (2011), Puss in Boots (2011), Rise of the Guardians (2012), Mama (2013), The Book of Life (2014), Kung Fu Panda 3 (2016), Pacific Rim: Uprising (2018) and Antlers (2021), as well as the tv series The Strain (2014-7) based on his novel.
(Winner in this site's Top 10 Films of 2017 list. Nominee for Best Director (Guillermo Del Toro), Best Actress (Sally Hawkins), Best Supporting Actor (Michael Shannon) and Best Production Design at this site's Best of 2017 Awards).
---
---