---
Crew
Director – Nelson McCormick, Screenplay – J.S. Cardone, Producers – Toby Jaffe & Neal H. Moritz, Photography – Checco Varese, Music – Peter Haslinger, Music Supervisors – Gerry Cueller & Greg Danylyshyn, Visual Effects – Zoic Studios (Supervisor – Rocco Passionino), Special Effects Supervisors – Jason Dodd & John Hartigan, Prosthetic Makeup Effects – Almost Human, Production Design – Jon Gary Steele. Production Company – Original Film/Newmarket Films/Alliance Films.
Cast
Brittany Snow (Donna Keppel), Johnathon Schaech (Richard Fenton), Idris Elba (Detective Winn), Scott Porter (Bobby), Dana Davis (Lisa Hines), Collins Pennie (Ronnie Heflin), James Ransone (Detective Nash), Jessica Stroup (Claire), Kelly Blatz (Michael), Linden Ashby (Jack Turner), Jessalyn Gilsig (Karen Turner), Brianne Davis (Crissy Lynn), Kellan Lutz (Rick Leland), Charles Hirsch (Hotel Clerk), Mary Mara (Ms Waters), Ming Wen (Dr Elisha Crowe), Jacqueline Herrera (Marie), Joshua Leonard (Simms)
---
Plot
Teenager Donna Keppel is haunted by memories of Richard Fenton, a teacher who developed an obsession with her and slaughtered her entire family before being apprehended. It is now Donna's prom night. Just as she departs with her friends, police receive news that Fenton has made an escape from the asylum where he was incarcerated. Using the identity of a man he has murdered, Fenton signs into the hotel where the prom ball is being held and proceeds to slaughter Donna's friends as he comes after her.
---
Prom Night is another amid the fad of remakes of 1970s/80s horror films that have come out in the 00s. This fad started with the remake of The Texas Chainsaw Massacre (2003) and continued through the likes of Toolbox Murders (2003), Willard (2003), Dawn of the Dead (2004), The Amityville Horror (2005), Assault on Precinct 13 (2005), The Fog (2005), Black Christmas (2006), The Hills Have Eyes (2006), The Omen (2006), Sisters (2006), When a Stranger Calls (2006), The Wicker Man (2006), Halloween (2007), The Hitcher (2007), April Fool's Day (2008), Day of the Dead (2008), It's Alive (2008), Long Weekend (2008), Friday the 13th (2009), The Last House on the Left (2009), My Bloody Valentine (2009), Night of the Demons (2009), Sorority Row (2009), The Stepfather (2009), And Soon the Darkness (2010), The Crazies (2010), I Spit on Your Grave (2010), Mother's Day (2010), A Nightmare on Elm Street (2010), Piranha (2010), Don't Be Afraid of the Dark (2011), Fright Night (2011), Straw Dogs (2011), The Thing (2011), Maniac (2012), Carrie (2013), Evil Dead (2013), Patrick (2013), Poltergeist (2015), Suspiria (2018), Child's Play (2019), Jacob's Ladder (2019), Pet Sematary (2019), Slumber Party Massacre (2021), Firestarter (2022) and Hellraiser (2022). (For a more detailed listing see Films That Were Remade and Remakes).. with no apparent end in sight other than a shortage of product to keep remaking.
In almost all of these cases, the originals stand head and shoulders above the better-budgeted remakes. The originals were mostly made by independent filmmakers who were driven by a guerrilla edge and a desire to shock. Working outside the system for the most part, the filmmakers could afford to break convention and do radical and shocking things. The remakes by contrast are made by producers that regard the originals only as pre-existing franchises that can be built on. Or, in that most of the originals have been recast with handsome young modern teen stars, the thinking that if it worked the first time around it can be repackaged for today's audiences. Alas, in being repackaged by studios, most of the raw R-rated content of the original has been market-tested and watered down to an anodyne level (and, when it comes to Prom Night, even reduced to a PG-13 rating).
In the case of Prom Night, the dictum about the originals being far superior to the remakes doesn't particularly apply. The original Prom Night (1980) was a cheap effort that was quickly slung together to jump aboard the slasher movie fad of the early 1980s. It is poorly regarded even amongst the most forgiving of genre commentators. Indeed, simply giving the original a better budget would almost immediately convert the remake into a better film. Prom Night was also turned into a faux horror franchise that spawned three sequels. The first two of these – Hello Mary Lou: Prom Night II (1987) and Prom Night III: The Last Kiss (1990) – despatched with any connection to the original and were tongue-in-cheek efforts concerning a supernaturally avenging undead prom queen, while the final entry Prom Night IV: Deliver Us from Evil (1991) was a tatty effort that had nothing to do with the other films and concerned a group of teenagers being stalked by a psycho priest.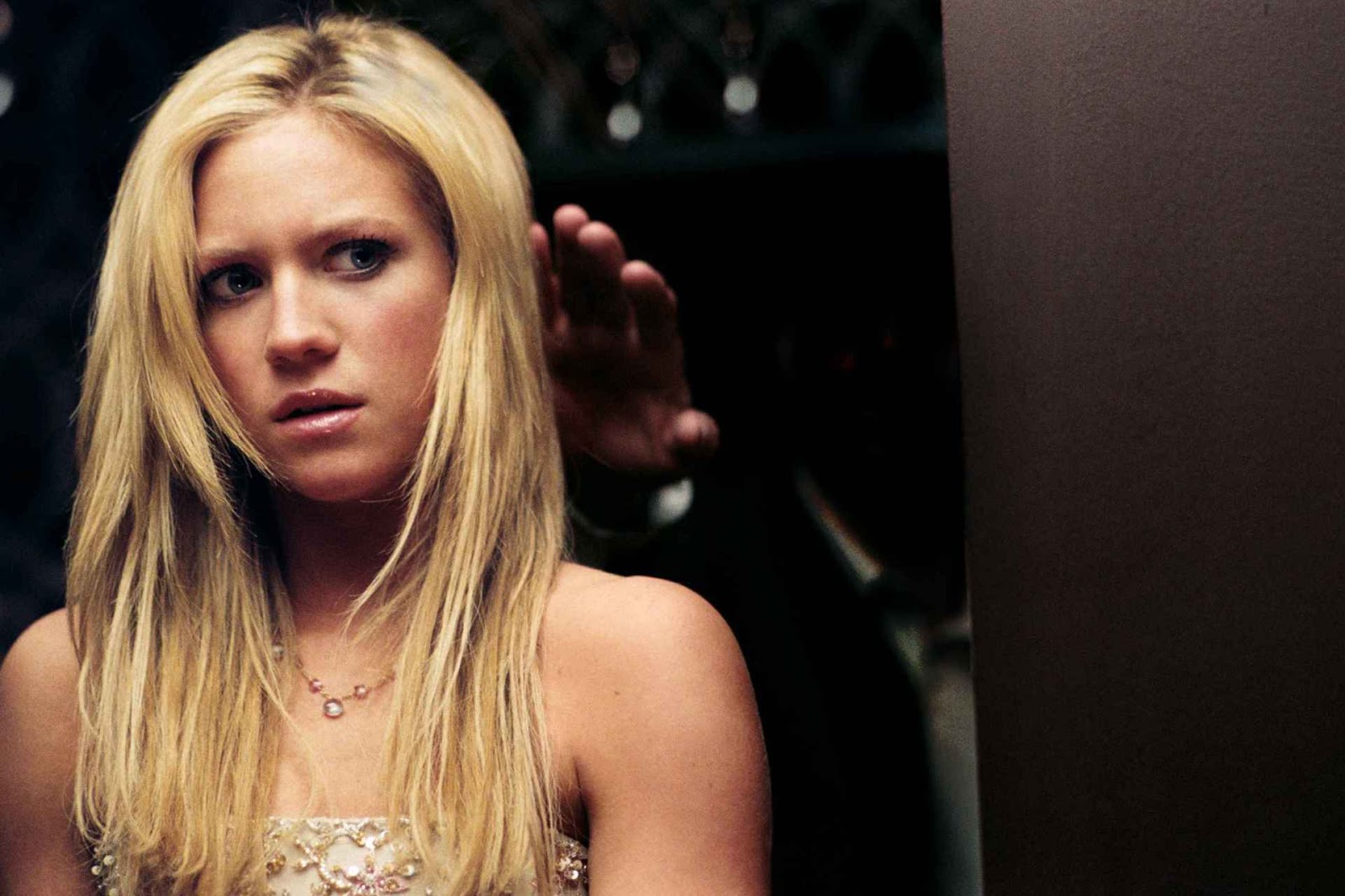 Likewise, Prom Night 2008 throws out all connection to Prom Night 1980 excepting the title. The two films have a vague similarity of plots about a psycho escaping from custody and returning to town to stalk a group of teenagers on the titular prom night. In both films, the main plot is interspersed with scenes of a doggedly determined detective on the trail of the killer. Outside of the loose similarity of plot structure, the remake dispenses with everything else and writes its own story. In the original, for instance, the killer's identity was kept hidden and eventually revealed to be heroine Jamie Lee Curtis's brother who had snapped after witnessing a prank where a group of kids forced another to fall to their death; here there is no whodunnit aspect about guessing the killer's identity – it is a teacher who became fixated on heroine Brittany Snow and their identity is known from the outset.
Prom Night 2008 at least holds some promise in that the new script comes from J.S. Cardone, a writer and frequent director who has turned out a number of smart psycho-thrillers and genre films. Indeed, J.S. Cardone's very first film was an entry among the original slasher fad The Slayer (1982). Cardone has since directed modestly effective efforts like Shadowzone (1990), A Climate for Killing (1991), Shadowhunter (1993), Black Day, Blue Night (1995), Exit in Red (1996), Outside Ozona (1998), The Forsaken (2001), Mummy an' the Armadillo (2005), 8MM2 (2005) and Wicked Little Things (2006). More recently, Cardone has taken to working as a writer for hire, usually with disappointing results, as witness Alien Hunter (2003), The Covenant (2006) and action films like Sniper 3 (2004) and The Marksman (2005). Director Nelson McCormick is a newcomer from tv. He and J.S. Cardone reunited for the subsequent remake of The Stepfather (2009).
Prom Night 2008 is at least a technically proficient film and goes through all the motions required of it. Alas, Nelson McCormick's moves are tried and true set-ups that were hackneyed when the slasher genre was at its height 27 years ago – the camera taking the point-of-view of the stalker; the psycho of the show suddenly appearing as people bend over or reflected as bathroom mirrors are shut; shots where the heroine thinks she momentarily sees him there but he being gone after a vehicle passes in the foreground; red herring jumps where people bump into things; scenes where people have to go into darkened rooms alone for ridiculous reasons (in the midst of the hotel evacuation, Brittany Snow decides she has to go and retrieve her mother's shawl from her room, for instance). There does not feel like a single original or standout move among any of these.
One of the most annoying parts about the film are Nelson McCormick's cheat dream sequences where Brittany Snow keeps imagining that Johnathon Schaech is attacking her, before it is revealed that this is a dream. McCormick seems so enamoured of this trick that he pulls it twice throughout. When the opening scene starts, we are momentarily startled thinking that the film is going to do something radical by killing the top-listed Brittany Snow within the first minutes. However, when this is revealed to be a dream sequence, one groans at the lameness of it.
J.S. Cardone's scripts for his own films show him as someone with a wry eye for good characterisation and sharp plotting twists. Why this seems to desert him when it comes to the scripts he turns out for others is a good question. Certainly, Prom Night 2008 emerges as a slickly made but formulaic slasher film. It could be placed on a par with some of the modern slasher films like Urban Legends: Final Cut (2000) and Valentine (2001). Even then, J.S. Cardone fails to give us anything other than an entirely processed reading of the slasher film without a trace of irony, sarcasm or the generic self-awareness that either of these came with and the results disappear into the entirely humdrum. Cardone's script fails to define the characters with any depth that goes beyond their perfectly made up good looks. Even Johnathon Schaech's psycho of the show is never defined with any deeper motivation than the single sentence description that he obsessively desires Brittany Snow.
Now, had they conducted a remake of Hello Mary Lou: Prom Night II things could have been an entirely different story …
---
Trailer here
Full film available online here:-
---