---
Crew
Director – Eli Craig, Screenplay – Eli Craig & Morgan Jurgenson, Producers – Morgan Jurgenson, Albert Klychak, Rosanne Milliken & Deepak Nayar, Photography – David Geddes, Music – Mike Shields, Visual Effects – Anthem Visual Effects Inc (Supervisor – Lee Wilson), Special Effects – FlickerFX (Supervisor – Jason Paradis), Production Design – John Blackie. Production Company – Deepak Mayar/Thomas Augsberger/Urban Island/Gynormous Pictures.
Cast
Tyler Labine (Dale), Alan Tudyk (Tucker), Katrina Bowden (Allison), Jesse Moss (Chad), Philip Granger (Sheriff), Brandon McLaren (Jason), Christie Lang (Naomi), Chelan Simmons (Chloe), Travis Nelson (Chuck), Alexander Arsenault (Todd), Adam Beauchesne (Mitch), Joseph Sutherland (Mike), Karen Reigh (Cheryl)
---
Plot
A group of college kids travel through the Appalachian Mountains on break. At a roadside store, they meet hillbillies Tucker and Dale who are travelling to a holiday cabin that Tucker has brought up at Morris Lake. When the shy Dale goes over to say hello, the group feel threatened and flee. Up at the lake, Tucker and Dale are fishing when they see Allison stripping off to go skinny-dipping. Scared at seeing them, she falls in and hits her head. Tucker and Dale drag her out of the water but the others think that the hillbillies have knocked out and abducted her. Allison comes around at the cabin where she and the simple but friendly Dale strike it off. Chad organises the college kids to mount an attack on the cabin to rescue her. However, things go wrong and several of the kids end up accidentally killing themselves in various ways. The rest of the group believe Tucker and Dale are responsible and regard them as inhuman monsters. Chad prepares the group for a bare-handed fight to the death.
---
When it first came out, Tucker and Dale vs Evil seemed in danger of becoming a cult film. One is not entirely sure if it has sustained the necessary legs after its initial release to sustain such a reputation. It was a debut feature for Eli Craig, the son of Sally Field and a former actor who has appeared in a handful of minor roles, including playing the young Tommy Lee Jones in Space Cowboys (2000).
Tucker and Dale vs Evil has an amusing joke as its central premise. It takes a classic Backwoods Brutality film like Deliverance (1972), The Last House on the Left (1972), The Texas Chain Saw Massacre (1974), The Hills Have Eyes (1977) or Mother's Day (1980), in which a group of city slickers usually in the form of a party of teenagers or college kids gets lost in the backwoods and are hunted and slaughtered by psychopathic in-bred hillbillies. (See Backwoods Brutality Films).
Eli Craig's amusing take is to reverse the sympathies that operate in these films. Here the hillbillies are not psychopathic in-breds but just a couple of simple unworldwise innocents. The college kids are the usual bunch of faceless victims. Here the traditional bare-handed war of survival between the two sides that you get in a Backwoods Brutality film turns out to be a misunderstanding that grows out of prejudice towards the hillbillies on the part of the college kids, something that is amplified into red-blooded war by the group's domineering leader (Jesse Moss).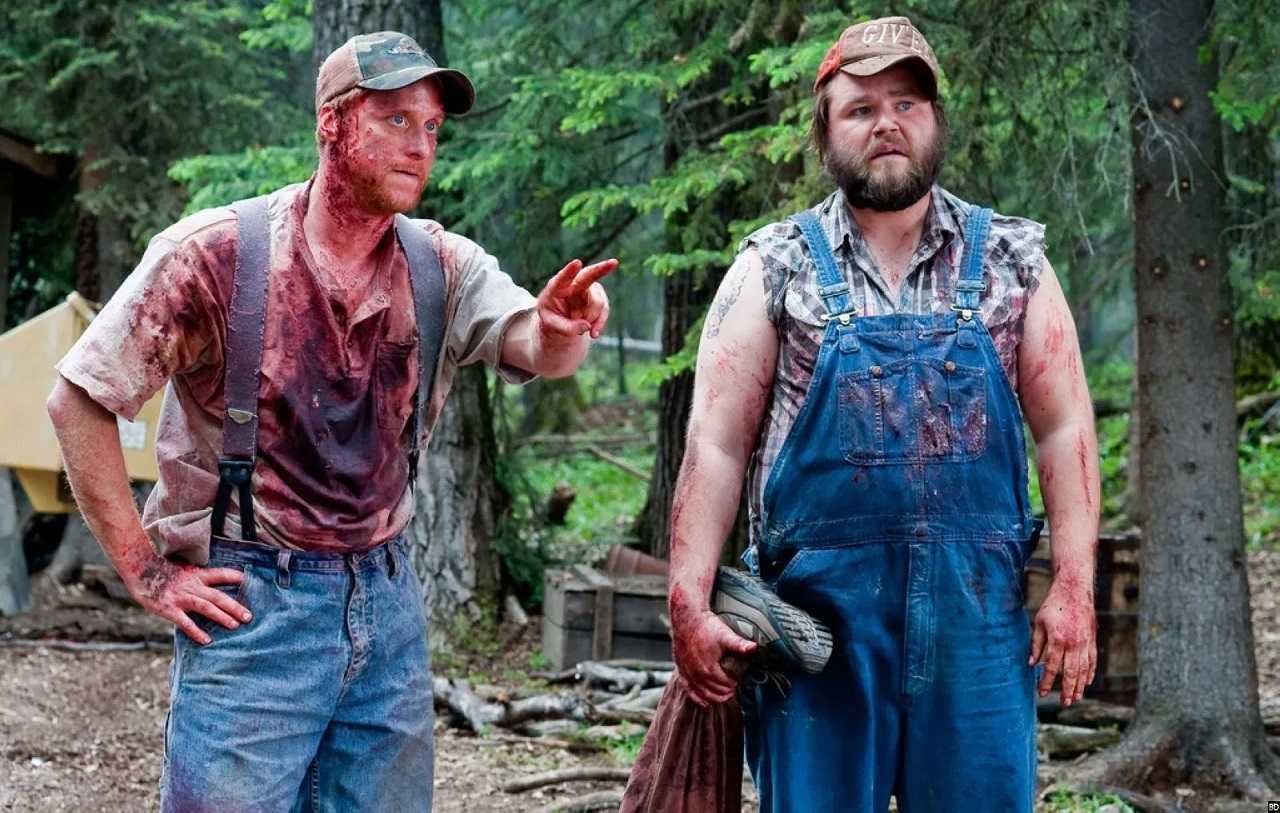 All of the despatches of the college kids are rather amusingly put down to a series of accidents where they are constantly managing to impale themselves on logs or run into wood chipping machines – the film has a surreal absurdity when it comes to the contortions of improbability that allows this to happen to almost everyone who comes near Tucker and Dale. With equal improbability, the person who would normally be the Final Girl (Katrina Bowden) ends up being attracted to Tyler Labine's Dale.
All of this amusingly handled, although in the end Tucker and Dale vs Evil reveals itself as a one-joke film. There is never much more to it beyond the constant series of accidents combined with comic reversals and misunderstandings. There is a certain goofy stupidity to watching everything play out that gives the film a likeable amusement, although this never rises to any riotous heights.
The film's one find is Canadian comedy actor Tyler Labine who plays Dale, a role that could easily have become a dim-witted comic caricature, with a gauche innocence that develops a likeable adorableness that any mother would want to adopt.
Eli Craig subsequently directed the tv pilot of Zombieland (2013) and Little Evil (2017), which similarly parodies/inverts the cliches of the Antichrist/Devil Child film.
---
---