---
Crew
Director – William Crain, Screenplay – Raymond Koenig & Joan Torres, Producer – Joseph T. Naar, Photography – John Stevens, Music – Gene Page, Songs – The Hues Corporation, Special Effects – Roger George, Makeup – Fred Phillips, Art Direction – Walter Herndon. Production Company – AIP.
Cast
William Marshall (Prince Manuwalde), Vonetta McGee (Tina), Thalmus Rasulala (Gordon Thomas), Gordon Pinsent (Lieutenant Peters), Denise Nicholas (Michelle), Charles Macaulay (Count Dracula)
---
Plot
When Black African Prince Manuwalde comes to Count Dracula pleading for his people's release from the slavery trade, Dracula is so incensed at the request that he puts the vampire bite on Manuwalde to teach him a lesson. Two hundred years later, the contents of Castle Dracula are bought and shipped back to the US by antique dealers. Among these is Manuwalde's coffin. Manuwalde is accidentally set free when the coffin is opened. Making his way onto the nightclub scene, Manuwalde pursues Tina, the girl he believes to be the reincarnation of his wife.
---
In the 1970s, the cop thriller Shaft (1971) starring Richard Roundtree was a huge hit, largely through the novelty of being one of the first films to feature a Black hero. Although there were other films prior to it, most notably what is often considered the first Blaxploitation film Sweet Sweetback's Baadasssss Song (1970), it was principally Shaft that gave birth to the so-called Blaxploitation cycle that lasted for the next seven years, sponsoring a series of funky, hip action movies with jive-talking Black heroes and heroines. The genre included classics like Black Caesar (1973), Cleopatra Jones (1973), The Black Godfather (1974) and Foxy Brown (1974).
Then came the fad within a fad of Blaxploitation horror films. This was begun by Blacula here and gave birth to the likes of Blackenstein (1973), Ganja & Hess (1973), Sugar Hill (1974), Abby (1974), The House on Skull Mountain (1974), Dr Black and Mr Hyde (1976), J.D.'s Revenge (1976) and the purported Black the Ripper (1976) (although one isn't sure if this actually exists). Most of these offered up standard copies of other horror stories – the vampire film, the Frankenstein tale, the exorcism and possession film – but with Black casts and settings. (For more genre examples see Blaxploitation Cinema).
The notion of a Black version of Dracula reads like a wild idea that must have been concocted over a few too many drinks – as though somebody thought of the rising popularity of the Blaxploitation film and then suddenly had the idea of what would happen if they combined it with the then popularity of the Hammer Dracula films. To its credit, Blacula plays the idea with a singular straight-facedness.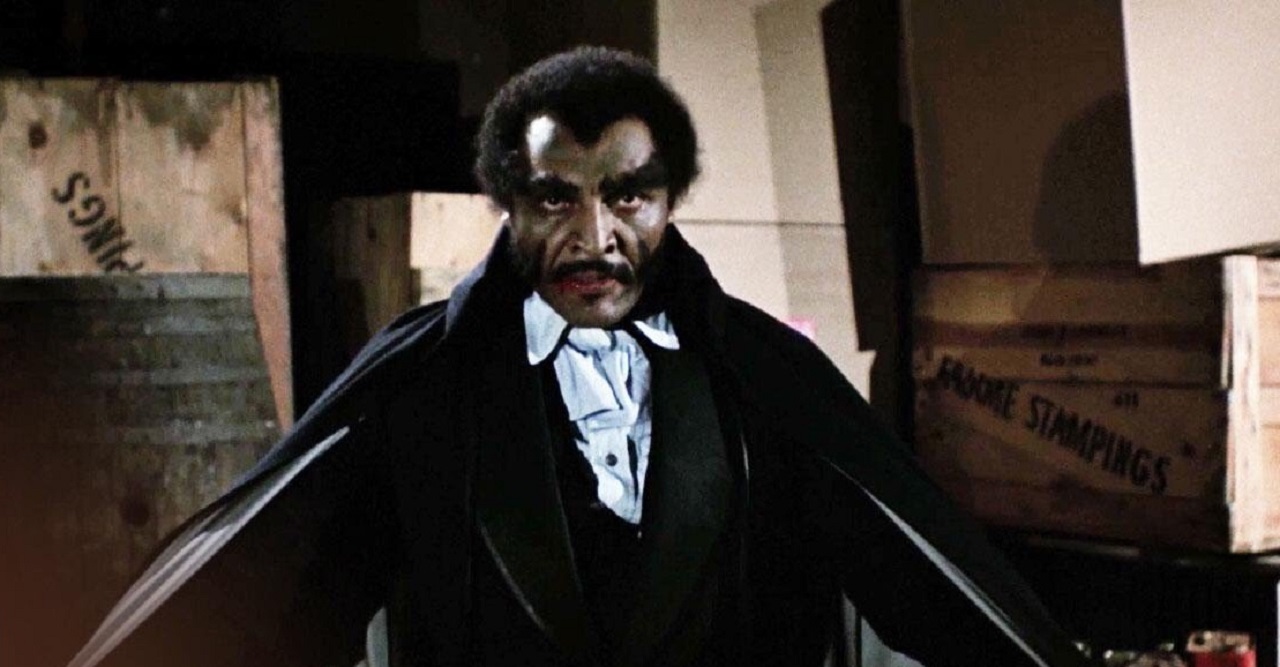 Credibility is not exactly a high point – in one scene, William Marshall follows Vonetta McGee home from a nightclub, bursts into her apartment and explains to her how he is a vampire and she his reincarnated wife and she only pauses to ask if Count Dracula actually existed, before swallowing the entire story. Director William Crain's occasional flashes of would-be style – vampires bursting out of the morgue in slow-motion – are so bizarre as to be fascinating.
William Marshall, sometimes with sideburns, sometimes without, runs about making ridiculous snarls – but with his booming voice, he exudes a dignity that seems to more than compensate the cheesiness of the rest of the film. It is the dignity he provides that allows the ending to become peculiarly touching.
Blacula however misses opportunities by a mile. Dracula (1897), the Bram Stoker novel, comes with an enormous subtext about Dracula as a ravening sexual monster tearing asunder Victorian society. If Blacula could have used the same metaphors to represent racial repression and have created the image of a Black monster representing a repressed racial minority tearing apart society, it could have had greatness. (Dr Black and Mr Hyde, also directed by William Crain, makes a far more substantial use of this dialectic). As it is, Blacula is only a B-movie with no greater pretensions beyond entertaining grindhouse audiences of the day. It, for example, seems undecided between whether Blacula/Manuwalde is a figure of pity or an evil monster.
Scream Blacula Scream (1973), was a sequel and is the better of the two films. Blacula would be an interesting film to see someone attempt to remake today.
---
---