aka Creepers
---
Crew
Director/Producer – Dario Argento, Screenplay – Dario Argento & Franco Ferrini, Photography – Romano Albani, Insect Photography – Ferdinando Armati, Underwater Photography – Gianlorenzo Battaglia, Special Stage Effects – Tonino Corridori, Insect Effects – Maurizio Garrone, Makeup – Sergio Stivaletti, Production Design – Maurizio Garrone, Nello Giorgetti, Luciano Spadoni & Umberto Turco. Production Company – Dacfilm.
Cast
Jennifer Connelly (Jennifer Corvino), Donald Pleasence (John MacGregor), Daria Nicolodi (Frau Bruckner), Dalila DiLazzaro (Headmistress), Federica Mastroianni (Sophie), Patrick Bauchau (Inspector Rudolf Geiger)
---
Plot
Jennifer Corvino, daughter of an American film star, arrives in Switzerland in the area known as 'The Swiss Transylvania' to attend the Richard Wagner School for Girls. She arrives at the same time as a killer starts stalking the girls at the school. She is befriended by the wheelchair-ridden Scottish entomologist John MacGregor who discovers that Jennifer has an ability to telepathically communicate with insects. As she explores her newfound ability, Jennifer realises that this also offers a means of discovering the killer's identity.
---
The films of Dario Argento have an extraordinary wildness to them. They cannot be viewed as rational psycho-thrillers or traditional tales of the occult – they are works that exist almost entirely for the sake of displaying scenes of gratuitous sadism, all presented with a wild artistic flair. Argento's artistic fascination with psychopathology and sadism can take one aback. It is as if Argento treats the human body as though it were an artist's clay that he might pull apart and rearrange as though fascinated to see what sorts of objects might be placed up against or into it.
Many Italo-horrorphiles call Phenomena a slipshod piece of Argento. However, there is much to enjoy – Argento holds one's attention throughout and the plot is neither any more nor any less coherent than any other Dario Argento film. The girls' school setting is admittedly a steal from Suspiria (1977) but Argento only uses it as a springboard and turns the film into a unique detective story. The scenes where Jennifer Connelly realises her psychic powers and starts using the insects to locate the killer are the most fascinating in the film and, although Argento never takes the insect telepathy angle anywhere after introducing it, this slant on a detective story has a uniqueness unlike anything that has ever been done before.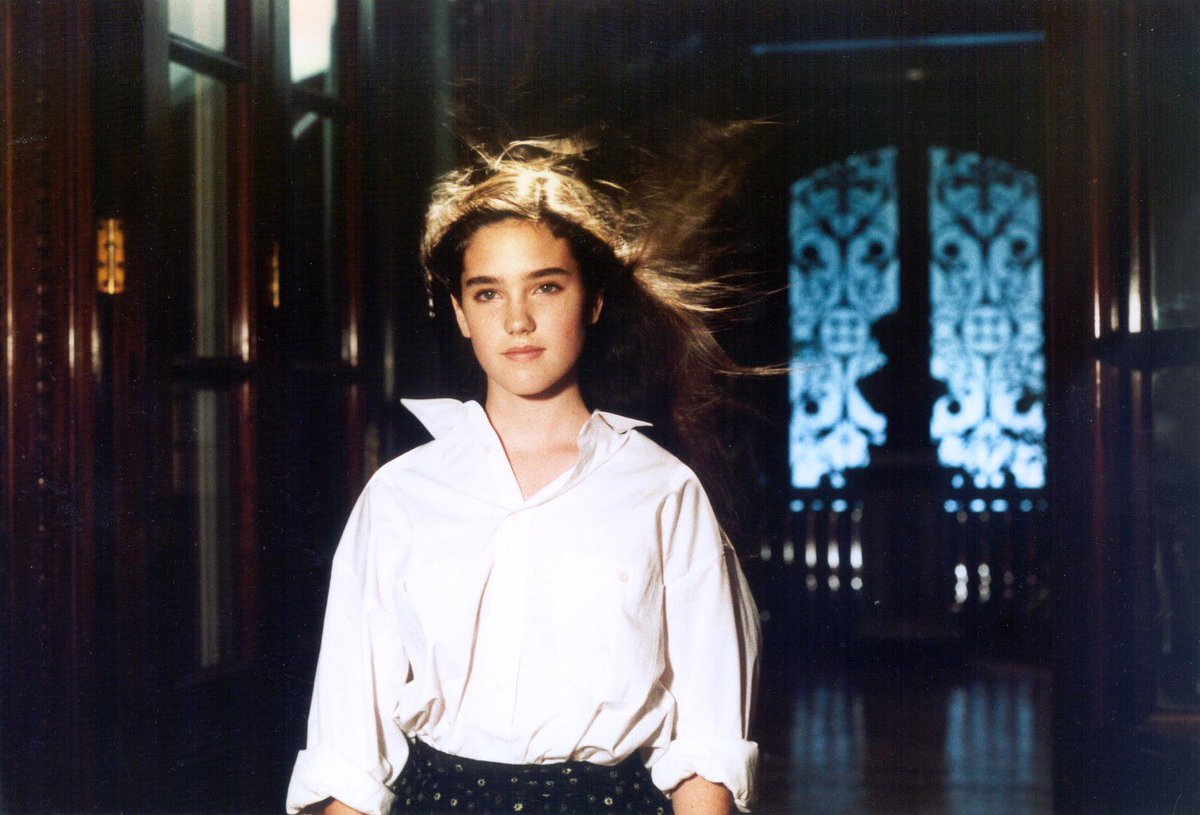 When it comes to his trademark suspense and dismemberment, Argento creates some startling scenes – like where Jennifer Connelly realises that she has been poisoned and starts making herself try to throw up before it affects her. The extended climax is also excellent with wild and weird sequences like where Jennifer Connelly follows a telephone cord down a tunnel into a cellar filled with pools of maggot-ridden dead bodies; or Patrick Bauchau having to break his own hand so that he can get out of a manacle; and Jennifer Connelly's climactic fight with the killer's son, being dragged underwater by him as she tries to flee the burning gasoline in the water.
Jennifer Connelly, then only fifteen years old, turns in a reasonably sophisticated performance and Donald Pleasence lends his kindly if aging presence as the wheelchair-ridden scientist.
Dario Argento's other films are:– The Bird with the Crystal Plumage (1970), The Cat O'Nine Tails (1971), Four Flies on Grey Velvet (1971), Deep Red (1976), Suspiria (1977), Inferno (1980), Tenebrae/Unsane (1982), Opera/Terror at the Opera (1987), Two Evil Eyes (1990), Trauma (1993), The Stendhal Syndrome (1996), The Phantom of the Opera (1998), Sleepless (2001), The Card Player (2004), Mother of Tears: The Third Mother (2007), Giallo (2009), Dracula (2012) and Black Glasses (2022). Dario Argento has also written and produced Demons (1985), Demons 2 (1986), The Church (1989) and The Sect/The Devil's Daughter (1991).
---
Trailer here
Full film available online here:-
---