---
Australia. 1993.<p.
Crew
Director/Based on Short Stories by/Music – Philip Brophy, Screenplay – Philip Brophy & Rod Bishop, Producers – Bishop & Daniel Scharf, Photography – Ray Argall, Special Effects – Filmtrix (Peter Armstrong, Jan Crockett, Jeff Little, Peter Stubbs & Kevin Turner), Makeup Effects – Bob McCarron, Production Design – Maria Kozic. Production Company – Dumb Films/The Australian Film Commission/Film Victoria/Body Melt Pty Ltd.
Cast
Gerard Kennedy (Detective Sam Phillips), Ian Smith (Dr Carrera), William McInnes (Paul Matthews), Regina Gaigalas (Dr Shaan), Vince Gil (Pud), Andrew Daddo (Sergeant Johnno Johnson), Maurie Annese (Gino Argento), Nick Polites (Sal Ciccone), Lisa McCune (Cheryl Rand), Anthea Davis (Slab), Brett Climo (Brian Rand), Adrian Wright (Thompson Noble), Jillian Murray (Angelica Noble), Ben Geurens (Brandon Noble), Amanda Douge (Elouise Noble), Robert Simper (Ryan Brennan), Neil Foley (Bab), Matt Newton (Bronto)
---
Plot
A drug company is conducting illicit tests on the residents of one suburban street. However, the drugs are causing people to mutate and melt down.
---
This Australian entry into the 1980s/early 90s makeup effects driven splatter film stakes launches in with considerable gusto. It has been the only feature film of director/writer/composer Philip Brophy who had previously made the 47-minute horror film Salt, Saliva, Sperm and Sweat (1988).
Body Melt opens with an outre weirdness that holds one's attention – a man makes an escape from a health farm, trying to use detergent to stop himself from melting down at the wheel of his car; another character has drug hallucinations of a woman who isn't there but who then keeps turning back up; and an encounter with a creepily in-bred family that live in a house decked out in Texas Chain Saw Massacre (1974)-styled kitsch.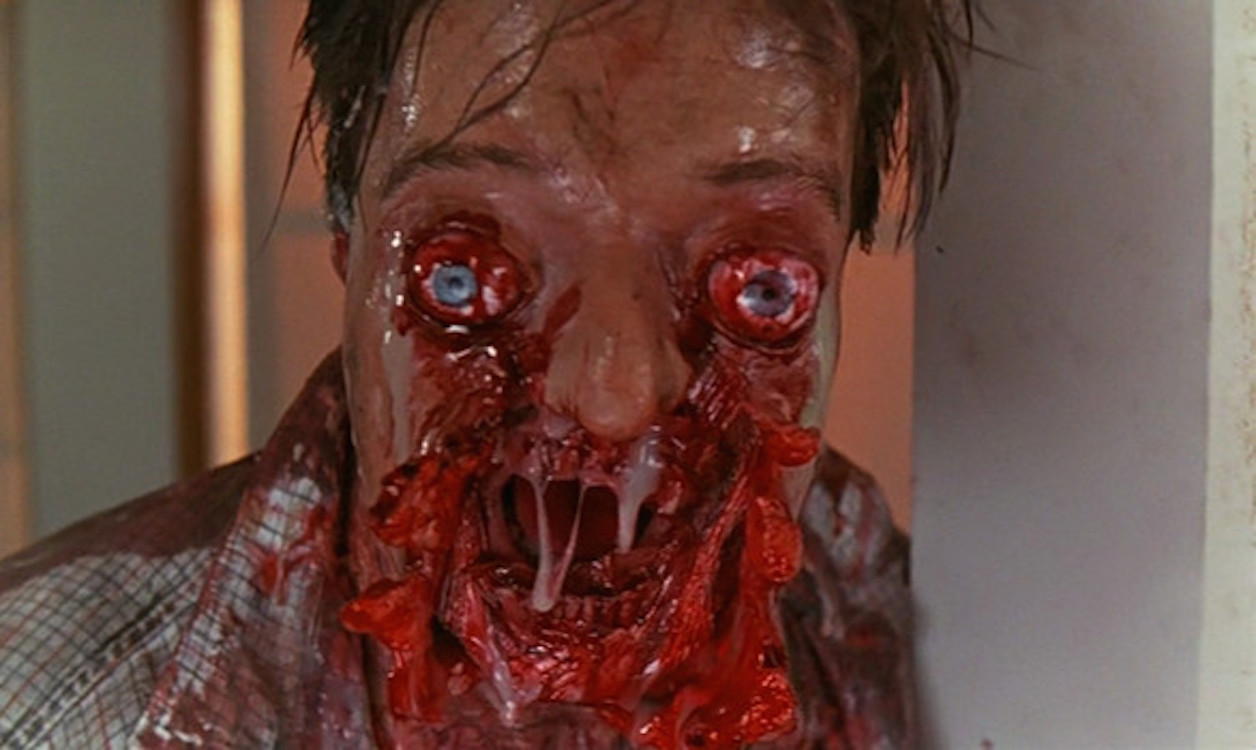 You sit there wondering where on Earth Body Melt is going. The answer promptly pans out to be absolutely nowhere as the film disappointingly proves to be no more than a series of gooey meltdown effects set-pieces that lack any coherent plot to hold them or the show together. The effects set-pieces are not that well accomplished either and are frequently silly.
Body Melt made reasonable play at various international film festivals. Philip Brophy has not made another film since.
---
---