---
Crew
Director – David Zucker, Screenplay – Craig Mazin & Pat Proft, Producer – Robert K. Weiss, Photography – Mark Irwin, Music – James L. Venable, Visual Effects Supervisor – Stuart Robertson, Visual Effects – Digiscope, Kleiser-Walczak, Post Logic (Supervisor – Bill Cotten), R!ot & uY+Co, Special Effects Supervisor – Tom Lazarowich, Makeup Effects – Amalgamated Dynamics (Supervisors – Alec Gillis & Tom Woodruff Jr) & Schimken Studio Inc, Production Design – William Elliott. Production Company – Dimension Pictures/Brad Grey Pictures.
Cast
Anna Faris (Cindy Campbell), Simon Rex (George Logan), Charlie Sheen (Tom Logan), Regina Hall (Brenda Meeks), Leslie Nielsen (The President), Anthony Anderson (Mihalik), Drew Mikuska (Cody), Queen Latifah (Aunt Shaneequa/The Oracle), Pamela Anderson (Becca), Jenny McCarthy (Kate), Camryn Manheim (Sheriff Champlin), Kevin Hart (CJ), Jeremy Piven (Ross Giggins), George Carlin (The Architect), Eddie Griffin (Orpheus), Denise Richards (Annie Logan), D.L. Hughley (Wilson), Ajay Naidu (Sayaman), Marny Eng (Tabitha), Patricia Idlette (Mrs Meeks), William Taylor (Mr Meeks), Jianna Ballard (Sue Logan)
---
Plot
Cindy Campbell is now working as a tv announcer, although her interest in supernatural stories is dismissed by her superiors. She does a story on the messages, possibly left by aliens, that appear in the cornfield of former priest Tom Logan. Cindy is attracted to Tom's slow-witted brother George, a wannabe white rapper. At the same time, Cindy's best friend Brenda sees a videotape that is reported to be cursed, after which she receives a telephone call telling her that she will die in seven days time. Brenda is killed but by then Cindy has seen the tape too. As she tries to piece together the mystery of the girl who appears in the tape, Cindy realizes that the answers are somehow connected to aliens that are planning to land in Tom's cornfield.
---
Scary Movie 3 is the third film in Dimension Films' Scary Movie franchise. It was preceded by Scary Movie (2000) and Scary Movie 2 (2001), both of which were huge hits. Personally, I hate the Scary Movie franchise. While not wishing to sound a prude, the series' only appeal exists in conducting parodies of films in very recent memory and running them over with crude lavatory humour.
For Scary Movie 3, the creative team behind the first two films, director Keenen Ivory Wayans and his seemingly inexhaustible supply of acting/writing family members, have departed for other creative directions. That makes the Scary Movie franchise perhaps one of the few cases in film history where the departure of its principal creative talents is likely to raise the level of the series.
The even greater expectation that Scary Movie 3 held out was that the directorial reins were inherited by David Zucker. David Zucker, along with his brother Jerry and Jim Abrahams, co-directed Airplane (1980), a hit whose manic shotgun-styled visual lunacy and zany inventivity served as inspiration for an entire genre of movie parodies, including the Scary Movie series. Zucker and collaborators went onto direct various other movie parodies, including Top Secret (1984) and creating the tv series Police Squad (1982). David Zucker on his own has directed The Naked Gun: From the Files of Police Squad (1988), BASEketball (1998) and the obnoxious An American Carol (2008), as well as producing High School High (1996), The Onion Movie (2008) and Superhero Movie (2008).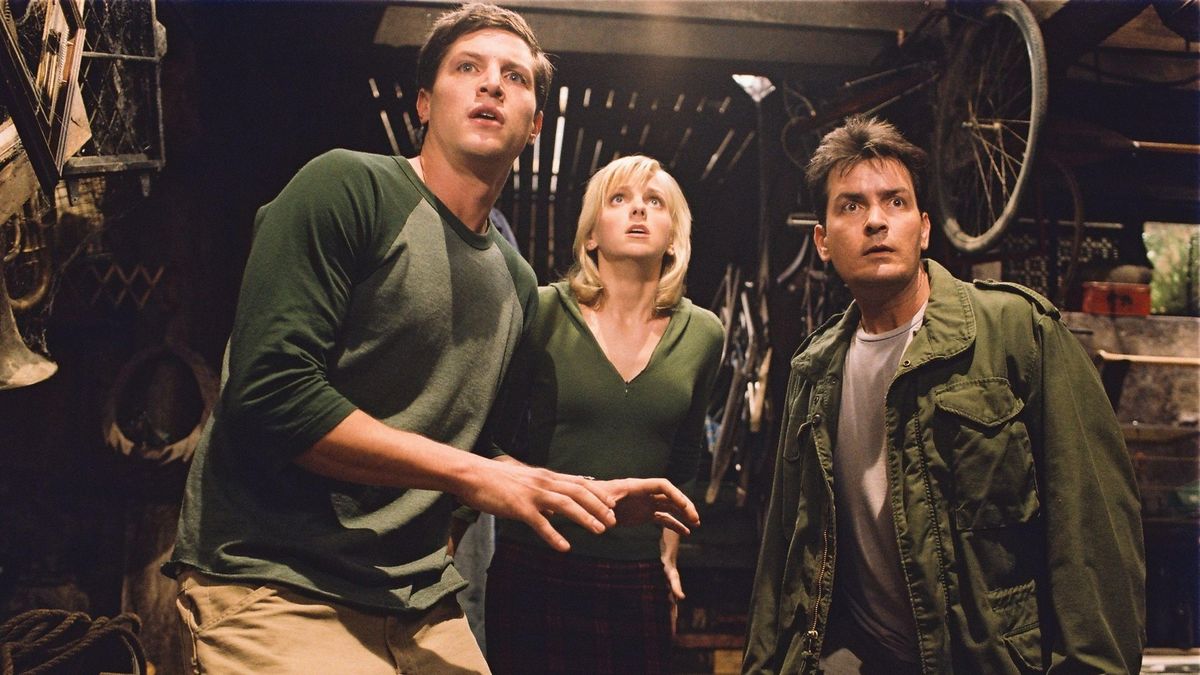 Furthermore, David Zucker has brought with him the two essential actors from this movie parody genre – Leslie Nielsen, who has appeared in about movie parody ever made, and Charlie Sheen, the star of Hot Shots! (1991) and sequel. Not to mention that Zucker has obtained help from Pat Proft, who has written just about every movie parody ever made, including Police Squad, The Naked Gun, Hot Shots!, as well as directing Wrongfully Accused (1998).
With its inheritance by one of the acknowledged founding fathers of this movie parody genre, Scary Movie 3 should have been a laugh-a-minute hit. Only it flops dismally. To its advantage, Scary Movie 3 is not as persistently vulgar and witless as the Wayans brothers' contributions were – that unfortunately means that we only have an emasculated Scary Movie, something that was met with mediocre reception by fans of the series. More to the point, it feels like a sequel that has been made not because there was lots of territory left to explore than it does a film that has been made because the producers felt that the franchise could still be bilked for more money.
By this point, the Scary Movie franchise was starting to seem like one that has exceeded its mandate. Scary Movie sank its teeth into the late 1990s slasher movie revival that was inspired by Scream (1996), while Scary Movie 2 took a bite out of the big supernatural horror movie revival that came in the summer of 1999. However, when it comes to Scary Movie 3, the truth is that there hasn't been any huge 'scary movie' hits since Scary Movie 2 came out for it to draw on. In fact, 2001-3 has been surprisingly free of anything in the way of big horror movie hits. That leaves Scary Movie 3 having to draw on only modestly successful efforts such as The Others (2001) and The Ring (2002), as well as M. Night Shyamalan's Signs (2002), which is a major stretch to even call a horror rather than a science-fiction film.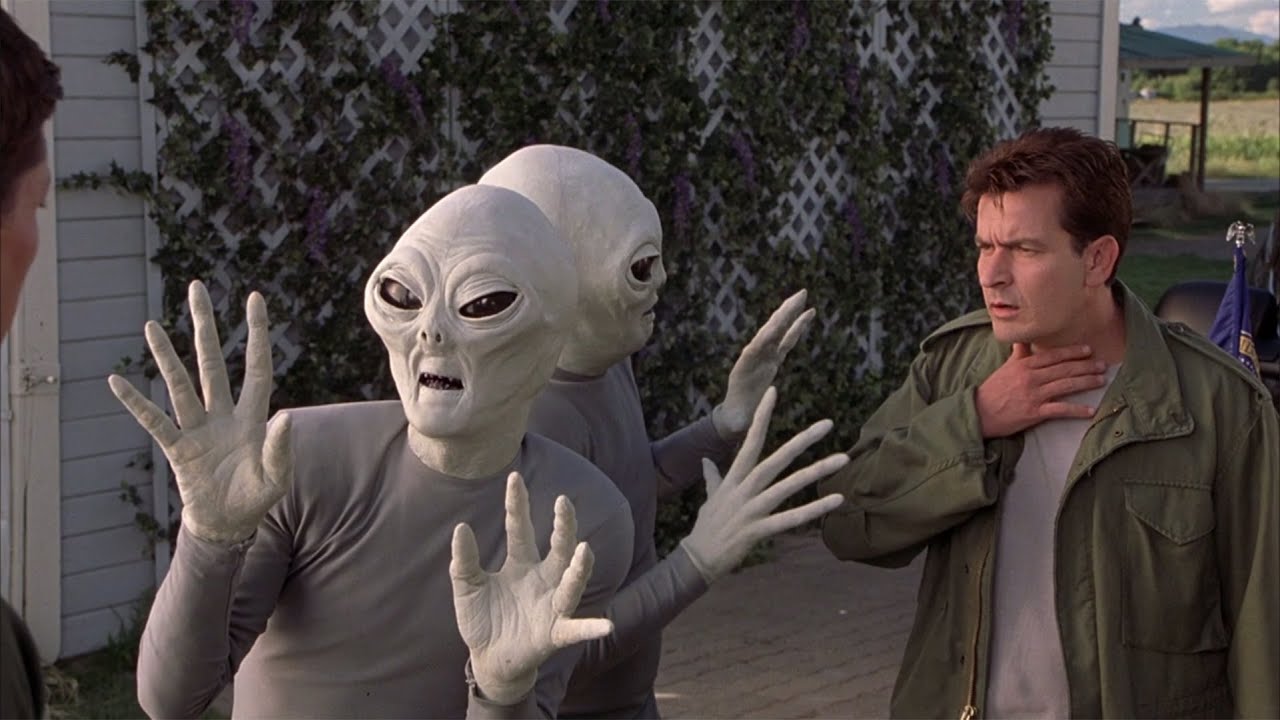 The rest of the film's parodies are not even 'scary movies' at all, with it taking in gags about 8 Mile (2002), The Lord of the Rings: The Two Towers (2002), Bruce Almighty (2003), The Matrix Reloaded (2003) and X2 (2003). There seems a desperation to these parodies, one that has to reach out to everything else around at the moment to the extent that when ends up on screen is no longer even remotely within the realm of being considered a scary movie. And while one always extends much more leniency to comedies/parodies in terms of having to make sense as plots, the principal plot here seems majorly strained trying to tie together The Ring's cursed videotape and Signs's alien invasion.
More importantly, there is not much in Scary Movie 3 that amounts to a funny movie. David Zucker's level of gags is fairly witless – Charlie Sheen gets up and whangs his head on a low-lying lightshade; the parody of the death of the wife flashback from Signs dissolves into Charlie Sheen and then real-life wife Denise Richards arguing over sexual obligations; the ring symbol looking up from the well in The Ring turns out to be a view of a man sitting on an outhouse toilet; in a parody of X2's invasion of the White House, Leslie Nielsen suspects various gathered handicapped are mutants and ends up punching them out; and the grey aliens reveal that kicking people in the crotch is their way of saying goodbye. Zucker and the scriptwriters for some reason make a number of gags about the legendary awfulness of Pootie Tang in "Sine Your Pitty on the Runy Kine" (2001).
The parody of The Others, which reveals the child under the hood is a Michael Jackson lookalike begging Charlie Sheen to come to bed with him, is funny – something that gained a good deal more potency with Jackson's arrest on child molestation charges four weeks after Scary Movie 3 premiered – but the gag was ruined by overexposure in the film's trailers. Pamela Anderson has an amusing pre-credits sequence engaging in self-parody, joking about breast implants, bimbodom and with Zucker ever-so-cautiously tossing in a gag about the mistaking of the famous Pamela and Tommy Lee sex video and The Ring cursed video, which makes Scary Movie 3 seem to be heading in promising directions. It doesn't, unfortunately.
David Zucker and Anna Faris continued with Scary Movie 4 (2006), while Zucker wrote/produced Scary MoVie (2013) with a new cast.
---
---