aka Beyond the Living; Hospital of Terror; Terror Hospital
---
Crew
Director/Based on an Idea by Al Adamson, Screenplay – Michael Bockman & Greg Tittinger, Producer – Mark Sherwood, Photography – Roger Michaels, Visual Effects – Bob LeBar. Production Company – Independent-International Pictures Corp..
Cast
Jill Jacobson (Sherri Martin), Geoffrey Land (Dr Peter Desmond), Marilyn Joi (Tara Williams), Prentiss Moulden (Marcus Washington), Mary Kay Pass (Beth Dillon), Bill Roy (Thomas Reanhauer), J.C. Wells (Stevens), Erwin Fuller (Charlie), Clayton Foster (Dr Nelson)
---
Plot
Thomas Reanhauer, the leader of a small cult, collapses from a heart-attack while trying to conduct a ceremony in the desert to resurrect one of his followers. He is rushed to an L.A. hospital but dies in surgery. Afterwards, Sherri Martin, the nurse that tended him, begins to act strangely and talking in a deep voice. She then starts killing people. Her boyfriend Peter Desmond, a doctor on the ward, realises that she has become possessed by Reanhauer's spirit.
---
Al Adamson (1929-95) is a director whose output very closely resembled that of Edward D. Wood Jr in quality. Adamson made such films as Satan's Sadists (1969), Blood of Dracula's Castle (1969), Horror of the Blood Monsters/Vampire Men of the Lost Planet (1970), Brain of Blood (1971), Dracula vs. Frankenstein (1971), Blood of Ghastly Horror/The Fiend with the Electronic Brain/The Man with the Synthetic Brain/Psycho-a-Go-Go (1972), Cinderella 2000 (1977), Death Dimension (1978) and Carnival Magic (1981), as well as co-directed Dr Dracula (1980). Most of these give the impression of being films where Adamson started shooting but financing ran out and he stitched what he had together with pieces from other films and/or were scenes assembled around getting a former name star fallen on hard times to come in for a day's shooting. Blood and Flesh: The Reel Life and Ghastly Death of Al Adamson (2019) is a documentary about Adamson's life and films.
Nurse Sherri is also known under several different alternate titles (as was the case with almost every one of Adamson's films). It is Adamson's contribution to the 1970s exorcism and possession cycle, which became huge after the massive box-office success of The Exorcist (1973). For a number of years afterwards, B-budget and exploitation filmmakers churned out desultory possession copies.
Nurse Sherri is an oddity among these possession films in that it defies the conventions of the genre. For one, there are no exorcism scenes and priests chanting "the power of Christ compels you." Adamson even eschews any of the shock theatrics of The Exorcist – no barfing, no levitating beds and rotating heads, no cracked face makeup. What we do get is Jill Jacobson talking in a different voice, although rather than a deep demon voice, all she gets to do is speak with a man's voice, as well as kill a couple of people with pitchforks and knives.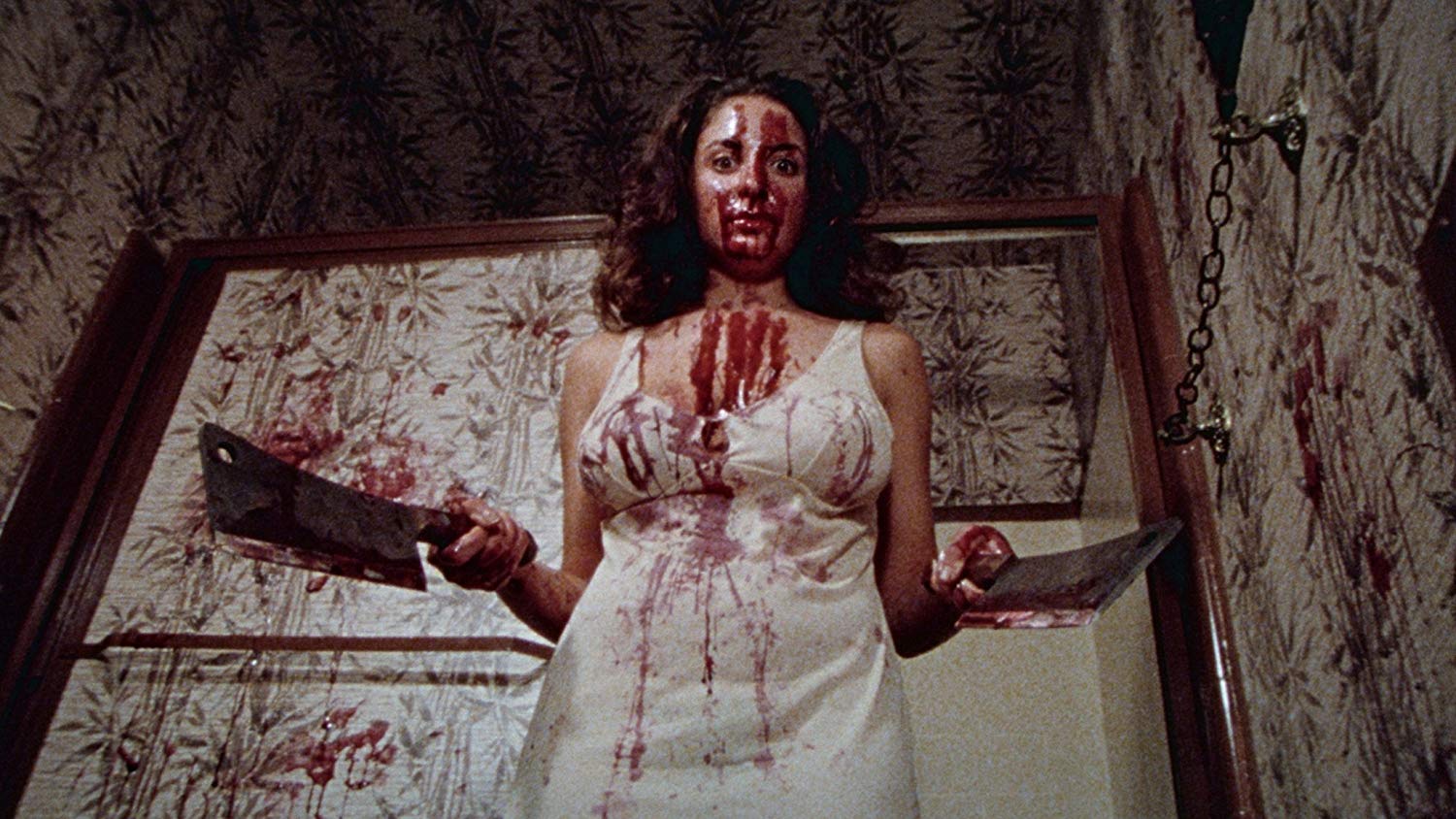 Al Adamson makes a dull film. His pacing is lethargic and nothing much happens for large chunks of the film. He never gained the skill as a director to engage one in scenes so much as he simply points the camera in the general direction and let things play out in front of it. For no apparent reason, there is a car chase scene that takes up a stretch of the middle of the film – although it is not clear why it has been included.
The other negative point about the film is Jill Jacobson as the titular possessee where Jacobson gives a performance that resembles more a Flower Child who has wandered onto the set by accident with no real clue what she is doing there. A far more animated performance is given by Marilyn Joi as her co-worker – you cannot help but think the film would have worked a whole lot better if Joi had been allowed to take the lead role.
---
---