(Seddok, L'Erede di Satana)
---
Crew
Director – Anton Giulio Majano, English Language Version Directed by Richard McManamara, Screenplay – Albert Bevilacqua, Gino De Santis, Anton Giulio Majano & Piero Monviso, English Dialogue – John Hart, Producer – Mario Fava, Photography (b&w) – Aldo Giordani, Music – Armando Trovajoli, Special Effects – Ugo Amadoro. Production Company – Leone Film.
Cast
Alberto Lupo (Professor Alberto Leven), Susanne Loret (Jeannette Moreno), Sergio Fantoni (Pierre Mornet), Roberta Bertea (Sacha), Franca Parisi (Monique Riviere), Ivo Garrani (Police Commissioner Bouchard)
---
Plot
Jeannette Moreno's boyfriend Pierre leaves her because she will not give up her job as a nightclub dancer for him. Distraught, she drives away but has a car crash. She survives but with her face hideously disfigured. Doctors admit there is nothing they can do to save her features. Just as she is about to shoot herself, Jeannette receives a visit from Monique, the assistant of Professor Alberto Leven. Leven offers an experimental technique using Derma 28, a drug he has developed that will cure her face. Jeanette accepts and Leven has eventual success. Seeing Jeanette's true beauty, Leven becomes infatuated with her. However, the treatment starts to fail and Jeanette's face reverts. Realising that she can only be cured with the glands of a young woman, Leven strangles Monique, who is jealous of his attentions towards Jeanette, and uses her glands. When Jeanette's face continues to revert, Leven's only choice is to inject himself with an earlier version of the drug. This transforms him into a monster whereupon he goes out and kills women to obtain their glands.
---
Atom Age Vampire was one of the films that came out during the Italian horror fad of the 1960s. This had largely been started by Mario Bava's Black Sunday (1960). Some genre studies list Atom Age Vampire as a Mario Bava film, having apparently misread the credits and failed to see that it is produced by a Mario Fava.
Atom Age Vampire seems like it has been slung together as a collusion in a number of coinciding genre fads from around the time. The theme of the surgeon obsessed with unorthodox experiments attempting to repair the disfigured beauty of a woman is taken directly from previous year's success of the French Eyes Without a Face (1959), which influenced a number of other films, most notably Jess Franco's The Awful Dr Orloff (1962) and sequels.
The most notable peculiarity about the title is that the film features no vampires – at most, a doctor turned monster stealing woman's glands – nor has anything to do with the Atomic Age, atomic bomb or the usual radiation-produced monsters of the era. The vampire aspect one suspects was slapped on the film when it was released in English in 1963 because of the upsurge of interest in vampire movies following Hammer's Dracula/The Horror of Dracula (1958).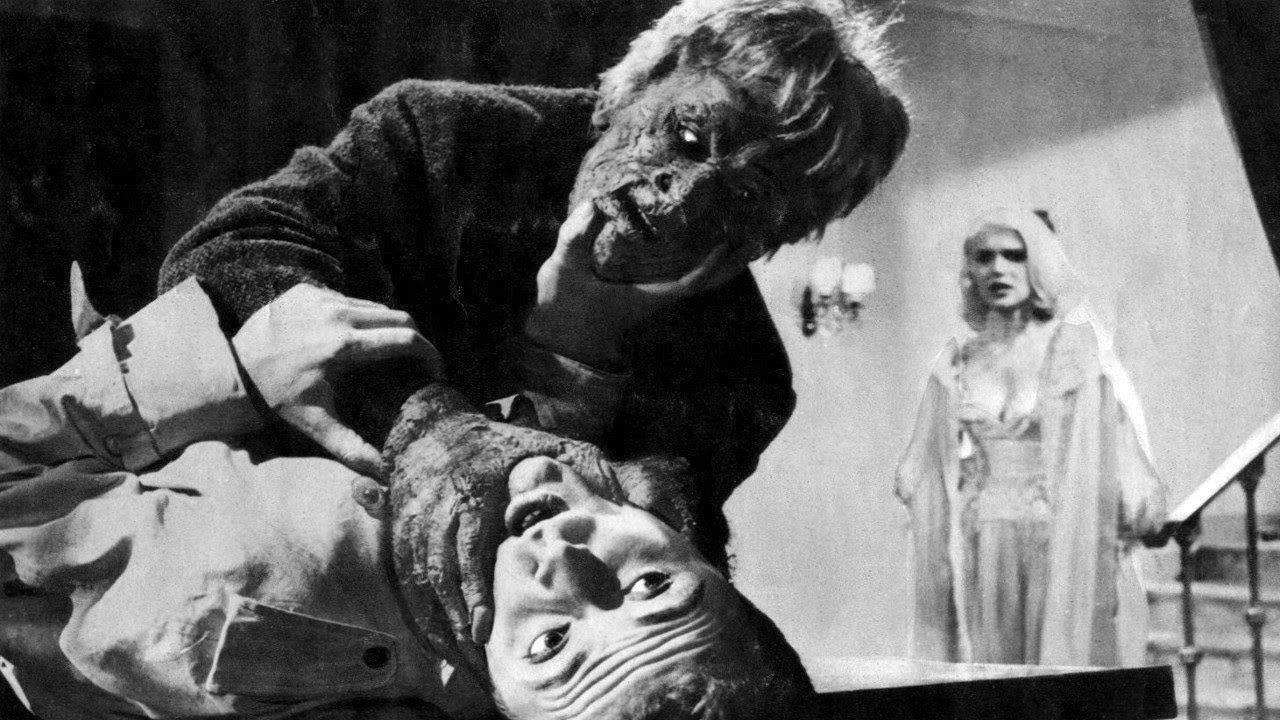 On all counts, Atom Age Vampire is dull. The dubbed dialogue is stilted and flat. Anton Giulio Majano's direction is pedestrian. At most, the horror element amounts to a PG-rated torridness. As the crazed scientist, Sergio Fantoni has a suitably creepy presence – if this were a 1940s film, this is a role that would mandatorily be played by either Bela Lugosi or George Zucco. In truth, what we have is a 1940s mad scientist film that is posing at 1950s atomic bomb fears. The business about the scientist harvesting glands for rejuvenation treatments is as old as one of the first ever mad scientist film, the silent A Blind Bargain (1922) and had undergone a revival a couple of years earlier in I Vampiri (1957), the first film of the Italian Continental Gothic fad.
Director Anton Giulio Majano had a long career in Italian cinema and tv that lasted from the 1930s to the 1980s. He never ever entered genre material again, although did adapt a two-part film from libertarian philosopher/science-fiction writer Ayn Rand's non-genre novel We the Living (1936) during the 1940s.
---
Trailer here
Full film available online here:-
---