---
Crew
Director/Screenplay – David S. Goyer, Producers – Peter Frankfurt, David S. Goyer, Lynn Harris & Wesley Snipes, Photography – Gabriel Beristain, Music – Ramin Djawadi & The RZA, Visual Effects Supervisor – Joe Bauer, Visual Effects – Amalgamated Pixels, CafeFX Inc (Supervisor – David Ebner), Digital Domain (Supervisor – Benoit 'Ben' Girard), Giant Killer Robots (Supervisor – John Vegher), Milne FX, Pixel Magic (Supervisor – Raymond McIntyre Jr), Miniatures – Cinema Production Services, Previsualization – Image Engine & Pixel Liberation Front, Special Effects Supervisor – Rory Cutler, Makeup Effects – Michael Elizalde, Production Design – Chris Gorak. Production Company – Marvel Entertainment/New Line Cinema/Imaginary Forces/Amen Ra Films.
Cast
Wesley Snipes (Blade), Jessica Biel (Abigail Whistler), Ryan Reynolds (Hannibal King), Dominic Purcell (Drake/Dracula), Kris Kristofferson (Whistler), Parker Posey (Danica Talos), Mark Berry (Chief Martin Vreede), John Michael Higgins (Dr Edger Vance), Triple H (Jarko Grimwood), Natasha Lyonne (Sommerfield), Callum Keith Rennie (Asher Talos), Haili Page (Zoe), James Remar (Agent Ray Cumberland), Anthony Michael Rawlins (Agent Wilson Hale), Patton Oswalt (Hedges), Christopher Heyerdahl (Caulder), Eric Bogosian (Bentley Tittle)
---
Plot
The vampires discover the tomb of Dracula (or Drake), the prime vampire, in Iraq and find him still alive. They also set Blade up, filming him killing a human after he is fooled into believing it is a vampire and then releasing the tapes to the media. Blade is arrested in an armed FBI raid, during which Whistler sacrifices his life. Blade is then freed from custody in an armed breakout by a group of new young vampire hunters who call themselves The Night Stalkers and say they want to join forces with him. They show him Daystar, a virus they have created that will eliminate vampires – but this needs to be mixed with Drake's blood in order to be effective. Blade agrees to join forces and the group set out to hunt down Drake. However, being the first and most pure vampire, Drake proves far tougher than all of the others put together.
---
This was the third of the Blade movies. Adapted from a Marvel Comic book, the first film, Blade (1998) was a reasonable success. The gem of the series proved to be Blade II (2002) wherein director Guillermo Del Toro brought an incendiary touch with the action balletics that made the film unforgettable. Indeed, the character of Blade seems to have had a far greater success during his screen incarnations than he ever did in his original Marvel comic book outings.
The one staple of all three Blade films, aside from the starring presence of Wesley Snipes and Kris Kristofferson, is the scripting hand of David S. Goyer. David S. Goyer is a smart and intelligent writer who has worked on a number of genre films where he has shown an astute genre savvy. Goyer gained a foothold in the industry writing for Full Moon Productions with B-budget efforts like Demonic Toys (1992) and Arcade (1994) and then went onto other A-budget scripts for the likes of the Jean-Claude Van Damme action vehicle action film Death Warrant (1990), the alien body snatchers film The Puppet Masters (1994) and Dark City (1998), which is probably the finest science-fiction film of the 1990s. However, it is for his screen adaptations of various comic books that Goyer has become known. These include the likes of The Crow: City of Angels (1996), a tv pilot based on Marvel's Nick Fury, Agent of Shield (1998), the three Blade films, Batman Begins (2005), Batman: Gotham Knight (2008), The Dark Knight (2008), The Dark Knight Rises (2012), Ghost Rider: Spirit of Vengeance (2012), Man of Steel (2013), Batman V Superman: Dawn of Justice (2016) and Terminator: Dark Fate (2019), as well as executive producer on Ghost Rider (2007). Goyer has also produced the genre tv series' Sleepwalkers (1997) about dream researchers, FreakyLinks (2000) about paranormal investigators, Threshold (2005) about the investigation of a UFO, the film adaptation of the Marvel Comic Ghost Rider (2007), the tv series Flash Forward (2009-10) about a mysterious worldwide premonition, the tv series DaVinci's Demons (2013-5) about a fantastical secret history of Leonardo Da Vinci, the tv series adaptation of Constantine (2014-5), the ghost story The Forest (2016), the robot dog film A-X-L (2018), the animated web series Constantine: City of Demons (2018), the Superman prequel tv series Krypton (2018-9), the A.I. film Tau (2018), the ghost story The Night House (2020). the wendigo film Antlers (2021), the tv series' Foundation (2021- ) and The Sandman (2022- ), and the remake of Hellraiser (2022). Goyer was allowed to take the directorial reins of the series with Blade Trinity. Goyer had previously made his directorial debut with the non-genre ZigZag (2002), an excellent little-seen film concerning an autistic boy's troubles in an inner-city neighbourhood and would subsequently go onto make the ghost story The Invisible (2007) and the possession film The Unborn (2009).
The essential problem that David S. Goyer is faced with with Blade Trinity is that Guillermo Del Toro raised the bar so high with Blade II that it makes for an exceedingly hard act to follow. The mainstream critics responded to Blade Trinity with fairly knee-jerk reactions, calling it tired, hackneyed etc. One suspects however that a film like Blade Trinity is one whose virtues are mostly appreciated by a body of hardcore fans. In fact, Blade Trinity is not at all a disappointment. It is not quite Blade II, but certainly stands head and shoulders above Blade.
Directorially, David S. Goyer has followed Guillemo Del Toro's lead and gone for the same pyrotechnic, high-energy action sequences and coolly stylised poses. That said, the action element is not as much at the forefront as it was in Blade II – it doesn't take a backseat to but does at least have equal time with the story, which was one of the less developed aspects of Blade II. Goyer sets up a number of exhilarating action sequences – the credits opening scenes with Wesley Snipes blowing up a vampire factory and then engaging in a high-speed car chase, staking vampires as they dive on top of his car; the armed rescue from the police station; and the climactic battle invading the vampire lair. Goyer does well here – every move, every appearance from Wesley Snipes seems like a wonderfully stylised graphic novel panel. It is only the fact that the film stands in Del Toro's shadow that makes these sequences seem any the lesser. On its own terms, Blade Trinity certainly has an exhilarating kick.
David S. Goyer also has an ability to pack the background of the film with imaginative touches. Here, as in Blade II, he seems to have derived great enjoyment from throwing all manner of ideas and creative spins on the vampire concept – vast farms where vampires harvest the homeless as cattle; Parker Posey as a vampiric femme fatale who has teeth in her vagina; blood substitute inhalers; WWF wrestler Triple H as a vampire heavy with engraved steel fangs; viruses that have been engineered for the elimination of vampires; even genetically crossbred vampire Dobermans and Pomeranians. Not to mention a wild array of new weaponry, including Jessica Biel heading into action wielding a hi-tech crossbow with tips that drill through doors and a cool looking device that folds out into something between a Klingon batleth and a ultraviolet lightsabre.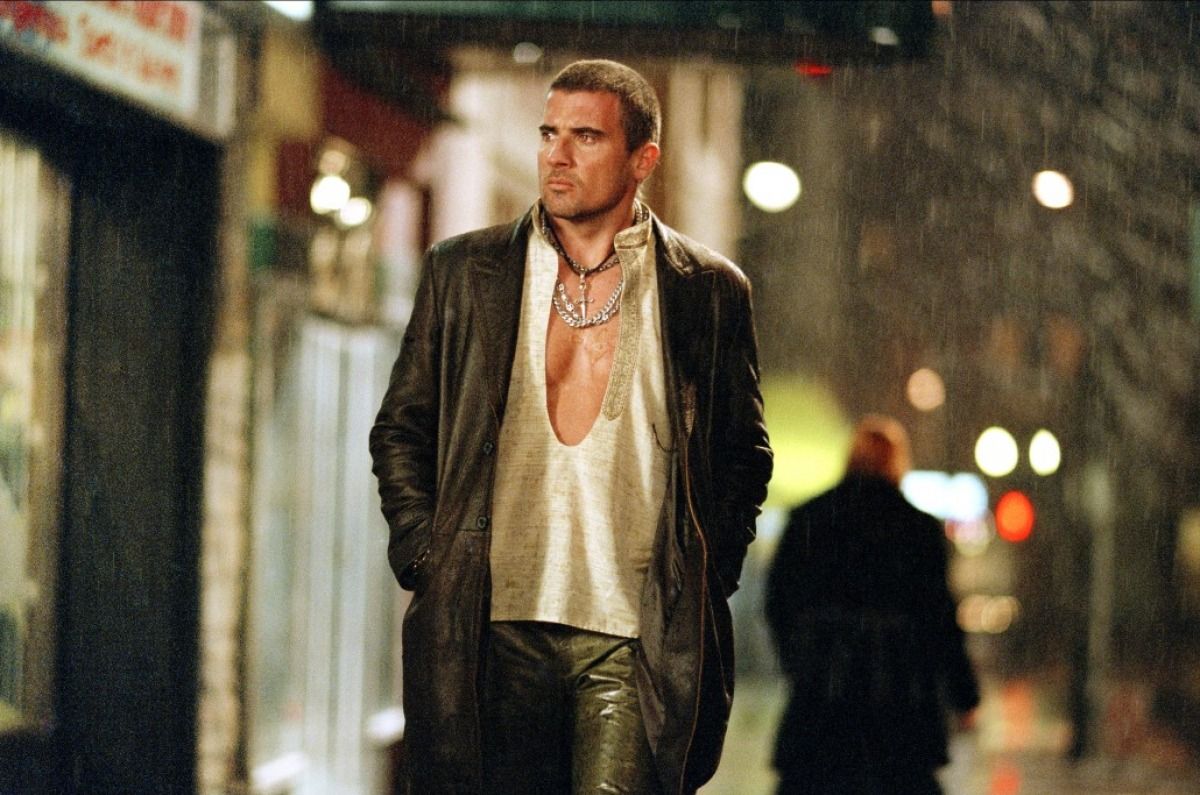 Goyer writes wryly cynical dialogue – indeed, Ryan Reynolds' lines in the film seem to consists of nothing other than sarcastic backchat. Although, the scene that stands out the best in the film is the one where Parker Posey has Ryan Reynolds chained up and threatens to put the bite on him and leave him suffering without blood until the hunger overcomes all – and to then bring the young girl in to him. It is a scene that holds a wonderfully nasty chill and is a superb piece of writing.
The film also comes with a number of cute asides and in-references – when Ryan Reynolds first mentions the name of Dracula, he picks up a copy of Marvel's The Tomb of Dracula, the comic that the character of Blade first appeared in in 1973; or the wounded Reynolds sitting in bed watching the ultra-obscure William Shatner Esperanto horror film Incubus (1965). There is a funny scene where a police psychologist (John Michael Higgins) tries to analyse Blade where Goyer gets to throw some amusing barbs in the direction of the classical sexually symbolic readings of the vampire. Although the most amusing scene is where Dracula enters a Goth novelty shop and enacts his rage after seeing his name used to promote items like plastic teeth, vibrators and Count Chockula cereal.
The introduction of Dracula as a character is something that one feels dubious about. Well, okay, Blade was originally created as a nemesis for a comic book The Tomb of Dracula, which had Dracula as a central character. While other modern vampire films have raised Dracula as a character – tv's Buffy the Vampire Slayer (1997-2003), Dracula 2000 (2000), Van Helsing (2004) and the meeting with the vampire prime in John Carpenter's Vampires (1998) – they have failed to offer up an epic enough battle to go with such an iconic character. Blade Trinity faces the same problem. Dominic Purcell certainly has an intense presence as Dracula (where Goyer makes an interesting decision to play Dracula as a stocky steroid-pumped bodybuilder rather than dark and magnetic as he is usually seen on screen) and a couple of potent speeches, but Goyer never gives Dracula as big a stage as one would have liked to have seen. Indeed, the character of Drake is almost overshadowed by an unrecognisable Parker Posey who gives a wonderfully venomous and cynical performance as the aforementioned Gothed-out vampire with vaginal teeth.
The character of Blade was subsequently spun out in a tv series Blade: The Series (2006) with Wesley Snipes replaced by Sticky Fingaz, but this was cancelled after twelve episodes. In 2019, Marvel announced they would be rebooting the character of Blade within the MCU starring Mahershala Ali.
(Nominee for Best Supporting Actress (Parker Posey) and Best Makeup Effects at this site's Best of 2004 Awards).
---
---