---
Crew
Director – Stephen T. Kay, Screenplay – Marinda Chana, Producer – Hassain Zaidi, Photography – Luc Montpellier, Music – Jonathan Goldsmith, Visual Effects – Switch VFX (Supervisor – Jon Campfens), Special Effects Supervisor – Mark Ahee, Makeup Effects Design – Paul Jones, Production Design – Mark Gabriel. Production Company – Access Motion Pictures/Hassain Zaidi Productions
Cast
Eric Balfour (Michael Gray), Michael Rooker (Ray Clement), Bruce Greenwood (Warden Joseph Sands), Deborah Valente (Audrey Davis), Rothaford Gray (Jefferson), Viv Leacock (Six), Marie-Josee Colburn (Claire), Tamara Gorski (Lynn), Patrick Stevenson (Charlie Johnston)
---
Plot
Michael Gray is a successful defence attorney, having gotten many convicted criminals off using sometimes underhand methods. Michael goes to South River State Penitentiary as he prepares to have convicted child killer Charlie Johnston released. Instead, Charlie grabs Michael's hand and then stabs the pen he is holding into his own throat. When the guards burst in, they find Michael standing over the dead body holding the pen and with blood on his hands. He is arrested and duly sentenced to South River. He is placed in solitary confinement in Charlie's old room Cell 213. In solitary, Michael's mind begins to wander and he experiences hallucinations that drive him to the point of suicide. At the same time, Audrey Davis arrives from the State Prosecutor's Office to conduct an investigation into reports of excessive brutality by the guards where she uncovers cruelties that this may have led to the suicides of an alarming number of inmates.
---
I must admit that Cell 213's lobby poster made me do a double take – the legend "from the acclaimed horror director Stephen Kay." The immediate response was "what acclaimed horror director Stephen Kay? I thought I knew all the acclaimed horror directors." This was before I realised that the poster was talking about Stephen [T.] Kay. Kay's so-called 'acclaimed' horror career has consisted only of the eminently forgettable tv movie ghost story The Dead Will Tell (2004) and the near-laughable theatrical release Boogeyman (2005), a film that was so incoherently plotted that it only earned a single star on this site. That is unless one wants to start counting true crime tv movies such as The Hunt for the BTK Killer (2005), The Craigslist Killer (2011), Justice for Natalee Holloway (2011), Blue-Eyed Butcher (2012) and Lizzie Borden Took an Ax (2014). If one were to apply Wikipedia guidelines, Stephen Kay's 'acclaimed' status would surely be flagged as an unsourced weasel word statement that is nothing more than the manufactured hyperbole of a publicity department.
Before sitting down to watch Cell 213, I thought the description held intriguing potential – "God and the Devil have been fighting for souls since mankind first laid foot on earth. Their battle continues in Cell 213 over cocky young attorney Michael Gray." It suggested something that seemed to sit halfway between The Devil's Advocate (1997) and perhaps the scenes between George C. Scott and Brad Dourif in the latter half of The Exorcist III (1990).
Soon after Cell 213 starts, the battle for the lawyer's soul aspect evaporates. In fact, it becomes hard to get a handle on what the film is about, as there seem to be a several competing plots going on at once. One of these is about lawyer Eric Balfour locked away in a cell and being haunted by sinister figures and illusions that are driving him to the point of madness and suicide – here Cell 213 seems to be trying to be a ghost story or maybe something akin to Repulsion (1965) showing the subjective process of someone mentally cracking. There is also another story going on observing Eric Balfour and his struggle to fit in to the harsh world of a US maximum security prison. Here Stephen Kay does an okay job of portraying the prison environment and the codes that operate there. There is a third story about Deborah Valente and her investigation into the prison, where we get the impression we are watching a mundane thriller about her exposing the institution's corrupt secrets.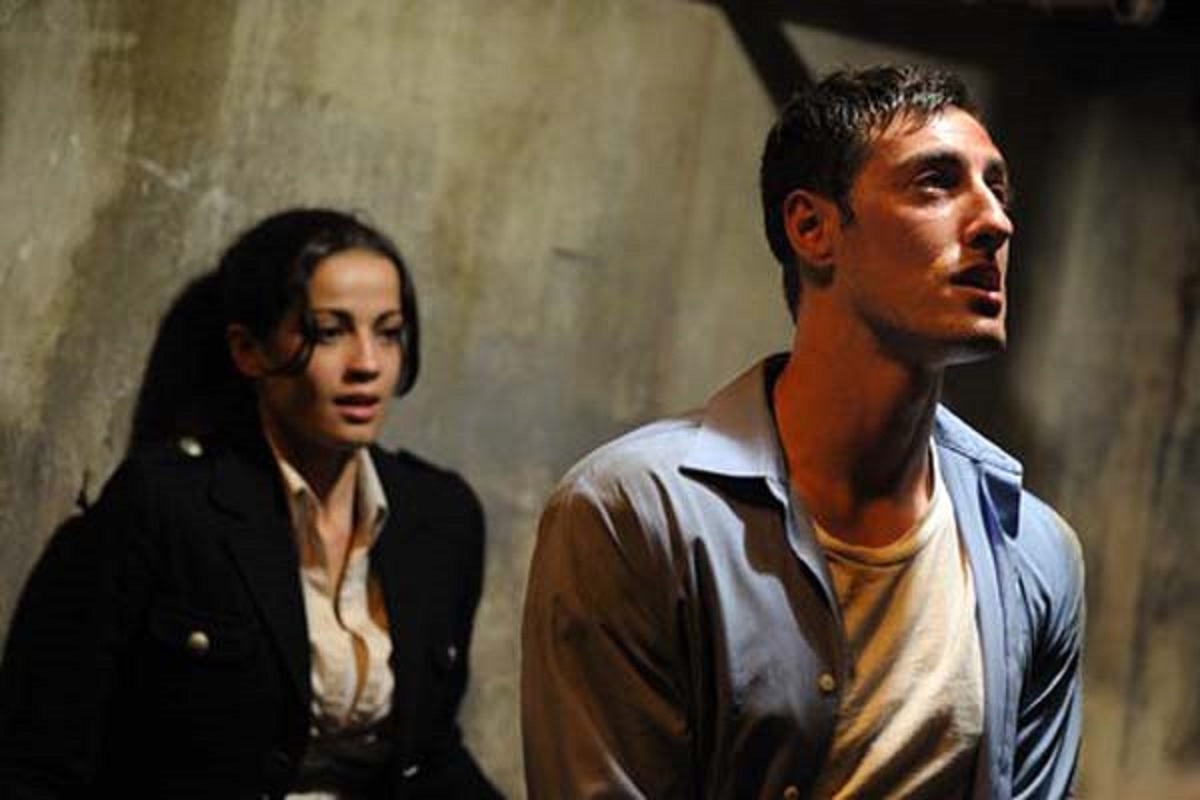 I felt increasingly frustrated by the film's swaying between these various plotlines while refusing to give us any easy clues as to where it was going. In fact, given the prominence of these last two stories, you start to wonder if what you are watching is a horror film at all and not a mundane maximum security prison drama along the lines of something like Ghosts … of the Civil Dead (1988) or Bronson (2008). It was these same narrative vaguries that plagued Stephen Kay's Boogyeman, a film that left you entirely confused by the end of it as to what was going on.
Equally, the attempts to portray Eric Balfour's descent into madness with images of children's dolls flushing up out of the toilet, appearances of a man with one eye falling out, visions of murders, piles of rags that start bleeding, Bible verses appearing on the walls and creeping up around Eric Balfour's arms, the bed turning into burning ashes seem like overkill. We more than clearly get the idea that we are inside a man's fraying mental space but the constant profusion of horror effects, all of which come amplified via maximum surround stereo impact that is constantly physically impacting on our senses, seems to be building too much out of too little. Forgotten anywhere inside of this seems to be Eric Balfour's redemption, which the film seems to be wanting to be about but only occasionally remembers to get back to. The quieter dramatic scene where Eric Balfour's ex reveals what he was responsible for or his going to confess to the priest deliver far more clues about what is going on than Kay's constant straining for horror effects.
[PLOT SPOILERS] Cell 213 eventually boils down to an overwrought allegory for the redemption of Eric Balfour's soul. There is some muddled talk at the end where Deborah Valente realises that the prison and the cell is an allegorical place where God and The Devil fight for supremacy over someone's soul. The titular cell number 213 is symbolically representative of a Bible verse. In the last scene, Deborah Valente asks Bruce Greenwood if he is God or The Devil and he simply walks away smiling enigmatically.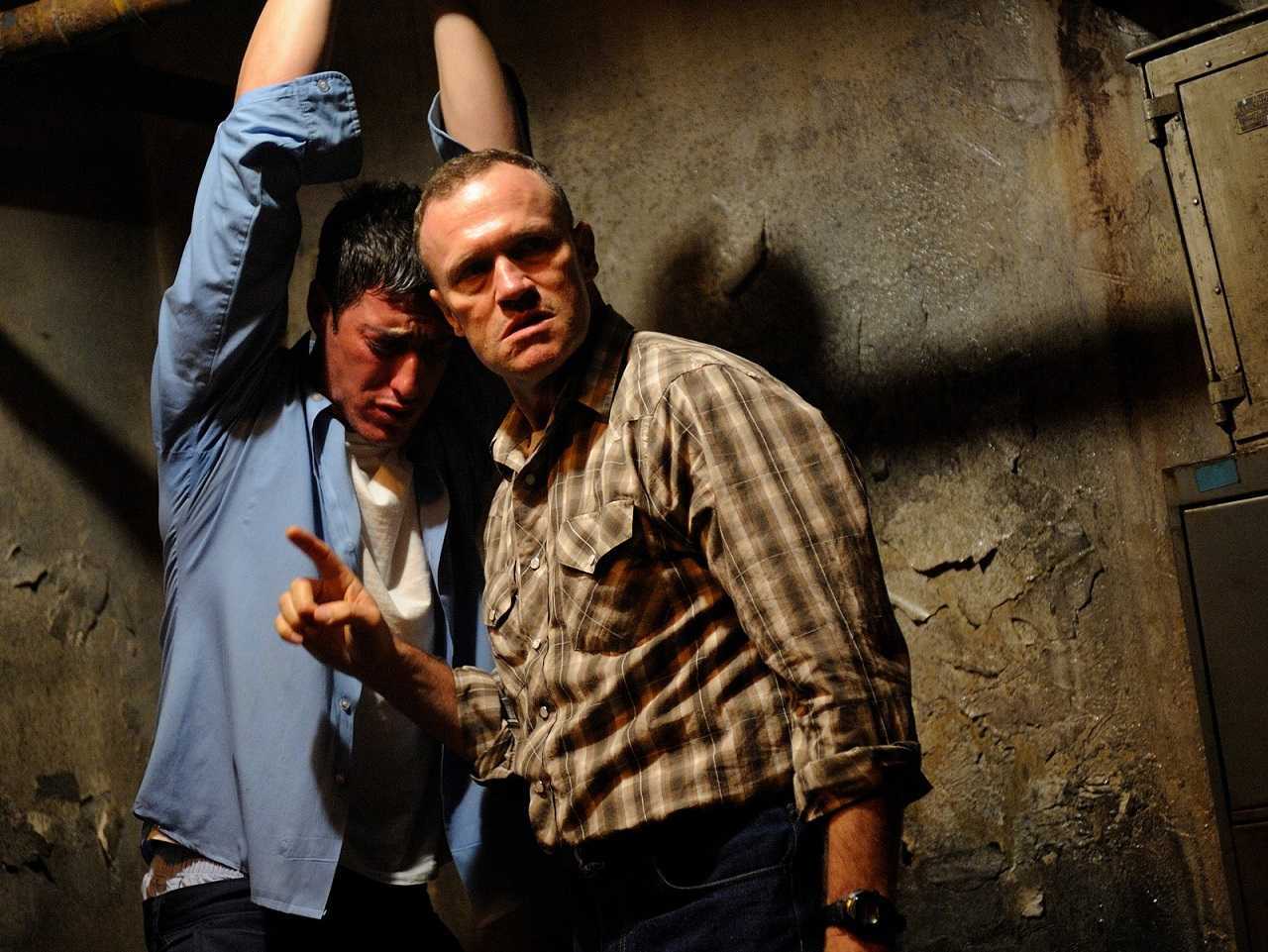 This seems a lame and contrived allegory. Moreover, it is one that makes large stretches of the preceding film seem nonsensical. I am not at all sure how a scene where Eric Balfour ties Viv Leacock, the prisoner who has purchased him as his bitch, to a morgue table and fills him with embalming fluid under the directions of the ghostly man with the eye falling out are meant to fit into this at all. The end revelation also makes Deborah Valente's investigation into the prison and Bruce Greenwood's seemingly sinister behaviour into wilful misdirection. I was also unable to figure out how the revelation that Michael Rooker's wife had left him but he keeps pretending that she is still there had anything to do with the rest of the film.
Cell 213 at least works well in the casting department. Eric Balfour is an actor who has been on one's radar for some time as a rising name who is well overdue a leading part. He holds up capably in the role of the lawyer, even if the part is not written with anything that requires a major stretch from him. Bruce Greenwood is the most veteran actor in the cast, although his insistence on playing the part with a certain sleaziness verges on one-dimensional, even campy.
The one having an absolute field day is Michael Rooker. Ever since his signature role in Henry: Portrait of a Serial Killer (1986), Rooker has specialised in roles such as this – mean, tight-lipped and suggesting the type of ornery redneck that likes to get drunk and then go home and beat his wife up for sport. The role he has been given here is one that plays into exactly this type of casting and Rooker goes for broke with it.
---
---