---
Crew
Director – Dean Devlin, Screenplay – Brandon Boyce, Producers – Dean Devlin, Rachel Olschan-Wilson & Marc Roskin, Photography – David Connell, Music – Joseph LoDuca, Visual Effects – Electric Effects. Inc., Special Effects Supervisor – Bill Boggs, Production Design – Nate Jones. Production Company – Electric Entertainment/Global Pictures Media.
Cast
Robert Sheehan (Sean Falco), David Tennant (Cale Erendreich), Kerry Condon (Katie), Carlito Olivero (Derek Sandoval), Tracey Heggins (FBI Agent Olivia Fuller), Jacqueline Byers (Riley Seabrook), Robert P. Nagle (Don Falco), David Meyers (Nino), Tony Doupe (Detective Wayne Bannyon), Lorraine Bahr (Patty Falco)
---
Plot
In Portland, Oregon, Sean Falco is an Irish immigrant who works as car valet at an Italian restaurant. Sean and his co-worker Derek Sandoval operate a scheme where as soon as they obtain the diner's cars and keys, they head to the owners' homes and rob them. This particular night, Sean takes the Maserati of wealthy Cale Erendreich. He heads to rob Cale's home only to enter the office and discover a woman bound in a chair. Back at the restaurant, Cale is leaving and wants his car so Sean has to leave in a hurry but tips off the police about the bound woman. Cale is able to brush this off but then works out that it is Sean who was responsible. He breaks into Sean's apartment and steals his passwords. He then proceeds to make life a misery for Sean, having him and his parents fired from their jobs, distributing nude pictures of Sean's girlfriend and then hospitalising her. All the while, Sean tries to convince the police and FBI that Cale has a woman prisoner. When they refuse to take him seriously, he sets out to rescue the girl himself.
---
Dean Devlin is mostly known for his collaborations with Roland Emmerich. Devlin started in the industry as an actor – he can be seen in small parts in films like Real Genius (1985) and Martians Go Home (1990). The turning point came when he appeared in a supporting role in Roland Emmerich's Moon 44 (1990). Devlin and Emmerich hit it off and formed a partnership that lasted for the next decade with Emmerich directing, Devlin producing and the two of them usually writing. Between them, they made works Universal Soldier (1992), Stargate (1994), Independence Day (1996), Godzilla (1998) and The Patriot (2000), as well as creating-producing the tv series The Visitor (1997). Devlin and Emmerich appeared to part ways after producing Eight Legged Freaks (2002), although did reteam a few years later for Independence Day: Resurgence (2016).
Following his split with Emmerich, Devlin produced various works such as Cellular (2004), the tv mini-series The Triangle (2005), the trio of tv movies The Librarian: Quest for the Spear (2004), The Librarian: Return to King Solomon's Mines (2006) and The Librarian: The Curse of the Judas Chalice (2008) and the tv series The Librarians (2014-8), Leverage (2008-12) and The Outpost (2018– ). Devlin had directed several episodes of The Librarians and then made his theatrical debut with Geostorm (2017), a misguided attempt to create a Ronald Emmerich-styled mass destruction disaster movie that proved a flop. Bad Samaritan was Devlin's second directorial film.
Following Geostorm, I had no high hopes of Bad Samaritan. That said, the film has a premise that hooks you from the outset. It resembles the plots of films like The People Under the Stairs (1991), The Collector (2009), Don't Breathe (2016), Monster Party (2018), Villains (2019) and The Owners (2020) in which thieves break in to the homes of wealthy people to conduct a robbery only to encounter serial killers and/or become imprisoned and hunted through the house. (See Home Invasion Thrillers).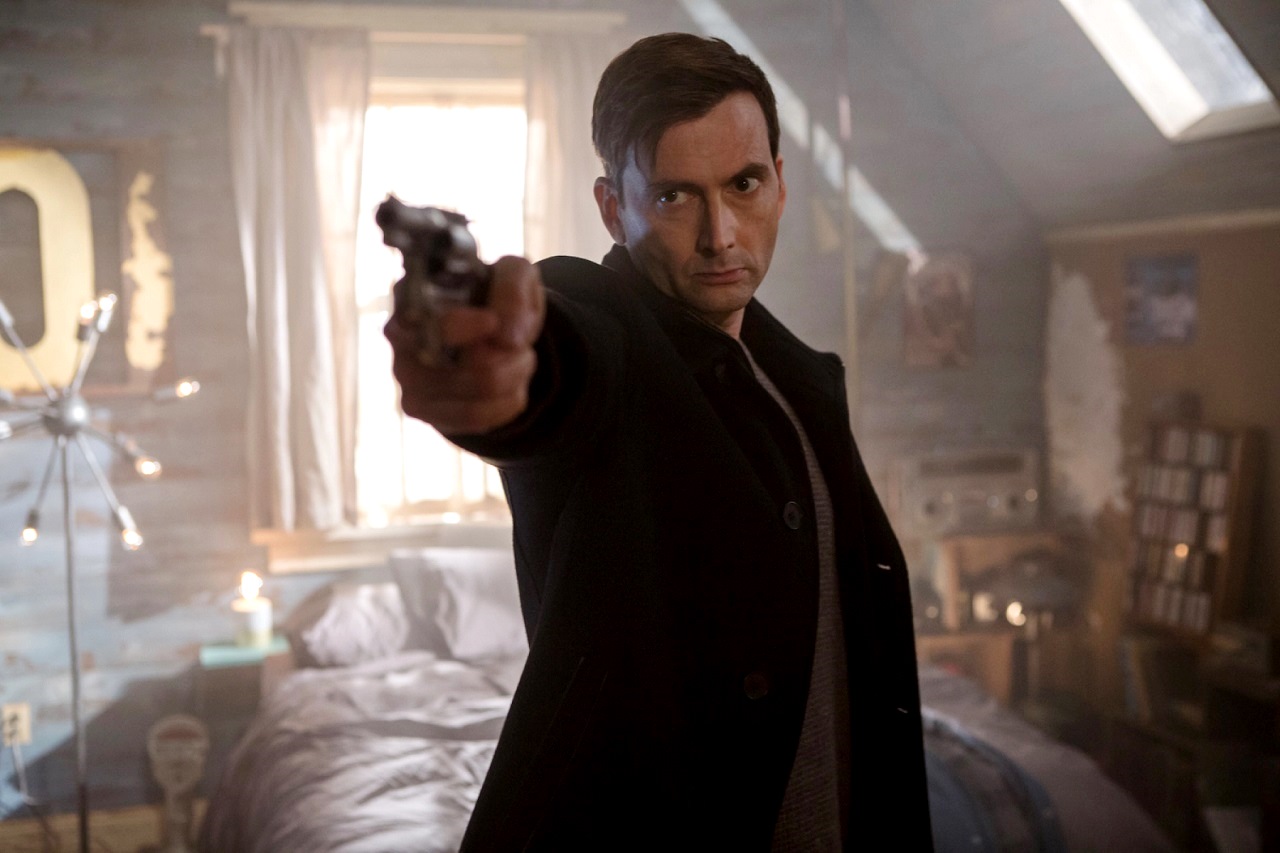 The initial set-up with Robert Sheehan and Carlito Olivero operating as car valets and sneaking off to break into people's homes comes as smart and engaging. As does the introduction of David Tennant who in an about face plays a complete asshole. We are absorbed as we watch Robert Sheehan breaking into Tennant's home and ingeniously hacking his credit card. There is an undeniably effective jump that comes as Sheehan goes into Tennant's office to copy passwords from his computer and switches on the light only to see a girl bound to a chair. Dean Devlin's direction through these scenes has a slick excitement.
It is only at that point that Bad Samaritan falls flat on its face and becomes a film you cannot take seriously. As soon as it gets to David Tennant fighting back, the film collapses into a series of dramatic happenings that only occur in movies but are completely divorced from real life. David Tennant suddenly becomes a miracle hacker who is able to wreck havoc with Robert Sheehan's life, can in the matter of an hour or so remove all evidence from a house, even change entire rooms; can get Sheehan's parents fired from their jobs overnight; and is somehow able to remotely access Jacqueline Byers' phone and broadcast her nude picture to all her classmates. All while leaving zero evidence that traces back to him when the authorities investigate.
Certainly, the plotting comes with a suitable number of twists and is well set up. And David Tennant does well when he gets to do villainy – his other standout role outside of Doctor Who (2005- ) were as Killgrave on the first season of Jessica Jones (2015-9) and true-life serial killer Dennis Nilsen in Des (2020). But the absurd improbability of the plotting causes the film to fritter away into a series of happenings that do not feel even remotely real.
---