---
Crew
Director – Stephen Weeks, Screenplay – Milton Subotsky, Based on the Novel The Strange Case of Dr Jekyll and Mr Hyde by Robert Louis Stevenson, Producers – Milton Subotsky & Max J. Rosenberg, Photography (3D) – Moray Grant, Music – Carl Davis, Makeup – Harry Frampton, Art Direction – Tony Curtis. Production Company – Amicus/British Lion.
Cast
Christopher Lee (Dr Charles Marlowe/Edward Blake), Peter Cushing (Frederick Utterson), Richard Hurndall (Dr Anthony Lanyon), George Merritt (Poole), Mike Raven (William Enfield), Susan Jameson (Diane Thomas), Kenneth J. Warren (Deane), Marjie Lawrence (Annie)
---
Plot
Around the turn of the 20th century. Dr Charles Marlowe is experimenting with a drug that lowers patients' social inhibitions – it causes a prim woman removes her clothes, an angry man becomes like a child. When Marlowe takes the drug, he becomes cruel and malicious under its influence. Marlowe's lawyer and friend Frederick Utterson then learn about Marlowe's violent friend Edward Blake. Blake trampled a girl and then ran into Marlowe's house and used a cheque written in Marlowe's name to pay her father hush money. Utterson believes that Blake is blackmailing Marlowe. As he investigates, Utterson makes the shock discovery that Blake is Marlowe's alter ego who emerges under the influence of the drug and that Marlowe is having increasing difficulty controlling him.
---
I, Monster is an adaptation of The Strange Case of Dr Jekyll and Mr Hyde (1886). However, it is an adaptation of Dr Jekyll and Mr Hyde that is for some reason pretending not to be an adaptation of Dr Jekyll and Mr Hyde. The title of the story and the name of the good Dr Jekyll and his alter ego have been changed – although in every other regard I, Monster is an exceedingly faithful adaptation of Dr Jekyll and Mr Hyde. The book's other characters – Utterson the lawyer, Poole the butler, Lanyon the doctor – are there and moreover have the same names they do in the book.
In fact, the script for I, Monster is far more faithful to the book than many other screen versions – it even retains sections from the book verbatim like the story that Deane tells Utterson about seeing Hyde run over the girl in the street and then retreat through Jekyll/Marlowe's back door and return with a cheque. Perhaps the film did not want to be pigeonholed – Dr Jekyll and Mr Hyde is the most filmed ever horror story (see below) and maybe the producers felt that that the story had been done to death and wanted it to be seen afresh by audiences without the association of previous films.
Most of those who have seen I, Monster review it fairly mediocrely. In fact, I, Monster is an extremely good version of Dr Jekyll and Mr Hyde. Most interesting of the changes it rings up is to take the story directly into the realms of Freudian psychology. Other versions, like the 1941 adaptation, had dealt with Freudian psychology, but not particularly well. Here, instead of a drug that unleashes the beast within, Jekyll/Marlowe has created a drug that dissolves the superego. Some of the film's most fascinating scenes are ones early on where an uptight girl, after taking the drug, strips her clothes off and offers herself to Christopher Lee, or where an angry businessman is turned into a crying child.
I, Monster was originally filmed in 3-D, which means there are a few gimmicky shots of Christopher Lee waving Bunsen Burners or holding squealing mice up into the camera. The film is made with some surprisingly good period sets. Christopher Lee gives a good performance as Jekyll/Hyde, a role he also essayed in Hammer's The Two Faces of Dr. Jekyll (1960). He is just the right actor to portray the cold and tightly repressed Marlowe and makes an effective change between that and the lascivious Blake. The transformation is conducted without much makeup and is believable.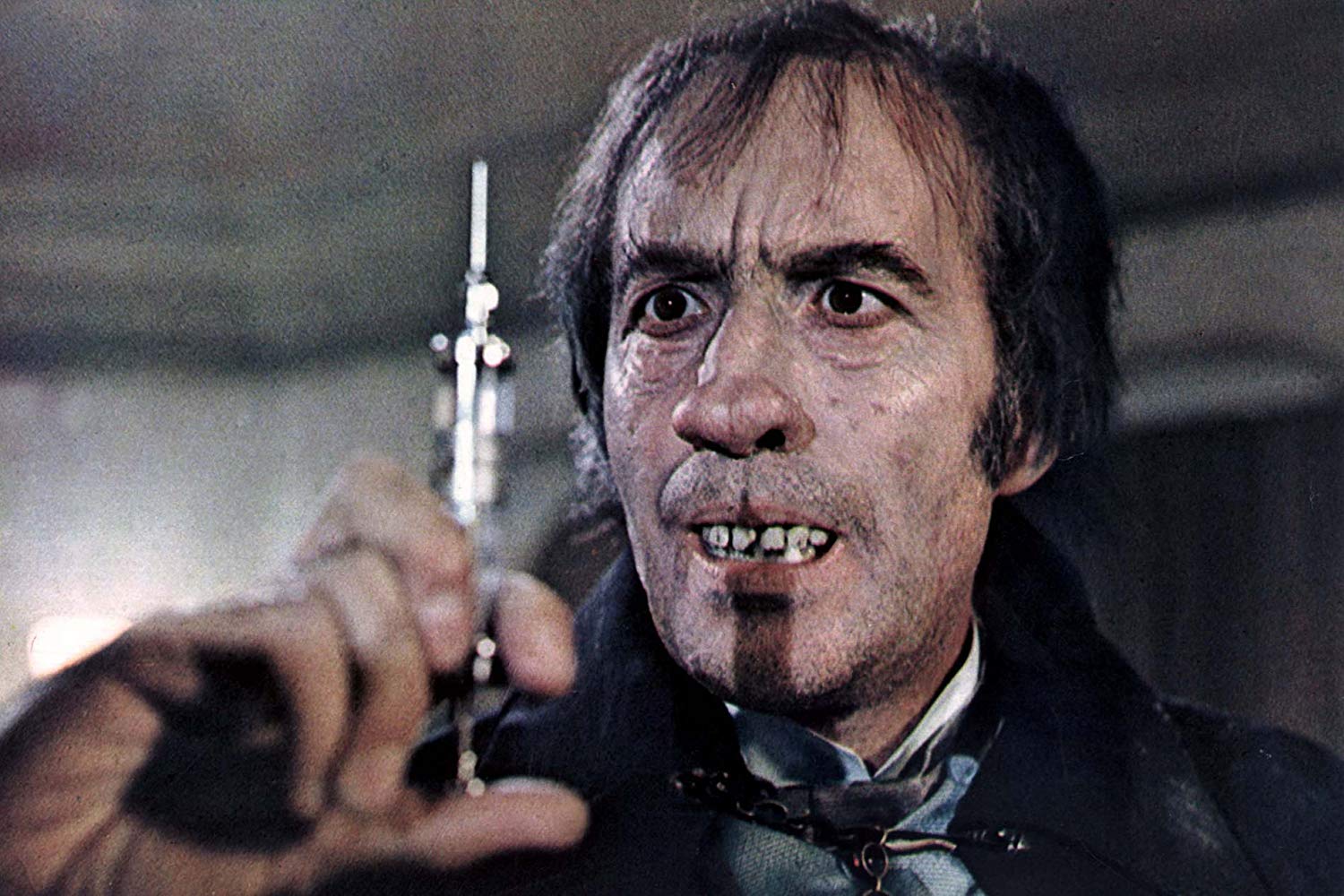 Director Stephen Weeks was a minor director on the outskirts of the English horror scene where he also made the likes of Gawain and the Green Knight (1973), Ghost Story (1974) and Sword of the Valiant: The Legend of Sir Gawain and the Green Knight (1983). Producers Milton Subotsky and Max J. Rosenberg and their Amicus production company were, next to Hammer Films, the most successful English horror-producing company of the 1960s and 70s, making a number of psycho-thrillers, several sf films and gaining their greatest fame with a host of horror anthologies beginning with Dr Terror's House of Horrors (1965).
A full discussion of Jekyll and Hyde films is here under the Theme Essay Jekyll and Hyde Films. Other versions of Dr Jekyll and Mr Hyde are:– Dr Jekyll and Mr Hyde (1908); Dr Jekyll and Mr Hyde (1910) with Alvin Neuss; Dr Jekyll and Mr Hyde (1912) with James Cruze; Dr. Jekyll and Mr. Hyde (1913) with King Baggott; Dr. Jekyll and Mr. Hyde (1920) with John Barrymore; Dr Jekyll and Mr Hyde (1920) with Sheldon Lewis; Dr Jekyll and Mr Hyde (1920) with Sheldon Lewis; Der Januskopf (1920), a lost German version with Conrad Veidt; the classic Dr. Jekyll and Mr. Hyde (1931) with Fredric March; Dr Jekyll and Mr Hyde (1941) with Spencer Tracy; Jean Renoir's The Testament of Dr Cordelier (1959) with Jean-Louis Barrault; The Two Faces of Dr. Jekyll (1960), the Hammer version with Christopher Lee; Dr Jekyll and Mr Hyde (tv movie, 1968) with Jack Palance; The Man with Two Heads (1972) with Denis DeMarne; Dr Jekyll and Mr Hyde (tv movie, 1973), a musical version with Kirk Douglas; Walerian Borowczyk's Dr Jekyll and His Women (1981) with Udo Kier; Dr Jekyll and Mr Hyde (tv movie, 1981) with David Hemmings; a 1985 Russian adaptation starring Innokenti Smoktonovsky; Edge of Sanity (1989) with Anthony Perkins; The Strange Case of Dr Jekyll and Mr Hyde an episode of the tv series Nightmare Classics (1989) with Anthony Andrews; Jekyll and Hyde (tv movie, 1990) with Michael Caine; My Name is Shadow (1996), a Spanish version starring Eric Gendron; a bizarre tv pilot Dr Jekyll and Mr Hyde (1999), which combined the story with Hong Kong martial arts and featured Adam Baldwin playing a Jekyll as a superhero in the Orient; Jekyll & Hyde: The Musical (2001) with David Hasselhoff; Dr Jekyll and Mr Hyde (2002) directed by and starring Mark Redfield; the excellent British tv reinterpretation Dr Jekyll & Mr Hyde (2002) with John Hannah; The Dr. Jekyll and Mr. Hyde Rock'n'Roll Musical (2003) with Alan Bernhoft; the modernised Jekyll + Hyde (2006) with Bryan Fisher; The Strange Case of Dr. Jekyll and Mr. Hyde (2006) with Tony Todd; the modernised BBC tv series Jekyll (2007) with James Nesbitt; Jekyll (2007) starring Matt Keeslar where Hyde becomes a virtual creation; and the modernised Dr. Jekyll and Mr Hyde (2008) starring Dougray Scott.
Other variations include the would-be sequels Son of Dr Jekyll (1951), Daughter of Dr Jekyll (1957) and Dr Jekyll and the Wolfman (1972); the comedy variations Abbott and Costello Meet Dr Jekyll and Mr Hyde (1953), The Ugly Duckling (1959), the Italian My Friend, Dr Jekyll (1960) and The Nutty Professor (1963); versions where Dr Jekyll turns into a woman with Dr Jekyll and Sister Hyde (1971), the Italian comedy Dr Jekyll and the Gentle Lady (1971) and Dr Jekyll and Ms Hyde (1995); the gender-reversed Madame Hyde (2017); a Looney Tunes cartoon Dr Jekyll's Hide (1954) where Sylvester the Cat transforms into a dog after taking the formula; the erotic/adult versions The Naughty Dr. Jekyll (1973), The Erotic Dr Jekyll (1976), Jekyll and Hyde (2000), Dr. Jekyll & Mistress Hyde (2003) and Jacqueline Hyde (2005); Dr Black and Mr Hyde (1976), a Blaxploitation version where Jekyll is a Black man who turns into a white-skinned monster; the amusing send-up Jekyll and Hyde … Together Again (1982); a wacky children's tv series Julia Jekyll and Harriet Hyde (1995); Killer Bash (1996) set in a frat house with an avenging female Jekyll; and the excellent deconstruction Mary Reilly (1996), which tells the story from the point-of-view of Jekyll's maid. Dr Jekyll appears as a character in The League of Extraordinary Gentlemen (2003) played by Jason Flemyng, in the tv series Penny Dreadful (2014-6) played by Shazad Latif and in The Mummy (2017) played by Russell Crowe, which all feature team-ups between Famous Monsters, while the animated The Pagemaster (1994) features a Dr Jekyll voiced by Leonard Nimoy.
---
---