---
Crew
Director – Alexandre Aja, Screenplay – Michael Rasmussen & Shawn Rasmussen, Producers – Alexandre Aja, Craig Flores & Sam Raimi, Photography – Maxime Alexandre, Music – Max Arui & Steffen Thum, Visual Effects – Eye-Spy VFX (Supervisor – Jose Marra) & Rodeo FX (Supervisors – Robert Bock, Keith Kolder & Thomas Montminy-Brodeur), Special Effects Supervisor – Gareth Wingrove, Makeup Effects – Morot FX Studio Inc. (Designer – Adrien Morot), Production Design – Alan Gilmore. Production Company – Raimi Productions/Fire Axe Pictures.
Cast
Kaya Scodelario (Haley Heller), Barry Pepper (Dave Heller), Morfydd Clark (Beth Heller), Ross Anderson (Wayne), Jose Palma (Pete), George Sommer (Marv), Anson Boon (Stan), Ami Metcalf (Lee)
---
Plot
Haley Heller is attending The University of Florida in Gainesville on a swimming scholarship. There is news that a Category 5 hurricane is going to hit the area. She wants to be sure that her father is safe but he is not answering his phone. She makes the decision to go to find him, driving past the highway blockade just as the storm starts to hit. She enters the old family home, finding her father unconscious in the crawlspace beneath the house. As she tries to drag him free, she discovers there is an alligator in the crawlspace with them. As the floodwaters start rapidly rising, the crawlspace is flooded and they are surrounded by alligators.
---
Alexandre Aja is a director who has appeared consistently on the genre horizon ever since his second film, the gore-drenched home invasion film High Tension (2003) made in his native France. Aja was brought to the US for the remake of The Hills Have Eyes (2006) and has remained there ever since with the likes of Mirrors (2008), the remake of Piranha (2010), Horns (2013), the non-genre thriller The 9th Life of Louis Drax (2016) and Oxygen (2021) where a woman wakes up trapped inside a cryogenic capsule. Aja has also produced/written P2 (2007), the remake of Maniac (2012), The Pyramid (2014) and produced The Other Side of the Door (2016) and 47 Meters Down (2017).
Aja claims that Crawl is based on a real-life story (although the publicity fails to give any details as to where and when this happened). As such, the film has the feel of one of those tv shows that retell incidents with people trapped in life-threatening real-life dramas. Even then there is the feeling that the film has substantially inflated the dramatics of the basic survival story adding five supplemental deaths, as well as Barry Pepper conducting probability-defying feats such as resetting his broken leg and then hobbling around on it shortly afterwards, while continuing on in action after one arm has been bitten off.
One of the more improbable pieces is having the entire two storey house flooded under a mini-tsunami. This is what would be called a storm surge in weather terminology and is known to rise to about twenty feet in height (even in Hurricane Katrina, such surges only reached 28 feet). With a two-storey house with crawlspace beneath being flooded to its rooftop over the course of the show, this is a surge that is approaching the maximum on record.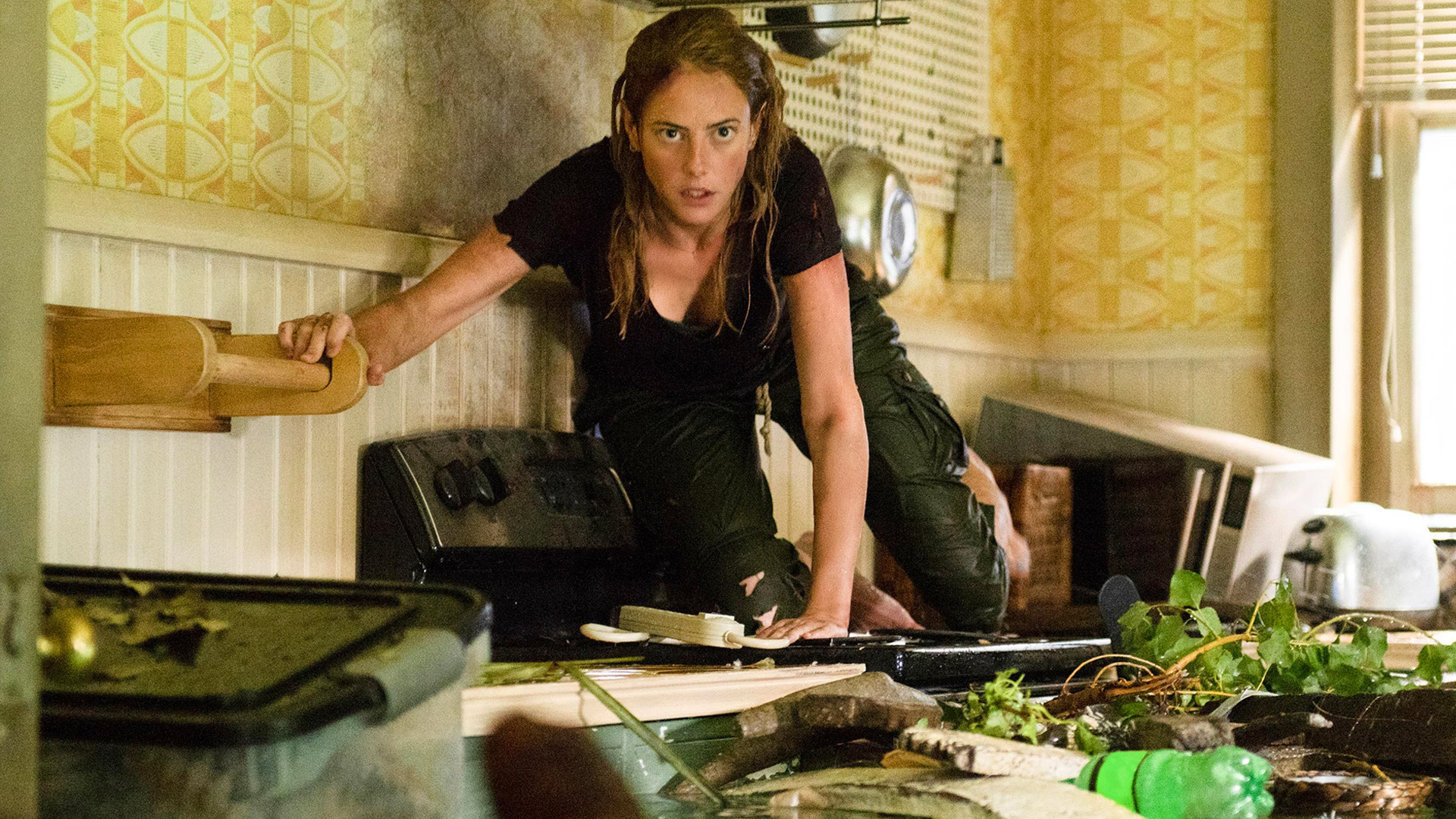 We have had killer crocodile/alligator films with the likes of Alligator (1980), Dark Age (1987) and Lake Placid (1999). A few years ago, we had a spate of killer crocodile films all around the same time with Black Water (2007), Primeval (2007) and Rogue (2007). It is easy to compare Crawl to Black Water and Rogue, the best among this fad, both of which generated a remarkable tension. Black Water had a trio of people trapped in a tree by a crocodile lurking in the waters below, while Greg McLean's Rogue stranded a group of tourists on a sandbar as they were attacked by a crocodile. Crawl does very similar things.
Although if there was one film to point to in comparison it wouldn't be any of these killer crocodile films but Burning Bright (2010), a greatly underrated film that did a remarkable job of generating tension in its story of a brother and sister trapped inside a house with a tiger, and in particular the gripping Thai-made The Pool (2018) about a couple trapped in an empty pool with a crocodile.
Alexandre Aja seems as though he is heading in the same direction to these other films. There's a long lead-in before the 22 minute mark when he abruptly jolts us out of our seats by the appearance of one of the alligators right in front Kaya Scodelario. A few minutes later, there is a scene where she ventures out to retrieve the phone and an alligator abruptly drags her away by the leg and she is forced to fight two of them off with no more than plastic crates. It is here that Aja has us really gouging the armrests of the seats in tension.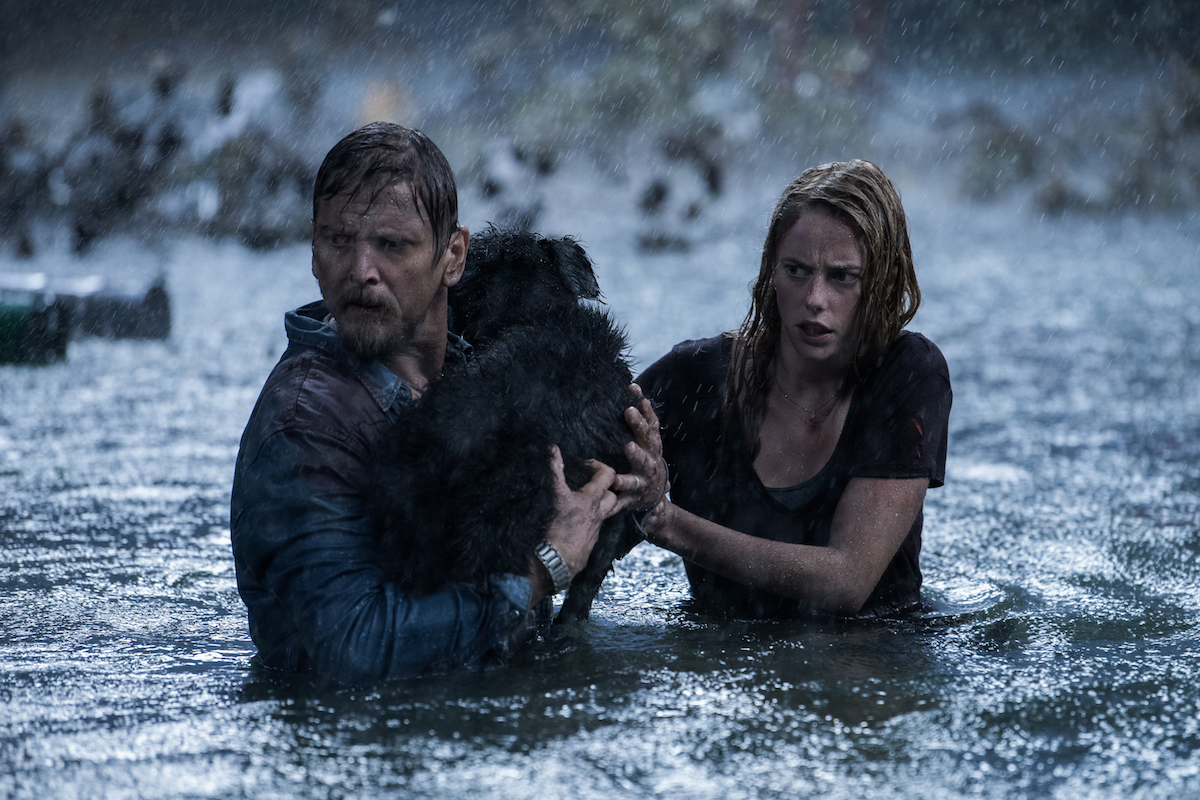 The disappointment of the film is that Aja never finds anything as intensive again. There are some scenes that generate a reasonable tension with Kaya Scodelario swimming to the outlet pipe and the flooded service station through alligator-filled waters, or clinging to a drainpipe trying not to be washed away by floodwaters. in particular, there is a scene with her fighting an alligator as it pursues her into the shower and then wrestling with it as it rolls underwater.
These are effective scenes but never kick in with the nail-biting tension that Black Water and Rogue had. You end up more admiring the technical provision of the very convincing alligator effects than you are necessarily on the edge of the seat. Equally the film introduces supplementary characters – it is mostly just a two-person drama – for the sole purpose of seeing them attacked and killed.
The surprise name on the credits is that of Sam Raimi, director of The Evil Dead (1981) and sequels and the Tobey Maguire Spider-Man films, who appears to have formed a new company Raimi Productions rather than the Renaissance Pictures and Ghost House Pictures banners he has operated under in the past. The screenplay is from Michael and Shawn Rasmussen who also wrote co-wrote John Carpenter's The Ward (2010) and wrote/directed two horror films of their own with Dark Feed (2013) and The Inhabitants (2015).
---
---