---
Crew
Director – Gunther V. Fritsch & Robert Wise, Screenplay – DeWitt Bodeen, Producer – Val Lewton, Photography (b&w) – Nicholas Musuraca, Music – Roy Webb, Makeup – Mel Berns, Art Direction – Albert S. D'Agostino & Walter E. Keller. Production Company – RKO Radio Pictures.
Cast
Ann Carter (Aimee Reed), Simone Simon (Irena Dubrovna), Kent Smith (Oliver Reed), Jane Randolph (Alice Reed), Julia Dean (Julia Farren), Elizabeth Russell (Barbara Farren), Eve March (Mrs Callahan), Sir Lancelot (Edward)
---
Plot
After the death of his wife Irena, Oliver Reed has married Alice Moore and they now have a young daughter Aimee. Aimee is getting in trouble at school because she spends too much time daydreaming. Oliver encourages her to make friends. After Aimee finds a photo of Irena, whose name is never mentioned in the house, Irena's ghost appears to her and the two happily strike up a friendship much to the consternation of Oliver and Alice.
---
With Cat People (1942), producer Val Lewton created a new approach to horror, something that has been termed 'psychological horror'. Lewton's trademark approach was to create a form of horror that exists in the mind of the viewer who was left in a constant state of ambiguity about whether they are seeing a supernatural menace or whether the characters on the screen were imagining what was happening and there were purely mundane causes for events. Lewton's films frequently arrived at their determined end with viewers still left unsure whether the menace was supernatural or mundane. Lewton made a number of these psychological horror films (see below for titles).
Throughout his brief tenure at RKO Radio Pictures, Lewton was constantly at odds with studio management who did not understand the subtlety of his approach. With The Curse of the Cat People, the studio had ordered a Cat People sequel, but Lewton instead confounded them and produced this fine effort. To call The Curse of the Cat People a sequel to Cat People is misleading. It is a completely different story – the first film was an existential werewolf story of sorts, whereas this is a story about childhood fantasy playmates. It shares some of the same characters – the three principals of Kent Smith, Jane Randolph and Simone Simon – but is very much its own film. It, for example, at no point requires any understanding of or reference to the first film and works as a self-contained story on its own. Nor does it involve any 'cat people' despite the title, nor for that matter any curses.
What it does share with Cat People is the same ambiguity of fantasy elements – is the manifestation of Irena real or merely an overactive child's imagination? This is not as strongly manipulated an ambiguity as the question of whether Irena was a cat person was in the original, although the turning of Kent Smith into a parent demanding that Aimee play like other children does give a credible psychological undertow.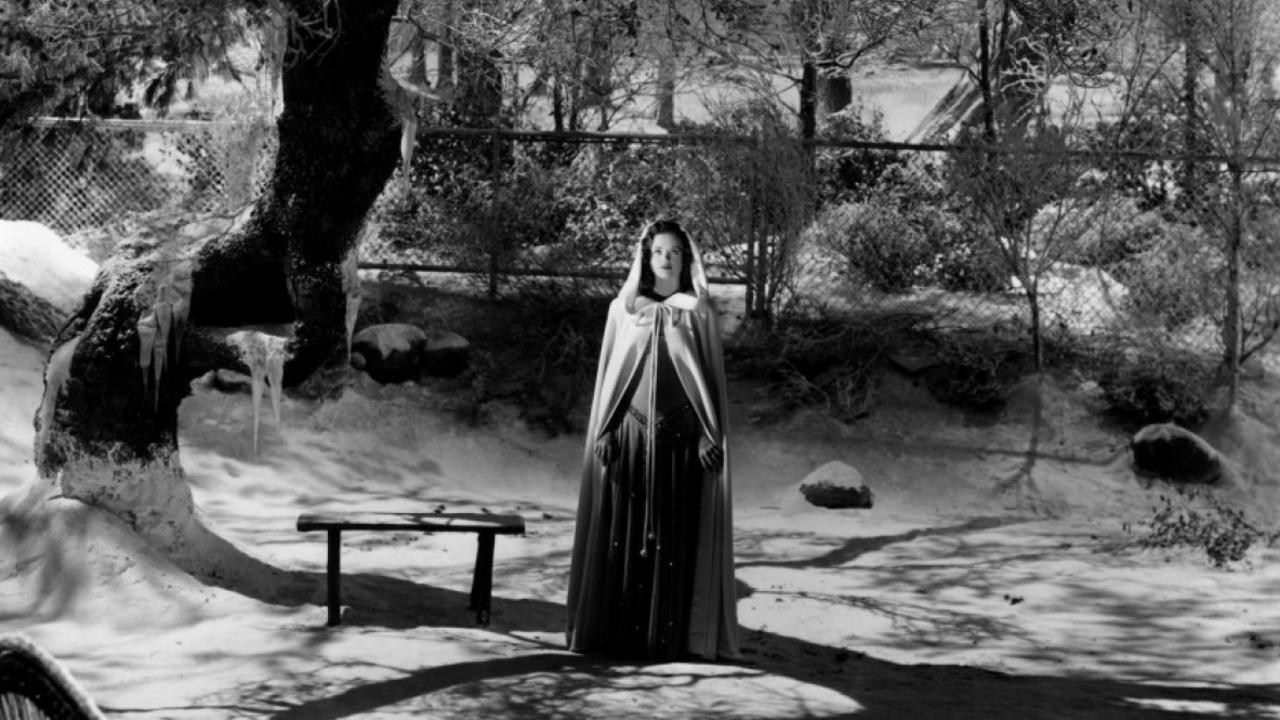 As a film, The Curse of the Cat People is less concerned with ghosts than it is with the richness and power of the imagination. Indeed, this could be a common feature of DeWitt Bodeen's scripts – in Cat People, here and the romantic fantasy The Enchanted Cottage (1945) he concerns himself with lonely women whose imaginations are so strong they blur the line between what is real or imagined, and who are always under pressure to forsake what they believe by people around them.
While The Curse of the Cat People is not technically a ghost story, the two directors adeptly create a haunted atmosphere of old houses, strange old women and oral ghost stories – there is a great deal of imagery referring to Washington Irving's The Legend of Sleepy Hollow (1820). A scene prowling through the old house amid gloomy bric-a-brac with Ann Carter's face lit up from underneath and a supernatural wind seemingly tossing the pages of a book is the most overtly supernatural of scenes, even if it is a scene that has nothing to do with the rest of the film and seems inserted solely for effect.
There is a fine scene with young Ann Carter huddled on a snowy bridge waiting for The Headless Horseman and hearing approaching hoofbeats on the soundtrack, which turns into a shadow passing her and then cuts away to show it is only a vehicle. There is an excellent climax with Ann Carter unaware of Elizabeth Russell moving in on her with murderous intent, she in fact seeing Russell as a vision of Simone Simon, whereupon she moves to hug her. The image where the camera closes in to show Elizabeth Russell's hands turning from a strangle to a hug is moving.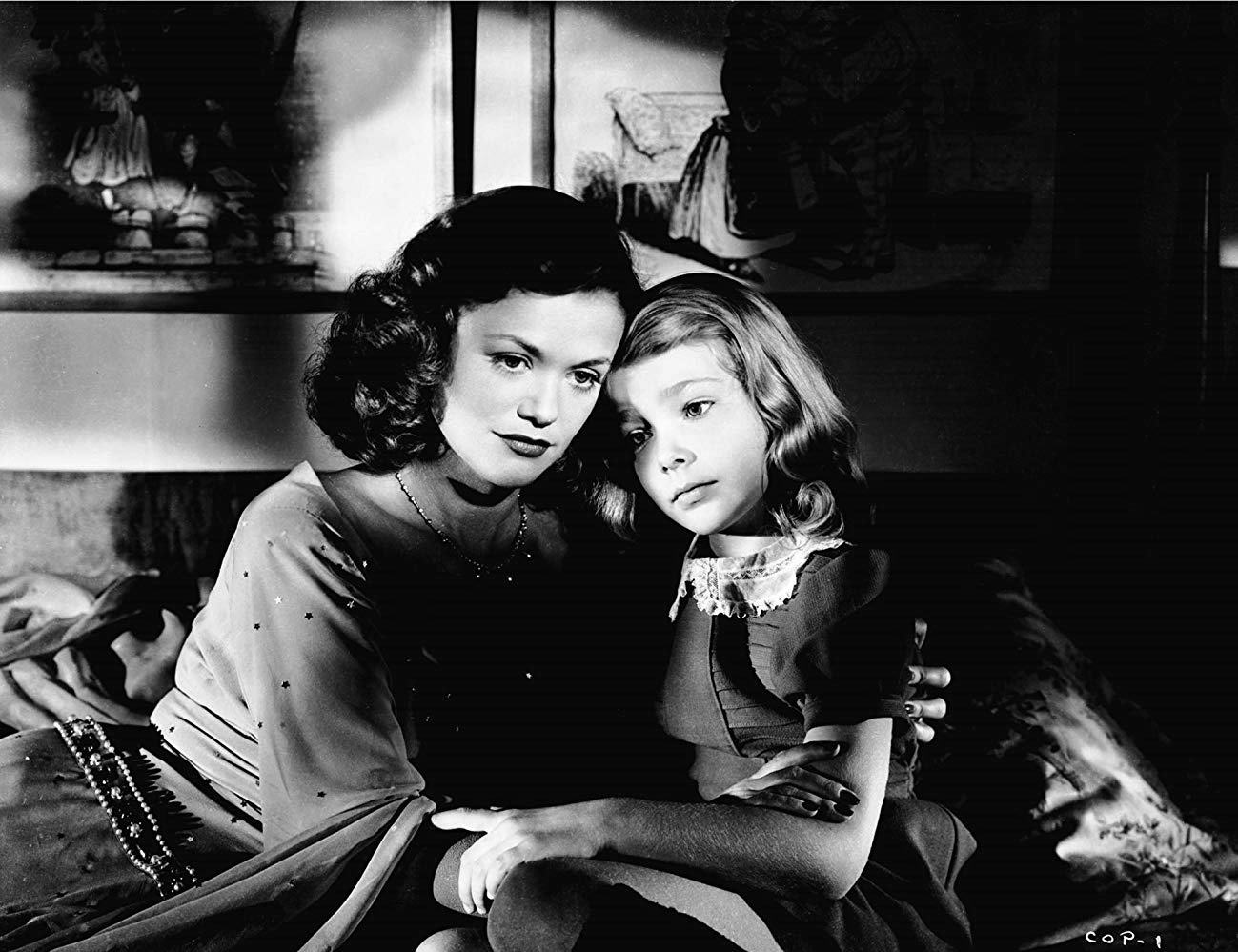 The Curse of the Cat People has two directors. It was begun by Yugoslavian immigrant Gunther von Fritsch, who had previously only made documentary shorts. However, according to Robert Wise, von Fritsch had fallen behind schedule, using up the eighteen day shooting schedule with the film only half completed, and he was asked to step in and take over with only a weekend's notice. Up to that point, Robert Wise had worked as an editor, racking up some highly impressive credits – Orson Welles's Citizen Kane (1941) and The Magnificent Ambersons (1942), as well as the Charles Laughton The Hunchback of Notre Dame (1939) and All That Money Can Buy/The Devil and Daniel Webster (1941). Lewton next let Wise solo direct Mademoiselle Fifi (1944) and The Body Snatcher (1945). Despite the two heads at the helm, the film still holds together with great subtlety and finesse.
Val Lewton's other horror films are:– The Ghost Ship (1943), I Walked With a Zombie (1943), The Leopard Man (1943), The Seventh Victim (1943), Isle of the Dead (1945), The Body Snatcher (1945) and Bedlam (1946). Val Lewton: The Man in the Shadows (2007) is a documentary about Lewton and his films.
Robert Wise would go onto direct a number of classic films, notably West Side Story (1961) and The Sound of Music (1965). Wise has also directed a number of classic genre films:– A Game of Death (1945), The Day the Earth Stood Still (1951), The Haunting (1963), The Andromeda Strain (1971), Audrey Rose (1977) and Star Trek – The Motion Picture (1979). Gunther von Fritsch directed a handful of other minor films of no distinction.
---
---