---
Crew
(All Uncredited)
Director/Screenplay/Photography (colour + b&w) – Oren Peli, Producers – Jason Blum & Oren Peli, Makeup Effects – Crystal Cartwright. Production Company – Solana Films.
Cast
Katie Featherston (Herself), Micah Sloat (Himself), Mark Friedrichs (Dr Friedrichs), Amber Armstrong (Amber)
---
Plot
In 2006, San Diego couple Micah Sloat and Katie Featherston were subject to a series of hauntings. Micah brought a video camera to document the paranormal activity, leaving it on in their bedroom while they slept. Soon they discovered evidence of doors mysteriously opening and shutting, of loud thudding noises in the house, footsteps coming up the stairs and Katie getting up in the night and standing by the bed in a strange trance. Katie believed the agency had been haunting her since she was a child – they were unable to leave because it would follow her wherever they moved. The hauntings became increasingly more sinister in nature.
---
It is impossible in commenting on Paranormal Activity to avoid making comparisons to The Blair Witch Project (1999). Like The Blair Witch Project, Paranormal Activity adopts a mockumentary approach, claiming to offer up real video footage of people being attacked by a ghostly force. Both Blair Witch and Paranormal Activity were shot in very similar ways – using a small film crew and a group of novice actors who were largely allowed to improvise their dialogue. Likewise, both films make scrupulous attempts to claim that what is going on is real, even down to the characters in the film being given the same names as the actors playing them. (Unusually, Paranormal Activity doesn't even have any end credits other than a copyright notice). Both films also highly effectively managed grassroots promotional campaigns that were enough to carry either film, both of which had been made by industry non-professionals on less than the smell of an oily rag, to the No 1 box-office spot in the US.
Paranormal Activity was made by Israeli-born videogame designer Oren Peli. Peli had no prior experience as a filmmaker and shot Paranormal Activity in 2006 on a $15,000 budget that he himself put together, converting his own home into the house where everything takes place. The film played at a handful of film festivals throughout 2007, including that year's Slamdance Festival. In due course, a copy of the film found its way to DreamWorks where it purportedly unnerved Steven Spielberg. The rights were snapped up and Oren Peli signed to direct a bigger budgeted remake of the original.
Throughout all this, Oren Peli persisted in trying to screen the existing film. After seeing that audiences were leaving spooked, Paramount Pictures agreed to several test screenings across the US. Peli was successfully able to wield interest in the film via a word of mouth campaign on eventful.com where he pressed audiences to 'demand' the film – posters for the initial release in thirteen cities in September 2009 even went out embossed with the legend 'Demand It'. When the online campaign topped over a million signatures, Paramount agreed to a widespread release whereupon Paranormal Activity was propelled to the No 1 spot in only its second week of major release, beating all the big-budget studio releases. Upon Steven Spielberg's suggestion, Oren Peli made a number of changes to the film that plays in wide release, most noticeably in redubbing some of the sound effects and reshooting the ending, which plays out in a more complicated series of steps in the original screened version.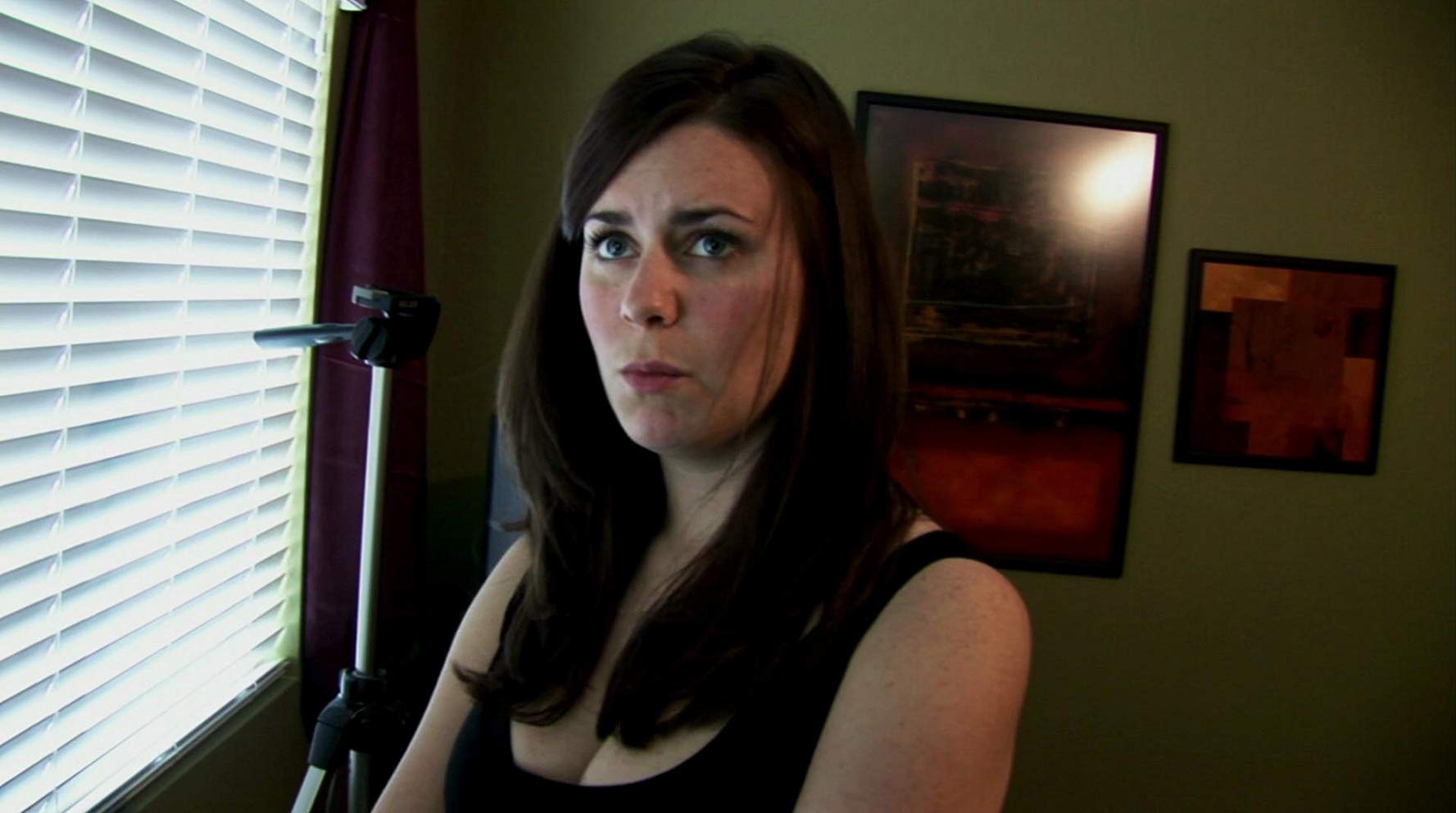 On a level of pure plot description or even a catalogue of the things that happen throughout, Oren Peli does nothing particularly radical with the ghost story. However, what he does extremely well is produce a sense of dread anticipation. There is a palpable sense of something ominous and unbearable about to happen as the video camera sits in the bedroom in slightly anamorphic wide-angle looking at Micah Sloat and Katie Featherston in bed and the open doorway and hall beyond. As the camera spins through the time recorder and then slips back into motion, we are constantly scanning the corners of this static angle wondering what is going to emerge. And when Oren Peli does provide 'activity' – the door mysteriously opening and shutting, loud booming footsteps and thuds outside, and especially a shot where Katie Featherston is abruptly dragged out of bed and down the hallway – he jolts one considerably. Particularly spooky is a scene where Katie Featherston gets up in the middle of the night and just stands by the bed for an hour as though asleep. Of course, the part that unsettled everybody is the joltingly abrupt final scene, which certainly made several people scream out loud at the screening I was at. (One has full expectation that this is going to end up on the various lists of the Scariest Scenes in a Horror Movie Ever that regularly turn up on the internet).
The Found Footage approach is flawlessly achieved. While Micah Sloat keeps fairly much to the background and never has much presence on screen, Katie Featherston gives a fine performance, starting out with a lively vivacity that gradually gives way to a more fearful range of emotions. Like The Blair Witch Project, the film ultimately never gives anything in the way of explanations for the events that happened (apparently there is footage that refers to a failed exorcism that took place in the house in some of the earlier versions of the film, although this is contradicted by Katie Featherston's statements that the agency has been haunting her since she was a child).
Oren Peli has not exactly reinvented the horror movie wheel, but what you cannot deny is that Paranormal Activity produces a genuinely eerie and spooky sense of anticipation and of dreadful things about to happen. It certainly generates far more of a sense of eeriness than any other mainstream big-budget ghost story of recent years.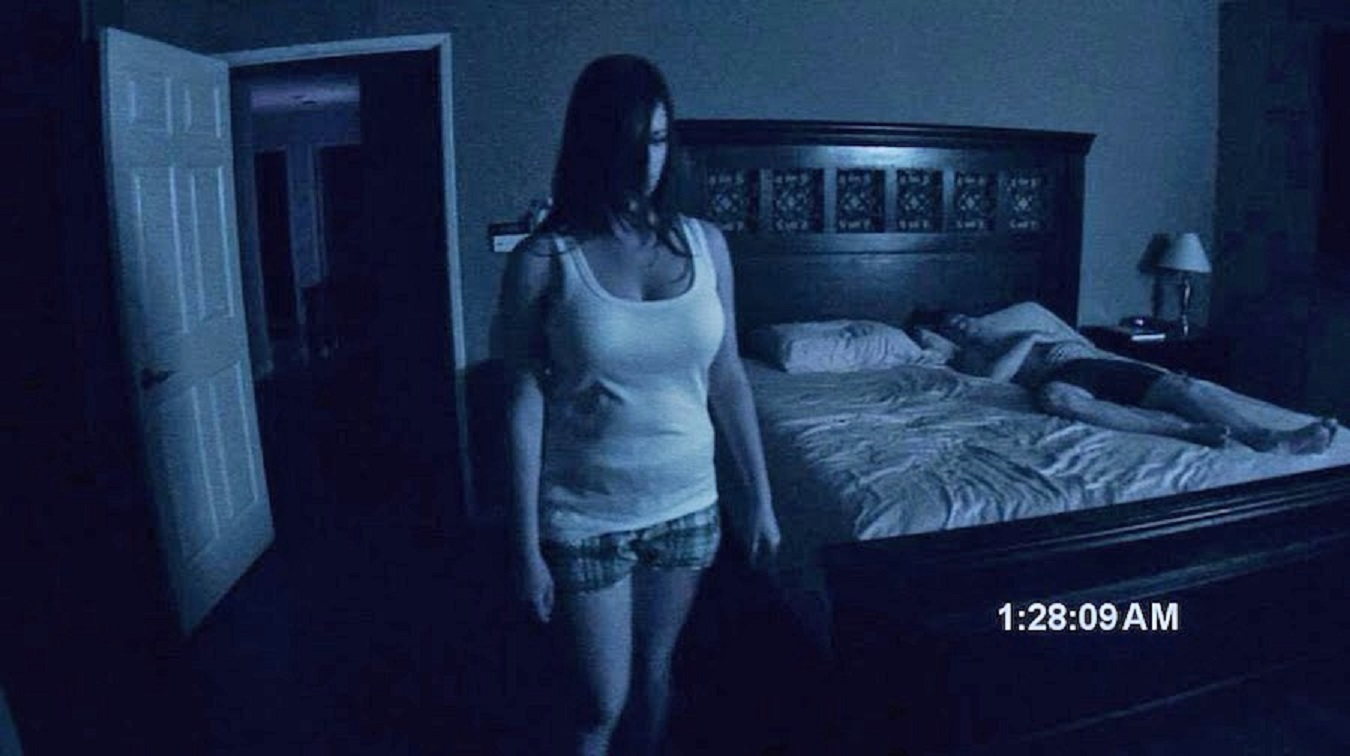 There have been a number of sequels (or more correctly prequels) with Paranormal Activity 2 (2010), Paranormal Activity 3 (2011), Paranormal Activity 4 (2012), Paranormal Activity: The Marked Ones (2014), Paranormal Activity: The Ghost Dimension (2015) and Paranormal Activity: Next of Kin (2021). Paranormal Activity is parodied in A Haunted House (2013), Scary MoVie (2013) and 30 Nights of Paranormal Activity with the Devil Inside the Girl with the Dragon Tattoo (2013).
Oren Peli next made a further Found Footage film with Area 51 (2015), which spent an inordinate length of time in release limbo. He also acted as producer for James Wan's Insidious (2010) and sequels, The Bay (2012), Chernobyl Diaries (2012) and Rob Zombie's The Lords of Salem (2012), as well as created the short-lived horror tv series The River (2012).
Jason Blum and his Blumhouse production company have produced a number of other genre films including:- Hamlet (2000), Insidious (2010) and sequels, Tooth Fairy (2010), The Bay (2012), The Lords of Salem (2012), The River (tv series, 2012), Sinister (2012) and sequel, Dark Skies (2013), Oculus (2013), The Purge (2013) and sequels, the tv mini-series Ascension (2014), Creep (2014), Jessabelle (2014), Mercy (2014), Mockingbird (2014), Not Safe for Work (2014), Ouija (2014) and sequel, 13 Sins (2014), The Town That Dreaded Sundown (2014), Unfriended/Cybernatural (2014), Area 51 (2015), The Boy Next Door (2015), Curve (2015), The Gallows (2015), The Gift (2015), Jem and the Holograms (2015), The Lazarus Effect (2015), Martyrs (2015), Visions (2015), The Visit (2015), The Darkness (2016), Hush (2016), Incarnate (2016), The Veil (2016), Viral (2016), Amityville: The Awakening (2017), Get Out (2017), Happy Death Day (2017), The Keeping Hours (2017), Split (2017), Stephanie (2017), Bloodline (2018), Cam (2018), Delirium (2018), Halloween (2018), Seven in Heaven (2018), Truth or Dare (2018), Upgrade (2018), Black Christmas (2019), Ma (2019), Prey (2019), Don't Let Go (2019), Sweetheart (2019), Black Box (2020), The Craft: Legacy (2020), Evil Eye (2020), Fantasy Island (2020), Freaky (2020), The Hunt (2020), The Invisible Man (2020), Nocturne (2020), You Should Have Left (2020), Black as Night (2021), The Black Phone (2021), Dashcam (2021), Madres (2021) and Firestarter (2022).
---
---
---