(Desu Noto: The Last Name)
---
Japan. 2006.p>
Crew
Director – Shusuke Kaneko, Screenplay – Tetsuya Oishi, Based on the Manga by Tsugumi Oba & Takeshi Obata, Producers – Toyoharu Fukuda, Takahiro Kobashi & Takahiro Sato, Photography – Kenji Takama, Music – Kenji Kawai, Art Direction – Hajime Oikawa. Production Company – Shochiku/Nippon Television Network/Death Note Film Partners.
Cast
Tatsuya Fujiwara (Light Yagami), Kenichi Matsuyama (L/Ryusuke), Erika Toda (Misa Amane), Takeshi Kaga (Detective Soichiro Yagami), Shido Nakamura (Voice of Ryuk), Shinosuke Ikehata (Voice of Rem), Nana Katase (Kiyomi Takada), Magy (Daegawa), Sakura Uehara (Saeko Nishiyama), Hikari Mitsushima (Sayu Yagami), Shunji Fujimura (Watari), Masahiko Tsugawa (Police Chief Saeki)
---
Plot
TV food show presenter Misa Amane is being pursued by a stalker when he abruptly drops dead and a copy of Death Note falls in front of her. Misa picks it up and is suddenly able to see the death god Rem. Meanwhile, Light Yagami has joined L's elite corps of detectives trying to track down Kira. L is certain that Light is Kira. However, Misa then starts killing people at a festival on live television, calling herself Kira II. She has traded half her lifespan for the additional ability to be able to see rather than have to work out people's names, as well as to kill with a stare. She deduces that Light is Kira and comes to him, wanting to be his girlfriend because as Kira he killed the man who slaughtered her entire family. Light sees the possibility of using her sight to obtain L's real name so that he can dispose of him. However, L then arrests Misa as being Kira II. Light conceives an elaborate plan with the two death gods to prove their mutual innocence that involves hiding the Death Note books and erasing their mutual memories while he voluntarily goes into L's custody. He then has one of the Death Note books given into the hands of tv journalist Kiyomi Takada who begins her own series of Kira killings. However, Light has reckoned without the clever wittedness of L who manages to outthink his moves.
---
Death Note: The Last Name is a sequel to Death Note (2006). Death Note: The Last Name was released only three months after Death Note. Both were based on the same popular manga and proved substantial successes in Japan. Both films were made essentially back-to-back by director Shusuke Kaneko. He employs the same cast and production personnel on both films, with the only exception being that Hiroshi Takase, the cinematographer of the first film, died in between and has been replaced here by Kenji Takama.
I saw both Death Note and Death Note: The Last Name together on a double bill at the Wellington International Film Festival. This is the best possible way to view the two films as they work far better when seen not as original and sequel but as two parts of one larger story – perhaps akin to the way that The Lord of the Rings (1954-6) was originally one large work that was split into three books for the sake of publishing ease. Indeed, Death Note can almost be seen to act as an introduction that sets up the wild plot contortions of Death Note: The Last Name.
If Death Note set up the basic concept and introduced the battle of wits between Light Yagami and L, then Death Note: The Last Name could almost be considered in regard to Death Note the same way that The Empire Strikes Back (1980) exists in regard to Star Wars (1977) – a work that expands the basic elements of the first film out onto a bigger stage and refines and explores the character conflicts with much greater depth than the original. The buttress of Death Note: The Last Name is the battle of wits that started in Death Note, which has blossomed to take up the whole of the story here. The film has the benefit of a script that is filled with a labyrinth of twists and turns and devious games as Light and L, who are akin to a perfectly paired Sherlock Holmes and Professor Moriarty duo, try and outsmart and trap one another. The results are sublimely hilarious.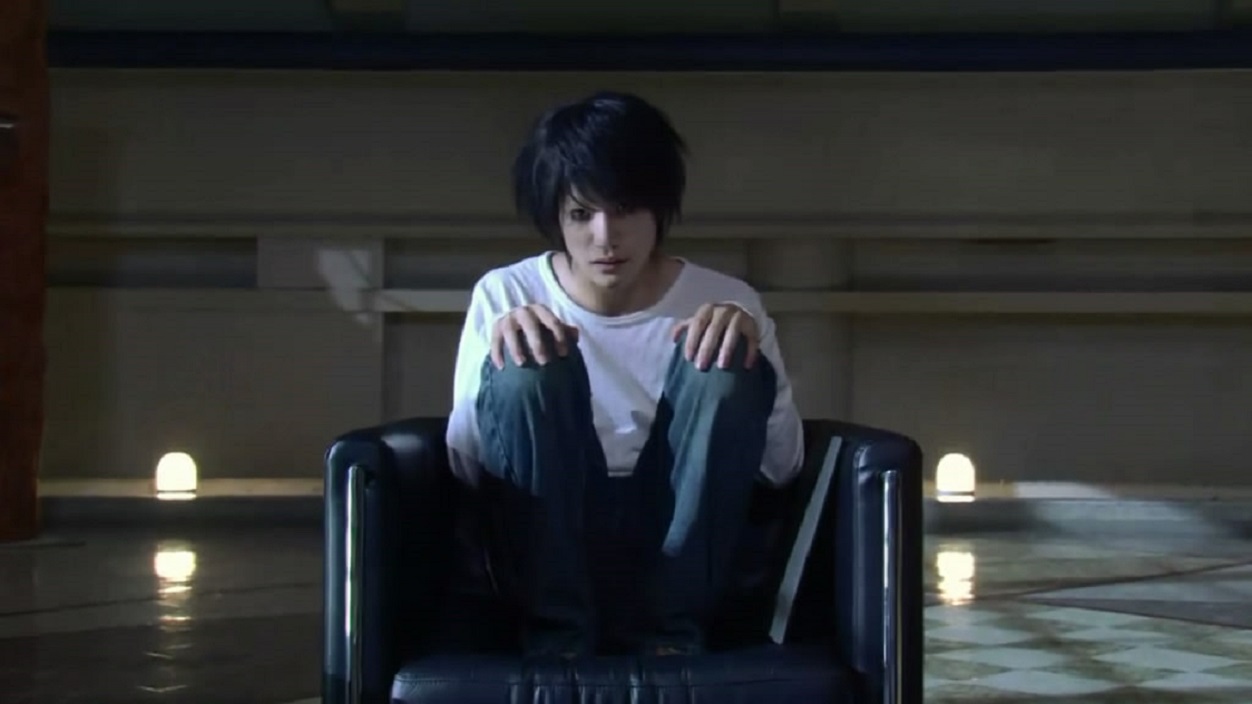 Death Note: The Last Name's spins on the original include moving Light into L's inner sanctum to become one of his elite force tracking down Kira – there is an hilarious scene at the funeral near the start where Tatsuya Fujiwara swears to track down Kira and bring him to justice, only for the invisible Ryuk to whisper in the ear a reminder that this will mean tracking himself down. The other spin that Death Note: The Last Name offers is the introduction of a female equivalent of Kira in Erika Toda's Misa who promptly becomes his devoted worshipper-come-stalker, insisting that she wants to be his girlfriend. She is also accompanied by her own death god in the form of the white-and-blue Rem.
Kenichi Matsuyama's performance as L has become even weirder and funnier than it was in Death Note (to such extent that the filmmakers created a separate L project L: Change the World (2008), following the events in the Death Note series). Equally Tatsuya Fujiwara seems an even more handsome lead than before.
The series was continued with Death Note (2015), an eleven-episode tv mini-series remake of the manga; a further film Death Note: Light Up the New World (2016); and the English-language remake Death Note (2017).
(Nominee for Best Supporting Actor (Kenichi Matsumaya) at this site's Best of 2006 Awards).
---
---