---
Crew
Director – Eric Dennis Howell, Screenplay – Andrew Shaw, Based on the Novel La Voce Della Pietra by Silvio Raffo, Producers – Stefano Gallini-Durante & Dean Zanuck, Photography – Peter Simonite, Music – Michael Wandmacher, Visual Effects – Splice* (Supervisor – Ben Watne), Special Effects Supervisor – Marco Moneta Corridori, Production Design – Davide De Stefano. Production Company – Momentum Pictures/Producer Capital Fund/Code 39 Films/Zanuck Independent Films.
Cast
Emilia Clarke (Verena), Marton Csokas (Klaus), Edward George Dring (Jakob), Remo Girone (Alessio), Lisa Gastoni (Lilia), Caterina Murino (Malvina)
---
Plot
Italy, 1955. The English nanny Verena takes a new position on the estate of Klaus helping his young son Jakob who has not spoken since the death of his mother Malvina. As Verena becomes aware, Jakob believes he can hear his mother's voice speaking to him from the stone walls of the house. Both she and Klaus want to help Jakob get past what they believe to be a delusion. After Verena tears her dress, Klaus's mother-in-law suggests she put on one of Malvina's old dresses. In doing so, Klaus he realises her similarity to Malvina and an attraction grows between them. She agrees to take her clothes off to model for a statue he was sculpting of Malvina before she died. In an effort to persuade Jakob to talk, Verena places her ear to the wall but then comes to believe that she too can hear Malvina's voice.
---
Voice from the Stone is another entry in the modern ghost story. This is a genre that has become tediously over-proliferated among dvd releases of the late 2000s/2010s it has come to the point I dread having to watch another effort that circles around the same limited plotting formula. Voice from the Stone at least gives the impression that it is better budgeted than most in that it has gone on location to shoot in Italy and imported some name actors.
I am not sure why the film was shot in Italy – other perhaps than it is based on an Italian novel – there is little that it does that could not be served by shooting the same plot anywhere else in the world. That said, the film achieves something beautifully dazzling out of its locations. The opening scenes are filled with stunning shots of the mist-covered estate, a big beautiful rundown villa and overgrown sculpted gardens, while fallen heads of statues casually litter in the grounds.
Emilia Clarke inherits a role that was originally cast with Maggie Gyllenhaal. Clark comes on the back of her breakout role as Daenerys Targaryen in tv's Game of Thrones (2011-9). There she commands the show was a regal air and it has made her name known around the world. She has been snapped up into several roles on the basis of that – the new Sarah Conner in Terminator Genisys (2015), the romantic film Me Before You (2016) and here. In all examples, it been a case of her presence failing to transfer to the big screen and her 5'2″ frame seeming dwarfed by the show around her. One suspects that her Game of Thrones role was a happy marriage of some great writing and her stepping into the part with just the right quality that brought it to life. On the other hand, here she just seems quiet and demure, which is what the role requires, but crucially is also something that fails to bring it to life.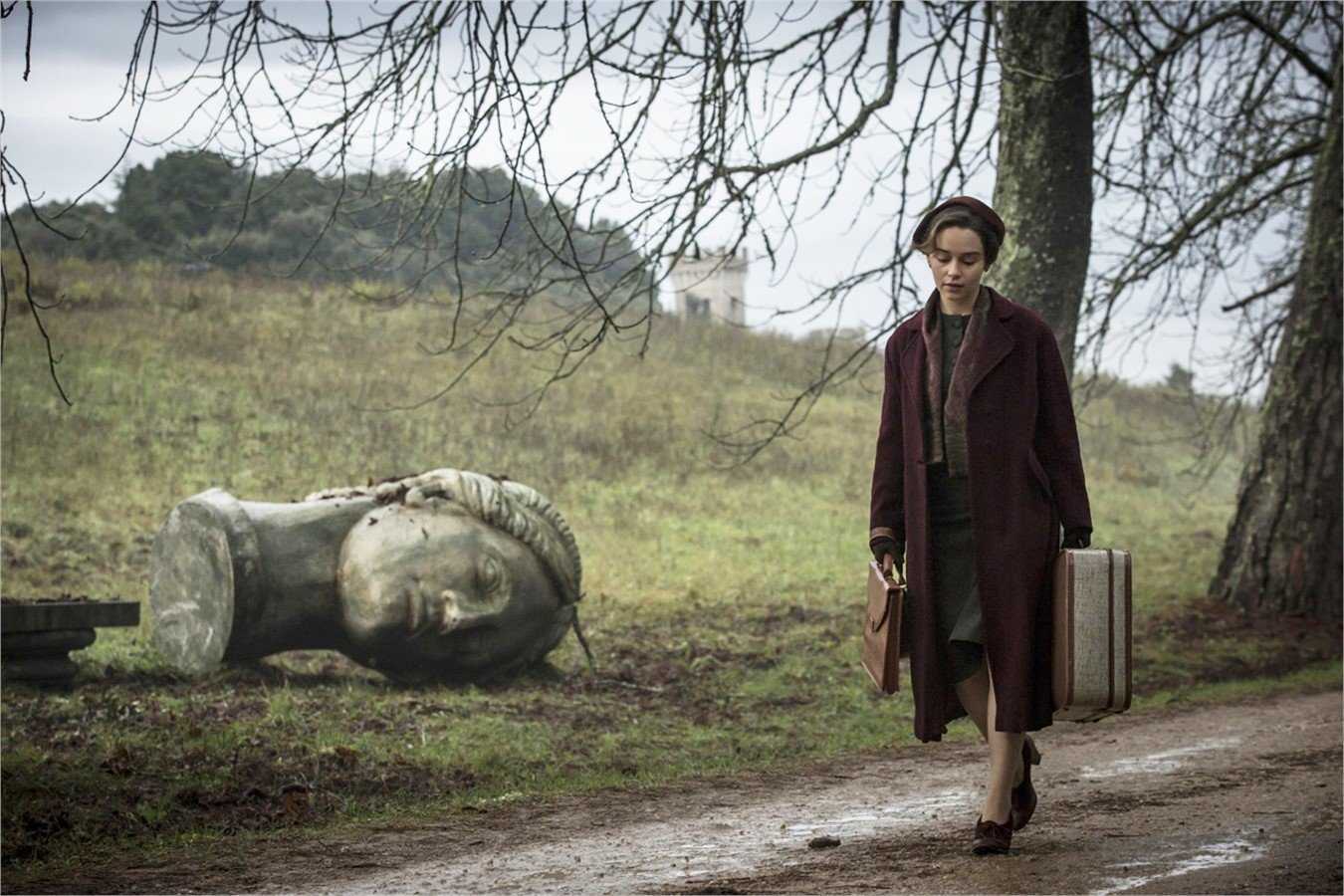 The other complaint one would make about Voice from the Stone is that it is slow going. The pace is quiet. It is fully two-thirds of the way through the show before we get anything that could be considered spooky. Even then most of it is played deliberately ambiguously – the film has more than a few resemblances to the classic psychological ghost story The Turn of the Screw (1898) – see The Innocents (1961) for detail – and its story of a nanny on a big overgrown estate who cannot be sure if the children she tends are seeing ghosts or not. There is not constant profusion of scenes intended to make you jump that you get in almost any modern ghost story.
[PLOT SPOILERS]. There is the twist later in the film that reveals one of the characters is not there but this feels fumbled and old hat, one that we have seen many times before. The film reaches an ambiguous ending where we are left not entirely sure if Emilia Clarke is possessed by the spirit of the dead mother as suggested by the scene where she tells Edward George Dring "I am here" and in the final shot where she sits down to play the piano.
(Nominee for Best Cinematography at this site's Best of 2017 Awards).
---
---