(Antikörper)
---
Crew
Director/Screenplay – Christian Alvart, Producers – Theo Baltz & Boris Schönfelder, Photography – Hagen Bogdanski, Music – Michl Britsch, Computer Animation – Ambient Entertainment (Supervisor – Holger Tappe), Special Effects – Christoph Von Lengerke, Makeup Effects – Barney Nikolic, Dennis Penkov & Christine Steinfelder, Production Design – Christian M. Goldbeck. Production Company – Medienkontor Movie GmbH/Kinowelt Filmproduktion GmbH.
Cast
Wotan Wilke Möhring (Michael Martens), Andre Hennicke (Gabriel Engel), Heinz Hoenig (Chief Commissioner Seiler), Hauke Diekamp (Christan Martens), Ulrike Krumbiegel (Rosa Martens), Klaus Zmorek (Bosowski), Jürgen Schornagel (Sucharzewski), Nina Proll (Lucy), Laura Alberti Szalski (Sarah Martens), Domenico D'Ambrosio (Technician), Martin Umbach (Psychiatrist), Norman Reedus (Officer Schmitz), Isabel Bongard (Lucia Flieder)
---
Plot
In Berlin, police arrest serial killer Gabriel Engel, who is responsible for the killing of fourteen boys. In the sleepy small town of Herzbach, local police officer Michael Martens is haunted by the unsolved murder of local girl Lucia Flieder. The townspeople are hostile towards his considering DNA testing everybody in the town in an effort to find the killer. With the news of Engel's arrest, Michael travels to Berlin to question him about the murder of Lucia. Engel says that he did not do it but drops clues that he knows who did. Michael and the chief investigator Seiler discover Lucia's semen-stained panties hidden inside Engel's apartment. At the same time, Engel seems to be toying with Michael, seeking to dig inside his head in return for information, asking questions about him having sex with his wife and whether he has ever cheated. As a Catholic, Michael struggles to be virtuous but Engel's probing leads him into increasingly darker territories.
---
This German film gained a reasonable degree of international and festival acclaim. It was certainly enough for director Christian Alvart to be immediately employed in Hollywood and for the rights to Antibodies to be brought up for a potential English-language remake (which has yet to emerge).
At heart, Antibodies owes itself to The Silence of the Lambs (1991) and its premise of the jailed evil genius serial killer who plays games with the investigator come to ask questions of him and secretly manipulates the entire investigation from within the confines of his cell. Antibodies especially latches onto the aspect about the serial killer getting inside the investigator's head with his questions, developing this out far more than The Silence of the Lambs did with a plot about how Wotan Wilke Möhring becomes 'infected' by Andre Hennicke's evil (presumably what the 'antibodies' of the title refer to). Antibodies does far too obviously tip its hand of inspiration in one scene where Andre Hennicke makes a joke and asks Wotan Wilke Möhring "What did you expect? Hannibal Lecter?" Despite its debt of inspiration, Antibodies develops the basics of Silence of the Lambs out into a strong and original story of its own.
Antibodies is initially slow moving, taking its time before it indicates which direction it is going in. The contrast between the placid and staid country life filled with hunting, tending cattle and church-going – and the city – where Wotan Wilke Möhring seems to be surrounded by an excess of sexual temptation at every turn is perhaps made too black-and-white. This does however lead to an effective series of scenes where we see a virtuous Christian family man Wotan Wilke Möhring being tempted by the questions that the killer puts in his head, including a disturbing scene where we see him stapling the skin of his forearm to stop his lusts.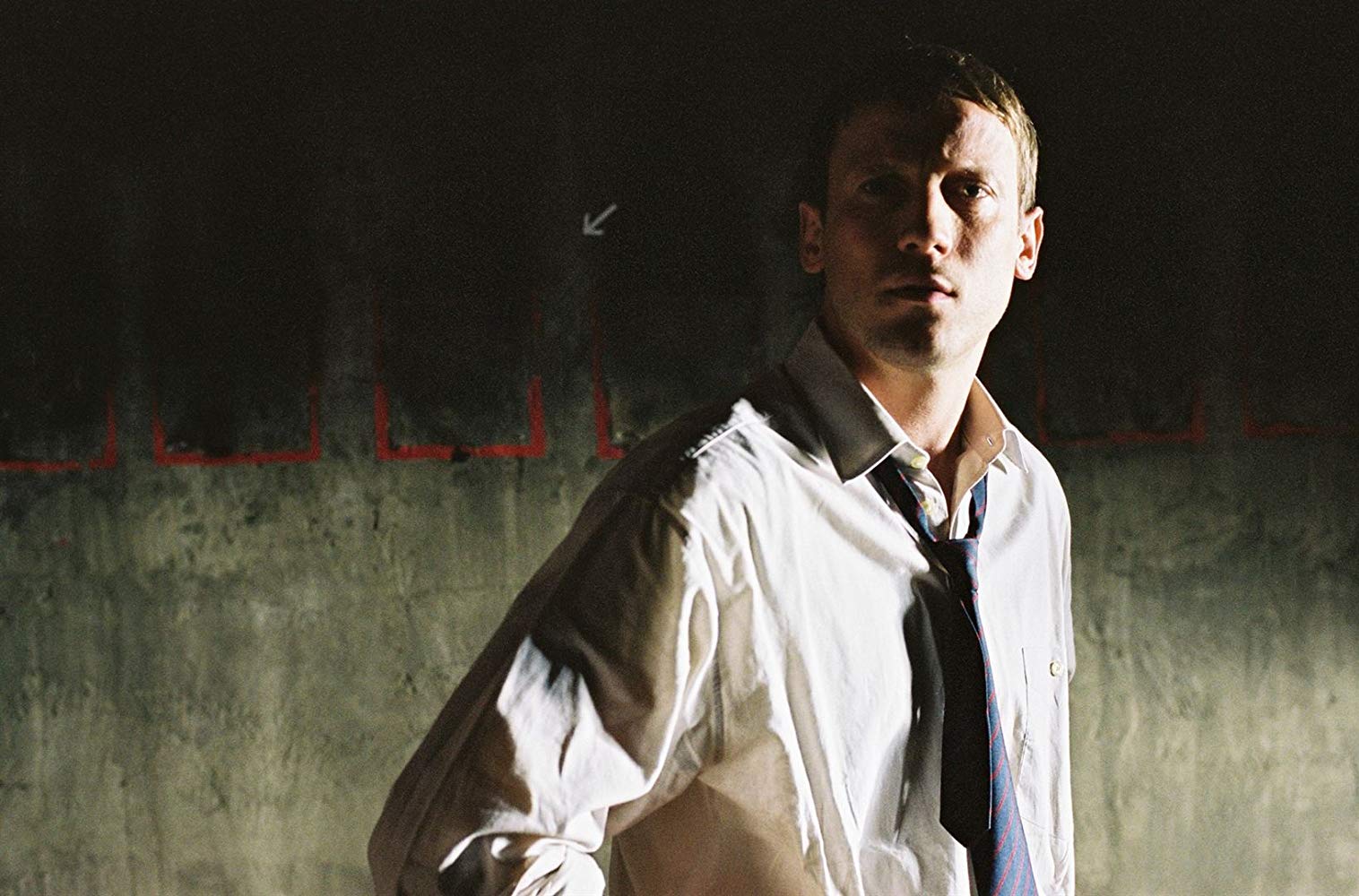 We can see the film wheeling into place the probable identity of Lucia's killer but the film plays this out with some effective surprises. Here the film borrows not only from The Silence of the Lambs but also from the ending of Se7en (1995) and the scenes where Kevin Spacey sets everything up to deliver the box to Brad Pitt. It is eventually an improbably contrived scheme but is undeniably well written. The ending raises this to the level of Biblical metaphor (again not unlike Se7en) with contrasts to Abraham's sacrifice of his own son (although Antibodies does get its allegories somewhat mixed – Abraham went to sacrifice Isaac out of obedience to God's will, whereas here [PLOT SPOILERS] Wotan Wilke Möhring goes to sacrifice his son to spread what he believes to be the blight of his evil).
There is also the frequent theme that we get in a number of German films of the petty bourgeois conservatism of small communities. One suspects this comes out of a deep-seated reaction to the way that so many people did so little to stand up during the era of Nazism and by wilful inaction allowed evil to transpire. There have been a number of German films that point to this small-mindedness and imply it is the root that fascism needs to thrive. We see disturbing portraits of smalltown life like where hero Wotan Wilke Möhring is out hunting with his father-in-law (Klaus Zmorek) who deliberately shoots his dog because he does not like the idea of Möhring doing a DNA sweep of the village, or just the way the priest holds up giving Möhring the communion wafer.
Antibodies was the second film from Christian Alvart. He was subsequently employed in Hollywood to make the devil child film Case 39 (2009) and the science-fiction film Pandorum (2009), neither of which were successes, and subsequently returned to work in Germany. Alvart later revisited genre material with the German-language serial killer thriller Cut Off (2018) and the pandemic tv series Sløborn (2020- ), while he has also produced Alien Invasion: S.U.M.1 (2017).
---
---