---
Crew
Director/Screenplay – Robert Schwentke, Producers – Jan Hinter & Roman Kuhn, Photography – Jan Fehnse, Music – Martin Todsharow, Special Effects – Colon FX (Supervisor – Wolf Schiebel), Makeup Effects – Magicmove GmBh, Production Design – Josef Sanktjohanser, Tattoos – Gabriel Bur. Production Company – Studio Canal Filmproduktion/Lounge Entertainment/B.A. Produktion.
Cast
August Diehl (Marc Schrader), Christian Redl (Chief Inspector Minks), Nadeshda Brennicke (Maya Kroner), Ilknur Bahadir (Mettem), Johan Leysen (Frank Schoubya), Ingo Naujoks (Stefan Kreiner), Jasmin Schwiers (Marie Minks), Joe Bausch (Norbert Günzel)
---
Plot
Young police detective Marc Schrader is forcibly recruited to the homicide team of Chief Inspector Minks after being caught with drugs in his jacket at a rave by Minks. Their first investigation is the case of a girl whose body has been found incinerated after being hit by a bus. She is found to have bitten off a man's finger. The finger's prints belong to a convicted child molester. Further investigation reveals that the dead woman had a tattoo cut from her body. The investigation leads Minks and Schrader into a deepening mystery concerning a blackmarket trade by speciality art dealers who are trying to collect the twelve rare tattoos of the Japanese master tattooist Hiromistu, where the wearers of the tattoos are being killed when they refuse to sell their skin.
---
Tattoo – no relation to the interesting Bruce Dern-Maud Adams study in obsession also entitled Tattoo (1981) – is a German psycho-thriller. In international release, it drew obvious comparisons and dismissals as trying to be another Se7en (1995). Beyond some obvious similarities, these criticisms are unfair – Tattoo has a sufficient degree of originality of its own not to seem derivative. Besides, though it starts out appearing as such, it ends up not being a serial killer thriller at all.
Director Robert Schwentke gets the essential compulsiveness of the genre's atmosphere down. While Se7en gave the impression it was taking place in a dirty room lit by a dim bulb, Tattoo seems more like it is taking place at midnight on a dreary European train platform. Schwentke gives us slightly washed-out photography and an ambient score that adds much. In the end though, Tattoo is not quite as stylised a film or caught up in the artistry of the imagery as Se7en was. (Although there is one excellent shot Robert Schwentke gives us where Nadeshda Brennicke steps back into the rain and as her white dress becomes soaked we gradually begin to see the tattoo underneath).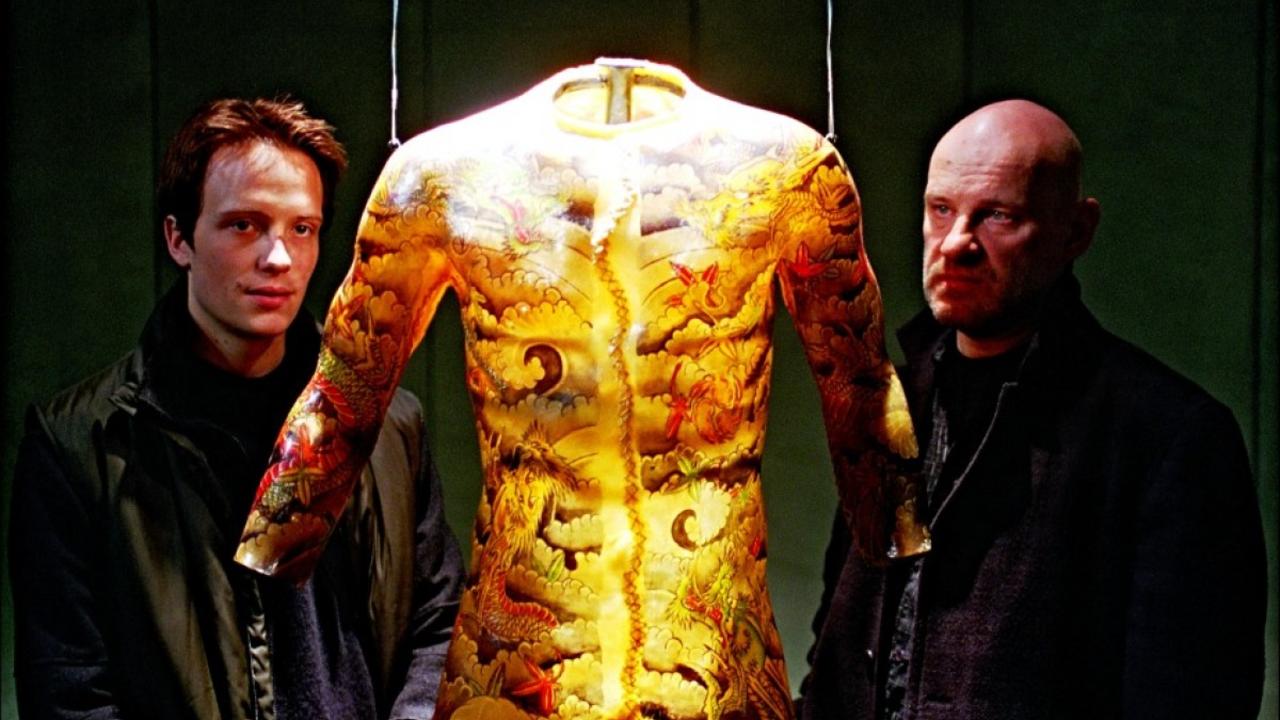 Schwentke is merely content conveying a good, gripping policier with a darkly haunted central character. There is a commendable degree of grisly detail – bodies charred and carved up on a morgue table, tattoos severed from their owner's skins, two different occasions with people blowing their heads off with a gun, and a particularly attention-grabbing opening where a naked, bloodied woman stumbles along a road before being creamed by a bus that suddenly appears out of the side of the screen. The film gets the obsessive characterisation down, with Christian Redl giving a particularly fine, hard-headed performance, one where you can literally see the haunted pain in his eyes. The plot gets in there too with some compulsive narrative twists. The artistry that goes into the tattoos we see is exceptional.
Tattoo was the directorial debut of German director Robert Schwentke. Schwentke next went onto make the cancer black comedy The Family Jewels (2003), before being brought to the US to make the mainstream thriller Flightplan (2005) with Jodie Foster, the time travel romance The Time Traveler's Wife (2009), the action film Red (2010), R.I.P.D. (2013) about an afterlife police force, the Young Adult dystopian sequels Insurgent (2015) and Allegiant (2016) and Snake Eyes: G.I. Joe Origins (2021).
(Winner for Best Supporting Actor (Christian Redl) at this site's Best of 2002 Awards).
---
---