---
Crew
Director – Cy Endfield, Screenplay – Richard Matheson, Based on the Book by Gerry Levy, Producers – Samuel Z. Arkoff & James H. Nicholson, Photography – Richard Angst, Music – Billy Strange, Art Direction – Jurgen Kiebach. Production Company – AIP/CCC. Filmkunst GmBh.
Cast
Keir Dullea (The Marquis De Sade), John Huston (The Abbe De Sade), Lilli Palmer (Mme de Montreuil), Senta Berger (Anne de Montreuil), Anna Massey (Renee de Montreuil), Sonja Ziemann (Le Beauvoisin)
---
Plot
The Marquis de Sade arrives at the villa of his uncle, the Abbe de Sade. The villa is in ruins but his uncle has been waiting for de Sade and now puts on a play about his life. However, de Sade becomes annoyed that his uncle has it wrong and insists on telling the real story. He tells how agreed to marry Renee, the daughter of Mme de Montreuil, but after signing the marriage contract was shocked to find that Renee was a plain woman and that he had been attracted by her sister Anne. After the marriage, he lost himself in orgies with whores. These became so notorious that Mme de Montreuil contrived to have de Sade arrested and jailed.
---
Legendary novelist and screenwriter Richard Matheson, who has been responsible for works like The Incredible Shrinking Man (1957), The Legend of Hell House (1973) and the screenplays for most of Roger Corman's Edgar Allan Poe films, calls De Sade the most worst adaptation of any of his scripts or books. Matheson's script, which treated De Sade sympathetically, was acclaimed and De Sade seen as a prestige production by AIP.
Instead, it ended up being a severely problem ridden production. The script was hacked about. The film was originally to be directed by Michael Reeves, who had just made the celebrated Matthew Hopkins – Witchfinder General (1968), but he bowed out due to health issues and would die before the film was even released. The production suffered from his replacement with a disinterested Cy Endfield with the reins reportedly (although uncreditedly) being taken over part way through by everyone from star John Huston to producer Roger Corman and British director Gordon Hessler of The Golden Voyage of Sinbad (1973) fame.
Whatever happened, the result remains an incoherent shambles on screen. The influences of the various directors seem to drag the film every which way. On one level, Richard Matheson appears to have wanted to make the film as a serious historical biography of the Marquis de Sade. This is an interesting idea – de Sade's life is certainly a dramatic and fertile one. Some of Matheson's intention remains in the finished film, albeit garbled, where we see de Sade as a tragic figure who undergoes a downfall and in classical tradition realizes the need to accept responsibility regarding the indulgence of his vices. However, it is still one of Richard Matheson's lesser screenplays – many of the scenes give the appearance of having been written to convey maximum information rather than dramatically carry the film.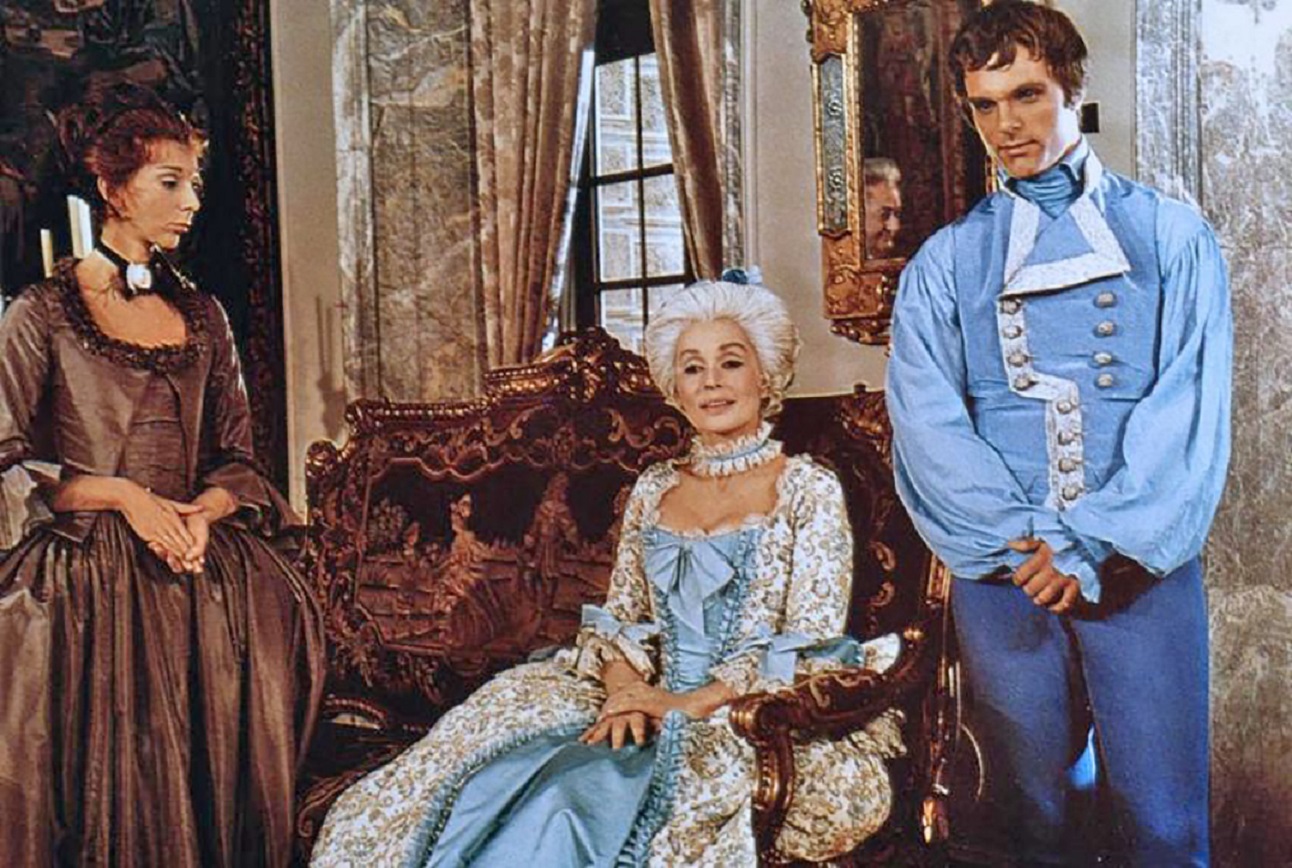 While Richard Matheson was interested in making a serious biopic, somebody else appears to have wanted to make De Sade into a French New Wave film. The film keeps flipping between reality and illusion, between flashbacks to the past and then pulling back to reveal them as being staged. The result is a film that lacks any linear narrative and seems like a series of scenes that have been randomly edited together without any type of cohesion. One never understands what the flipping between reality and stage is meant to mean – all it comes across as is a theatrical artifice. The film also feels like it has been tugged in a third direction by someone else coming along and deciding to spice it up with a number of orgy scenes, tinted in purple and crimson, which give the clear impression that they have been shot by a different hand.
For all that, De Sade is an incredibly tame film considering the person it chooses as its subject. It only dances around any suggestion of sadism (the phrase that de Sade gave his name to). At most we have a brief scene of the boy de Sade being whipped by his uncle's mistress and another of him getting turned on as he whips some girls. A potentially interesting scene with de Sade whipping a woman with a sword emerges with laughable tameness in that the entire scene is directed focused only on the faces of Keir Dullea and the woman. For all the time spent on de Sade's vices, these go no further than scenes of Keir Dullea frolicking with bare-breasted girls. Keir Dullea is okay in the part, John Huston badly miscast as his uncle.
The life of the Marquis de Sade has proven one that filmmakers have regularly visited. Other adaptations of his life, all of which, unlike this, focus on his imprisonment at the Charenton asylum, are The Persecution and Assassination of Jean-Paul Marat as Performed by the Inmates of the Asylum of Charenton Under the Direction of the Marquis de Sade (1966) where De Sade was played by Patrick Magee; the Italian exploitation film Marquis de Sade (1994); the hilariously obscene Marquis (1989), which re-enacted de Sade's story with talking animals; the Russian-made Marquis de Sade (1996) with Nick Mancuso; Quills (2000) starring Geoffrey Rush; and the French Sade (2000).
Director Cy Endfield had made a couple of the Joe Palooka films and specialised in B-budget crime thrillers throughout the 1940s. Endfield had his greatest success with the colonial adventure film Zulu (1964). He made a couple of other entries of genre note with Tarzan's Savage Fury (1952) and the Ray Harryhausen Jules Verne adaptation Mysterious Island (1961).
---
---