aka Night Eyes; The Rats
---
Crew
Director – Robert Clouse, Screenplay – Charles Eglee, Based on the Novel The Rats by James Herbert and a Screenplay by Lonon Smith, Producers – Paul Kahnert & Jeffrey Schechtman, Photography – Rene Verzier, Music – Anthony Guefen, Special Effects – Malivoire Productions Inc., Makeup Effects/Prosthetics – Makeup Effects Lab, Art Direction – Ninkey Dalton. Production Company – FilmTrust/Golden Harvest.
Cast
Sam Groom (Paul Harris), Sara Botsford (Kelly Leonard), Lisa Langlois (Trudy White), Cec Linder (Dr Louise Spenser), Scatman Crothers (George Foskins), Lesleh Donaldson (Martha), James B. Douglas (Mel Dederick), Joseph Kelly (Matt), Lee-Max Walton (Tim Harris), Mike McManus (Mayor Rizetti)
---
Plot
In Toronto, cheerleader Trudy White develops a crush on her teacher Paul Harris. He becomes involved with public health inspector Kelly Leonard and Trudy's attentions cause problems. One of Kelly's sewer inspectors comes to her with reports of rats the size of dogs. The inspector is later found in the tunnels having been attacked and devoured. As Kelly and Paul discover an increasing number of attacks, they realise the giant-sized rats are now threatening to attack the mayor's opening of the new subway extension.
---
The Rats (1974) was the first novel of British horror writer James Herbert (1943-2013) and proved to be an instant best-seller. Herbert went on to write other popular works such as The Fog (1975), The Survivor (1976), Fluke (1977), The Spear (1978), The Magic Cottage (1986) and Haunted (1988), among numerous others. (See below for other films based on James Herbert's books). Herbert was not the world's greatest writer but what his works held, most effectively his earliest books, was a grisly, gore-drenched extremism – they would often consist of a series of chapters interspersed with the A-plot that delve into the sordid lives of supporting characters before the person was killed by the resident menace. Herbert wrote two sequels to The Rats with Lair (1979) and Domain (1984), while there was even a videogame released in 1985.
Herbert was first adapted to the screen in the Australian-made The Survivor (1981), which was followed by this adaptation of The Rats. (Herbert hated both that and Deadly Eyes). TThe Rats/Deady Eyes was placed in the hands of American director Robert Clouse. Clouse's greatest success came with his third film, the martial arts hit Enter the Dragon (1973), which introduced Bruce Lee to the English-speaking world. Clouse directed a number of other films up until his death in 1997, usually of the action variety, including the Blaxploitation classic Black Belt Jones (1974), Golden Needles (1974), the posthumously composed Bruce Lee film Game of Death (1978) and China O'Brien (1990). He made a couple of other reasonable genre efforts with the post-holocaust film The Ultimate Warrior (1975) and another Animals Amok film with the killer dog effort The Pack (1977).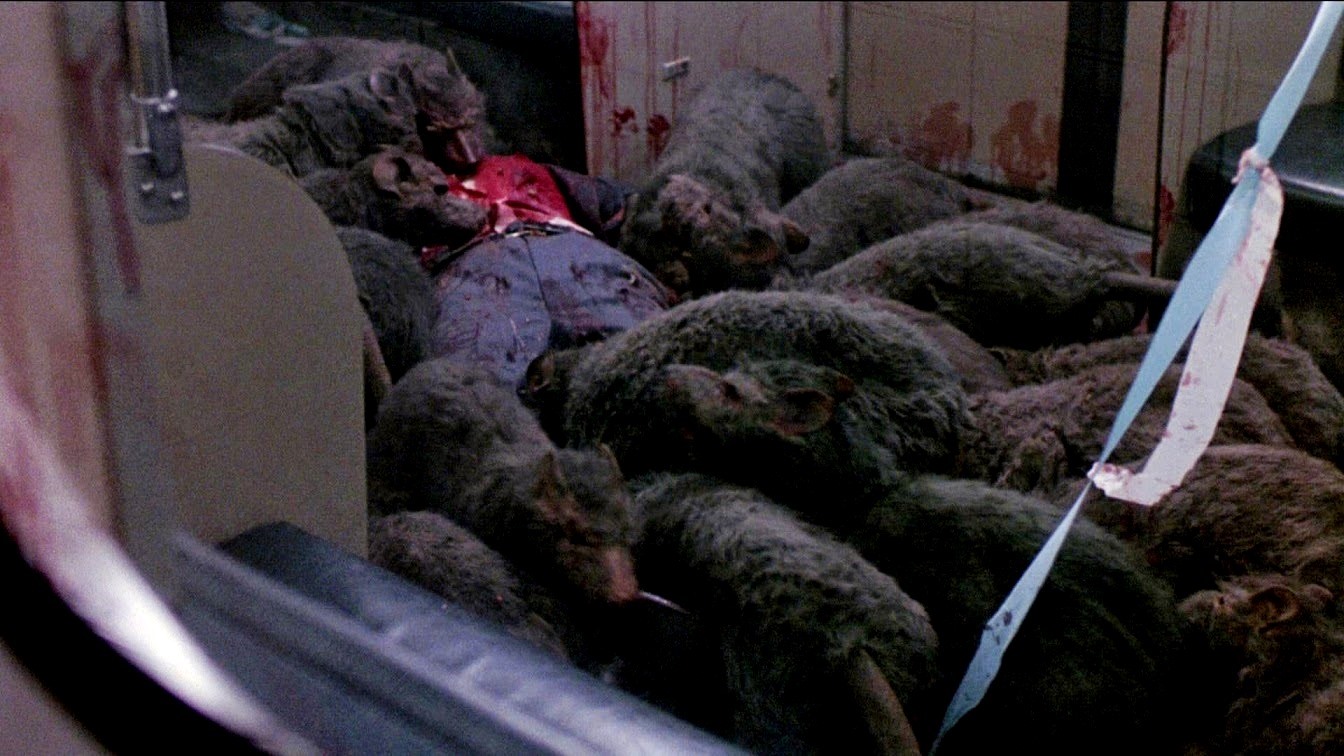 When it comes to the film adaptation here, almost anything that was interesting about The Rats has been written out – including the suggestion they have intelligence and attempts to kill them off with a virus and ultrasound, as well as the climax where the hero must enter their lair to kill the two-headed king rat. About the only thing in common between the book and film is the rats and a protagonist named Harris who is a teacher. Everything else has been made up by the film.
And unfortunately, Deadly Eyes adds nothing to the mix that improves on the book any. Essentially, all we are left with is a formulaic 1970s Animals Amok film – there is not a whole lot here that is any different from say Willard (1971) and especially its sequel Ben (1972). Even some of the better 1970s Animals Amok films added a level of allegory about nature turning back against humanity but Deadly Eyes is just a routine film about rats attacking people.
None of the attack scenes stand out with anything in the way ferocity or tension, which is a considerable comedown given that the selling point of James Herbert's book was its sheer savagery and sadism. You could compare Deadly Eyes to Of Unknown Origin (1983), another Canadian-made, Toronto-shot film about killer rats that came out not long after, and which stands heads and shoulders above this for the simple reason that it constructs a far more interesting battle.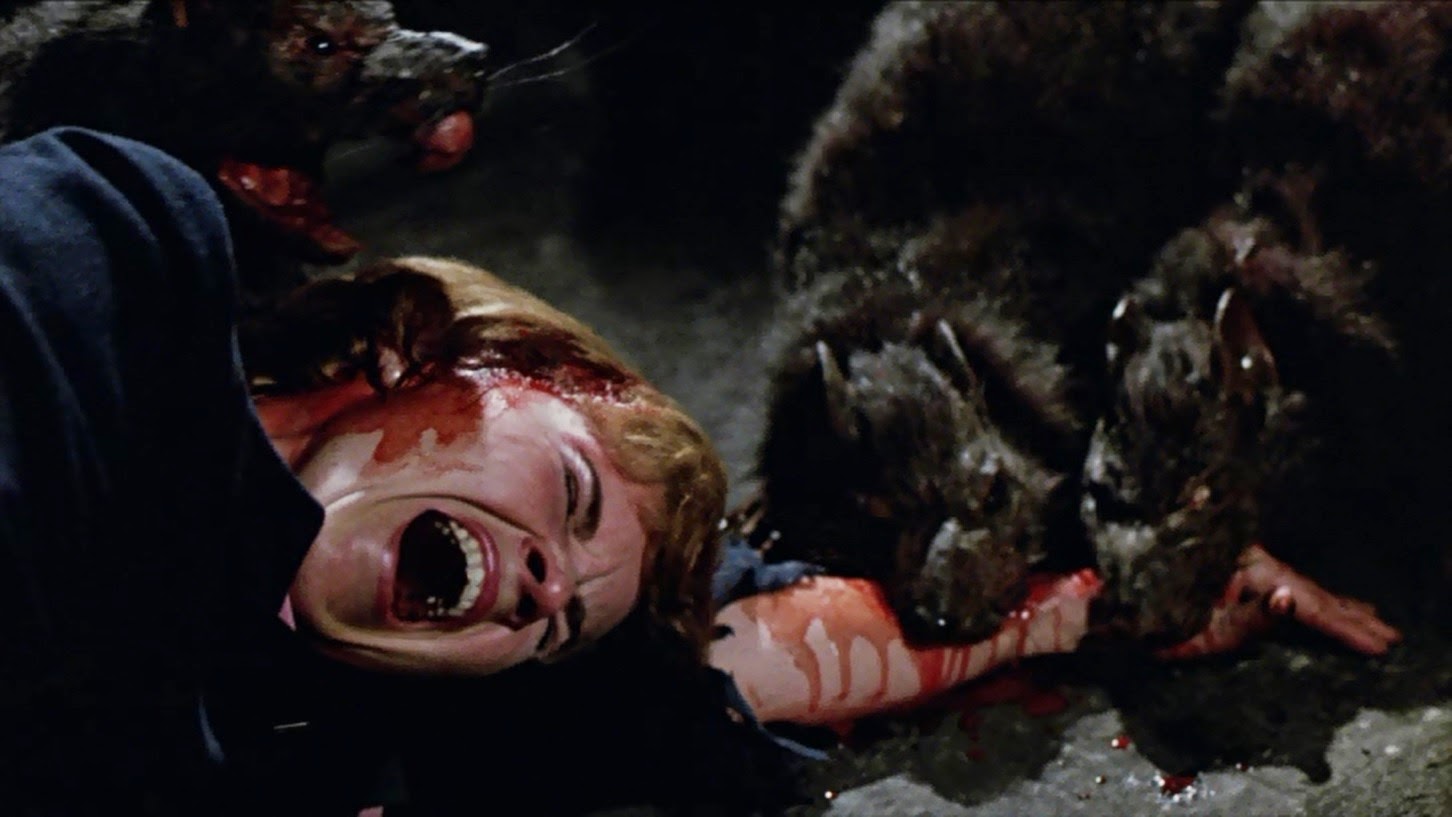 Deadly Eyes fails in almost all areas. It is a case of any scary potential the film may have had being killed by a fundamental lack of conviction that the central creatures have. Namely in that the rats are being played by dachshunds covered in fur suits and look exactly like cute puppies mobbing around rather than ferocious and hungry killer rats.
The other thing that kills the film is the absurd human drama the script writes in. In the early sections, the point-of-view character is Lisa Langlois as a cheerleader who develops a stalkery crush on teacher Sam Groom. He then becomes involved with public works employee Sara Botsford after meeting her twice in the same day. Friction is caused when Langlois turns up waiting in Sam Groom's bed. Botsford's response to this is to abduct Groom's young son and take him with her to a mayoral opening ceremony. Why the film is not concerned with Groom calling the police about the two unbalanced women in his life as opposed to investigating rats is one of the major plausibility holes it has. Even so, the careless indifference of this writing is allowed to take up almost all of the non-rat scenes and is a ridiculous case of script padding gone out of control.
Other James Herbert screen adaptations are:– The Survivor (1981) about a haunted airline crash survivor; Fluke (1995) about a man reincarnated as a dog; the ghost story Haunted (1995); the ghost story tv mini-series The Secret of Crickley Hall (2012); and The Unholy (2021) about a sinister miracle-healing girl.
---
---